Back to Blog List
Important Updates for GemPages App Permission to Improve User Experience (from December 5, 2023)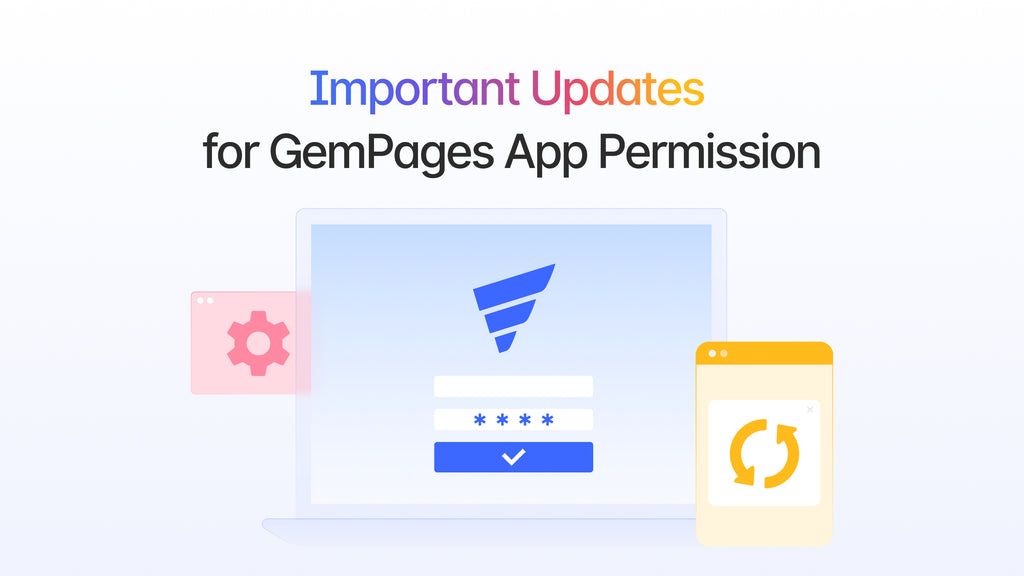 In this article, we would like to inform you about essential updates to the GemPages app. Before diving into the details, let us emphasize that these changes are carefully considered and aimed at providing you with a smoother and more feature-rich user experience. 
Changes in GemPages App Permissions
Before installing GemPages, all users are required to accept Shopify's developer's privacy policy. This policy outlines the types of information GemPages can access or modify within your store to execute its functions.
In addition to the permissions outlined in the above-mentioned document, we would like to seek your approval for additional access scopes. They are intended to enhance your GemPages experience and enable you to leverage our upcoming features. 
Please note that these access scopes are listed in Shopify's authenticated access scopes, and we have also officially informed Shopify about these changes.  Rest assured, these changes align with our commitment to our Privacy Policy, Terms of Services, and other Shopify guidelines. 
Details on the Additional Access Scopes
"Write_files"
GemPages users often face challenges in image restoration when switching themes, resulting in resource wastage. Furthermore, errors may occur when exporting and re-importing themes larger than 50MB. To address these issues, we propose the addition of the "write_files" access scope. This will facilitate direct file uploads to Shopify's Files Management section and enable users to delete uploaded images more efficiently.
"Read_markets" 
By the end of December 2023, GemPages will unveil a feature allowing users to create tailored templates for specific markets. To implement this feature seamlessly, we request your access to the "read_markets" scope.
"Read_product_listings"
To prevent users from encountering errors when selecting unavailable products in a market, we propose the addition of the "read_product_listings". This will assist GemPages in checking product availability and issuing appropriate warnings during product selection.
Implementation Timeline
These changes will take effect on December 5, 2023. Please familiarize yourself with these updates and take the necessary actions to ensure uninterrupted access to GemPages.
How to Accept the New Updates
To accept the updates, follow these simple steps from your Shopify admin:
Navigate to the "GemPages" app.

Click on "Update app".
By completing this process, you indicate your acceptance of these updates. Unfortunately, if you choose not to accept the updates, you will be unable to use GemPages until the changes are accepted.
If you have any questions or require further clarification, our dedicated support team is here to assist you. Feel free to reach out to us via live chat or email us at support@gempages.help.
We highly value your continued partnership and eagerly anticipate bringing you an even more enhanced GemPages experience.