Back to Blog List
GemPages v7.16: Improved Editor UI for an Elevated Experience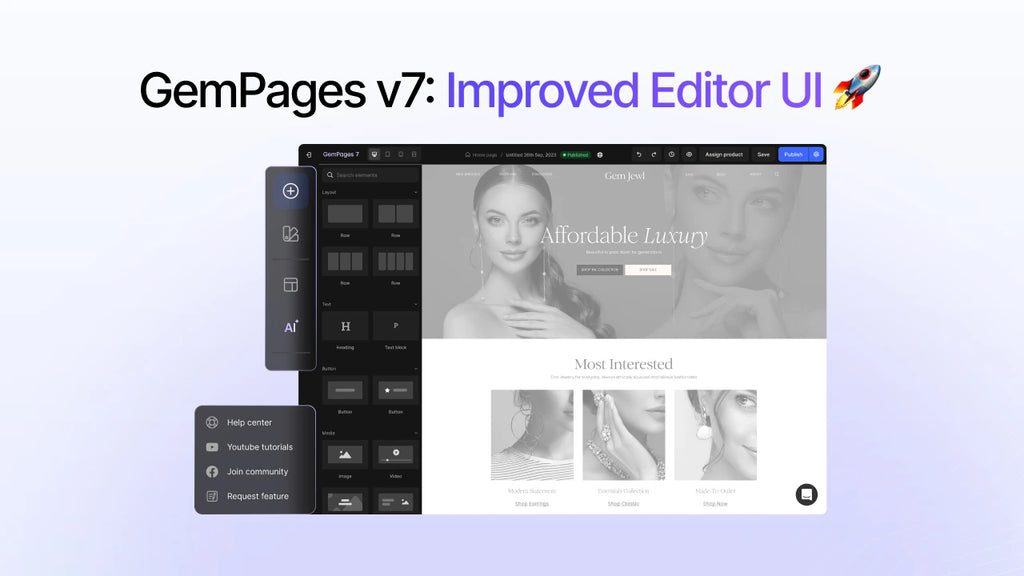 At GemPages, we have always been dedicated to empowering e-sellers like yourself to build, customize, and optimize your store pages with ease. We've been listening to your feedback, studying industry trends, and working tirelessly behind the scenes to bring you an improved Editor UI. 
Currently available on GemPages v7, this fresh look is in sync with the Shopify Design System, ensuring an easier and more intuitive user experience. 
Improved GemPages v7 Editor UI: Aligned with Shopify's Polaris Design System
We've put a new spin on GemPages v7 Editor UI by aligning it with Shopify Polaris design system, a set of guidelines for Shopify fonts, colors, layout, and interaction. So, this GemPages v7 Editor revamp ensures a smoother and more familiar experience for all users. You won't have to relearn how to use the editor, ultimately saving you valuable time and effort.
But there's a bigger picture here. Our alignment with Shopify's Polaris design system not only improves your page-building experience but also showcases our dedication to being an even more trusted part of the Shopify platform. 
In the near future, we're taking a step further by embedding GemPages' Dashboard inside Shopify admin. This integration will guarantee a completely seamless experience for users. No more need for extra clicks or navigating external windows. Everything you need will be at your fingertips within Shopify admin.
Learn more: Introduction to GemPages v7 Editor
Exciting Updates in GemPages v7 Editor UI: A Quick Look
Let's dive into some key highlights of the enhanced GemPages v7 Editor UI. To truly appreciate these updates, why not give GemPages v7 a spin yourself?
Ready to elevate your Shopify storefront?
Take your storefront to the next level with GemPages page builder. Free plan available. Upgrade as you scale.
Editor Top Bar: More Intuitive & Full-screen Mode
Things are made even easier for you. The "Go to Dashboard" button is now easier to access in the top left corner. And for those love working in Full-Screen mode, you're in luck. Our editor now features a full screen option, providing you with extra flexibility and a broader view of your page.
Full-screen mode is now available on GemPages v7
In the Editor top bar, keeping tabs on your page status, whether it's "Published" or "Needs Republishing," is now a breeze. And if you hover to the page status, a tooltip will quickly reveal details like "Last Modified At" or "Last Published At". 
Page status is clearly shown in the GemPages v7 Editor top bar
For those who often use the "View Live Page" function, do not worry; we have moved it to the top bar for convenient access.
Editor Left Sidebar: Easier Access to Key Functions and Useful Resources 
In the revamped left sidebar, you'll immediately spot our four core functions: "Element List," "Global Styles," "Templates Library," and the "Image-to-Layout" feature, all within easy reach for your convenience. 
Key functions are now located on the left sidebar of GemPages v7 Editor
We've also included a new section at the bottom, providing a more direct access to a wealth of helpful resources. These include the GemPages v7 Help Center, YouTube tutorials, the GemPages Facebook Community, and a Feature Request option. 
Helpful resources are conveniently located on the left sidebar
Build, Customize, Optimize Your Store Pages Faster and Smarter with GemPages v7
Aligned with Shopify's Polaris design system, our improved editor UI offers an even more user-friendly experience for all users. This simplifies navigation to essential tools, making it easier and faster to build, customize, and optimize your pages.
Unlock the full potential of GemPages with our latest editor UI today! We're committed to continuous improvement, so please share your feedback at feedback.gempages.net.