Back to Blog List
How to Submit A Guest Post on GemPages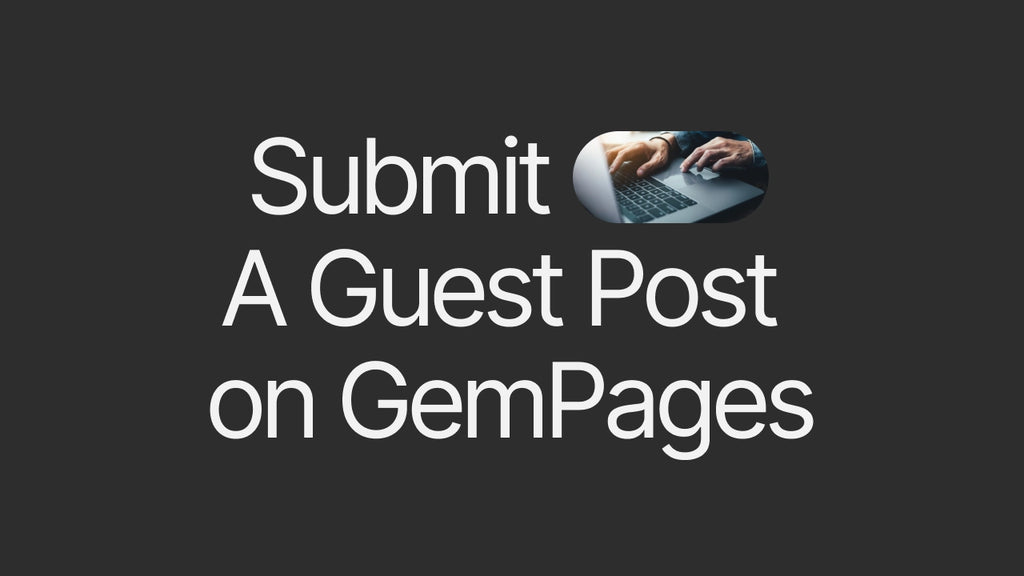 So you want to write for GemPages Blog? Well, you're in the right place!
The majority of our audience are marketers, entrepreneurs, web developers, freelancers, and agencies in the eCommerce industry. They are based (though not exclusively) in the USA, Europe, Canada, and Australia. 
We publish five to ten long-form articles per month that are written by our staff, GemPages Partners and industry experts.
If you'd like to write a guest blog for us, please read this page thoroughly before sending your proposal. Ineligible proposals will not be considered. We are not liable for any damages arising from negligence.
About Us
GemPages is the most powerful page builder for Shopify, trusted by over 137,000+ merchants worldwide. The intuitive visual Editor is the all-in-one solution to quickly build and optimize store-level pages.
Accepted Topics
We are highly selective to ensure added value to our readers. Our blog consists of posts about Shopify, eCommerce, SAAS and other related subjects, such as:  
Store Inspiration

Conversion Optimization 

Page Customization 

Industry Trends & Insights
Content Expectations, Quality & Standards
Biography
Posts written by external parties are categorized as "Guest"

Include

a photo

(headshot image max. 800 x 800px)

and

a short author bio

(max. 300 characters).
Content Standard
Articles must meet the following standards to be considered for publication:
Benefit our target audience by helping them grow their business, expand their knowledge base etc.

Cannot be an advertisement for a service, brand, or product, nor can it be self-servingly promotional. 

Attempt to present a holistic and unbiased assessment of a particular topic.

Up-to-date information and address industry trends

Well-research and fully support featuring case studies or examples, statistical measurements of success, and links to reputable sources.

Approach topics at a different angle, presents your arguments clearly, and draw direct conclusions.

Correct spelling, punctuation, and grammar. 
Guest Blogs
Articles must:
Have from

2000+ words.

Follow our

SEO guidelines.

Be original and not published elsewhere.

Cannot accept payment to mention any clients or products that they have a stake in.

Include photos, graphics, and screenshots with ALT text and Caption (Optional).

Consider opportunities in from our content. 

Type site:https://gempages.net/blogs/shopify in your address bar to view all our live articles.
Outbound Links Policy
Only

2 dofollow backlinks

are accepted.

Links must be relevant to the core topic.

Only links to blog posts.

Link anchor texts must flow naturally in the article.

Multiple links towards the same domain is possible but not recommended.

Referring domains have DR >60, Total Monthly Traffic > 4k and at least 1k from US
Have an article in mind?
Take some time to fill out the form to write for us. Please note that we only respond to successful proposals.
Once we've received your proposal, we'll respond to eligible submissions within 2 working days. Please get your proposal and outline approved before writing your post. 
Feel free to reach out to us if you have any questions. We look forward to collaborating with you!