Back to Blog List
How to Add SKU to Shopify Product Pages in 7 Minutes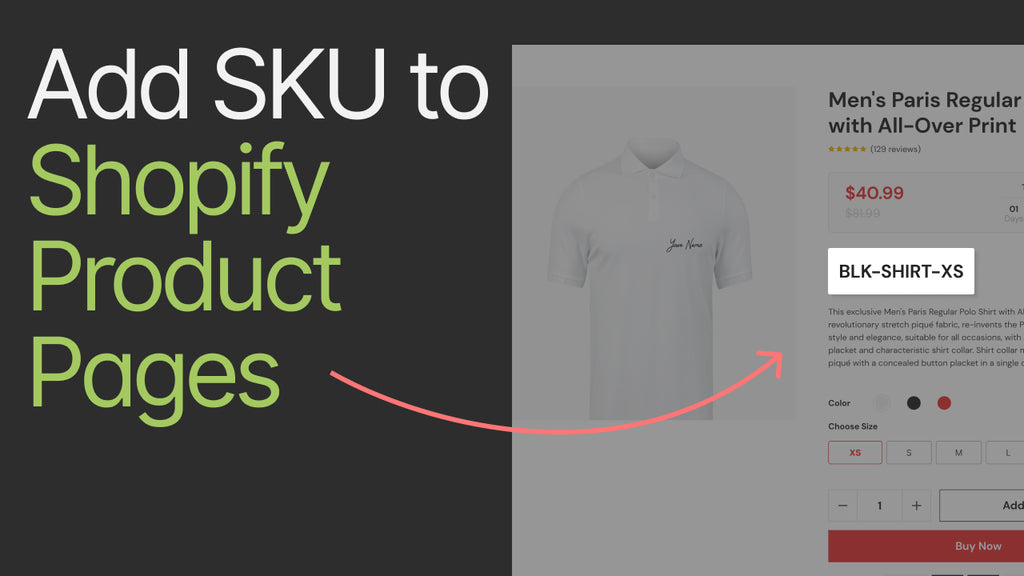 What is SKU in Shopify and Why Do You Need It?
SKU, or Stock Keeping Unit, is a scannable code that businesses use to keep track of their inventory. SKU might take the form of a series of alphanumeric characters and is unique to each product.
Every business that is operating on any level is advised to implement SKU into their products. If you are a Shopify-based store, this blog will show you how to easily add SKU to the product page on Shopify.
Example of a SKU code for a clothing product.
But, do you really need it?
The short answer is yes. The long answer is definitely yes.
Let's take a peep at some benefits of this feature: 
Organize your products better with an assigned SKU code for each one

Analyze each product's performance more swiftly to adjust accordingly

Assists you in stock forecasting

Make accurate stocking and delivery decisions to both ends (manufacturers and customers)

Inventory synchronizing across multiple sale channels for eCommerce owners
Apart from the above benefits, SKU also brings exclusive advantages based on each business's standard. If you are ready to start adding SKU to your Shopify storefront, the next section will show you exactly how. 
Add SKU to Your Shopify Product Pages in 3 Simple Steps
For a feature with numerous benefits, the process of adding SKU to your Shopify store does not have to be troublesome. As long as you have a Shopify business in your possession, then you are good to go.
Step 1: Go to Shopify admin
Log in to your Shopify account. Click on Products and pick one product of your choice.
Select a product to edit in the Shopify admin panel.
Step 2: Add SKU to your product
Edit your product based on its type. Depending on the number of variants, SKUs are entered in different fields.
Products with no variant:
Scroll down to Inventory and proceed to enter the SKU for your product in the SKU (Stock Keeping Unit) input box.
Enter the product's SKU number in the correct field.
Product with different variants:
Scroll down to the Variants section. In this field, the product's variants are shown based on its color, material, size, etc. 
Move the horizontal scrollbar to reveal the SKU input boxes. For each variant, enter its respective SKU number.
Enter a unique SKU for each variant.
Step 3: Save your changes
Double-check to make sure the SKUs are entered correctly for the product and click the Save button on the top right corner of your screen.
And that's it! Your product is now equipped with its own SKU number after a few minutes of editing. What we have just demonstrated is a manual procedure of adding your SKU on Shopify, including the process of coming up with the SKUs for all of your products. As many things go, a few tips and tricks are always a good idea. Let's explore what makes an effective SKU code in the next section.
Tips To Create Efficient SKU for Your Shopify Store
If you are a frequent visitor of GemPages blogs, you know we like to end our blog with helpful tips and tricks to give our readers a helping hand on achieving the Shopify business of their dreams. This time around, although the concept of SKU is pretty unambiguous, there are ways to master this neat element.
Have a fixed SKU format
This tip depends majorly on how you want to operate your business. Even when you don't have a large inventory, a standard SKU format still needs to be enforced to ensure transparency and consistency.
The more types of products your store carries, the more elaborate your SKUs are in order to set them apart from each other. However, as long as the coding system makes sense, the SKU numbers' efficiency remains.
For example, for the word t-shirt, the abbreviation can either be TSH or SHT. Whichever you use, make sure to keep it the same across all products to alleviate misunderstanding.
The same principle applies to the order of the characteristics. 
For a shoe brand, a good order to follow could be:
Brand > Shoes style > Gender > Material > Color > Size.
e.g. PMA-TNS-UNI-LTR-WHT-37 signifies a pair of white unisex leather tennis shoes in size 37 from the brand Puma.
Needless to say, each store will have its own preferences when it comes to its SKU format. Feel free to explore several options before settling down with the format of your choice.
Keep it short and easy to identify
Short SKU is easier to scan and check. Apart from having a consistent format, the length of SKU also factors in its effectiveness.
A good-looking SKU does not have to include every characteristic of each product. By using only the essentials to tell each variant apart, the SKU is kept concise, while also being accessible by every department in your company.
For instance, if you carry a line of t-shirts of the same brand, material, and style, with the differences being the sizes and colors, it is advisable to omit the similarities.
This way, a 'large crew-neck blue Nike cotton t-shirt' can have NKE-LRG-BLU-TSH as its SKU (the brand name is included for easy scanning). By omitting the style and material, the SKU is not too long and can be understood by every employee.
Pro tip: Each abbreviation is best to keep under 4 characters.
Avoid duplicating SKUs
This is one important note to keep in mind should your SKUs be manually created.
We're only humans after all, and our brains could have a slip-up at any given moment. If not automatically alerted, the same SKU might be assigned to two different products. This will result in confusing inventory tracking and even possible mishaps. Make sure to double-check every SKU and have a regular check-up if necessary.
Alternatively, the use of computer-generated SKUs is often recommended, especially when your eCommerce business is larger in size.
Pro tip: The number zero is a no-no in SKU numbers, as it can be mistaken for an O.
Top 3 Free SKU Generator Tools for Your Shopify Store
How to create SKU numbers for Shopify? If you are already on this eCommerce platform, this question can be easily answered by using free SKU generators for Shopify. Built-in or from an independent platform, the choice is yours.
Below are the top 3 free tools to create SKU for your Shopify store. They are among the most reputable tools that are trusted by eCommerce owners for their convenience and user-friendliness; no complicated signing up process, simply enter your email and start using their services straight away.
Use Katana to generate SKUs and keep them organized.
This tool is integrated with the most popular eCommerce platforms, including Shopify. Simply enter the product name and variants to have it generate an effective SKU that can be used right away. The Excel format makes it extremely easy to work with.
Let Gorgias help you in the process of generating SKUs.
Gorgias uses a straight-up practice to generate SKUs for you. Enter your email address to start using their service, and the tool will generate SKUs based on the product details provided. The list of SKU numbers will then be available to export and download.
SKUGen is the most suited for Shopify users.
Branded itself as 'built for Shopify', this free app is a go-to for Shopify-based eCommerce stores that are looking to generate SKUs quickly and easily. Not only does it create SKUs when all the product data is provided, but every time a new product is added to your store, its SKU will be automatically generated as well. With multiple abbreviation options, SKUGen takes over the hard part while still leaving you room for personal altercations.
Final Words
When you are a part of the Shopify ecosystem, inventory management is made simple with a plethora of free tools. This way, it is no longer a problem to figure out how to add SKU in Shopify. We hope our guide and nifty tricks have given you great insights to use this feature and take better care of your business.
FAQ About SKU in Shopify
SKU (Stock Keeping Unit) is an alphanumerical code assigned to each product in your Shopify store for better inventory tracking and organization.
How do I add SKU to Shopify?
You can add SKU to Shopify in three easy steps.
Step 1:
Log in to your Shopify admin. Click on Products and select the product of your choice.
Step 2:
If your product only has one variant, enter SKU in the Inventory section.
If your product has different variants, enter SKUs in the Variants section.
Step 3:
Double-check and click Save.
For a more detailed tutorial with pictures, check out
our instructions
.
What does a good SKU look like?
Each business has a different way of naming their SKUs. Generally, a good SKU needs to be informative, concise, and unique. For instance, a red jacket in size M can possess a SKU named RED-JKT-M.