Back to Blog List
Image-to-Layout: How GemPages' first AI-powered feature helps you build faster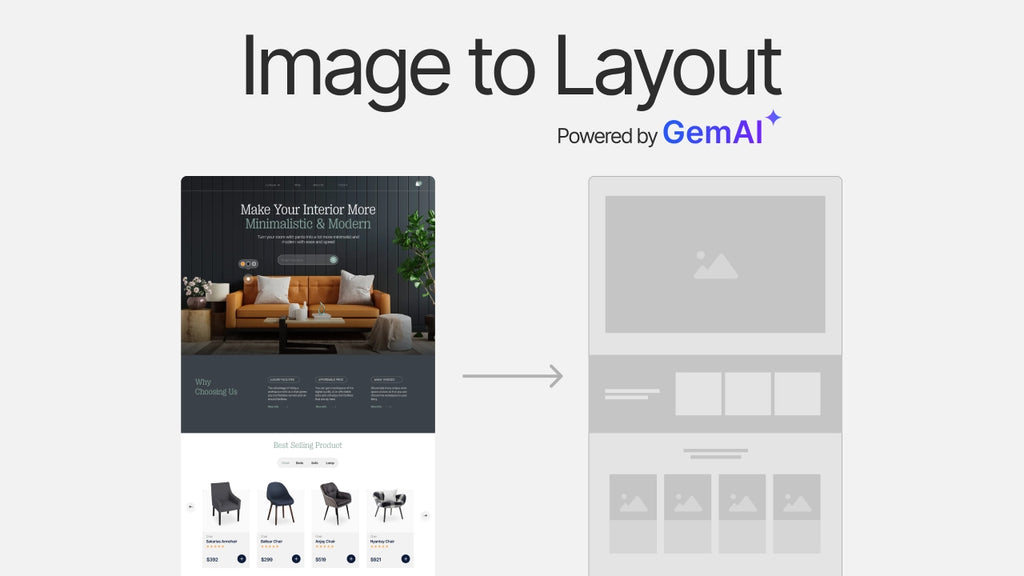 Want to create a high-converting page that matches a specific design with minimum effort? GemPages is to the rescue! With our brand new AI-powered Image-to-layout feature, you'll have the most automatic, smartest and easiest page building journey ever in seconds.  
Image-to-Layout: Automate your layout design in seconds
It can be challenging and time-consuming for a newcomer without design experience to build a page from scratch, as you need to build your layout and understand the possibility of each section and element. This building process may take up to 6 days to complete and result in a daunting and exhausting experience.

Or if you already have a Shopify store but want to customize it according to your preferences, you might find that existing Page Builders fall short and offer little help. This often makes you feel drained and frustrated as you attempt to personalize your store.

Don't worry! Our latest AI-powered Image-to-Layout feature offers a solution to these challenges. With this new feature, you'll be able to overcome any concerns and challenges related to page building, making it a more streamlined and effortless experience.
Image-to-Layout is the first AI feature developed by GemAI - GemPages' powerful artificial intelligence engine that aims to revolutionize e-Commerce store owners' experience. It provides you with a host of values to enhance your building experience:


Faster store building speed: Previously, constructing a page was a 6-day endeavor, but with the new AI feature, you can now have a fully editable layout within 30 seconds to begin customizing your store.

Easy-to-use for beginners: If you are a newcomer, don't worry, Image-to-Layout is the best assistance for you to build a page with ease. The building process becomes easy even without design experience or coding skills. This automated feature reduces the manual work, taking the hassle out of page building.

Seamlessly migration from other eCommerce platforms: This AI feature can facilitate fast store transfer from other eCommerce platforms to Shopify with just a click. It helps you migrate your online store effortlessly without facing data and design-related issues.

Customizable according to personal preferences: With a fully editable layout, you have the freedom to customize your online store according to your style. Revamping the look of your page to complement your brand identity is simpler than ever before.
How Image-to-Layout works
All you have to do is to find a reference image or URL representing your page's desired look and insert it into GemPages. The revolutionary Image-to-Layout feature will automatically generate a fully editable layout that looks like your input. 
Now, let your creativity flow freely! Change the colors, add new elements, choose fonts and styles, and more. Customize every aspect of your store to make it truly unique. With GemPages, creating your ideal store is within your grasp.
More to come
The inception of Image-to-Layout marks the advent of GemAI, a built-in powerful artificial intelligence engine developed by GemPages that helps your building process faster and smarter. In an effort to revolutionize eCommerce store owners' experience, a multitude of AI features with boundless potential are set to debut in the foreseeable future!
Be the first to know about GemPages v7's rollout and explore all the new features as soon as they're available by joining our waitlist today!
Learn more: Introducing GemPages Editor v7