Back to Blog List
Maximize Customer Engagement and Store Sales with Shopify Automated Emails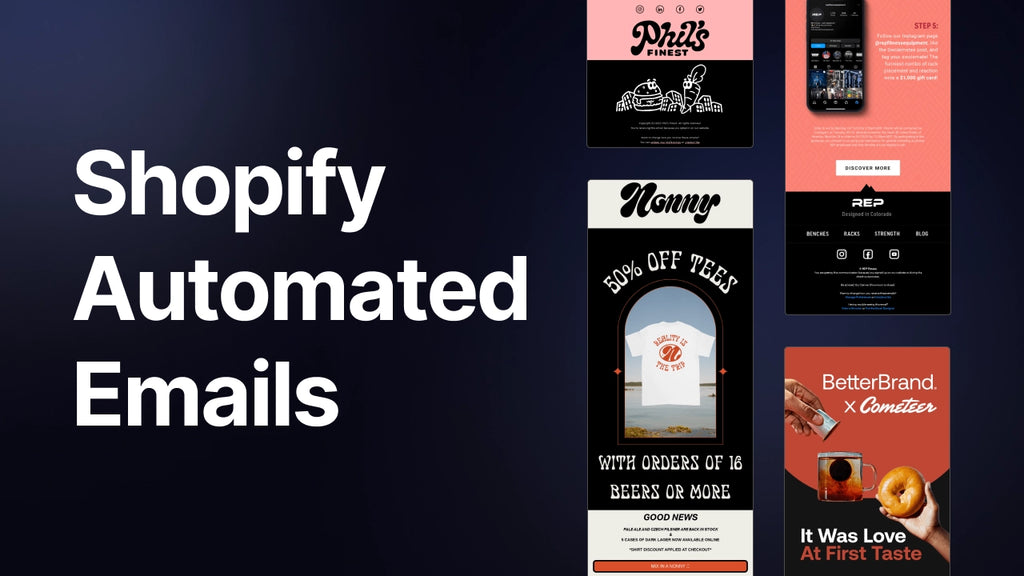 While social media and SEO have their place in marketing, email delivers a higher ROI and helps you drive engagement and build solid customer relationships.
Email returns $38 for every dollar you spend. That's why 80% of small to medium-sized businesses (SMBs) use email for retention, and 81% use it as their primary customer acquisition channel.
With such impressive stats, it's crucial to have a proper Shopify email automation strategy, given how many people use the eCommerce platform.
With that in mind, we'll cover everything you need to know about how to send Shopify automated emails to customers.
What is Shopify Email Automation?
Shopify email automation sets up different triggers so that the relevant email is sent when your Shopify customers meet those triggers.
For example, when a user visits your store and adds items to their cart but doesn't purchase the products, an abandoned cart email is sent to them automatically, encouraging them to complete their purchase. 
Email automation helps you send the right message at the right time to the right people to increase customer engagement and conversions.
Why is Shopify Email Automation Important?
If you've manually run an email campaign, you know how challenging it is to manage all related tasks, such as scheduling and updating contact information. So automating your Shopify emails will help you save time and money while focusing your efforts on more critical tasks.
Here are more reasons why Shopify email automation is essential:
It helps you send relevant and personalized emails to convert leads into customers and one-time customers into regular ones.

You can scale your business faster by building workflows that increase productivity rather than hiring multiple employees to do manual tasks.

You can sync emails with customer purchase patterns so you can send relevant emails to customers based on the stage they're in on the customer journey.
If you're selling digital products, then you'll most likely have already automated your order fulfillment. Taking some time to automate your emails will further enhance your customer purchase experience.
Types of Shopify Automated Emails
Let's now look at some automated emails you can use with Shopify email automation to increase sales, engagement, and revenue:
1. Welcome Emails
Welcome email from Spotify.
A welcome email sequence is typically part of a series of onboarding emails you send to first-time shoppers. It's one of the most important emails you'll send to customers as it lays the groundwork for the rest of your interactions with them.
When sending welcome emails, add value by offering the next steps for interested customers, such as relevant offers or links to excellent content on your website. 
2. Birthday and Anniversary Emails

Birthday email from Hulu.

Birthday and anniversary emails often focus on the customer and their most special dates, which allows you to get more targeted and personalized with your emails. As a result, you can build solid customer relationships and boost brand loyalty, increasing retention and encouraging repeat purchases. 
Anniversary emails are easy to set up since you just have to gather date info, create content, schedule, and send it on the anniversary date.
3. Order Confirmation Emails
Order confirmation email from Everlywell.
An order confirmation email is typically sent automatically to a shopper once they complete a transaction on your Shopify store. 
The transactional email includes a customer's order confirmation details, such as the products they've purchased and the estimated delivery date.
4. Lead-Nurturing Emails
Lead-nurturing email from Nuts.com
A lead-nurturing email is a message you send to your potential customers as they progress through the sales funnel to encourage them to convert.
You can set up a lead-nurturing email sequence for your Shopify store that'll be automatically triggered when your leads take specific actions. For example, once a shopper adds a product to their cart, a limited-time offer, purchase reminder, or a list of similar items they may like can be sent automatically to encourage them to buy more.
5. Abandoned Cart Emails


Abandoned cart email from Chatters.
An abandoned cart email is a message you send to consumers on the verge of making a purchase but who didn't complete the purchase for various reasons. The email is meant to persuade them to complete their transaction.
For example, when someone visits your Shopify store and adds items to their cart, you can send an abandoned cart email three to five hours if they leave without completing the purchase.
How to Create Marketing Automation in Shopify?
We mentioned earlier that email automation enables you to create workflows that send messages to customers when they meet a specific trigger.
On your Shopify admin, you can build and manage email automation on the Shopify Marketing page.
Create email automation directly on Shopify's admin.
Here are some of the automation you can create:
Welcome new subscribers

that lets you send a welcome email to new customers with a discount.

First-purchase upsell

to boost repeat purchases with product offers.

Customer winback

to reconnect with past customers by providing a one-time discount.

Abandoned cart

to encourage customers who abandon their cart to finish their buying process.

Abandoned product browse

to re-engage customers who visited a product page but didn't add any product to their cart.
Here's how to send emails from Shopify on your admin panel:
1. Go to the Marketing tab and click on Automations, then Create automation.
Shopify's automation tab.
2. Click on the automation you want to create, then click Use template.
Shopify's automation email templates for various emails.
3. Click Edit email content to customize the automation content.
4. Add a Subject and Preview text, then use the email editor to edit content in the email automation template.
5. Click on Turn on workflow to start the automation.
There are two more ways you can build email marketing automation processes on Shopify. Let's look at how to send emails through Shopify Email and other third-party services.
1. Using Shopify Email
Shopify Email marketing app.
Shopify Email is a simple email solution that helps users connect with their customers and build long-term relationships. Its clean and minimalist design is ideal for users who want powerful email functionality without the hassle of setting it up.
With Shopify Email, you can:
Automate email campaigns

to connect with customers based on their customer journey.

Customize an email quickly by editing buttons, text, images, and layout.

Track metrics such as open and click-through rates, purchases, and products added to carts.

Send branded emails to customers from your Shopify admin.

Personalize your subject line to give customers a more engaging experience.

Duplicate previous emails to maintain consistency in your content.

Schedule emails to be sent at specific times.

Segment your emails to ensure you send the right messages to the right audience.
Shopify Email gives you 10,000 emails for free each month. You'll then pay $1 for every 1000 emails you send past that limit. The free account offers you access to all features with no monthly commitments.
2. Using Shopify Third-party Email Platforms  
Besides Shopify Email, there are third-party email apps you can integrate with your Shopify store to send automatic emails.
Here are some of the best email marketing tools to help you automate emails on your Shopify store:
2.1. Sender
Shopify email automation tool.
Sender is an affordable, all-in-one email and SMS automation platform ideal for Shopify store owners. The automation solution lets you manage your email and SMS marketing campaigns within one dashboard, so you won't have to switch between multiple apps.
With the one-click product import feature Sender offers, you can quickly create sales emails for your Shopify store customers. On top of that, the email automation features help you grow your revenue through scheduled emails like special offers and abandoned carts. 
Here are more automated emails you can send using Sender:
Product abandonment

Anniversary and birthday emails

Order confirmation emails

Lead-nurturing emails

Product reviews and customer feedback

Winback and reactivation emails

Re-engagement emails

Product inventory emails

Welcome emails

Thank you emails
The omnichannel platform also has an intuitive drag-and-drop design builder with a massive library of pre-built email templates that helps you craft stunning emails to engage leads and customers and increase conversion rates.
Sender offers a Free Forever plan for up to 2500 subscribers and 15,000 emails per month. You can also upgrade your account and pay monthly, starting at $8.
2.2 Klaviyo
Shopify email automation software.
Klaviyo is an email marketing solution that allows Shopify store owners to grow and drive more sales.
The platform helps you send emails automatically when a customer meets certain triggers like abandoning a product from your Shopify store or when they make a purchase.
You can also schedule emails to be sent when someone hasn't visited your Shopify store for some time or when they spend a certain amount of time browsing your website but aren't adding anything to their shopping cart.
Klaviyo also offers paid social campaigns. You can sync your Shopify store data to build audiences for Instagram and Facebook ads to get more relevant customers for your store. The Klaviyo Community Forum also provides users with support and insider tips.
Klaviyo provides a free plan for up to 250 contacts and 500 monthly email sends. The price then shoots to $20 per month for up to 500 contacts and 5000 monthly email sends for the standard plan.
2.3. Omnisend
Shopify email automation platform.

Omnisend is an email and SMS marketing solution that enables Shopify store owners to set up email and SMS campaigns to build customer loyalty and generate more sales.
The marketing automation tool is designed to make it simple for Shopify store owners to acquire and retain customers with automated emails, high-converting popups, workflow templates, and segmentation.
On top of that, Omnisend provides campaign metrics, unsubscribe tracking, and analytics to help you analyze your marketing campaign performance with personalized benchmarks. You can also set up robust segmentation and push notifications to send relevant messages to your Shopify customers. 
Other features include dynamic coupon codes, a drag-and-drop email builder, fully customizable pop-ups, and an automatic product picker. 
Omnisend offers a free trial for up to 250 contacts and 500 emails per month. Upgrades start at $15 per month for up to 500 contacts and 6000 emails.
2.4. ActiveCampaign
Shopify email automation solution.
ActiveCampaign is an email marketing tool that provides the features you typically see in functional CRMs. For example, if a customer buys a product or abandons their cart, they'll automatically be added to your subscriber list in ActiveCampaign. 
That means you can see your customers' behavior and buying patterns and use that information to segment them into lists and send personalized emails.
On top of that, ActiveCampaign's integration with Shopify helps you access a massive library of 500+ pre-built automation templates to launch marketing campaigns. You can also design a landing page for your website in minutes. 
The platform also integrates with Facebook Audiences and Google Analytics and offers SMS marketing capabilities.
ActiveCampaign offers a free trial, after which you can upgrade to the Lite Plan, which starts at $29 per month (paid annually).
2.5. Constant Contact
Shopify email automation app.
Constant Contact is an email marketing solution that lets you sync your Shopify store's data with your Constant Contact account to create automated segments. As a result, you can send targeted emails to engage your leads and customers.
The email marketing solution also offers a library of webinars and training to help email marketing beginners learn email automation basics.
The platform also provides over 1GB of storage for your files, a built-in social media sharing tool, and an email tracking system.
Constant Contact users enjoy a 60-day free trial before pricing starts at $9.99 per month for up to 500 contacts.
Wrapping Up
Shopify automated emails help you improve customer engagement and experience, leading to increased sales. So make sure you've set up the proper automation workflows for your Shopify store to attract visitors who can become customers with a gentle push. 
Skirmantas Venckus
Skirmantas Venckus is a writer by day and reader by night. He hates talking about himself in the third person. He is also the growth hacker at Sender.net – the email marketing provider that is focused on user-friendliness, affordability, and utility.
FAQs about Shopify Automated Emails
Does Shopify Email have automation?
Yes. Shopify Email offers automation that helps you send personalized emails to customers as they interact with your Shopify store. As a result, you can send automated messages based on their browsing activity, purchase behavior, and buying history.
How much does Shopify Email cost?
Shopify Email gives you 10,000 emails for free each month. You'll then be charged $1 for every 1000 emails you send past that limit.
What information does Shopify track about my subscribers?
Shopify tracks open rates, click-through rates, unsubscribe rates, and spam complaints. However, you can disable open tracking on the Notifications page in the Settings section of your Shopify admin.