Back to Blog List
11 Best Shopify Referral Apps and Tips for Successful Referral Programs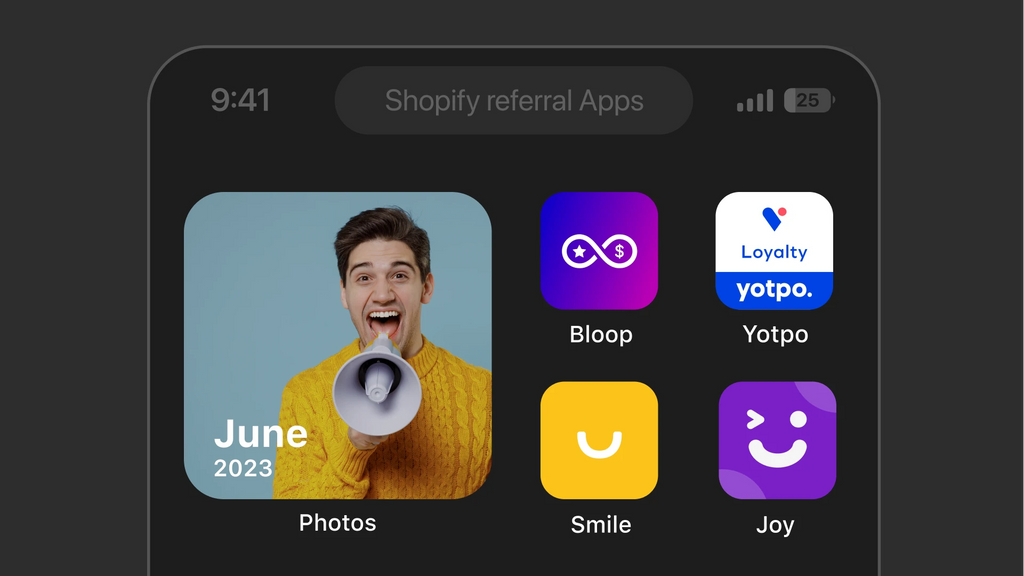 Customer success is determined by a variety of factors. From a business owner's perspective, referral marketing is bound to be on the table. A consistent customer lifetime value is what every business strives for, and referral programs are reported to help companies achieve this goal more efficiently.
But the magic of referral marketing does not simply materialize overnight if the feeling is not mutual. You have to make sure that your customers are down for it at the same time. A helpful tool to increase the chance of being recommended by your customers is a practical, straightforward referral app.
Nevertheless, Shopify has a plethora of referral apps that all market themselves as the bee's knees.
For your convenience, we at GemPages have taken the liberty to compose the best Shopify referral apps for you to grow a loyal and powerful customer base.
What Is a Referral Program?
A referral program is a marketing strategy that takes advantage of word-of-mouth and recommendations to maintain current customer relationships and recruit new ones. The existing customer base is rewarded with incentives to encourage their willingness to bring in new customers.
Although not new, referral marketing has had its progressive journey over the decades with the surge of new products, services, and most importantly, eCommerce. So, what keeps it from going obsolete?
Customers have always been an indispensable influence in helping businesses stay afloat in every industry. As humans, we are simply more inclined to put trust in people who are close to us, rather than flashy advertisements from huge brands. By having a clear vision, presentable products, and desirable incentives, referral marketing can open up many opportunities for your business.
Create a convincing and professional storefront with GemPages
GemPages helps you create a good impression with your customers, especially new ones. No coding needed.
How Does a Referral Program Work?
A referral program works by granting your existing customers with a referral code or an exclusive link to share with their loved ones or anyone in their social circle.
In other words, your existing customers will become your brand representatives. Different incentives can be offered to them upon signing up for the referral program, as determined by you.
The Shopify referral apps that we have arranged below will be a helpful tool for you to start an effective program, with convenient tracking to help you stay on top of your customer's activities.
11 Best Shopify Referral Apps in 2022
Shopify Referral Candy app.
Stamped as the most popular and trusted app to launch your own referral program, Referral Candy easily takes the cake for the first mention in our list. This app did not gain its reputation out of the blue. With its top-notch Customer Success team, versatile referral programs across various industries, and no-hassle reward system, both your business and customers are guaranteed to earn benefits conveniently and smoothly.
Reviews and ratings: 4.9/5 (1910)
Key features:
Easy set-up
Implement post-purchase popups and emails for speedy recruitment
Landing page customization, conducive theme editor
Fraud detection: identify and review suspicious transactions, alert when referral codes are leaked, deter fraud with a banning option
Automatically send rewards after successful referrals
Service available in up to 12 languages
Referral Candy Pricing:
With a 30-day risk-free trial, business owners can test the water before signing for two types of paid plans, starting from $49 to $299/month.
Shopify BLOOP Rewards & Referrals app.
An app that has just been launched last year but has soon established itself as one of the G.O.A.Ts is Bloop. With its friendly user interface and competitive pricing, Bloop is truly a for-everyone marketing tool. If you are a store owner who wants to dip your toes into building a basic referral program with a limited budget, this app is a shining candidate.
Reviews and ratings: 4.9/5 (75)
Key features:
Auto-generate a referral program in minutes, including referral page, popup, post-purchase widget, and theme
Specific reward types to cater to your customers and their friends
Set a minimum order number and coupon expiration date to boost sales
Scam detection to protect your business
Keep track of referrers and referees through a management board
Unique referral link is introduced through email marketing
BLOOP Rewards & Referrals Pricing:
Bloop has two types of plans, free and at $20/month.
Shopify SC Conjured Referrals app.
If you prefer to have the freedom to customize every little detail of your referral program, SC Conjured Referrals may suit your needs. Developed by Shop Circle, whose rating averaged to 4.9/5 stars across five apps in their possession, this referral program solution offers a variety of plans and up-to-date tech for you to curate the best program that fits your brand.
Reviews and ratings: 4.9/5 (211)
Key features:
Customized time to assign the offer
Available in any currency and language
Personalizable appearance settings
Set-and-forget email system
Advanced program and progress tracking system
All-in-one analytics dashboard
SC Conjured Referrals Pricing:
Conjured offers a 14-day free trial, with the option to choose from three tiered plans at $29, $99 and $299/month afterward. Additionally, a free plan for all partner development stores is also available at your disposal.
 Shopify UpPromote Affiliate & Referral.
UpPromote is recognized as the top recommended affiliate and referral marketing application on Shopify. It offers a comprehensive solution for automating affiliate and influencer marketing, encompassing a wide range of features to meet various marketing needs. With UpPromote, users can efficiently create professional affiliate programs and approach potential affiliates. Once integrated into marketing strategies, these affiliates assume the role of valuable partners, armed with exclusive affiliate links and coupon code features provided by UpPromote, enabling them to effectively promote services across diverse channels 
Reviews and ratings: 4.9/5 (2,818)
Key features:
Seamless onboarding process

Reliable tracking process

Powerful management

Create unlimited affiliate programs with different commission offers

Convert customers to brand ambassadors automatically

Grow your team exponentially with Multi-level Marketing (MLM)

Track the performance

Detailed report of affiliates' performances (clicks, orders, sales)

Keep track of the best performers

Analyze product trends with Product analytics
UpPromote Affiliate & Referral Pricing:
Free trial available  I  Growth plan: $ 29.99  I  Professional plan: $89.99  I  Enterprise Plan: $199.99
Shopify Referral & Affiliate Marketing app.
This free Shopify app has a lot to offer for it zero dollar price tag. As the name suggests, you can combine referral and affiliate marketing all with one. It also lends you a helping hand in building a customizable reward program, with reward amounts and categories of your choice, whether it is percent off, fixed amount, or free shipping and free merchandise.
Reviews and ratings: 4.9/5 (1,054)
Key features:
Easy-to-follow instruction to set up your reward program, with unique features, such as eye-catching popups, customized referral links, coupon codes, or rewards expiration date.
Insightful analytics to stay on top of your progress
Both advocate and referred customers are qualified for rewards
influencers can receive commissions and free gifts, and discounts are given to their successfully referred customers.
Referral & Affiliate Pricing:
Refer & Affiliate is currently available for free on the Shopify App Store.
Shopify Loyalty, Rewards & Referrals app.
This unique gamified loyalty, rewards, and referrals gizmo was awarded as a part of Shopify staff pick 2020 and 2021. Built by loyalty experts, it offers many different incentives, such as loyalty points, cashback, tiered discounts, VIP status, etc. Its contemporary layout might also catch your eye to consider trying out this useful widget.
Reviews and ratings: 4.8/5 (156)
Key features:
Cut cost on advertising
Keep customers within reach with personalized, targeted messages
Dashboard available in English and French, program in 13 more different languages
Rewards upon signing up, order completion, reaching a certain order value, alongside free shipping, etcetera.
Perks with every little detail: follows and likes, leaving a review, birthday, and above all, referring a friend.
Loyalty, Rewards & Referrals Pricing:
Loyalty, Rewards & Referrals has a 7-day free trial as well as a free plan. Paid plans are priced at $39 and $119/month.
Shopify Affiliate Marketing & Referral app.
This app gives you the liberty to launch your reward program with a detailed and step-by-step workflow. With a perfect rating score and endless praise for their outstanding customer service, Affiliate Marketing & Referral could become your go-to marketing tool as well.
Reviews and ratings: 5/5 (249)
Key features:
Well-planned guide to getting started, from when an affiliate account is created to when a commission is computed and owners can add and track payout.
Specify different commissions catered to the product and certain affiliates
Multiple commission rules: multi-tier, recurring, collection level, etc
Add-on tools: automatic email alerts, bulk emails, share marketing assets
PayPal and Appstle Subscriptions integration
Affiliate Marketing & Referral Pricing:
The competitive plan prices might be the secret to success with this app. Free plan, as well as paid plans of $5, $9, and $15/month are available.
Shopify Joy: Rewards, Loyalty Program app.
Another app that was recently introduced but has garnered a great number of ratings and reviews is Joy. Its no-hassle and seamless workflow, as well as reasonably priced plans, might be what you just need to create the reward program you were aiming for.
Reviews and ratings: 5/5 (655)
Key features:
Increase conversion rate effortlessly
24/7 live chat support
Migration options from other loyalty and rewards apps
Points can be applied to all or select orders and products
Expiration period on rewards and coupons
Flexible reward level set-up
Rewarded for social activities
Customer's activities are monitored for easy incentive adjustment
Playful and eye-catching reward points
Joy: Rewards, Loyalty Program Pricing:
You can begin with a free plan and transition to a paid plan of $29/month with Joy.
Shopify Smile: Loyalty & Rewards app.
Launched in 2014, this app by Smile.io has had its fair share of updates and improvements over the years, as well as an abundance of resources at your disposal. The wildly positive reviews and ratings further prove its legitimacy. Smile also caters to its users with a variety of plans with different price points to choose from. What you have in mind, this app can probably covers it.
Reviews and ratings: 4.8/5 (4825)
Key features:
Personalized widget and reward panel with advanced adjustments to spice up your store
Customers earn points by taking actions (placing an order, celebrating birthday, etc)
Choose rewards that fit your business
Easy set-up, points are reported to be earned within days after launching
24/7 online support
Exclusive on-site reminder called "Nudges" to increase customer engagement and their willingness to refer a friend
Smile: Loyalty & Rewards Pricing:
Smile offers a free plan, as well as plans with a monthly fee of $49, $99 and $599.
Shopify Yotpo Loyalty & Rewards app.
As a Shopify store owner, Yotpo might be a familiar name to you. This loyalty and rewards app was built by Yotpo - the leading eCommerce marketing platform. With 7 years in operation, this to-the-point referral program builder is user-friendly and up-to-date.
Reviews and ratings: 4.7/5 (2404)
Key features:
14 Rewards Campaigns: points granted through social follow, goal spend, birthday, etc
Different redemption options
Custom VIP Tiers loyalty program: customers earn reward through spending and referrals
No-code page builder, SMS notifications
Customers are treated like brand ambassadors
Yotpo Loyalty & Rewards Pricing:
Yotpo has a free plan available for stores with less than 100 orders/month, as well as 2 paid plans that are priced at $29 and $249/month.
Shopify Rivo: Rewards, Loyalty Program app.
Built exclusively for Shopify, Rivo is definitely worth taking into consideration in helping you launch your first loyalty program. Despite its recent launching date, this app has proven itself to be one of the best, with a nearly perfect rating scores and thousands of positive reviews.
Reviews and ratings: 4.9/5 (1359)
Key features:
World class 24/7 live chat support
Point system for customers to earn rewards
Customization available
Simple installation, no coding required
Referrals suitable for different types of products
Rvio Rewards, Loyalty Program Pricing:
Rivo offers a 7-day free trial and different paid plans to choose from, starting at $34 to $129 and $429/month.
Tips and Tricks to Create a Successful Referral Program
With a helpful tool by your side, the success of your business is still determined by your actions. Simply following a guideline that may not enable referral marketing to work to its full potential is both time-consuming and impractical. Below are some tips and tricks that may be of use to you in creating the referral program that works.
1. Ensure the Quality of Your Product
A well-crafted referral program helps you attract new customers, but the determining influence to build a long-term relationship with them is the quality of your product and/or service.
For existing customers, they will not feel inclined to recommend an inadequate product. For potential new customers, if they are presented with a product or service which do not live up to their expectations, they will be less likely to repeat the purchase. The goal of a referral program is to increase customer lifetime value, thus, one-off purchases from dissatisfied customers will get your brand a bad reputation.
As a store owner, being able to offer a good product and/or service is the minimal, but crucial step before implementing a referral program.
2. Pick the Right Incentives
Being one of the most important parts before starting a referral program, knowing what to give in order to earn will help boost your business instead of making a dent in your budget. So, how to know exactly?
The above Shopify referral apps give you the freedom to assign the rewards to certain products and customers. This means a clear analysis of the reward options should be prepared and utilized carefully.
For example, if your products are popular among a younger-in-age demographic who are extremely active on social media, a simple discount code to give to their friends and followers in exchange for free products is a good idea worth considering
3. Make People Want to Join the Program
A great product and eye-catching rewards might sound enough for a referral program to work, but customers are busy individuals with personal affairs to take care of. So what makes them want to willingly join your referral program?
To answer this question, it is essential to put yourself in the customer's shoes. If it is rewarding, trust-worthy and simple, it is bound to catch their attention. The rewards are already into play, so brand authenticity and an easy gateway for your customers to become ambassadors, are helpful additions to create a successful referral program for your business.
A convincing and professional storefront in eCommerce plays an enormous part in increasing conversion rate. GemPages, for instance, is known for creating great-looking landing pages to help create a good impression with your customers, especially new ones.
GemPages offers a slew of ready-made templates to help you quickly create stunning landing pages for your referral program.
To make it easier for customers to join your program, the initial process to sign up for it needs to be as effortless as possible. In other words, a pre-composed message alongside a referral code to be sent among their network is undoubtedly better than a referral program that requires them to craft their own message in order to refer your business and receive rewards. The Shopify apps above will give you the freedom to design the most efficient program, both for you and your customers.
Customize your Shopify store pages your way
The powerful page builder empowers you to create store pages that bring unique experiences and convert customers. No coding needed.
4. Control Your Budget with the Right Tool
Implementing a referral marketing program means giving away your assets for long-term relationships and benefits. This requires you to have proper and thorough planning before choosing which add-on to go with, after taking your budget into consideration.
The list we have compiled for you has Shopify referral apps of all shapes and sizes. Selecting a free or a paid plan is up to you and the objectives of your brand. If necessary, trying out several options with free trials will help you have an overview of which direction you should steer your business in.
5. Create a Satisfactory Experience Throughout
From the moment your potential buyer clicks on the referral link, they have begun the shopping journey with your business. Every step of the way needs to be simple and convincing enough for them to move on to the next one. In the best case scenario, they will feel inclined to become brand ambassadors themselves.
To achieve this goal, the tips and tricks mentioned above all need to be taken into consideration. Great product to turn their heads, alluring incentives to peak their interest, a professional storefront to gain their trust, an easy-to-follow program, and an all-in-one tool to eliminate risks and hassles during their shopping experience. Needless to say, other unexpected elements will emerge as this process goes on. We hope that one or more referral programs from this curated list will be of use to you in assembling the most well-rounded shopping experience for your customers.
Conclusion
We have compiled this list for your convenience in building a powerful referral program. Nonetheless, you are the one who knows the ins and outs of your business best.
Launching a successful reward program is easier in this day and age, where technology is more prevalent than ever. With the tried-and-true experiences of other large companies and corporations, referral marketing has proven itself to be one of the most essential marketing methods that businesses of all sizes should consider and implement.
In conclusion, an accessible reward program launcher, alongside a powerful page builder, namely GemPages, can help take your business to the next level if done right.
FAQs about Shopify Referral Apps
What are the top Shopify referral apps?
Affiliate Marketing &amp Referral, BLOOP Rewards &amp Referrals, and Referral &amp Affiliate Marketing are unbeatable at their pricing (free to a maximum $20/month), while Yotpo Loyalty &amp Rewards and Smile: Loyalty &amp Rewards have been well-trusted for many years.
What is the difference between affiliate and referral programs?
An affiliate program often involves a third party individual who gets paid a commission by one's business to advertise their products and recruit their followers in becoming loyal customers. Meanwhile, a referral program grant one's existing customer base rewards in exchange for them to share one's products and services with their friends and family.