Back to Blog List
Shopify vs Amazon: Which Is Better For You In 2022?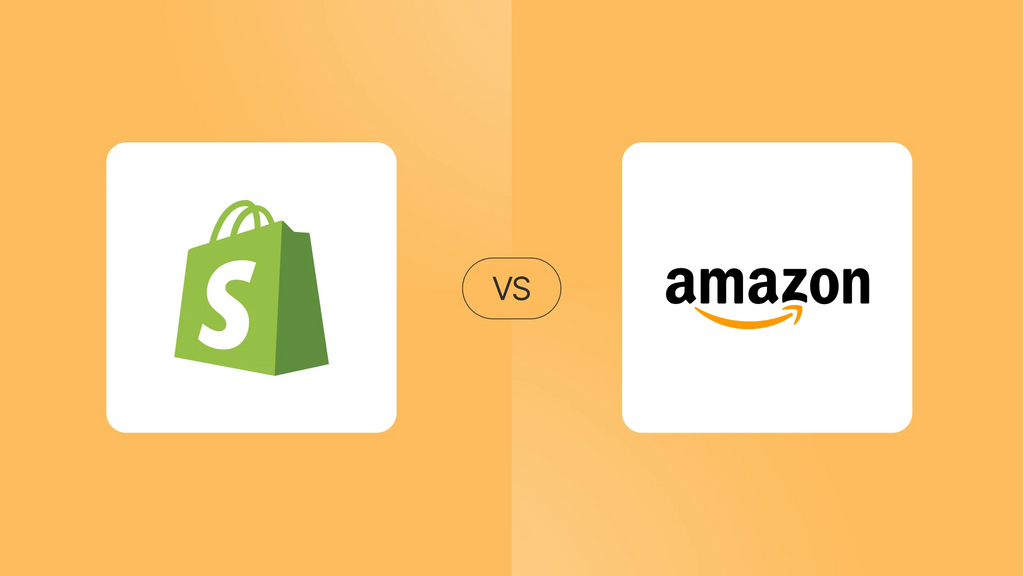 Shopify vs Amazon: which is right for you? Both are Goliaths in the eCommerce world, but they offer a very contrasting approach to online retailing. In this article, we'll walk you through the ins and outs of Shopify and Amazon in seven critical criteria to help you decide which best fits your business requirements: Shopify or Amazon.
The clear-cut distinction between Shopify and Amazon
Before digging deeper into our Shopify vs Amazon comparison, it's imperative to note that there are fundamental differences between the two. Shopify is an eCommerce platform, while Amazon is an online marketplace. Here's what that means:
With Shopify, you pay a monthly fee to set up your online retail space, and you're equipped with all the essential tools and features to build and grow your online business. It's like choosing a home base for your bricks-and-mortar store but digital.
Meanwhile, selling on Amazon is the online equivalent of selling your goods in a massive market. Your products are up for grabs in a market that thousands of people come and visit every day. That's not to say you will immediately experience enormous floods of orders as consumers might only window-shop or buy from other retailers.
Pricing
Cost is one of the most critical factors that needs to be taken into account when deciding to invest in anything, and choosing between Shopify and Amazon is no exception.
Shopify has a two-week free trial and three main pricing plans, along with Shopify Starter (at $5 per month, but you can only sell products through social media and messaging apps) and Shopify Plus (an enterprise-grade solution starting at $2000/month).
The three most popular Shopify pricing plans are:
The Basic Shopify plan, at $29 per month, gives you everything you need to create a fully functional online store, ship products, and process payments.
The Shopify plan costs $79 per month. This plan offers everything in the Basic Shopify plan plus professional reports and more staff accounts.
The Advanced plan costs $299 per month. With this plan, you will get three key features that are not included in the two plans mentioned above—a custom report builder, third-party calculated shipping rates, and the ability to set specific prices by market.
Other than the monthly pricing, Shopify charges transaction fees unless you use Shopify Payments. The transaction fee is 2.0%, 1.0%, and 0.5% for the Basic Shopify, Shopify, and Advanced Shopify plans, respectively.
To sweeten the pot, Shopify offers 10%-20% discounts if you commit to a longer term. Below is a breakdown of three Shopify pricing tiers and the savings you can make if you purchase an annual subscription.
On top of the costs associated with these two Amazon pricing plans, Amazon sellers also need to pay additional selling fees:
Referral fees are often between 8% and 15% and vary by product category.
Fulfillment fees depend on whether you ship your orders yourself or have Fulfillment by Amazon (FBA) deliver your orders.
Other charges you may incur include monthly or long-term storage fees, advertising fees, inventory placement services, and premium account services.
Verdict: When comparing the pricing of Shopify vs Amazon, it's pretty hard to come up with a clear declaration about which offers more value for money because of their very different nature. However, if you decide to commit to Shopify, we highly recommend the Basic Shopify plan—it's perfectly adequate for most small merchants. And, if you'd prefer to join the Amazon marketplace, the Professional plan is your go-to option.
Ease of use
The myth that the online store setup process is only for tech gurus has been well and truly busted. With Shopify, you can create and customize your online store regardless of your technical skills. The Shopify dashboard is intuitive and comes with an onboarding setup process that walks you through step-by-step to start selling with Shopify.
Like Shopify, Amazon does a fantastic job of simplifying the setup process for its sellers. You just need to create an Amazon account, follow its setup guidelines, upload your product listings, and you're ready to get off the ground.
You can watch the video below to better understand how selling on Amazon works.

Verdict: Both Shopify and Amazon are easy to set up in their own ways. Even a newbie can figure out how these two work.
Design freedom
Given how common it is for a potential customer to leave an online store because of its poorly-designed, difficult-to-navigate interface, the very first thing you should do is to make your storefront as professional as possible.
Shopify gives you loads of control over your store's appearance and brand presence—you can choose from 92 Shopify themes and then make your mark on your store by adding images, video backgrounds, or changing the fonts.
Shapes—a retro-inspired Shopify theme for energetic brands
A Shopify theme is a good foundation on which you can build your digital store. But to really set your store apart and grow your sales, you will need the helping hand of a Shopify page builder.
With the support of GemPages page builder, you can create a storefront that's equal parts stunning and high-converting. Better yet, your store can also be dressed in the festive spirit using templates that are tailor-made for Halloween, Christmas, New Year's Eve, and many more. You just name it!
Amazon, by contrast, is more limited in terms of how you can design your storefront. That's not to say you have no customization with Amazon—you can customize your brand logo and upload your own product images and product descriptions. However, you can't change the overall layout and design of your product pages, making all pages look very "Amazony".
Verdict: Shopify outshines Amazon in this department. Shopify is a smarter choice for merchants who need a fully-branded store as this platform offers way more control over your store's aesthetic. Amazon takes the design work off your plate but limits how you can present your brand in a pool of sellers who are all eager to claim their piece of the Amazon consumer pie.
eCommerce features
Although there is more than one strong motive when deciding between Shopify and Amazon, we believe eCommerce tools and features are the most significant. They are the backbone of an online store—determining how you will market and sell your products.
Shopify allows you to sell an unlimited number of products on any pricing plan. This eCommerce platform provides you with all the online essentials you'll need, from inventory and analytics tools to abandoned cart recovery and accepting multiple currencies.
Even if what you need is not available in the Shopify dashboard, you will likely find something that matches your exact requirements in the Shopify App Store. The ecosystem around Shopify is enormous with over 7500 Shopify apps across a broad range of categories.
Similar to Shopify, Amazon supports your eCommerce business in many ways, with the option to sell handmade products, ship items globally, and even create targeted adverts. The Amazon FBA is a paid program that allows you to access Amazon Prime customers and lets Amazon handle your goods' storage, packing, and shipping.
Verdict: Shopify and Amazon both have various eCommerce features to support their merchants. However, Shopify does offer a better range of advanced features compared to Amazon.
Search Engine Optimization (SEO)
For your business to succeed, your Shopify or Amazon store needs customers and lots of them! That's where SEO comes in. SEO is the process of maximizing your website's visibility on search engines like Google, Bing, and Yahoo.
Shopify puts a wide range of SEO tools at your disposal. It doesn't give you every trick in the book, but most essential areas are already covered. You can edit titles and meta descriptions, customize URLs, and your site structure.
As you sell on Shopify, the primary search engine you need to worry about is Google. People look for your products or brand on search engines—mostly Google, which accounted for nearly 92% of all search engine queries in the first half of 2022.
Amazon, unlike Shopify, presents merchants with two search engine opportunities: Google and Amazon's own search engine. What does this mean for Amazon sellers? Technically, Amazon connects you with a bigger audience. The challenge is how to make the most of Amazon SEO to connect with more potential customers and make more sales.
Verdict: Amazon wins! Although Shopify SEO capabilities are pretty impressive, Amazon offers more than one search engine and when it comes to online selling, more is always better!
Payment gateways
Shopify is a big player in the game of payment gateways with over 100 payment options, including top names such as PayPal, Google Pay, and Amazon Pay. In addition, this platform also has its own payment processor named Shopify Payments. If you use Shopify Payments, you will avoid transaction fees entirely.
In terms of payment gateways, Amazon takes a similar approach to Shopify. Amazon Pay is the primary payment gateway available, allowing you to accept all kinds of debit and credit cards. However, you can't access PayPal, which is probably a pretty big omission.
Verdict: Shopify beats Amazon with its sheer number of payment options.
Customer support
Shopify has always been praised for its superb, round-the-clock customer support. The knowledgeable support team is always at your service—available 24/7 via phone, live chat, and email.
Additionally, Shopify offers extensive documentation, a knowledge base on its Help Center, and a large community of users and developers where you can find insightful responses to almost every question. You can also hire Shopify experts if you need extra help or want to integrate a third-party solution.
On the contrary, customer support is not what contributes to Amazon's competitive edge. Often, Amazon encourages its sellers to take advantage of the resources available, including help pages, community forums, and video tutorials to address issues.
That said, you can still request a callback from Amazon by logging into your account and locating the "contact us" section.
Verdict: This criterion is a no-brainer. Shopify again wins the customer support round! Amazon direct support is available if you need it. Yet, Amazon prefers you use one of its automated customer support methods.
Shopify Amazon Integration
By now, some of you might have already made your decision. But it's par for the course if you haven't yet determined whether Shopify or Amazon is better for you.
Here comes the good news for both, especially waverers: You can integrate Amazon into your Shopify store. That means you don't have to use these two in a mutually exclusive way—you can create your online store on Shopify while promoting your products on Amazon simultaneously.
Of course, both your Shopify and Amazon accounts need to be activated so they can be connected. The integration process is as easy as pie. You only need to add the Amazon Sales channel to your Shopify store and sync your inventory.
Or you can turn to a third-party app like Amazon Integration Plus, Amazon by Codisto, or Amazon by CedCommerce for a seamless Shopify Amazon integration.
These apps help to connect Shopify directly to the Amazon marketplace to create, manage and sync product listings, keep inventory in sync and fulfill Amazon orders from Shopify.
The verdict?
We've come a long way in comparing Shopify vs Amazon. To recap all the criteria we've looked at, here's a quick summary table:
 Area
Shopify
Amazon
Winner
Pricing

Shopify offers a 14-day free trial with three main pricing tiers—$29, $79, and $299 per month.
If you pay annually, you can get a 10%-20% discount.
Transaction fees apply unless you use Shopify's payment gateway.

Amazon has two pricing plans: one costs you $0.99 per item sold and one costs $39.99 per month.
Referral fees apply for both plans, ranging from 8%-15% per item.

Tie
Ease of use

The Shopify dashboard is minimal and comes with a step-by-step guide to set up your store.

To start selling on Amazon, you only need to set up your Amazon seller account and upload product listings.

Tie
Design freedom

You have loads of control over your brand presence and store appearance.

You are fairly limited to how you can present your business as you can't make many adjustments to your product pages.

Shopify
eCommerce features

Shopify offers powerful eCommerce features right out of the box.
Shopify also has an enormous library of third-party apps across all categories.

Amazon offers features to support its sellers.
However, the number of its advanced features is limited compared to Shopify.

Shopify
SEO



Shopify's SEO capabilities are quite impressive.
The main search engine on which customers search for your products is Google.

Amazon presents sellers with two search engine opportunities—Google and Amazon itself.

Amazon
Payment gateways

Shopify permits over 100 payment gateways.

Amazon Pay is the main payment option.
Paypal isn't yet available

Shopify
Customer support

Shopify offers 24/7 support via email, phone, and live chat.
You can also find answers in the Shopify Help Center and the Shopify Community.

Amazon customer support is pretty good: help pages, community forums, and video tutorials.
However, Amazon support is less accessible than Shopify.
 As you can see, Shopify comes out on top in most categories. That's not to say Amazon is not as good as Shopify, but it caters to different types of customers.
Nonetheless, you don't have to choose either Shopify or Amazon. If you are tempted by the idea of having your own online store but still want to feature your products on the world's largest marketplace, you can connect your Shopify store to Amazon and sell through both at the same time. This gives you the best of both worlds and opens up more ways to grow your business.
Learn more: Shopify vs Amazon: Which Is Better For You In 2022?
FAQs about Shopify vs Amazon
Which platform is better for dropshipping, Shopify or Amazon FBA?
Shopify is better for dropshipping business and, in many ways, has been designed with dropshipping in mind. With Shopify, you can easily connect with a slew of dropshipping apps. On the contrary, Amazon's dropshipping policy is quite strict. For instance, you must identify yourself as the seller of your products on ALL packing slips and invoices as well as external packaging.
What is the key difference between Amazon and Shopify?
Amazon is an online marketplace, while Shopify is a specialized eCommerce platform. In other words, Amazon allows you to sell on its marketplace alongside other sellers, while Shopify equips you with all the essentials to build your very own digital store with minimal fuss and limited technical knowledge.
Are Shopify and Amazon competitors?
Shopify and Amazon are not direct competitors. They have a very contrasting approach to online selling and cater to different niches. In fact, you can sell on these two platforms simultaneously by integrating Amazon into your Shopify store.
Which is easier for beginners, Shopify or Amazon?
Both Shopify and Amazon are geared towards beginners. The main difference is as a Shopify user, you need to figure out how to build your own website and you have more work to do in terms of store design and store customization. While Amazon helps you with your product listings, you have to learn how to populate a database efficiently.
Which one is cheaper, Shopify or Amazon?
Shopify and Amazon have different pricing structures. Hence, it's hard to conclude which platform is cheaper. Nevertheless, Shopify offers better value for money—you have everything you need to build a fully functional store for just $29 per month and Shopify will not charge any transaction fees if you opt for its payment gateway. Meanwhile, with Amazon, to get access to all of its features and sell unlimited products, you will need to go for its Professional plan which costs $39.99 per month.