Back to Blog List
How to Transfer Domain to Shopify: A Step by Step Guide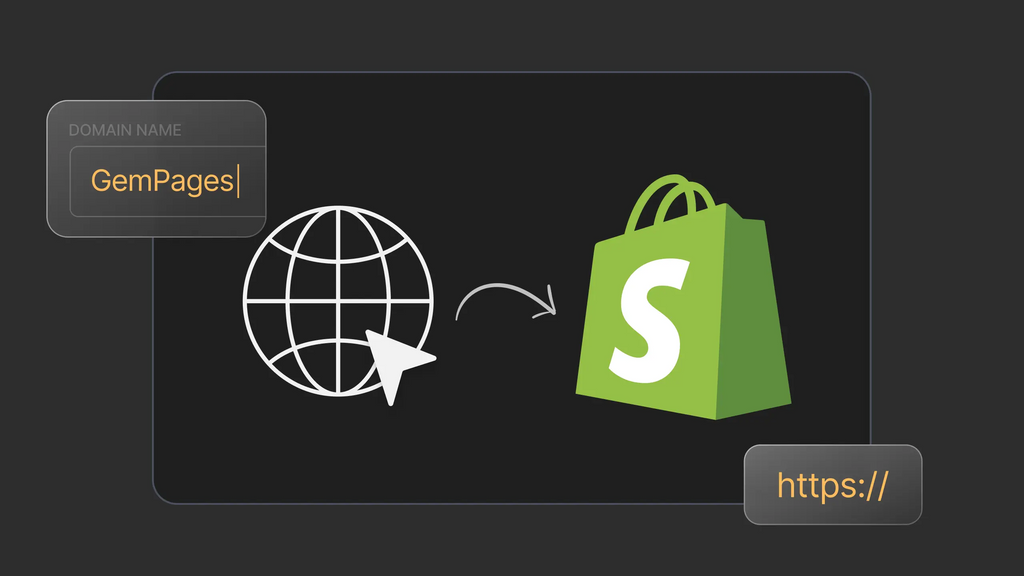 Suppose you want to start an online business on Shopify and already have a third-party domain from another provider. In that case, you may be wondering about the process of transferring it to Shopify. Transferring your domain to Shopify allows you to manage it directly from your Shopify account, saving you time and effort and resulting in a more streamlined experience. To help you with this process, we've put together a comprehensive guide that will walk you through the steps of a seamless domain transfer to Shopify.
Following our detailed instructions, you can seamlessly transfer your domain to Shopify and ensure that your online business continues without any interruptions. This will also allow you to take advantage of the benefits offered by the unified Shopify platform. 
So, let's dive into the step-by-step Shopify domain transfer guide for transferring your domain to Shopify.   
Important Notes While Transferring Your Domain to Shopify
By keeping these considerations in mind and following the instructions carefully, you can ensure a smooth and successful transfer process.
While transferring your domain, there might be

additional expenses. To obtain pertinent details regarding the transfer costs, it is recommended that you liaise with your domain provider.

You need to settle

the registration fee

to renew your domain for another year. This payment will extend your domain's expiration date by 12 months from its current date. 

Your domain must have been registered for

at least 60 days

to be able to transfer.

Be aware that the transfer process can take up to

a few days

to complete.

Ensure that you have both access to your original domain provider account and the corresponding email account used for logging in to that account.

Make sure that the email address you provide for the domain transfer does not belong to the same domain you wish to transfer. Throughout the transfer procedure, you must reply to emails sent to this email address. If your current email address is associated with your domain, it will be temporarily disabled during the transfer. For instance, if you intend to transfer the domain gempages.net, it is advisable not using the email address xyz@gempages.net.

To successfully finalize the transfer process, you need to monitor and respond to confirmation emails.

Shopify

does not

provide email hosting services.
How to Transfer Domain to Shopify
Once you remember all the essential notes we mentioned above, the rest of the process is pretty easy. Follow these steps to have a complete third-party domain transfer to Shopify:
Step 1: Check Your Domain's Eligibility
It's important to first check your domain's eligibility by following the prerequisites below:
Check if you have ownership of the domain.

Ensure your domain is not locked. 

Check domain status and expiration date.

Research the transfer policies of your domain provider.
Domain transfer policy of Google Domains
Step 2: Prepare Your Domain for Transfer
2.1. Connect your domain to Shopify
First, confirm the transferability of your domain. A quick check on your Shopify admin will reveal whether or not your domain is eligible for transfer. Certain domains, such as.ca, and .co.uk, are not transferable.
1. Navigate to your Shopify admin and select Settings > Domains.
2. Enter the existing domain name to Transfer domain > Next > Verify Connection. 

Note: If you haven't linked any other domains to Shopify before, select Connect existing domain > transfer it to Shopify.
Note: Do not include www. at the start of the domain.
Tips: 
You can click on

Follow settings introductions

to read instructions on connecting a specific third-party domain to Shopify.
It is critical to validate the link between your domain and Shopify after completing the appropriate steps with your domain registrar. To check that the operation was successful, click

Verify Connection

. 

If the connection does not operate

after 48 hours

, repeat the procedures and look for faults in your domain settings. If you continue to experience problems, contact your domain provider for support. 
2.2. Unlock your domain from the third-party provider
You must first unlock your domain and get a transfer authorization code from your domain provider before transferring the domain to Shopify.
1. Log in to your domain account. Make sure that the email address used for your account is up-to-date, functioning, and not connected to the domain you are going to transfer. 
Click

Unlock

. This option may require your approval by clicking a link in a confirmation email.
2. Choose Transfer this domain to obtain a transfer code from your domain provider.
Note: Make a backup of any domain records you may need later.
Customize your Shopify store pages effortlessly
Build high-converting Shopify pages fast. Optimize performance at ease. No coding needed.
Step 3: Initiate the Transfer Process
Once your domain is unlocked, go to

Settings

>

Domains.

 

Click the

Transfer Domain

button. If you don't see this option, go to

Actions

>

Transfer Domain.

Enter your domain name.
You will have to pay to have your domain registered with Shopify for the following 12 months to complete the transfer. When you are done, click

Verify Domain.

If your domain is unlocked, click

Next

. Otherwise, return to Step 2 and unlock your Domain.

Enter your domain's authorization code and click

Next.

Confirm the transfer by clicking

Buy and transfer. 
Step 4: Verify the Transfer
During the transfer, it's critical to keep an eye on the email account associated with your domain. You may need to authorize or approve the transfer, depending on the prior domain owner, by clicking the Confirm Transfer or Approve Transfer links in an email.
The domain transfer procedure can take up to 20 days on average, although it can be finished considerably faster. Shopify will give you an email confirmation once the transfer is completed. The Domains page in your Shopify dashboard will then provide you with the access to all of your domain settings. 
Note: If the transfer fails, the one-year renewal cost will be returned. If you run into any issues during the procedure, you may contact Shopify support for assistance.
Step 5: Manage your data use consent preferences
Once you have successfully transferred your domain to Shopify, you will receive an email titled "Control how your data is shared". This email will include a link that directs you to Tucows Inc's Data Use Consent Settings. Tucows is the parent company of OpenSRS, which is the service utilized by Shopify to resell domains. 
Providing your consent is optional; you have the ability to withdraw it at any time. This will allow you to manage how your data is shared with Tucows and ensure that your privacy preferences are being met.
Tips for a Smooth Transfer
Transferring your domain can be a complex process, but with proper planning and execution, it can be a hassle-free experience. Here are some tips to ensure a smooth transfer:
Plan ahead
It's essential to plan ahead and initiate the transfer process well in advance to avoid any last-minute issues. This will give you enough time to sort out any problems that may arise during the transfer process.
Double check the information
Before starting the transfer process, it's vital to double-check all the information. Make sure that you have entered all the correct details, such as your domain name, contact information, and authorization code. This will help prevent any errors that could cause delays or complications during the transfer process.
Test your domain
Once the transfer is complete, it's crucial to test your domain to make sure that it is working correctly. Check that all your website's pages are accessible, and your email is functioning. You can also test your domain using online tools that check the DNS records and other technical details.
Finally, don't forget to update your website's settings and DNS records once the transfer is complete to ensure that your website is fully operational on your new hosting provider.
Start selling on Shopify for $1/month
Try Shopify for free, then enjoy the next 3 months for $1/month on select plans.
Conclusion
Transferring your domain to Shopify can seem like a daunting task, but with this step-by-step guide, you will be able to transfer your domain to Shopify without any burdens. 
Once you've successfully transferred your domain to Shopify, your store's design will be a crucial element in its success. A well-designed store can make all the difference in attracting and retaining customers. This is where GemPages comes in. GemPages is a powerful drag-and-drop page builder that allows you to create stunning custom pages for your Shopify store. With GemPages, you can design your store to your exact specifications, without having to write any code. GemPages offers a free plan, allowing you to upgrade as you scale. Start your domain transfer today and watch your dream come true with GemPages.
FAQs About Transferring Domain to Shopify
After switching my domain to Shopify, how can I manage my data usage consent preferences?
In your Shopify account, go to Settings -> Legal and choose Data Use Consent. You may then manage your data using consent choices.
What if I enter the incorrect authorization code during the transfer?
The transfer will fail, and you will need to restart it with the right authorization code.
How do I transfer my domain from Wix to Shopify?
Log in to Wix -> My Domains tab. Choose the domain you wish to move, then click the Advanced option, and then click Transfer away from Wix.
Can I migrate from Magento to Shopify?
Yes, it's possible to migrate your online store from Magento to Shopify. Although there are certain disparities between these two platforms, Shopify offers an effortless migration procedure that facilitates the swift and smooth relocation of your store. The process to move a domain from Magento to Shopify is similar.
Can I transfer my domain from Google Domains to Shopify?
Yes, you can transfer your domain from Google Domains to Shopify. You will need to get authorization code from Google Domains -> input it to Shopify's domain transfer page -> follow Shopify's instructions via email in order to consummate the transfer process. This process might take days to complete.
Can I transfer multiple domains to Shopify at once?
Yes. You can do this by following the domain transfer process for each domain. However, each domain must be transferred separately, and the transfer process may be prolonged when dealing with multiple domains.
What happens if the transfer is unsuccessful?
If the transfer is unsuccessful, you will receive an email notification from Shopify. The notification will contain explicit guidelines on how to rectify the situation.
Can I keep my domain if I leave Shopify?
Yes, you can. When you transfer a domain to Shopify, you retain ownership of the domain. If you decide to move your website to a different platform in the future, you can update your domain's DNS settings to your new website. However, if you cancel your Shopify subscription, you'll need to manage your domain settings through your original registrar.