Back to Blog List
10 Best AI Tools for eCommerce Success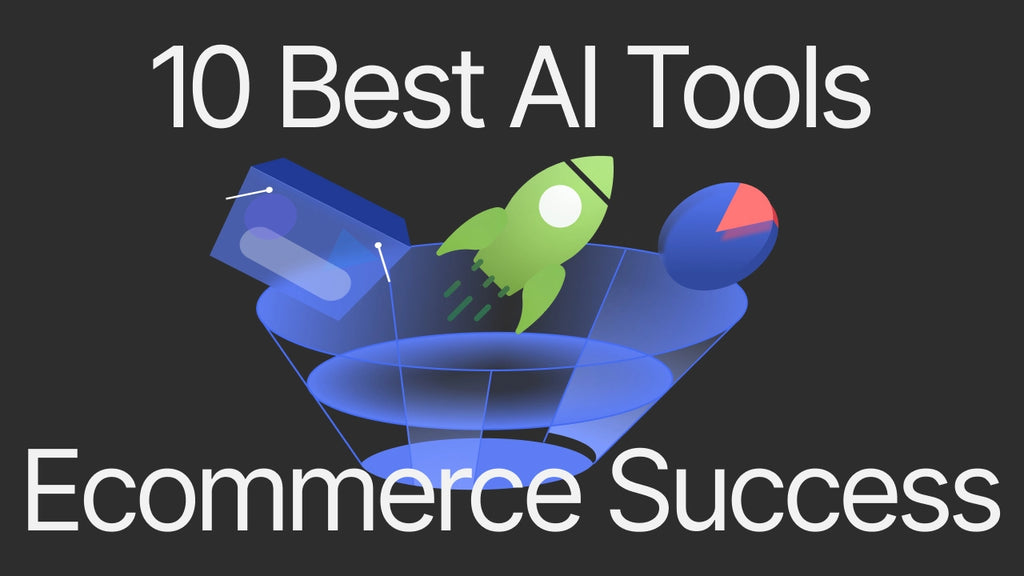 Artificial Intelligence (AI) has become the talk of the world - and not just town!
It's swiftly getting into different business sectors and eCommerce has been one of the early and biggest adopters of AI. 
As a business owner, you must have FOMO of missing the boat on harnessing this technology to take your business to new heights. But Rome wasn't built in a day. 
It's important to know which areas of your business need AI capabilities. Also, there are a ton of eCommerce tools in the market to supercharge your online business and you must choose the right ones.
In this blog post, we'll walk you through the ins and outs of using AI in eCommerce, the important aspects you should consider, and the AI tools for eCommerce that you can use for your different business operations.
Why Use AI Tools for eCommerce?
Enhance the marketing effectiveness
The eCommerce businesses have already been using data on customer behaviors and trends to create highly personalized customer experiences. However, the power of AI can enhance the capabilities to analyze such data in greater volume—and at a faster pace.
Reduce efforts and increase productivity
By reducing the effort in repetitive activities and tedious tasks, AI can speed up various stages in the e-commerce process. For example, an inventory management AI tool can help you optimize inventory items and reduce waste with smart algorithms instead of manually tracking and adjusting.
Leverage automation
AI tools help automate processes and reduce manual intervention in technical and complex procedures. For example, you can set up automated and personalized product recommendations through AI algorithms instead of considering what products to recommend on all product pages.
Scale your customer service operations
Customer service is a crucial element of eCommerce (or any business for that matter). AI helps businesses to scale customer service operations with existing resources. For example, an AI-powered chatbot can reduce the workload of the customer service team by handling basic and redundant queries.
What Are Popular eCommerce Platforms To Use AI Tools?
Shopify
Shopify is one of the most popular eCommerce platforms in the world. More than 4 million live websites are built with Shopify.
In Shopify Editions Summer '23, Shopify has clearly indicated its vision about using AI with this statement: "We're all-in on AI." The platform has already adopted AI and is aiming to empower merchants with Shopify Magic, a cutting-edge AI tool.
Shopify has an app store with many AI-powered apps like GemPages (AI-powered page builder), Tidio (AI Chatbot), AI: Upsell—SMS—Email Marketing, and many others. Also, you can easily integrate other popular third-party AI tools if needed.
WooCommerce
WooCommerce, the open-source eCommerce platform, is also a popular and cost-effective option for building your eCommerce business. There are many AI-based WordPress plugins that you can install on your WooCommerce store.
Magento
Magento—an open-source eCommerce platform developed by Adobe—is an eCommerce solution used by thousands of merchants. In Magento, you can use AI-powered extensions to enhance the functionality of your Magento store.
BigCommerce
BigCommerce recently announced its new AI-powered features with the help of Google Cloud. These Google Cloud AI tools are expected to enhance the platform's capability for enterprise merchants.
How to Analyze the Best AI eCommerce Tools?
Business needs
All businesses are built differently and that's why the use of AI may vary from business to business. Identify the specific areas of your eCommerce business that could benefit from AI tools. For example, you may look into AI tools to enhance your operations in customer service, inventory management, and marketing.
Features and capabilities
Evaluate the features and capabilities of each AI tool to determine if they align with your business needs. For example, if you're considering an AI-powered chatbot, you may need to check if the tool also offers a feature for an FAQ page or the option to connect with human support.
Customer Reviews and Ratings
What do other users say about the AI tool? Are there positive reviews and high ratings? You can check out merchant reviews on third-party review platforms like Trustpilot, G2, Gartner, TrustRadius, Capterra, and the list goes on. Just Google "the AI tool name" + reviews and you'll find many of them.
For example, you may check out the rating and reviews for GemPages on Trustpilot - apart from the Shopify App Store.
GemPages' rating on Trustpilot
Integration and compatibility
Consider the ease of integration and compatibility with your existing eCommerce platform or software to ensure a seamless implementation. After all, it's supposed to reduce your work and not add the extra burden of handling the system issues.
Pricing
Evaluate the pricing and affordability of each AI tool, including any ongoing costs, to determine if it fits within your budget.
Pro tips: Many AI tools don't have clear or fixed pricing plans on their websites. Typically, you'll be required to contact the sales team for a custom quote. In such situations, it's important to precisely communicate the features you need and those you don't. 
This will ensure you're not charged for something that's not adding value to your business. Also, get quotes from multiple providers and compare them to see which one has the best deal in terms of pricing and features.
What Types of AI Tools Are Commonly Used in eCommerce?
AI Chatbots
AI-powered chatbots can provide a self-service option where customers can get the answers to their common questions or check their order or delivery status by interacting with the AI chatbot.
AI Page Builder
Creating professional and creative designs for your eCommerce website is time-consuming. However, an AI-powered page builder like GemPages can help you create high-converting store pages based on your visual input to speed up your design process. And what's more? GemPages offers you a rich template library and a finger-friendly editor to create your own website in a faster and smarter way, fuelled by generative AI power.
Take a look at how it works: Turn images or URLs to editable layouts.
AI Recommendation Engines
To get the best conversions, you need to show the customers what they need. AI algorithms analyze customer data and suggest products or content based on their preferences and behavior.
Visual Search
In the eCommerce business, images are as important as text. AI-powered image recognition technology allows customers to search for products using images instead of text.
Content Generation
The eCommerce websites require a lot of content for different purposes like product descriptions, website copy, meta titles, descriptions, etc. If you have thousands of products in your store, it can easily get overwhelming. Using AI tools for content generation, you can get ideas or initial drafts to create your content.
Dynamic Pricing
Pricing plays a crucial role in customers' buying decisions. With huge competition in almost every eCommerce business, you need to keep track of the pricing of your competitors—to ensure you don't lose your customers. AI tools for dynamic pricing help you automatically revise your pricing based on the market conditions.
10 Best AI Tools for eCommerce
AI Chatbots
Giosg
Giosg is a no-code chatbot builder tool that helps you automate functions in sales and customer service.
Giosg chatbot tool
Key features:
Assign the lead to the right agent:
When a customer inquiry comes in, initially, it can be handled by a chatbot to get a basic idea about what the customer is trying to know and then it can connect the customer with the right agent.
Use chatbot templates to get started:
Giosg has 20+ templates created by designers and you can customize those templates to match your brand.
Fully customizable widget:
You can customize the chat widget using a drag-and-drop builder. 
Monitor the performance of the chatbot:
When using a chatbot, it's crucial to know your customers are interacting with it. You can review the performance metrics such as impressions, click rates, drop-off rates, and reached goals to see how helpful the chatbot is to your customers.
Use A/B testing:
Giosg allows you to run A/B tests to analyze which chatbot gets better interactions with your customers.
Pricing:
Giosg's pricing page doesn't have specific pricing information. According to its pricing page, the pricing depends on the unique variables/requirements of your business. You can get in touch with its sales team for a customized quote.
AI Page Builder
GemPages
Your business is unique, and so is the way you grow it online. Acknowledging the importance of "websites' ADN", GemPages was created to allow all business owners, including non-techies, to freely create websites with nothing but their unbounded creativity. 
GemPages v7 - AI-powered page builder Shopify app
Pricing:
GemPages pricing plans
Key features
Drag and Drop live editor
GemPages offers a simple drag-and-drop editor that allows you to easily select elements from a list to customize your site. No coding skills needed.
High-converting templates
Get access to GemPages library with over 65 templates and more than 100 blocks that you can use with just a single click. They're tailored for different types of businesses and purposes. 
GemPages integrations
With GemPages, you can seamlessly blend third-party apps into your site to add more spice to the eCommerce adventure - for both you and your customers.  
Image-to-layout, a revolutionary feature
You can give your site the desired appearance in just a few seconds with Image-to-layout, the GemPages' newest AI-powered feature. The Image-to-Layout function will automatically convert any image into an editable layout.
AI Search & Recommendation Engines
Have you ever tried finding a product on an online store with a search—only to end up with no results? It might be possible that the store has the product you're looking for but the search function didn't fetch it because you didn't type the exact keyword.
Well, not every online store can have a powerful search engine like Amazon.
But wait, that used to be the case in the past and it's no longer the situation in these current times. Now, you can use AI-powered search and recommendation engines to deliver a better customer experience.
Here are some great AI tools for search and recommendation:
Algolia
Algolia is an AI search and discovery platform that helps eCommerce businesses increase conversations with the help of search personalization.
One of the popular Shopify-powered brands, Gymshark, uses Algolia to show more relevant search results to its customers.
Homepage of Algolia - AI Search & Discovery Platform
When a customer types a keyword or phrase in the search tab, this tool will help you display personalized results based on the buyer persona.
Algolia's feature demo
Pricing:
Algolia pricing plans
Bloomreach
Bloomreach is another AI-enabled tool for product search and discovery—similar to Algolia.
 Bloomreach's homepage
Key Features:
Helps you understand customer's search intent and delivers relevant results to increase chances of conversion.
Bloomreach has developed its self-learning AI—Loomi—that helps provide better search results even if you don't have the best product data.
Lets you use historical and in-session data to classify the customers and provide a personalized experience on a real-time basis.
Recommendations for upselling and cross-selling:
Display automated product recommendations like "Trending Products" or create your own rule-based recommendations to increase your average order value (AOV). 
Bloomreach Pricing:
There are no specific pricing plans or information available on Bloomreach's pricing page. You may click on the "Request Pricing" button to get in touch with its sales team to get the pricing quote based on your business requirements.
Bloomreach's pricing page
AI Visual Search
From text-based search, now let's move toward visual search.
Syte.AI
Syte, a discovery platform powered by visual AI, was designed to revolutionize the way people search and shop online. 
Homepage of Syte
Key Features:
AI-Powered Detection:
Syte's visual AI engine helps customers find products with visual search by automatically identifying information such as product categories, age, and gender.
Multi-Object Detection:
Does the image have multiple items in it? The tool can help customers search for multiple products based on a single image.
User-friendly Cropping:
Syte's smart object cropping technology helps customers indicate which products they're trying to search from the given image and easily search for any additional product they need.
Pricing:
Syte does not have pricing information on its website. You can reach out to its team to get pricing information and schedule a demo.
AI Content Generation
Copy.ai
Copy.ai can help you generate multiple types of content including long-form articles, social media, product descriptions, content briefs, ad copy, and sales copy.

Homepage of Copy.ai
Key Features:
Chat by Copy.ai
You must have heard of (or already used) ChatGPT! Copy.ai also has a similar feature where you can give a prompt to generate content ideas, outlines, captions, or anything that you're looking for.
Chat feature on Copy.ai
Create eCommerce workflows:
This feature helps you create bulk product descriptions in a centralized dashboard, create follow-up email sequences, and easily translate product descriptions to serve a global audience.
Pricing:
Copy.ai has three plans: Free, Pro (at $49/month), and Entreprise for large organizations.
Jasper.ai
Another AI tool that can help you with content generation is Jasper. With Jasper, you can adjust the length of your content and include SEO keywords in it.
AI-Powered Product Description Generator:
Do you have hundreds of products in your store for different types of customers? This feature can help you create product descriptions based on your target audience.
Jasper and Google Docs Integration:

 
As Jasper has partnered with Google, you can use Jasper along with Google Docs. To do this, you need to install the Jasper Add-on from Google Workspace Marketplace. To learn more about how the Jasper and Google Docs integration works, you can check out this YouTube video:
Jasper's pricing plans
Prisynci
Prisync is one of the popular AI tools that helps you track your competitors' pricing to create a better pricing strategy.
Homepage of Prisync
Distributed Technology for Better Pricing:
Prisync's technology helps you manage your pricing strategy by adapting to different conditions. This can eventually help you maintain good profit margins along with a competitive edge.
Effortless Service:
Prisync deals with all the technical elements like servers, crawlers, and websites so that you don't need to pay time and attention to technical and complex tasks.
Maintain confidentiality:
Your competitors would not be able to track the Prisync bots. So, you can implement the competitor research with confidentiality.
Pricing:
Prisync's pricing plans
Competera
Competera uses AI algorithms to continuously evaluate billions of possible pricing combinations.
Homepage of Competera
Key features:
Competitive Data:
This feature helps you with product matches and data scrapping that displays all regions, currencies, and languages in a single dashboard. The best thing is that you get up-to-date market data that is refreshed every two hours.
Pricing Automation:
It helps you reduce the time required in repricing your products. Also, it provides you with defined workflows and the "cause and effect analysis" for every price change you make.
Price Optimization:
This feature lets you set elasticity-based pricing that's driven by multiple pricing and non-pricing factors including demand patterns and the "products cross-impact".
Pricing:
Pricing page of Comptera
Ominia Retail
Ominia Retail is an AI tool that's on a mission to simplify dynamic pricing strategies for retailers and brands.
Homepage of Omnia Retails
Key Features:
Pricing Strategy Tree function:
This new feature from Omnia Retail helps you understand, set, and change any aspect of your pricing strategy with ease.
Dedicated Customer Success Team:
Omnia pays special attention to its customer service. And that's why they provide you with a dedicated customer service team member.
Pricing:
Omnia's pricing page
Final Words on AI Tools for eCommerce
AI is getting better and better with time. 
While you definitely want to leverage the advantages of AI, make sure that you're mindful of its usage too. Using AI should not negatively impact the quality of your service, customer experience, or brand image.
Make sure to perform sufficient research on AI tools, check out their ratings and reviews, and implement them after proper research and testing. 
FAQ
How is AI used in eCommerce?
AI is used in multiple areas of eCommerce. For example, AI can help eCommerce businesses leverage huge data sets to provide a personalized experience to customers. It can also automate certain tasks related to website design, customer service, pricing, and so on.
How to build an eCommerce website with AI?
To build an eCommerce website with AI, you can use an AI-friendly eCommerce platform like Shopify. On Shopify, there are many AI-powered apps and features that can make it easier for you to design and build your eCommerce website by yourself.
How do I integrate a chatbot in Shopify?
You can either install a chatbot app from the Shopify App Store or integrate any other chatbot tool from outside that is compatible with Shopify
. Installing an app from the Shopify App Store ensures you have seamless integration. Here are some of the top chatbot apps:
Tidio
,
Chatra
,
BestChat
, and
ZipChat
.
How do I integrate a page builder in Shopify?
Go to the Shopify App Store and search "page builder" in the search tab. You can choose and install any app of your choice. Be sure to check out
GemPages Landing Page Builder
—one of the top page builder apps on the Shopify App Store with 3000 5-star reviews.