Back to Blog List
13 Best Shopify Policy Page Examples You Can Learn From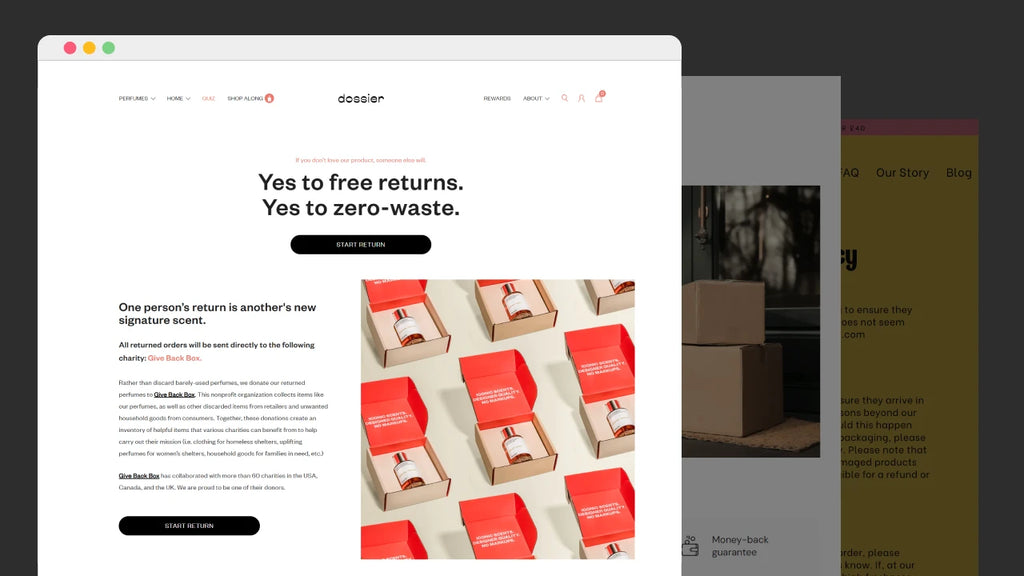 For an eCommerce business, your website is your brick-and-mortar shop. Similar to a physical store where every shelf needs to be equally taken care of, every page of an online store requires proper design and attention to detail. In this article, we will dive into the benefits of Shopify policy pages, and highlight their importance to one's business. Without further ado, let's begin.
Shopify Policy Page: What is It and Why Do You Need It?
Shopify policy page is a standalone webpage that contains one or more of your legal details that are applicable to your business. Subjects commonly seen on a policy page include shipping and return, refund, privacy, terms and conditions, etc.
So, is the policy page necessary?
From our point of view, whatever the standard that you hold the other pages on your website to, the energy should be reciprocated for the policy page. Though it is not usually a place for stunning product images or current deals, the policy page is the seal of approval that your customers seek when it comes to legal issues and delivery information. It is far more important than anyone has given credit to. Some reasons for you to start creating, or perfecting this webpage include:
Your customers are informed of how your business operates

Your business appears more trustworthy and reliable

It eliminates redundant questions in your inboxes

Your business and your clients are protected from unforeseen legal issues
Must-have Elements of a Shopify Policy Page
These elements are what generally will make a complete policy page. However, the choice to include all of them in one page, or pick and choose the ones that are the most fitting and create their own standalone page is of course, up to you. Remember to keep it concise and relevant without an information overload.
Privacy Policy
Privacy is undoubtedly on top of one's mind when it comes to cyber shopping. Since you got a hold of their most personal information, you ought to establish a reliable privacy policy. However, this page largely depends on where your business operates, hence the local laws that apply to it. Other aspects such as the products for sale, payment methods, and target customers will also factor in.
Return and Refund Policies
When a customer spends money to buy a product without testing it in person, it goes without saying that the return and refund policies are what they will look for before and after making a purchase. It is recommended that every store has a set of return and refund policies that are tailored to their business model, based on the type of goods, shipping conditions, time of purchase, etc.
Shipping Policy
Closely intertwined with the return and refund policy, the shipping policy answers questions about client's orders. The sub-policies include shipping methods, shipping costs, estimated delivery time, order processing time, eligible countries, and tracking.
Terms of Service
This is a set of rules that outline the rights and obligations of both parties. Though most people tend to skim, or completely skip these terms, it is paramount for you as sellers to research and prepare the most comprehensive terms of service to protect your business. Basically, these terms should cover the acceptance of terms, the seller's and buyer's responsibilities, product information, rules about orders and delivery, privacy and data protection, and all the applicable laws.
Payment and Billing Policy
By informing your customers of your store's payment and billing policies, you ensure transparency and trust. Consider factors like payment providers, processing time, currency and foreign exchanges, taxes and additional charges, payment security, and dispute resolution. This element is crucial, as online transactions often run the risk of payment issues, especially when your store has recently been up and running.
Cookies and Tracking Policy
Everyone loves a cookie, but mostly the ones with chocolate chips, not the digital kinds that track their activity. Your job is to make them as clear as day, while also giving the users the option to reject or disable them. Be sure to include the types of cookies used, purposes, and any third-party tracking technology.
Legal Compliance
This aspect often calls for a legal professional's consultation to ensure the legitimacy of the laws and regulations that apply to one's business. Some key factors that are found in an eCommerce's legal compliance policy are intellectual property, consumer protection, data protection, and tax laws. 
Dispute Resolution
A dispute may occur from the customer's end, hence the need for a resolution. This usually takes the form of a detailed framework that your business follows to ensure a fair outcome for both your business and the client, preferably without any follow-up legal action.
Accessibility Statement (if applicable)
An accessibility statement refers to a commitment made by eCommerce to ensure that their website is accessible by all users, especially those with disabilities. This element is an ongoing process, therefore, once you have published this statement, it should be regularly reviewed.
Age Restrictions (if applicable)
The goods you sell might be age-restricted, thus, policies are bound to be set. For instance, eCommerce stores that sell tobacco and alcohol often have a pop-up window that requires users to confirm their age before entering. 
Social Media and User-Generated Content Policy (if applicable)
This element applies to stores that allow user-generated content on their sites. Since it comes from the clients themselves, you might want to enforce several rules to avoid prohibited content, spam, copyrighted content, and privacy invasion.
Top 13 Shopify Policy Page Examples to Learn from
Rare Beauty's policy page is cleverly designed to showcase their shipping information.
Rare Beauty is a makeup brand owned by beloved singer Selena Gomez. For a cosmetics business whose customers are beauty lovers, Rare Beauty made their shipping policy page extremely detailed to ensure their products will arrive in pristine condition. On this page, you can find information on shipping delays, international shipping time, returns and exchanges, and more. The store has a handy table for international customers to look up different order processing times for countries outside of the U.S. This feature is simple, but it effectively alleviates redundant questions and concerns from customers.
Rare Beauty's table for international orders.
Teddy Fresh reserves a separate page for their Orders and Shipping.
On the Teddy Fresh storefront, you can find the trendiest, most swanky pieces of clothing. The apparel is designed by Hila Klein - the first half of the dynamic duo from h3h3Productions. The existing reputation of this couple has made Teddy Fresh one of the most well-known online clothing stores, despite its greenness in age. Understanding the busy influx of customers to the site, this brand has dedicated a policy page to answer all the questions regarding orders and shipping. The collapsible menu contains the most common subjects. This way, customer's concerns are sorted and answered without distractions.
The answers to the most common issues can be found in Teddy Fresh's collapsible menu.
Your shipping and return questions are covered on Not Pot's policy page.
The whole Not Pot's website screams aesthetics. But the information is not lost among gorgeous animations and colors. On the store's shipping and returns page, a list with a Q&A format provides you with concise answers and solutions without any redundancy. Additionally, options to "speak to the dealer" can be found right on the left panel. This way, the policy page is not cluttered and still remains user-friendly.
Start your hassle-free refund process with the help of Phomo's policy page. 
Phomo is not just any meal kit, it's an immersive experience with Vietnamese cuisine. Notorious for its complex flavors, this company aims to bring these ready-made meals to your doorsteps without your need to buy a bunch of ingredients and spend hours in the kitchen. Since it's a food company, Phomo understands the exclusive issues that might occur after their customers have received the boxes. It could be a damaged jar of broth or an opened bag of herbs. To make the refund process simple, Phomo created a standalone page to disclose their contact information should a problem arise. The option to return is unavailable, which is also made clear on this page to omit any other question.
Dossier's return page helps guide you with your return process.
Dossier has appeared in our list of the best Shopify beauty stores, and when it comes to the policy page, this brand also excels. The store goes beyond a traditional policy page with just plain text by implementing a powerful statement on top, a well-crafted message, and pretty visuals to showcase its products. 
When you click the "Start the Return" button, you will be taken to an equally stunning page with disclaimers and a clear CTA button right below the input boxes. The whole process is frictionless while still remaining informative.
Dossier's return/exchange page with clear disclaimers.
Piccalio makes it easy to look up all shipping concerns on their policy page.
Piccalio is a part-toy, part-furniture store for kids to boost their creativity and independence. Adopting a Q&A format to include their most-searched topics, Piccalio's policy page is easily navigable for parents who both have and have not purchased their products. Everything from international shipping, and address change, to cancellation, returns and warranty are conveniently divided into different fields. Customers are guaranteed to find exactly what they look for on this single page, while still having a direct link to the Help Center for special inquiries. Possessing a soothing pink-beige color combo alongside comprehensive information, this policy page is definitely one of the best on Shopify.
Your order is guaranteed to be taken care of with Jungalow's return policies.
Jungalow is not your average home decor store. The business amplifies hand-made artwork and sustainability in every product they sell. Jungalow's dedication to their craft shows in their intimate message on the returns page, before a comprehensive menu that guides clients in the return process. No element is irrelevant or repetitive - this store is a prime example of an efficient policy page.
Start selling on Shopify for $1/month
Try Shopify for free, then enjoy the next 3 months for $1/month on select plans.
All details about Skinnydip's privacy and cookies can be found on their policy page.
Ever since internet users became more tech-savvy, data collection has taken place in almost everybody's mind when they visit a new site. As visitors are no longer keen on accepting cookies so hastily, each website's privacy policy page has become longer and longer. Aiming to aid customers in skimming this section as effectively as possible, Skinnydip has made use of bold titles, bullet point lists, and useful links throughout the page. Users can easily get answers to a specific question without reading the whole thing.
Tsuki's shipping policy page has got you covered on all the relevant questions you might have.
Created and designed by internet-famous couple Marzia and Felix Kjellberg (better known as PewDiePie), Tsuki is a clothing brand with simple, but super distinct vibes. The store's success can be seen by the "Sold Out" badge on all the products. With a loyal customer base, the Kjellbergs has customized a well-thought-out customer support and shipping information page that answers all the questions surrounding shipments. The Q&A format makes it easy to scan, while the customer support email can be found right from the first question. The customers will not be left with any concerns after taking a look at this policy page.
Ana Luisa compacts everything you need to know into their Exchanges and Returns page.
High-quality, Earth-friendly jewelry is what Ana Luisa is all about. The website deserves brownie points not only for its professional photographs and user-friendly layout but for the most compactly informative policy page as well. If you are seeking information regarding exchanges and returns, Ana Luisa has got you covered. The short but detailed panel on the right gives you a rundown of their policy, alongside direct links to their FAQs and email. The exchange/return process begins when you click on one of the two buttons on the left. Succinct and effective, this is definitely up there on one of the best Shopify return policy templates for you to copy.
Get to know Daisy's shipping information through their policy page.
Daisy chooses a different approach when it comes to the policy page. Instead of dividing the information into the most common issues or using the Q&A format, this jewelry brand uses countries as titles for its menu. By clicking on a certain country name, all the shipping information for that specific region will be available. Instead of skimming the texts for the location, customers can have a direct answer via one simple action. This tactic is especially brilliant for eCommerce stores that offer worldwide shipping.
Daisy streamlines customer's browsing experience by dividing delivery concerns via regions.
JAK answers all your shipping questions on their policy page.
Another exceptional example of a short but impactful policy page goes to JAK - a Portugal-based shoe store. This business displays shipping rates for each eligible region in their currency and the shipping conditions side by side. No need for excessive scrolling, you can get an answer simply by clicking on each section. JAK truly embodies the "less is more" motto with their policy page.
Get to know everything about the shipping policy on JAK's page.
Everything about deliveries can be found on Forthglade's policy page.
Forthglade is passionate about cooking up the most gourmet yet natural foods for your dogs. Every page on their website is packed full of information, and their deliveries and returns page is no exception. Though only shipping within the United Kingdom, Forthglade understands that there are still a plethora of concerns and questions regardless. Their page offers several delivery options, as well as information about returns and additional shipping costs. Every detail is clearly and beautifully presented with no distracting elements.
How to Build a Policy Page for Your Shopify Store
We have looked at some amazing Shopify policy page examples, next up, we will show you how to add policy to your Shopify store.
 Step 1: Log in to your account
Log in to your Shopify store.
Step 2: Select "Settings"
Open "Settings" on the bottom left of the page.
Find "Settings" in the bottom left corner.
Step 3: Click on "Policies"
Choose "Policies" near the bottom left of the Settings window.
Scroll down and click on "Policies".
Step 4: Start creating your policies
The input boxes are ready to be filled in. Begin writing your policies here. Additionally, you can click on "Replace with template" if you already have one in possession. 
Begin writing your policies or choose a template.
Step 5: Review and save your policies
When everything is looking good, click the "Save" button.
Review your policies before clicking "Save".
How to Create a Professional Looking Shopify Policy Page
Creating an attractive and professional policy page on Shopify is crucial to maintain your brand's credibility and trustworthiness. While Shopify provides a basic look for policy pages, they often lack the flair and customization options needed to truly represent your brand. This is where Shopify page builders like GemPages comes in, offering you the tools to create impressive policy pages that align with your brand's identity and values. No sweat on coding! 
Ready to elevate your Shopify storefront?
Take your storefront to the next level with GemPages page builder. Free plan available. Upgrade as you scale.
There are two ways to create polished and professional Shopify policy pages with GemPages.
Use GemPages' AI Feature Image-to-Layout
GemPages' AI feature Image-to-Layout  allows you to convert your reference image or URL into an editable layout. Then, you can then easily customize the look of your policy pages to your taste in just minutes. 
Choose from GemPages' Templates
Also, the pre-made template library from GemPages offers a wide range of easily editable options to help you save time and effort in the building process. The handy Shopify policy templates below are just what you need to complete your eCommerce store.
Fill in your shipping and refund policy with this GemPages template.
Let your customers into your shipping and refund policy with this simple but clear-cut template. The layout is coherent, with each section representing the most common delivery subject. The Q&A segment and Contact Us form at the bottom are a nice touch to further provide your customers with means to reach out to your business.
Learn more: 15 Top Shopify Contact Us Page Examples (2023)
As we have mentioned, privacy is the top concern on almost every visitor's mind when they come to your site. By providing them with an explicit list of privacy policies, you will gain their trust and increase conversion rates. This template from GemPages helps you do just the thing.
Inform your customers of your terms of service with this GemPages template.
These terms of service contain the responsibilities and rights of both you and your clients, thus, using a clear-cut template to deliver these important conditions is highly recommended. The dropdown menus in this template are perfect for breaking down your points and getting them across without bombarding the visitors with walls of text. Each title is customizable, so feel free to tailor them according to your business.
Your refund policy page is made easy with GemPages.
Sometimes, less is more. When all you need is a separate page to clue your clients into your refund policy, this simple template is your best friend. The nifty numbered list guides visitors through each section, while the custom texts on the right display just the exact answers to all their questions.
Not ready to commit but still want to kick the tires?
No problem! Get started with GemPages' free plan. Explore wonderful features that can do wonders for your store.
The Bottom Line
We have gone over the most essential elements in a policy page, as well as the best instances of thriving Shopify stores and convenient templates that you can use today. Though it may not garner as many clicks as the homepage or product page, the importance of the policy page is not to be overlooked. With the help of GemPages, you can start building your policy page with automated features and customization freedom to protect both your business and your customer's rights. 
FAQ about Shopify Policy Pages
What is a Shopify Policy Page?
A Shopify Policy Page is a webpage that includes one or more legal policies that are relevant to your business. The purpose of a policy page is to provide guidelines, terms, conditions, information, and responsibilities of both sellers and buyers. This page is considered one of the most crucial aspects of an eCommerce store.
How do I add a Shopify Policy Page?
You can add a policy page to your Shopify store in 5 simple steps.
Step 1: Log into your Shopify account.
Step 2: Select "Settings"
Step 3: Click on "Policies"
Step 4: Start writing your policies from scratch, or choose "Replace with template" to customize one.
Step 5: Thoroughly review your policies and click "Save".
More details in this
step-by-step tutorial
.
What does a Shopify Policy Page include?
A Shopify Policy Page can include one type of policy (e.g. refund) or a list of different policies. Here is the list of the
must-have elements of a Shopify Policy Page
that eCommerce stores often offer to their clients.