Back to Blog List
Shopify POS Go: What Is It? Why Should You Get It?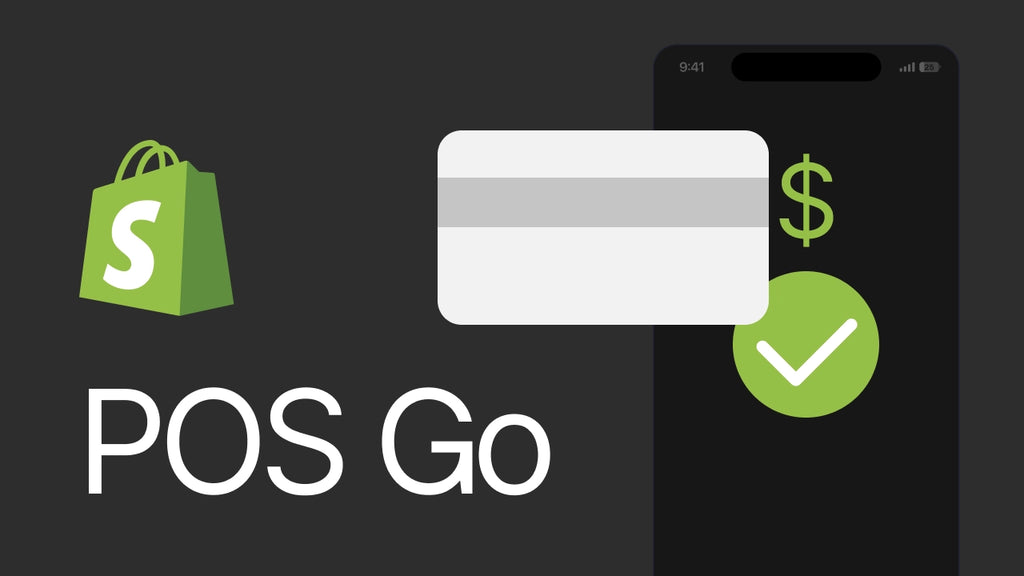 The new Shopify POS Go hand-held payments terminal has the potential to revolutionize how your online and offline retails stores interact. This article covers what it is and why you should get it.
COVID has changed retail
The COVID-19 pandemic saw a boom for the eCommerce industry. So much so that eCommerce providers, like Shopify, recorded huge growth in users and sales.
But as lockdowns subsided, and the world returned to normal, that huge growth in online sales dried up. Consumers, in most places, for the better part of the year, have been able to return to making in store purchases and they have.
That's not to say that eCommerce has lost its momentum, but rather that retailers with both an online presence and a real world store need to find effective ways to bring these two channels together. They need to find ways to streamline their business processes and practices to make the most of both their online and offline sales channels.
It's this quandary that Shopify POS Go goes at least part of the way to resolving. This new piece of POS hardware is sleek and smart and has oodles of potential for Shopify retailers.
What is POS Go?
POS Go is a hand-held device that you can use to take payments in store. As far as POS hardware goes it's nothing particularly new or exciting. It has a basic barcode scanner and tap-and-go functionality. Where it is unique, however, is in its connection to Shopify's backend stock management and reporting systems. This means all of your data is kept together.
Why do you need POS Go?
You need POS Go because it offers security, mobility, and consistency. It will make your life easier, streamlining your business processes and information management.
Security: Shopify's POS Go connects directly to your Shopify store. That means you don't need the added risk of third-party software and that you get the full benefits and security of Shopify's existing POS software.
Mobility: Shopify's POS Go can be taken anywhere. That means you can use it in your retail store, or use it on the go at local markets or events. It also means you can keep track of your online sales even when you're out and about.
Consistency: Shopify's POS Go brings together all of your online and offline sales in one place. That means you can easily keep track of inventory and sales across both platforms.
Who should get a POS Go?
POS Go is ideal for merchants who have both an online and offline presence. Vendors who sell handicrafts or homemade goods online but also at local markets, can really benefit from having all of their transactions and data stored in one place.

Likewise, if you're prone to host stalls at local events or music festivals, the ability to take your Shopify payment software with you can pay huge dividends and give your sales a welcome boost.
How do you get a POS Go?
The POS go is currently only available to pre-order for merchants trading in the USA. You can pre-order yours from Shopify's website. They are currently running at US$428 a piece with a case or US$399 without. Either way, your POS Go comes with a 30 day return policy and a 1 year warranty. You can also get a 2 year warrant with a POS Pro subscription.
Specifications
Shopify's POS Go weighs in at 287 grams which is a little bit heavier than your average smartphone. It stands 1.37 centimeters tall, with a length of 16.8 centimeters, and a width of 8.16 centimeters and comes with a case available in either black or white.
Packed into its tiny frame is a 1D/2D barcode scanner, car reader, a high performance processor, a 5.5 inch HD display that uses Gorilla Glass 5, and built-in Wi-Fi.
And all of that means it can accept tap-and-go, chip, and swipe payments.
Shopify's POS Go brings together your online and offline stores.
Shopify POS Go Alternatives
Of course, Shopify is not the first payment processor to take its online POS system offline. It's just one of a slew of payment providers vying to connect offline and online retail stores. Here's a handful to consider if you're not totally sold on the Shopify POS Go.
PayPal Zettle
One of the more popular alternatives, Paypal's Zettle POS system, has been on the market for a while with a full gamut of hardware available. A basic setup, the Zettle Reader 2, will set you back $79 excluding tax.
Square For Retail
Another popular option is Square for Retail, from payment provider Square. Square has a whole range of hardware options for retailers from palm-sized card readers for as little as $10 to full size, all-encompassion terminals that will set you back just shy of $300.
Quickbooks
Perhaps best known for its accounting software, Quickbooks also provides POS services and has a huge range of POS hardware options. A standard black PIN Pad with features comparable to the POS Go will cost you about US$389.
Conclusion
Shopify's new POS Go payments terminal could be a game changer for Shopify merchants. By bringing together offline and online sales into one handy hand-held device Shopify merchants stand to benefit from greater security, mobile, and consistency. This can only help to grow their businesses and their brands.

That said, businesses looking to boost their sales and increase their productivity, could also benefit from a website revamp. This can be done easily with GemPages advanced drag-and-drop page builder. Install the app and give it a whirl for free!