Back to Blog List
Shopify vs Shopify Plus: Is the Upgrade Worth the Investment? (2023)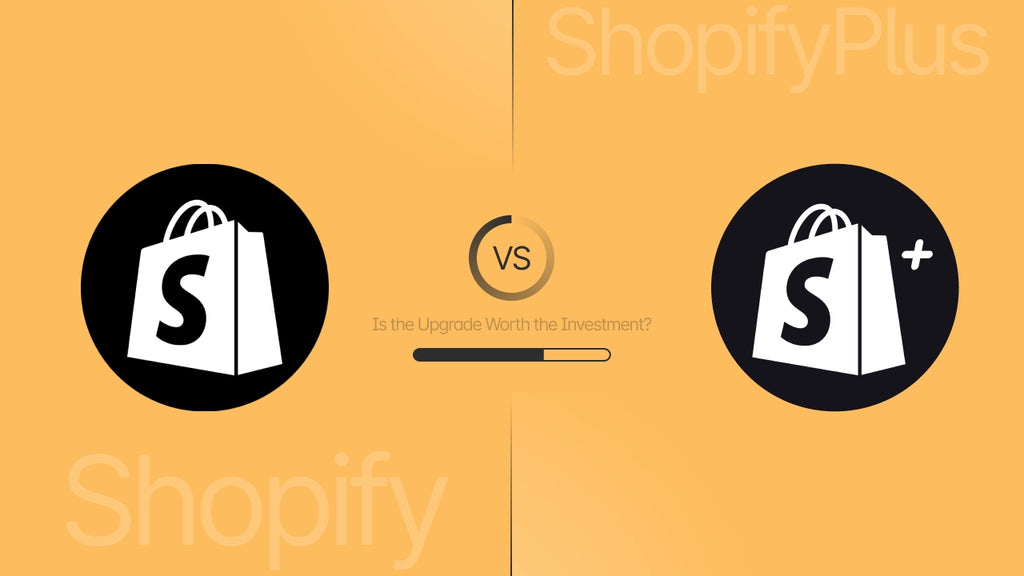 The popularity of Shopify is undeniable. Only few can pride themselves as the leading platform for eCommerce - a rapidly growing business fad that embodies all the convenience digitalization has to offer. 
The majority of Shopify users find their common subscription plans sustainable enough to keep their businesses up and running, whereas others opt for a more avant-garde version of Shopify, which is Shopify Plus. 
So, what exactly is Shopify Plus? What prompts one to make the upgrade? Should you do the same? Come with us to dissect the differences between Shopify vs Shopify Plus, and whether you should make the leap to upgrade your brand.
Shopify and Shopify Plus in A Nutshell
To understand their differences, we need to get on what they are and the similarities they share.
Shopify and Shopify Plus are both built on the same platform and have the same user interface. 
While Shopify offers standard subscription plans that contain all the foundational elements for one to create a standalone store and maintain it, Shopify Plus is a more gaudy extension of these plans. It aims to provide businesses on a considerably larger scale with exclusive features and services that cater to their specific needs.
Shopify Plus targets high-volume businesses with its extensive features.
Shopify vs. Shopify Plus: What Are The Differences?
Getting a grasp of the differences between Shopify and Shopify Plus takes you one step closer to making a decision to upgrade. In this segment, we will discuss the same components that both versions share, and go further into how they are elevated with Shopify Plus.
Below is a concise table for you to have a quick look:
| | | |
| --- | --- | --- |
| Feature | Shopify | Shopify Plus |
| Pricing | Starts at $25/month | Starts at $2,000/month |
| Transaction Fees | 0.5% - 2% depending on the subscription plans | 0.15 - 0.30% transaction fee for third-party payment providers |
| Customizable Checkout | Limited | Fully Customizable |
| API Access | Limited | Full Access |
| Scalability | Limited | High |
| Internationalization | Limited | Advanced |
| Dedicated Account Manager | No | Yes |
| Advanced Reporting | No | Yes |
| Multi-Currency | No | Yes |
| Script Editor | No | Yes |
| Wholesale Channel | No | Yes |
| Launchpad | No | Yes |
Pricing
We decided to touch on the prices right away, as we reckoned it is one of, if not the most influential factor for entrepreneurs to decide which changes to apply to their businesses.
With the available standard plans, Shopify's users are presented with four options: 
Starter - $5/month

Basic - $25/month

Shopify - $65/month

Advanced - $399/month
The Starter plan allows you to sell through your social media channels, email, WhatsApp, and basically any digital platform with a mere link. The use of Shopify POS also makes in-person sales possible. This is the most simple version of the Shopify store that you can get for as low as five dollars monthly.
However, in order to establish a full-fledged store, you would need one of the three plans: Basic, Shopify, and Advanced. They cover all aspects that help merchants manage their stores smoothly, with add-on features that are exclusive to the Advanced plan.
Learn more: Start Your Online Business with Shopify–Only $1 for the First 3 Months
The most popular Shopify subscription plans.
Start selling on Shopify for $1/month
Try Shopify for free, then enjoy the next 3 months for $1/month on select plans.
Shopify Plus, on the other hand, starts at $2000/month on a yearly term. The price is not fixed, as it can fluctuate based on the sales volume of each business. Once the revenue exceeds $800,000 monthly, a platform fee of 0.25% for each transaction is applied.
There is a palpable gap between Shopify vs Shopify Plus pricing, which is understandable. Since Shopify Plus is advertised as 'the best plan for next-level growth', it has all the enterprise-graded features that the other plans lack.
Transaction Fees
If you are using a third-party payment provider, there are different types of transaction fees for all standard Shopify plans and a Shopify Plus plan.
With the Basic plan, the fee is as high as 2%, and it gradually decreases to 1% and 0.5% for the Shopify and Advanced plans, respectively.
The fee is cut down to 0.15% - 0.30% per transaction with Shopify Plus.
However, if your store is located in the States, for example, you can make use of Shopify Payments and forgo all the Shopify and Shopify Plus transaction fees altogether.
A rundown on Shopify Plus's transaction fees.
Important note: Credit card rates are obligatory on all orders, which are calculated based on your chosen plan and store location. According to Shopify, the credit rate is the lowest with Shopify Plus.
Customizable Checkout
While standing among other eCommerce websites, Shopify is already considered a flexible platform that offers endless customizable options as a whole. Now, with Shopify Plus, your checkout page can be further zhuzh'ed up if you have some basic coding skills.
For instance, you will have the liberty to add more fields to your checkout page. In addition to the required boxes (name, address, email, etcetera), a separate box for your customers to curate their own gift messages can be utilized to create a better impression for your store.
Happy Hippo adds a radio button for a delivery method option.
Additionally, the checkout extensibility that comes with Shopify Plus feature allows you to add checkout apps and visually personalize your branding during the checkout process. You can deliberately change font sizes, images, and colors, all in the checkout editor.
Learn more: 10 Best Shopify Payment Options for Your Business in 2023
API Access
API, or Application Programming Interface, expedites the integration of Shopify with other applications by allowing them to 'talk' to each other.
On a Shopify Plus plan, there are additional API resources that augment the access of sellers with other custom apps, such as GiftCard, Multipass, or User.
Plus, the API rate limits are also wildly different between Shopify and Shopify Plus. In short, you can get a third-party application to use the API more frequently, which helps your store run more stably and smoothly.
Make a statement with a standout storefront
Create unique and effective store pages effortlessly with GemPages. No coding required, and it's compatible with both Shopify and Shopify Plus!
Scalability
When Shopify Plus and Shopify Advanced - the highest-tiered standard plan are put next to each other, we see a huge difference in the price point. One of the reasons behind this chasm is the scalability of Shopify Plus.
One might go for the Advanced plan when they see steady growth in their business, but Shopify Plus is designed for substantial expansion, and their exclusive features provide exactly what you need to manage that hike.
Its Cloud-based Infrastructure deals with extreme traffic and orders. The out-of-the-box Content Management System (CMS) and Order Management System (OMS) capabilities make handling inventory as easy as pie. Cyber attacks won't be a worry with Shopify Plus's built-in security features.
Proper advancement calls for proper solutions.
Internationalization
If you are looking to expand internationally, Shopify Plus will be an outstanding medium. Its innovative features aim to assist you to take your business on a global scale, namely international pricing, multicurrency, international domains, language translation apps, and so on. 
Having Fastly as a content delivery network as a Shopify Plus member ensures fast and slick website rendering, anywhere in the world.
Unique Features Of Shopify Plus
Dedicated Account Manager
Every Shopify Plus store comes with a dedicated account manager. This service alleviates the workload off your shoulders by helping you with any niche issue that might emerge at any point when your store is up and running.
Instead of a live chat or email support from a random Shopify customer service employee, you have a professional Launch Engineer whose job is to answer every question or concern you might have, every step of the way. 
Advanced Reporting
Which report categories each Shopify plan covers.
Shopify Plus covers every report category, including the custom reports option, which lets you curate your own report that showcases the exact data you want, using Shopify's filtering and editing features.
If your business is going through a lot of changes, this tool can help you keep track of your activities more effectively and neatly.
Multi-Currency
Giving your customers the choice to shop products that automatically display prices in their local currency without manually changing it themselves is a crucial step in going 'glocal'. When you are a part of the Shopify Plus community, this process is conveniently automated based on the customer's IP address while they are on your site.
One handy feature that both the Shopify Plus and Advanced plans share is the option to set the prices for certain countries and regions, with Shopify Payments as the payment processor. 
Deliver unique shopping experiences and sell better
With GemPages' powerful features, you can effortlessly create store pages that are unlike anything else out there. Compatible with both Shopify and Shopify Plus and ain't need any coding.
Script Editor
The Script Editor is an add-on app that enhances your customers' checkout experience with automatically applied discount codes and promotions, modified shipping options and prices, payment gateway methods, and more. 
Though this component requires coding skills, there are existing templates of common scripts that you can make use of.
Customizable templates to create your own Shopify scripts.
Wholesale Channel
As more people know of your business, they are not going to be just everyday customers. Distributors and retailers are always on the hunt for products that fit their needs. If what you have in store is a match for their need, wholesale sales should be the next thing that calls for your attention.
The wholesale channel is a Shopify Plus-only feature. Once it has been added to your Shopify admin, a separate, password-protected wholesale store will automatically materialize.
After creating wholesale store accounts for the customers that want to purchase in bulk, you can start selling the same products in your main store but at reduced prices or with discount codes, as you wish.
Launchpad
Conveniently schedule your events and campaigns with Launchpad.
The Launchpad app is your trusty digital timer that makes scheduling posts, flash sales, campaigns, themes, product visibility easy and seamless. Only available to Shopify Plus users, this free tool is designed to save time and money for your business.
Should I Upgrade To Shopify Plus?
We have been enforcing throughout this article that Shopify is recommended for businesses that find themselves booming with sales and are looking to take the next big step. 
In summary, the standard Shopify plans are great for solopreneurs and small to medium-sized businesses, whereas Shopify Plus offers an array of more advanced features that can give high-volume enterprises a helping hand in doing business.
Start selling on Shopify for $1/month
Try Shopify for free, then enjoy the next 3 months for $1/month on select plans.
While that is true, we do advise you to take every aspect of your brand into account, not only the number of sales or the upsurge in profits. 
If you are looking for a change in subscription plan but are unsure about what Shopify Plus has to offer, taking a step back to do more research is a great move.
If these exclusive features of Shopify Plus sound like they align with the goals of your business and you are financially capable, perhaps this is the upgrade that you need to take your business to a whole new level.
The Bottom Line
We hope this Shopify Plus review from us at GemPages has greased the wheels for you to steer your business in a new direction. Whether you are able to make up your mind on this investment or not, we are glad to have given you some insights into this multifunctional eCommerce tool.
It's time to raise the bar for your storefront!
GemPages, compatible with both Shopify and Shopify Plus, is the powerful page builder empowers you to create store pages that bring unique experiences and convert customers.
FAQ about Shopify vs Shopify Plus
What are the main differences between Shopify and Shopify Plus?
Shopify provides you with all the basic tools to create and maintain your online store, while Shopify Plus has exclusive enterprise-grade features that cater to companies on a larger scale.
How much does Shopify Plus cost?
Shopify Plus starts at $2000 per month for a standard setup and integration package. The final fee depends on the size and complexity of your business.
What is the advantage of Shopify Plus?
Shopify Plus comes with unique features like no other subscription plans, the lowest transaction fee and credit card rates, customizable options, personal assistant, and so on.
Is it worth upgrading to Shopify Plus?
It vastly depends on the vision for your business. Many companies have found success after making the leap. Thus, if you have the financial capability, it is worth giving Shopify Plus a try.