Back to Blog List
10 Best Shopify Payment Options for Your Business in 2023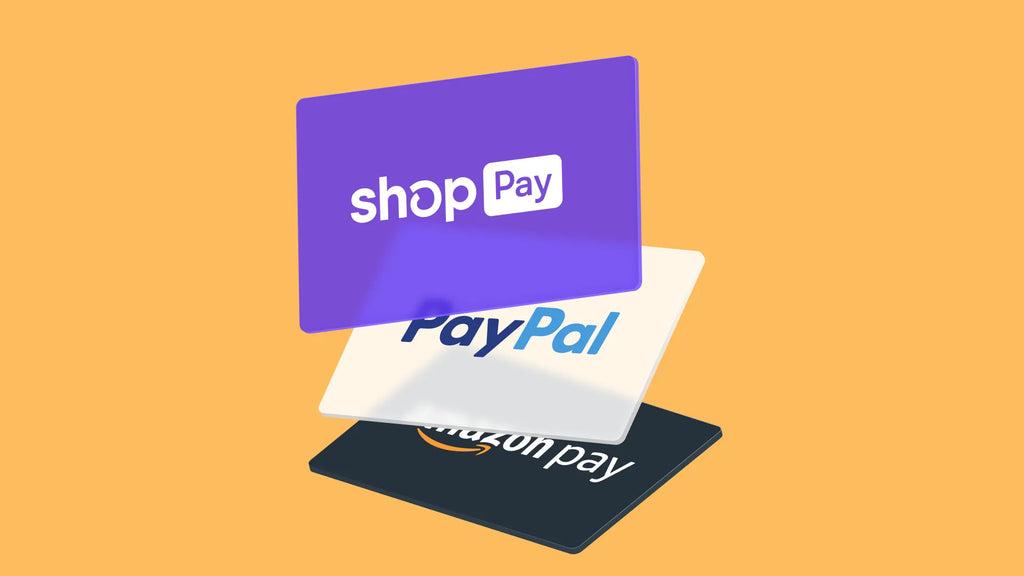 Online shoppers in 2023 will reach 2.64 billion. Globally, this represents 33.3% of the population. This means one in every three people will make an online purchase.
It makes sense, given the boom in online shopping due to eCommerce.
For Shopify merchants, this is incredibly beneficial because you get access to more customers and increase sales—if your shoppers have a smooth checkout process.
The Shopify payment option you choose will impact your conversion rate, so picking the right one is crucial.
That's why we've rounded up the 10 best Shopify payment options in 2023, including their pros and cons. That way, you can make an informed decision about which one is right for your store.
TL;DR: Best Shopify Payment Methods in 2023
| | | | | |
| --- | --- | --- | --- | --- |
| Payment Method | Transaction Fees | Ease of Use and Integration  | Security and Fraud Protection  | Supported Countries |
| Shopify Payments  | Varies by plan and country | Seamless integration with Shopify | High level of security, built-in fraud analysis | Available in select countries |
| PayPal | 2.9% + $0.30 per transaction (may vary by country | Easy integration with Shopify | Strong security measures, seller & buyer protection | Available in over 200 countries |
| Stripe | 2.9% + $0.30 per transaction (may vary by country) | Easy integration with Shopify | Advanced fraud detection and security features | Available in 46 countries |
| Authorize.Net | 2.9% + $0.30 per transaction + $35 monthly fee | Moderate integration process with Shopify | Advanced fraud detection, PCI-DSS compliant | Available in the United States, Canada, and Australia |
| Amazon Pay | 2.9% + $0.30 per transaction (may vary by country) | Simple integration with Shopify | Advanced fraud protection, A-to-z Guarantee | Available in select countries |
| Klarna | 2.49% + $0.25 per transaction (different for international transactions) | Easy integration with Shopify | PCI-DSS Level 1 compliant, fraud detection | Available in 45 countries |
| Square | 2.9% + $0.30 per transaction | Easy integration with Shopify | PCI-compliant, fraud detection, & encryption | Available in the United States, Canada, Japan, Australia, & the UK |
| Worldpay | Vary by transaction volume | Moderate integration process with Shopify | Robust security features, PCI-DSS compliant | Available in over 120 countries |
| Verifone | Vary by pricing plans | Seamless integration with Shopify | High level of security, carbon offset for every purchase | Available in more than 45 countries |
| Shop Pay | Varies by Shopify plan | Seamless integration with Shopify | High level of security, built-in fraud analysis | Available in select country |
Learn more:
What Are Shopify Payment Options?
Shopify payment methods allow customers to pay for their purchases in your Shopify store. These options include debit cards, digital wallets, and alternative payment options supported by different payment gateways or processors integrated into the platform.
Imagine you have an online store selling artisanal candles. To provide your customers with a seamless checkout experience, you integrate your store with a payment gateway that supports multiple payment methods.
So, upon selecting a payment method, the customer enters their payment details. The payment gateway securely encrypts this information and sends it to the relevant financial institution for authorization and processing.
If the transaction is approved, the payment gateway sends a confirmation to your Shopify store, and the customer receives a confirmation message, usually by email. 
Finally, the payment gateway processes the approved transaction and transfers the funds (minus any transaction fees) to your account, typically within a few business days.
Customize your Shopify store pages your way
The powerful page builder empowers you to create store pages that bring unique experiences and convert customers. No coding needed.
Factors to Consider When Choosing a Shopify Payment Method
Each store has unique needs, so choosing a payment method that aligns with yours is crucial.
However, regardless of your business type, you need to consider certain factors when choosing a payment option for Shopify. 
Fees and Transaction Costs
Payment gateways and processors charge various fees, including transaction, setup, and monthly fees. These costs can affect your profit margins, so comparing different payment providers and selecting one that offers competitive pricing while meeting your other requirements is essential.
Accepted Payment Cards
Different payment gateways support multiple card types, such as Visa, Mastercard, American Express, and Discover. Choose a Shopify payment method that works with your target market's most commonly used cards to cater to a broad range of customers.
Security and Fraud Protection
With the rise of identity theft and credit card fraud, choosing a payment gateway that prioritizes security is essential. Look for a gateway that offers robust security features, like encryption and tokenization, and fraud detection and prevention tools to minimize risks.
Ease of Integration with Shopify
Some payment methods are more straightforward to integrate with Shopify than others. Select a payment gateway that offers seamless integration, clear documentation, and easy-to-follow setup instructions to minimize potential technical issues.
Support for Multiple Currencies and Languages
If you plan to sell internationally, choose a payment method that supports multiple currencies and languages. This will help create a localized shopping experience for your customers, increasing the chances of successful transactions.
Customer Support
Prompt and effective customer support are essential if you encounter issues with your payment method. Look for a provider that offers reliable support channels, such as email, phone, or live chat, and has a reputation for resolving issues quickly and efficiently.
Best Shopify Payment Methods in 2023
Here are 10 of the best Shopify payment gateways:
1. Shopify Payments
It goes without saying that before you consider any Shopify alternative payment methods, Shopify Payments is a default choice.
Shopify Payments is the native payment gateway for Shopify, offering a seamless and integrated solution for processing payments on your online store.
Developed in partnership with Stripe, Shopify Payments enables you to accept and manage credit, debit, and digital wallet payments.
With Shopify Payments, merchants can streamline their checkout experience and reduce the need for additional third-party payment gateways. They also gain access to various integrated tools like fraud analysis, recurring billing, and subscription management designed to enhance the overall shopping experience for customers.
Pricing
Shopify Payments offers competitive rates for merchants. There are no setup or monthly fees, and transaction fees vary depending on your chosen plan. For Basic Shopify, the transaction fee is 2.9% + $0.30 per transaction, while for Shopify and Advanced Shopify, the cost decreases to 2.6% + $0.30 and 2.4% + $0.30, respectively.
Pros
Shopify Payments seamlessly integrates with Shopify

Multi-currency support and automatic currency conversion

No additional setup or monthly fees

In-house fraud analysis and risk protection tools

Merchants get faster access to funds
Cons
Available only in select countries

Risk management policies have resulted in account holds or sudden terminations.
Start selling on Shopify for $1/month
Try Shopify for free, then enjoy the next 3 months for $1/month on select plans.
2. PayPal
PayPal is used worldwide, and for a good reason. It offers a secure and reliable payment processing solution for online businesses.
With PayPal, customers can pay using their PayPal balance, credit or debit cards, or bank accounts. Also, PayPal offers fraud and seller protection to help mitigate the risk of chargebacks and disputes.
One notable feature of PayPal is its One Touch checkout option, which allows customers to make purchases with just one click without entering their payment details every time.
Pricing
PayPal charges transaction fees based on the sales volume processed through their platform. The standard transaction fee for domestic payments is 2.9% + $0.30 per transaction, while international payments incur an additional fee of 1%. However, merchants with high sales volumes can negotiate lower transaction fees with PayPal.
Pros 
Trusted and widely recognized payment method

Easy integration with Shopify, allowing for a smooth setup process

Supports multiple currencies, enabling international sales

One-Touch checkout option for faster transactions
Cons 
There are frequent account holds

Customer support can sometimes be slow or unresponsive
3. Stripe
Stripe is a flexible Shopify payment gateway for accepting online and in-person payments. You can choose from a range of
templates and designs
for your checkout page, giving you complete control over the look and feel of your site.
With Stripe, your business can keep operating costs low while tracking sales technology simply and conveniently. Stripe's Shopify extension makes it easy to integrate into your store - although you won't be able to skip transaction fees unless you use Shopify Payments.
Pricing
Stripe's pricing is based on a pay-as-you-go model, with no setup or monthly fees. The transaction fee is 2.9% + $0.30 per transaction, the same as Shopify Payments for the Basic Shopify plan. Stripe charges 1% for instant payouts to bank accounts. You will be charged an additional 1% if the payment comes from overseas.
Pros
Stripe supports over 135 currencies and multiple local payment methods.

Supports multiple payment options

Stripe Radar protects against fraud with machine learning.

Developer tools and API allow extensive customization.

Excellent customer support
Cons
It takes some time to get used to

Available in only 39 countries
Want to turn your store into a cash cow?
With GemPages page builder, you can create compelling store pages that wow visitors and convert them into buyers.
4. Authorize.net
Authorize.net is a payment gateway that has existed since 1996, making it one of the oldest and most established Shopify payment gateway options.
It offers sophisticated fraud detection and prevention filters. The Customer Information Manager (CIM) automatically updates billing addresses, payment card information, and payment cards.
Authorize.net lets you accept credit cards, e-checks, and digital payments like Apple Pay and PayPal. And you can track sales and manage finances effectively with detailed reporting and analytics.
Pricing
Authorize.net fees include a monthly gateway fee of $35 and a per-transaction fee of 2.9% + $0.30 for credit card transactions.
Pros 
Multi-currency support makes it ideal for international sales.

Anti-fraud tools detect and prevent fraud.

CIM allows businesses to store customer payment information securely.
Cons 
The cost of monthly fees may be too high for small businesses

An outdated user interface
5. Amazon Pay
This Shopify payment option offers your customers seamless checkout experiences through their Amazon accounts.
Customers can quickly complete transactions without repeatedly entering their shipping and billing information. This feature can help reduce cart abandonment rates and increase customer satisfaction.
Payments from customers can also take a few days to reach the merchant's account. So Amazon Pay may not be the best Shopify payment option for businesses that rely heavily on short-term cash inflows like low-volume selling.
Pricing 
Amazon Pay collects a processing fee of 2.9% + $0.30 per transaction for domestic payments and 3.9% + $0.30 for international payments. There are no setup or monthly fees associated with this payment option.
Pros 
A familiar and trusted brand name that can build customer loyalty

Fast and easy checkout improves conversion rates

Easy setup and integration
Cons 
You'll need an Amazon account to pay

Paypal isn't supported

There's a high risk of Amazon shutting down your account
6. Klarna
Klarna is a payment gateway that offers a unique approach to online transactions. It allows customers to buy now and pay later, giving them the flexibility to spread out their payments over time.
It is beneficial for customers without the funds at the time of purchase but still wish to buy, ensuring you don't miss such sales. You must be a Klarna partner to use this payment option. Your Shopify store can then accept it at checkout.
Pricing 
Klarna has no joining or monthly fees, only per transaction. You pay 2.49% + $0.25 per transaction when you receive payments from the United Kingdom. International transactions may have different pricing.
Pros 
Seamless Shopify integration

Flexible payment options for customers

Charges for transactions are low

Shopify merchants are paid in full at checkout
Cons 
Variable pricing

Flexible payment options may lead to higher return rates due to impulsive purchases.

Slow customer support
7. Square
Square has been a US-based payment processor since 2009. This payment option for Shopify lets you accept online and offline payments regardless of where you are.
You can find Square extensions in the
Shopify app
marketplace and track your cash flow through Square's dashboard.
Square payments are secure due to PCI compliance and end-to-end encryption, and you will get credited in two days.
Pricing 
Square fees are 2.9% + $0.30 transaction fee. Get the $12/month premium plan if you want more from Square.
Pros 
Easy-to-use interface

Affordable pricing and a range of features make it an excellent option for small businesses.

Good customer support
Cons 
It may not be the best option for larger enterprises with more complex needs
8. Worldpay
WorldPay provides small and large Shopify stores with many secure payment channels. It offers safe online payments, card machines, and telephone payments in more than 120 countries.
As well as Shopify, WorldPay can integrate with third-party bookkeeping programs and point-of-sale systems. With WorldPay, merchants looking for long-term contracts can benefit from tailored online and in-person solutions.
Pricing 
There are two pricing plans with Worldpay, the standard Gateway is around £19 ($23.63) per month, and the Advanced Gateway is around £45 ($55.96). Chargebacks come with a £15 ($18.65) administration fee, though.
Pros 
You're charged based on how many sales you make

Top-of-the-line fraud protection tools

You get charged based on sales
Cons 
Complex pricing structure
9. Verifone
Verifone, formerly known as 2Checkout, lets you choose and pay only for the features you need, unlike other Shopify alternative payment methods.
It has a robust fraud prevention system that ensures your business remains safe from fraudulent activities, protecting you and your customers. 
Also, the user-friendly interface of this payment solution makes managing transactions a breeze, allowing you to focus on growing your business.
Pricing 
There are four subscription-based pricing plans offered by Verifone: 2Sell charges 3.5% + $0.35 per successful transaction. 2Subscribe charges 4.5% + $0.45 per successful sale, 2Monetize charges 6.0% + $0.60 per successful sale, and there's custom pricing.
Pros 
Global reach

Integrates easily with Shopify

Robust fraud detection system
Cons 
10. Shop Pay
Shop Pay is a payment option exclusive to Shopify stores. It allows customers to save payment and shipping information, making checkout faster and easier. Shop Pay also offers carbon-neutral shipping, making it an eco-friendly option for sustainability-minded customers.
Shop Pay also has a buy now, pay later option. With this Shopify payment gateway, customers can pay in full at checkout or in four installments for transactions between $50 and $3000. There are no extra fees, interest rates, or late fees.
Pricing 
The transaction fee for Shop Pay is the same as Shopify Payments, with 2.9% + $0.30 per transaction for Basic Shopify, 2.6% + $0.30 for Shopify, and 2.4% + $0.30 for Advanced Shopify.
Pros 
Faster checkout

Seamless integration with Shopify

No additional fees
Cons 
Limited payment methods

Dependence on payment provider fees
Choose the Right Shopify Payment Gateway for Your Store
The right Shopify payment gateway will enhance buyer's shopping experience and profit margins.
Each payment option has pros and cons, and it's essential to consider your business needs and budget before deciding.
Ultimately, choosing the best Shopify payment gateway for your store depends on your specific requirements and preferences.
And if you're looking for an intuitive and flexible page builder to create stunning Shopify pages without any coding, be sure to check out
GemPages
. With the drag-and-drop interface and user-friendly design, you'll be able to create beautiful and functional
Shopify pages
for your online store in no time.
Ready to elevate your Shopify storefront?
Take your storefront to the next level with GemPages page builder. Free plan available. Upgrade as you scale.
FAQs about Shopify Payment Options
What payment providers can you use with Shopify?
Shopify supports many payment providers, including its own native solution, Shopify Payments. You can, however, choose from numerous third-party payment gateways, such as PayPal, Stripe, Verifone, Authorize.Net, Square, and many more. The availability of payment providers may vary depending on your country.
How to add payment options on Shopify?
To add payment options to Shopify, follow these steps:1. Log in to your Shopify admin dashboard.2. Click "Settings" in the bottom left corner of the page.3. Select "Payments".4. In the "Payment Providers&qout; section, you can activate Shopify Payments or select an alternative payment provider from the list of available options.5. Follow the instructions for setting up the payment provider you've chosen.6. Save your changes to enable the payment option in your Shopify store.
What percentage does Shopify take?
What is the most popular payment method on Shopify?
Shopify Payments is the most popular payment method on Shopify, as it is the platform native solution.For third-party payment gateways, PayPal is the most popular, with 311 billion transactions by Q2 2021.