Back to Blog List
11 Best Shopify Wholesale Apps to Boost Sales and Simplify Your Operations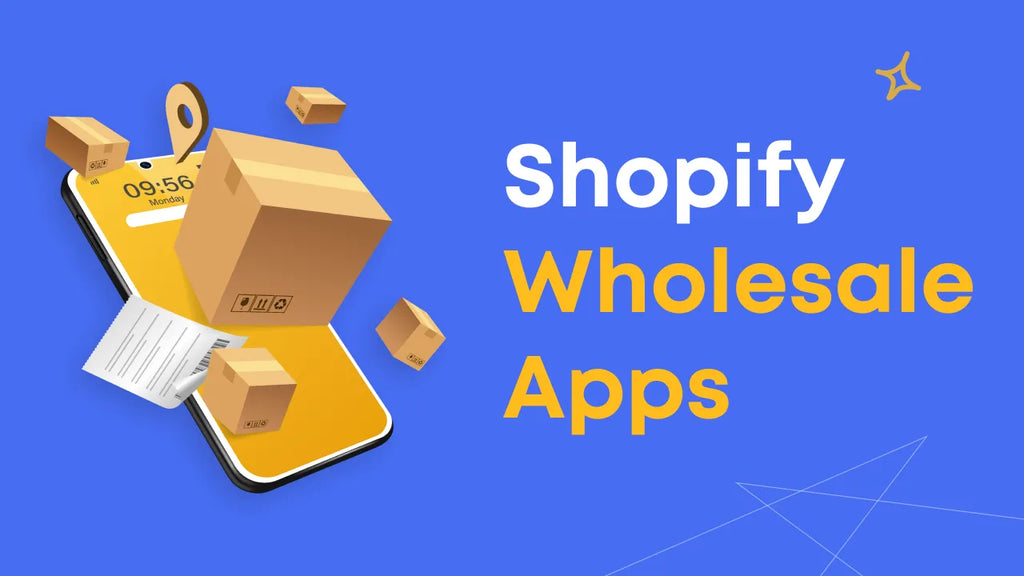 Whether you're an eCommerce entrepreneur or an aspiring one, you're likely in search of the best eCommerce platforms to sell your goods online. If so, you've likely already become aware of the premier eCommerce platform that is Shopify.
Not only is Shopify the most streamlined and design-friendly platform available but it's also the most robust, offering a plethora of applications that you can embed to make your business's operations that much smoother of a process.
For wholesalers, the benefit is no different…
By finding an appropriate wholesale app that you can embed directly within your Shopify wholesale store, you can better manage your customers, more accurately track analytics, and streamline the entire process from start to finish.
So, if you're an online merchant looking to switch platforms or you're someone hoping to start an online wholesale business on Shopify, this article is for you!
In what follows, we've outlined the 11 best Shopify wholesale apps of 2022 so that you can more accurately choose the one most suitable to your business's needs.
Customize your Shopify store pages your way
The powerful page builder empowers you to create store pages that bring unique experiences and convert customers. No coding needed.
An Overview of Wholesale Businesses on Shopify
What is Shopify Wholesale?
Simply put, Shopify Wholesale is an eCommerce channel that the platform offers its users, allowing them to set up a separate storefront specifically for wholesale purposes.
Shopify's wholesale channel requires the user to set up an entirely separate admin that requires a password-protected log-in, providing users with the ability to track customers and customer orders under one simplified roof.
As a business owner responsible for ensuring orders in large quantities are handled efficiently, Shopify Wholesale is a more-than-desirable host of such operations.
Why Should You Consider Wholesale on Shopify?
Allowing online business owners to easily set up their wholesaling operations, Shopify Wholesale is a one-stop shop for custom prices, bulk order tracking, customer management, and other key wholesaling tasks.
The benefits of using Shopify as your primary wholesale storefront are vast, not limited to great UI/UX design, streamlined payment integrations, and an abundance of Shopify apps to embed to your advantage.
Boasting several wholesale-centric features that make business operations easier, Shopify Wholesale is an incredible way to grow your Shopify business at large without the need for any added headaches.
11 Best Shopify Wholesale Apps
In order to determine which Shopify Wholesale App is most suitable for your business needs, it's important to first do your research on the various apps that are offered, what their key features are, how much they cost, and how those who've used the app review and rate them.
Luckily, we've done that for you so that you don't have to! Below is a compilation of the 11 best Shopify Wholesale apps of 2022.
Let's get right into it, shall we?
1. B2B & Wholesale Solution
Integrated seamlessly within your existing Shopify storefront, B2B & Wholesale Solutions with SparkLayer allows you to bring efficiency and functionality for all of your B2B customers' needs.
Whether custom pricing, order management, or data collection, B2B & Wholesale Solutions is an all-in-one, easy-to-manage application, both for the user/customer AND you as the rightful store owner.
Rating & Review
Key Features
Custom Pricing & Pack Lists
Quick Order Cart
Time-Saving Tool for Repeat Orders
Pricing & Plan
14-Day Free Trial
Starter Plan - $49/Month
Growth Plan - $149/Month
Pro Plan - $299/Month
2. Wholesale Pricing Discount
To save yourself from future headaches, download and integrate Wholesale Pricing Discount; you'll thank yourself later! As one of the highest-rated Wholesale apps on Shopify, it has made a name for itself from its upselling techniques and tiered pricing model.
If you're looking to scale your business and scale it quickly, Wholesale Pricing Discount is a must-download. Through wholesale pricing displays, net terms and discounts, and upselling integrations, the app has been helping merchants increase their revenue year-over-year since its inception.
Rating & Review
Key Features
Volume Tiered Pricing
Advanced Shipping & Custom Rates
Flexible Net Term Payment Options
Manual Orders Feature
Pricing & Plan
21-Day Free Trial
Basic Plan - $19.99/Month
Professional Plan - $34.99/Month
Enterprise Plan - $44.99/Month
3. Wholesale Pricing Now
Allowing you to create custom wholesale discount groups with ease, Wholesale Pricing Now is unique in that it provides you with the ability to single-out individual product discounts OR integrate them to the entirety of your store WITHOUT the need to create an entirely separate storefront.
Arguably the most attractive aspect of the app, however, is that the discount, whether for a product, collection, or entire store, is automatically applied for the customer upon signup without any additional effort on their front.
Rating & Review
4.7/5 Stars
187 Total Reviews
Key Features
Individual Product Pricing
Tiered Pricing & Upsell Offers
Auto-Tag Discounts
Pricing & Plan
14-Day Free Trial
Basic Plan - $14.95/Month
Standard Plan - $24.95/Month
Advanced Plan - $39.95/Month
4. Wholesale Gorilla
Answering many of the often-encountered problems of a wholesaling business, Wholesale Gorilla seeks to make the selling experience as simple as possible for both you and the consumer.
However simple, Wholesale Gorilla comprises several powerful eCommerce tools and features that take into consideration customer requests as well as the bottlenecks faced by wholesalers themselves.
Evidently trusted by most, Wholesale Gorilla is a merchant app for wholesalers made by merchant wholesalers!
Rating & Review
Key Features
Order Now - Pay Later
Quick Order Forms
Min/Max Quantities
Product Exclusions
Pricing & Plan
30-Day Free Trial
Standard Plan - $39.95
Professional Plan - $149.95/Month
5. Wholesale ‑ All in one
As you can likely predict by its name, Wholesale all-in-one is just that; an all-in-one tool for those looking to move to a more wholesale-centric business model. Boasting endless features that make your life and the customer's buying journey easier, there's really no reason NOT to integrate it into your Shopify store.
What makes it stand out amongst the rest, however, isn't its comprehensive feature list but the fact that it's the only Wholesale app that allows you to set activation and expiry dates on bulk sales and promotions AND wholesale quantity breaks.
Rating & Review
Key Features
Custom Pricing & Currency Support
Countdown Timer
Quantity Breaks
Set Activation & Expiry Dates
Pricing & Plan
14-Day Free Trial
Basic Plan - $24/Month
Professional Plan - $29/Month
Business Plan - $39/Month
6. VolumeBoost ‑ Volume Discount
Boasting the largest number of reviews on the list, VolumeBoost is as worthy an app as any to look into and consider as a Wholesale eCommerce business. Unlike some wholesale apps which are complex and comprehensive, VolumeBoost does one thing and one thing great: creating volume discounts on bulk quantity orders.
Through tiered-pricing strategies and flexible discount offers, you can begin to promote offers and encourage sizeable bulk orders through easy app configurations. Through the implementation of a wholesale pricing program, you can begin to garner customer loyalty and repeat orders, thus growing your business to heights you never before thought possible.
Rating & Review
4.6/5 Stars
1,005 Reviews
Key Features
Flexible Tiered Pricing
Schedule & Pause Offers
Pricing & Plan
14-Day Free Trial
Basic Plan - $7.90/Month
Pro Plan - $12.90/Month
Advanced Plan - $19.90
Shopify Plus Plan - $29.90/Month
7. Wholesale Club
Boasting one of, if not the most user-friendly and efficient UI/UX designs on the list, Wholesale Club by Pixel Union aims to help businesses boost their average order value via bulk discounts and streamline payment integrations.
As the most downloaded wholesale app on Shopify, Wholesale Club stands out amongst the rest for a variety of reasons, not limited to its quick installation, product/variant synchronization, custom pricing, and seamless workflow.
Rating & Review
4.7/5 Stars
552 Total Reviews
Key Features
3rd-Party App Integration
Automated Volume Discounts
Quick Order Form
Order Minimums
Pricing & Plan
Subscription Model
14-Day Free Trial
Basic Plan - $29/Month
Professional Plan - $59/Month
Premium Plan - $89/Month
8. Bold Custom Pricing: Wholesale
No more relying on discount codes or duplicate product variants. With Bold Custom Pricing, you can now set wholesale offers across your store at both percentage or fixed rates.
Whether you want to set individual product discounts, collection discounts, entire store discounts, or only allow discounts to VIP groups, it's ultimately your choice on what you decide, with NO restrictions or limitations.
Rating & Review
Key Features
Bulk Tiered Discounts
VIP Automation
Pricing & Plan
14-Day Free Trial
Basic Plan - $39.99/Month
Premium Plan - $59.99/Month
9. Wholesale Simplified
As the name rightfully suggests, Wholesale Simplified allows you as the merchant to set a variety of bulk discount rules with just a few simple clicks. Though this application doesn't comprise a comprehensive list of features, it does do one thing great; setting up wholesale discounts.
No need for the separation of your retail and wholesale store either! With this easy-to-use app, you can manage all discounts in one place.
Rating & Review
Key Features
Customer Pricing Levels
Quick Order Page
Custom Feature Requests
Pricing & Plan
30-Day Free Trial
Plan - $19.99/Month
10. EasyLockdown ‑ Wholesale Locks
Whether you're looking to restrict access to content, hide pricing and discounts to a set of the consumer population, or lockdown your store in its entirety, you can do so with the EasyLockdown application.
Similarly, you can also grant access to specific products, collections, blogs, or webpages to specific subsets of the consumer population at your discretion with just a few clicks.
Easy to use and requiring zero coding skills, what are you waiting for?
Rating & Review
Key Features
Secure Permission Control
Hide Links, Products, and Pricing
Lock and Grant Access
Pricing & Plan
7-Day Free Trial
Premium Plan - $9/Month
11. Wholesale Lock Manager
For the protection and personalized access, you're going to want to download Wholesale Lock Manager by Wholesale Helper. Making your life a whole lot easier as a merchant, Wholesale Lock Manager allows you to secure desired pages (or the entirety of your store) with easily embedded locks.
Whether it's saving you money, time, or headaches, Wholesale Lock Manager allows you to customize the B2B experience with ease, placing you in complete control of pages, products, collections, pricing, and otherwise.
Rating & Review
Key Features
Password Protection
Lock Integration
Pricing & Plan
8-Day Free Trial
Plan - $6.99/Month
How to Set Up Your Shopify Wholesale Channel?
If you're ready and eager to set up your Shopify Wholesale channel, there are a few steps that need to be taken before choosing and implementing the best wholesale apps for Shopify.
Obviously stated, it begins with first ensuring that you have a Shopify account with wholesale products to sell at your disposal. Following, it's time to devise a pricing plan…
Upon making the necessary business decisions required for starting a wholesaling business, it's then time to consider Shopify Wholesale apps that you can use to your benefit and further the optimization of operations.
Whether it's creating custom pricing, locking pages, or hiding certain items, there are an abundance of applications as detailed throughout this article that you can download and integrate with ease.
Finally, once all else has been set up, before launching your store for incoming orders, it's time to optimize your pages to be appealing, engaging, SEO-friendly, mobile-responsive, and high-converting. That's where GemPages comes into play!
Compatible with almost all Shopify themes and Online Store 2.0, GemPages is a powerful yet easy-to-use page builder that you can deploy to further ensure the success of our Shopify Wholesale storefront. To learn more about both GemPages and what feature we offer, check them out here!
Conclusion
Trying to choose the most appropriate Shopify wholesale apps for your eCommerce store can prove to be a difficult task. While it's not uncommon to try several apps before deciding which are most suitable, it's good practice to first do your research to save you both time and money.
With that said, hopefully, this list of the 11 best Shopify wholesale apps of 2022 has helped direct you in the right direction. No matter which one you decide to employ for your Shopify store, you'll surely reap the benefits!
And remember, GemPages is always here to help turn your wholesale store to the next level.
Happy selling!