Back to Blog List
15+ Best Shopify Themes for Clothing Stores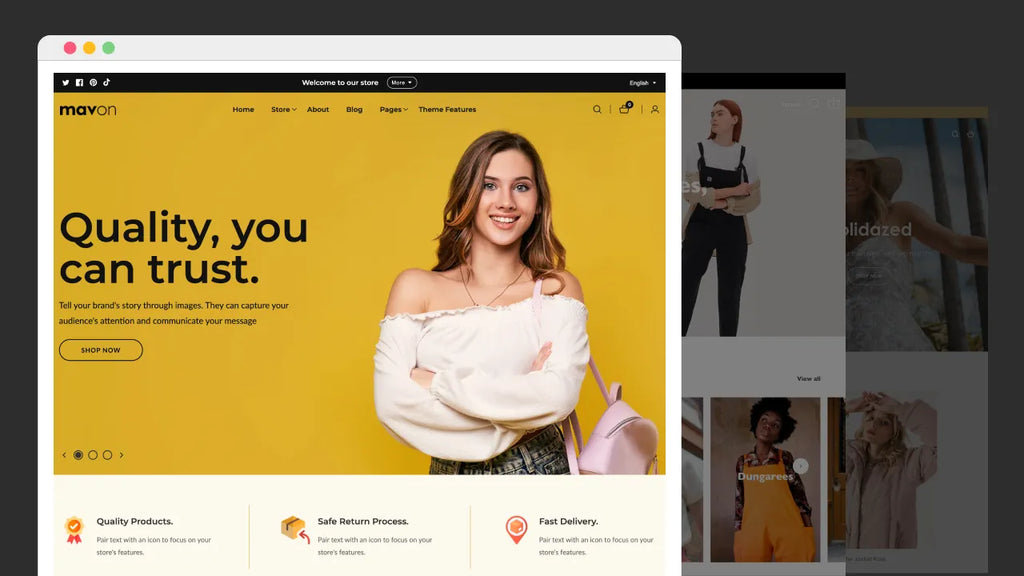 Imagine you are walking around a shopping mall. Which kind of stores catch your eye and draw you in?
The obvious answer is, visually stunning stores hold the most allure. And it's no different for a Shopify store.
People spend an average of 15 seconds on a website. Nearly 40% of them leave if they find it unappealing.
In the fashion world, visual experiences can make a huge difference as to whether a visit turns into a sale or a missed opportunity.
For this reason, this article is dedicated to introducing you to the best Shopify themes for your clothing store to help you pick the best theme for your business.
But first…
What Exactly Is a Shopify Theme?
Shopify themes are pre-designed templates that sellers use for their online eCommerce stores. Different themes offer different layouts, designs and UX journeys.
To meet the diverse needs of its sellers, Shopify offers a variety of templates with eCommerce functions for all sorts of different industries and needs. The prices range from completely free to around $180.
To install a theme, you simply need to hit the 'Add to theme library' button.
After installing the theme you can begin tweaking it as you please.
Start designing your Shopify clothing store
GemPages page builder empowers you to create compelling store pages that bring unique experiences and convert customers. No coding needed.
Why Shopify Themes Matter to Your Business?
Design has a significant impact on whether or not people make a purchase. Therefore, choosing the right Shopify theme can contribute greatly to the success of your business.
Using Shopify themes is not only an economical choice, but it also offers you full control over the optimization of your online store. Below are some benefits you will get if you choose to use a Shopify theme.
Ease of use and reduced time to market
Just the thought of creating a website from scratch can give you a terrible headache. But that's no longer the case because Shopify makes it possible for literally anyone to build a website on their own without prior technical expertise!
With just a few clicks, you can set up a store that is totally presentable. Then you can start promoting and selling your goods immediately as all Shopify theme features are user-friendly. This is great if you are looking for an all-in-one solution for an eCommerce website. For instance, it is quick and easy for dropshippers to start a print-on-demand business without any coding skills.
Affordability
If you hire a developer to build your website for you, expect to spend around $12,000 to $150,000.
Alternatively, by opting for a Shopify theme, you can design your store your way absolutely free!
That said, you might still need a premium theme if you want your website to have more advanced functions or more space to showcase a huge collection of products. Of course, this might cost a few hundred dollars, yet it's still a lot less expensive than seeking help from a professional.
Furthermore, a website must be properly maintained in order to operate with efficiency. This means an extra $400 to $60,000 as the annual maintenance fee for a typical website.
This massive amount of money is well outside the budget of many small businesses.
In this case, Shopify themes become the ideal choice.
Mobile Responsiveness
The use of mobile phones is on the rise, and so are the number of mobile shoppers. Nowadays, a majority of online shopping is carried over smartphones or tablets. Over the last six months of 2021, 79% of smartphone users used their devices to complete an online purchase. In fact, retail mCommerce sales in 2021 witnessed a growth of 15.2% compared to 2020, reaching nearly $360 billion by the end of the year.
It is therefore advisable to make sure that the theme you select looks fantastic on mobile devices.
Most Shopify themes work well on different screen sizes. However, you still need to check whether a Shopify theme is mobile-responsive before using it. Your entire website, including the home page, product pages, and blog pages, must be compatible with mobile devices to ensure the best user experience.
How to Choose the Best Shopify Theme for A Clothing Store
Your Shopify theme needs to be relevant to your industry and target market. To pick the right theme out of Shopify's vast selection, you should follow these three suggestions.
Identify your target audience
Good design has a personal touch. You should ask as many questions about your audience as possible to build a clear customer profile when selecting a Shopify theme: Is your clothing for children or adults? What is their age? What do they find interesting? By narrowing down your audience, you can reach those who want to buy your products more easily.
Decide on your website's must-have features
You should include a store locator on your website if you have a physical store. You might value customer reviews above all else or want to implement sales boosters like countdown timers to increase the urgency. Whatever you choose, ensure that the theme aligns with the vision you have set for your eCommerce store. The goal should be a unified, organized, and user-friendly layout for your buyers to make purchases at their convenience.
It's also recommended that you view the demo version of the Shopify theme of choice to see if it matches your needs.
Keep customer support in mind
Imagine yourself as a customer: How would you feel if your queries were left unanswered when making a purchase online? Stores that can provide immediate assistance when you need it will certainly leave a favorable impression and nudge you towards buying a product.
The same applies to picking a Shopify theme. What if you run into trouble? Who should you contact if you don't have in-house developers?
To avoid losing sales to other competitors, it is therefore imperative to choose a Shopify theme with round-the-clock developer support.
Customize your Shopify clothing store your way.
Create compelling store pages that bring unique experiences and convert customers. No coding needed.
15 Best Shopify Themes for Clothing
Brooklyn
Brooklyn is hands-down the best free Shopify theme available for the clothing and accessories market. The theme offers two clean-looking styles: classic and playful, one of which has a more neutral color scheme while the other is brighter.
Brooklyn is ideal for stores that take their brand image seriously and want to feature their products against clear lines and ample space to bring about a modern air.
Highlights:
Slide-out cart: Let customers add products to their carts while staying on the current page.
Header Slideshow: Exhibit a variety of products at the top of the home page.
Video integration: Use a YouTube or Vimeo video to tell your brand's story and draw attention to your home page.
Price: Free
Mavon
Experience the innovation of Mavon Shopify theme, a revolutionary Shopify theme that transforms ordinary websites into extraordinary online stores. Designed for all expertise levels, Mavon provides seamless customization and unique brand expression. 
Crafting an online store is effortless with its drag-and-drop simplicity and tailored eCommerce features. Mavon theme streamlines functionality, replacing the necessity for costly apps and reducing expenses. Beyond being a theme, Mavon is an essential investment in creating a captivating online presence that stands out as a masterpiece.  Check out the demo to experience its potential firsthand.
Highlights
20+ dynamic sections: providing you with the ability to design a unique store that sets you apart from rivals.

Powerful filtering, color swatches, a quick view, and a mega menu:  Guaranteeing an amazing user experience.

Simple drag-and-drop interface and custom eCommerce options: creating your own online store is now even easier.
Price: $280
Ella
Ella can be best described as modern, vibrant, yet extremely organized. You're sure to find the ideal theme for your clothing store among its 20+ stunning layouts.
You can expect a seamless user experience across devices thanks to Ella's amazing UI/UX and responsive design. Additionally, you can showcase your products in the best light with its stunning banner and product blocks, thereby boosting your sales.
Highlights:
Support for 3D models and media videos: Give your brand a refreshing and unique feel.
Rapid payment process: Accept different currencies and automatically suggest the appropriate one based on the location of your customers.
'Ask an expert' popup: Let your customers engage with top specialists, which will in turn improve the performance of your store.
Price: $89

Venture
If your product caters to sports, then Venture is a great choice for its distinctly outdoorsy vibe. Designed for dropshipping businesses with large product catalogs in mind, Venture is commonly used by stores that have a lot of products and varieties.
That said, this theme might not be suitable for those who have only a few products.
Highlights:
Multicolumn menu: Present product details and images in an easy-to-use menu.
Slideshow: Feature your favorite items on the home page.
Product filtering: Let customers filter your products by price or rating.
Price: Free
Shella
Shella will not let you down if you envision a Shopify store with a minimalistic style. Boasting a score of 89 according to Google Lighthouse speed matrics, Shella is one of the fastest themes available.
This theme enables you to showcase your products in a gallery, which greatly enhances the allure of your store.


Highlights:
Product swatches: Allows you to add dynamic checkout buttons and show variant photos as swatches.
Infinite scrolling on collection pages, product filtering, mega menu builder–Bring customer satisfaction to the next level.
Size guide popup: Assist your consumers in selecting items that fit their body type.
Price: 59$
Simple
Simple is a free and minimalistic Shopify theme. This theme is very beneficial if you have a 'Shop' page as it offers ample space for a product image display. It is incredibly simple to set up and provides all the fundamental features you need to launch your eCommerce store quickly with three different styles: Light, Beauty, and Toy.
Highlights:
Accordion-style sidebar menu: Arrange your products in a way that allows for easy navigation.
Product-image zoom: Show a closer view of the product when users move their mouse over an image.
Product recommendations: Encourage customers to continue shopping by showing items from the same collection on your product pages.
Price: Free
Fashe
Fashe was originally intended to be a paid theme before Colorlib decided to make it available for free. This means Fashe has all the features you would get in a premium theme, but at a lower price.
The minimalist design of the Fasche theme, which was purposefully created for fashion and apparel stores, is its most outstanding strength.


Highlights:
Drop-down top menu and sidebar: Make it easier for visitors to navigate your store.
Built-in top bar: Grab attention and highlight special deals.
Parallax background pictures: Create an immersive and irresistible shopping experience.
Price: Free
Goodwin
Goodwin will undoubtedly give your website a fresh and polished appearance. This theme has helped multiple sellers around the world build profitable stores in various industries, and is recognized as a weekly top seller by Shopify. Although Goodwin might not be the most affordable choice, its variety and quality make up for the cost.
Highlights:
Advanced add-to-cart buttons: Let buyers easily collect all their favorite products, which boosts the cart conversion rates.
Interactive visual builder: Aid you to design various layouts for showcasing more products.
Mega menu: Enable you to create attractive horizontal and vertical layouts.
Price: $74
Narrative
Narrative allows you to tell your story and describe the benefits of your products in the most engaging fashion. Its large image blocks make Narrative perfect for presenting small inventories or a single service. In fact, it is intended to showcase a product with all of its characteristics on a single page.
Because it can handle big, high-resolution photos, Narrative is best for highlighting product details with compelling and immersive imagery.
Highlights:
Hero video: Place a full-screen video at the top of your homepage to make an impression.
Vertical slideshow: Present different items, from photos to blog entries, on your homepage.
Fixed navigation: Freeze your menu, logo, and shopping cart at the top of the page so they are always visible even when people scroll down to the very end.
Price: Free
StyleShop
StyleShop provides a sleek look, cutting-edge features, and a versatile visual builder to help you build a Shopify clothing store that is up to scratch.
This responsive theme incorporates Google's rich product snippets and supports an infinite number of color styles, which will ultimately boost your store's conversion rate.
Highlights:
Ajax-powered live search: Let users perform a quick search without having to reload the page.
Multiple listing layouts: Present your apparel at its best.
Shipping calculator on the cart page: Help buyers manage their budget.
Price: $59
Supply
Supply was created for stores with big catalogs, so it will work wonders if you have a large quantity of products to showcase. Ranking as one of the best free Shopify themes for the fashion industry, Supply makes it simple for browsers to view multiple products simultaneously with its sleek grid layout.
Highlights:
Collection filtering: Let customers find their favorite items by brand, price, and size.
Homepage slideshow: Display a variety of products at the top of the page
Featured collections: Exhibit several featured collections on the homepage
Price: Free
Thalia
Thalia provides an airy, simple, and minimalistic eCommerce experience. It includes many distinguished features, such as flexible customisation in terms of color, typography, and different page sections (About Us or FAQs).
Highlights:
Attractive, professional-looking design: Ideal for exhibiting and selling apparel.
Advanced product filtering: Help visitors find exactly what they need.
Advanced swatches: Showcase product colors in their entirety on the product page.
Price: Free
Minimal
Minimal is a modern and minimalist Shopify theme that will shift the focus to your products. The theme is available in three different styles: Vintage, Fashion, and Modern, all of which have lots of white space to make your products stand out. Since the look and functionality of this Shopify theme are kept to a minimum, as the name suggests, your store will load very quickly, producing an excellent user experience.
Highlights:
Homepage slideshow: Display a variety of products at the top of the homepage.
Product recommendations: Stimulate buyers to continue shopping by showing items from the same collection on the product pages.
Homepage video: Place a YouTube or Vimeo video on your homepage to visually engage with your customers.
Price: Free
Boundless
Boundless is made of defined edges and a minimalist layout. Optimized for larger photos, this Shopify theme gives you the chance to display high-resolution product images all over your website.
Boundless is available in two styles: vibrant or black and white. It has a strong emphasis on photography. If you want to display product galleries, this theme is definitely the top free Shopify theme out there.
Highlights:
Slideshows, product galleries, and collection images: Create ample room for product displays.
Sticky navigation: Keep the menu visible at the top of the page regardless of how far visitors scroll.
Video integration: Interact with your customers in a lively way by featuring a YouTube or Vimeo video on your homepage.
Price: Free
Debut
Debut is created to display your goods and boast your brand with elegance. The theme enables you to design professional-looking pages with top-notch graphics. It possesses a high level of customisation, ease of use, and compatibility with a wide range of fashion styles.
Highlights:
Pickup availability: Let buyers know where their orders can be collected.
Simple and streamlined layout: Create easy navigation with a multi-level menu and searchable category pages.
Mobile-friendly design: Ensure your products look good on both desktop and mobile.
Price: Free
Wokiee
Wokiee is one of the highest-converting Shopify themes with countless layout options. This one can be used to build either a single-product or a multi-product store. Its main power lies in its fast loading time and unique conversion-boosting capabilities.
Highlights:
80+ homepage layouts and 99+ content blocks available: Provide users with incredible design freedom.
Pre-order feature: Allow shoppers to make orders in advance.
Learn more: 
How to Set Up Pre-Orders on Shopify
10 Best Shopify Pre Order Apps in 2023
Quick view: Save time as customers can click on the 'eye' and read all the product's details in one popup.
Price: $79
What You Should Look For to Advance Your Clothing Store
When it comes to the fashion industry, there are some details you should take notice of as they could make or break your business.
While Shopify themes are a good place to start, if you want to level-up your store in terms of aesthetics and functionality, then it's time to explore the customization capabilities of Shopify page builders. Below are some of their fundamental features you may find helpful for your apparel website.
Multiple-level menu
Make sure that your website offers easy navigation, especially when you are selling a lot of clothing items or several collections at the same time. In this case, a multi-level menu should be your top-of-mind solution.
Anna Sui Japan uses GemPages to create a drop-down menu on their homepage
By using GemPages - The Most Powerful Shopify Page Builder to create a clean and well-structured drop-down menu, the Anna Sui Japan website makes it very straightforward for visitors to reach the items they are looking for in an instant.
Customer reviews
When your customers make an online purchase, they have to come to terms with the lack of physical touch, and what helps them decide whether they can trust your brand or not is mostly social proof. This is when positive feedback, ratings and testimonials have your back.
Black Clover USA creates a separate section for ratings and customer reviews on their product pages with the help of GemPages
To increase brand transparency and credibility, Black Clover, a lifestyle apparel company based in the U.S., lets their customers' voices be heard. At the end of each product page, they ask for feedback so that they can improve the products if needed and show their potential customers which items sell best.
Product recommendations
Shoppers are often open to buying more, if they are given personalized care and attention. You can upsell and cross-sell quite easily by introducing your customers to more products that are chosen specifically for them based on their previous choices.
By using GemPages, Once Again France opens up a section for product recommendations below each item being viewed
Once Again France's website adds a refreshing feel to their products by showing visitors the other side of the item if the viewer hovers over it. This certainly prompts people to keep clicking and exploring.
Product size charts
As you are selling clothes, your products should come in a number of sizes. To help customers better gauge what suits them and make wise choices, it is important to clearly address your apparel sizes in great detail on your product pages.
Lucy & Yak - another GemPages' client - gives their customers a detailed size chart of every item on their product pages
With the aim of 'leading the comfort movement', Lucy & Yak wants their customers to be well looked after in the comfiest clothes. Sizes, thus, are of extreme importance to cater to the diverse range of human shapes, making sure every shopper feels seen and finds what fits them best.
Fast loading time
The speed of a site has a direct and significant impact on user engagement and conversions. Generally, for every one-second delay in page loading time, a site witnesses an 11% drop in views and a 7% decline in conversions. In short, your business needs a page that loads fast.
While there are many factors that affect your loading time, you can optimize your page performance substantially by keeping some essentials in check.
Compressing media files: Before uploading media files to your store, ensure that all of them are well optimized. Page builders, like GemPages, will do this automatically.
Using a high-speed Content Delivery Network (CDN): GemPages has got this covered for you as our high-speed CDN can cache content all around the world, helping your site load quickly no matter where your visitors are.
Using the GemPages Lazy Loading feature to preserve bandwidth and improve loading speed.
Ready to Choose The Best Shopify Theme for Your Clothing Store?
In the competitive eCommerce apparel market, picking a Shopify theme where the right aesthetic and functionality meet is crucial. By generating an immersive shopping experience, fashion retailers benefit from customers adding more and more items to their carts.
However, it is essential to make sure that your Shopify theme gives you the opportunity to present your brand in the best possible light and that it allows for customizations that enable you to easily scale up in the future.
If you are ever in need of help customizing your Shopify theme, the GemPages app has everything you need to create a store that looks just how you want it to.
Ready to elevate your Shopify clothing store?
Take your storefront to the next level with GemPages page builder. Free plan available. Upgrade as you scale.