Back to Blog List
Top 11+ Shopify App Deals for Black Friday & Cyber Monday 2023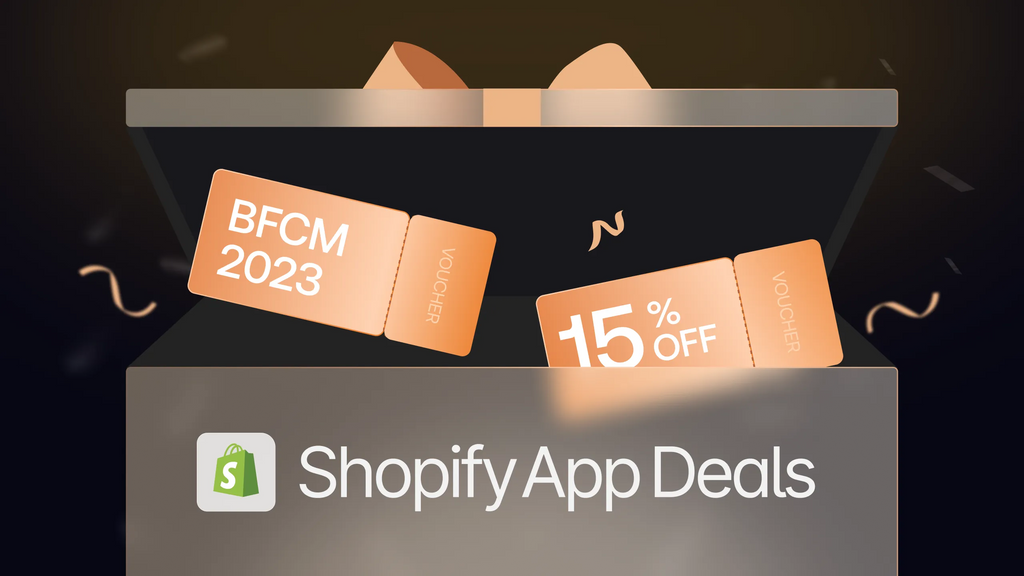 As the excitement of Black Friday and Cyber Monday draws near, the retail world is gearing up for a shopping extravaganza. The upcoming days promise a wealth of enchanting offers, offering not only significant savings but also the potential to supercharge your sales.
If you're a savvy merchant with an eye for opportunity, you're about to embark on a journey filled with golden chances to save big. 
So, why wait? Check out our handpicked Shopify Black Friday deals meticulously chosen to elevate your online business to new heights now!
#1. GemPages
GemPages is a one-stop storefront customization solution. GemPages empowers e-sellers from 130+ countries to create, customize, and optimize your Shopify pages effortlessly with an AI-powered feature and the most intuitive drag-and-drop Editor. 
Whether it's a landing page, product page, or homepage, GemPages makes it easy for you to craft professional-looking Shopify pages. 
GemPages Key Features & Benefits
GemPages' AI Feature Image-to-Layout
Image-to-Layout is the first AI feature of GemPages that helps users transform a reference URL or image into editable layouts. It is a game-changing tool for store owners, freelancers, drop shippers, and anyone looking to build pages faster and smarter, turbocharging their growth engine.
GemPages' Most Intuitive Editor
80+ templates

for landing pages, product pages, blogs, homepages, and more, catering to diverse business needs.

100+ sales & marketing elements

including countdown timer, pop-up, etc. to supercharge your campaigns.

Mobile responsiveness

by default, ensuring a seamless user experience on any device.

Instant landing page

: Built on headless technology and specializes in building high-performance, mobile-optimized landing pages to boost users' campaigns and increase conversion.
GemPages Black Friday Deal
Discount:

15% OFF

on all monthly plans (*).
* For users making the first payment from Oct 01st to Dec 31st, 2023 UTC. Discount applied automatically at checkout.
Black Friday Deal: 15% off Monthly Plans
Exclusively for users making any first payment from Oct 1 to Dec 31, 2023 UTC.
#2. UpPromote
UpPromote, the top recommended affiliate/referral app on Shopify, is a flexible and easy-to-use application crafted to assist businesses in elevating their sales and customer engagement. UpPromote allows you to create and manage promotions, loyalty programs, and referral campaigns effortlessly. And seamlessly integrates with your existing systems, making it a seamless addition to your marketing toolkit. 
Whether you operate a small e-commerce shop or a sizable enterprise, UpPromote allows you to effortlessly attract, retain, and reward customers, all within a single, convenient platform.
UpPromote Key Features
Build your affiliate team

: Customizable

affiliate registration form

. Besides, you can create unlimited affiliate programs with different commission offers.

Manage your affiliate campaign

: Track all referral orders and manage your affiliate performance through a reliable real-time tracking process. 

The customer referral feature

allows your customers to refer your products to their friends and family and earn a small commission. 
UpPromote Black Friday Deal
Discount:

20% OFF

all paid plans (*).
* This BFCM offer applies to NEW USERS only. It will be automatically applied when users upgrade to any paid plans.
Duration:

October 16th - December 31st, 2023

.

Redeem link:

UpPromote

.
#3. Parcel Panel
ParcelPanel is the most popular Shopify order-tracking app that helps you improve customer satisfaction and boost your sales. It has real-time tracking, proactive exception handling, automated shipping notifications, branded tracking pages, smart upsell systems, powerful analytics, and more. 
ParcelPanel Key Features 
Order tracking 

Branded tracking page 

Shiping performance analytic 

Automatic SMS/Email notifications
ParcelPanel Black Friday Deal
Discount:

50% OFF

on All plans (*).
* Only for users making the first payment.
#4. Growave: Loyalty & Wishlist
Growave is an all-in-one marketing platform that empowers businesses to focus on the bigger picture of their marketing strategy, resulting in more effective and meaningful engagement with their customers.
Growave Key Features
Increase repeat purchases and retention with loyalty programs, VIP tiers, and rewards.

Acquire more customers organically through referral programs and save on ad spend.

Implement wishlists and trigger emails to boost sales: on sale, back in stock.
Growave Black Friday Deal
Discount:

20% OFF

for the first 02 months on all plans.

Expiration date:

December 31st, 2023

.

Code:

GEMPAGES-BFCM2023

Redeem link:

Growave

.
#5. Trustoo
Trustoo is a unique application created specifically for Shopify store owners to effectively manage and display customer reviews. It offers a reliable platform for collecting and verifying authentic feedback from customers, which helps businesses establish trust and credibility with potential customers. 
Trustoo Key Features
Translate reviews for your global clients.

Send review push invitations through SMS, Email, and WhatsApp.

Help merchants to broadcast on multiple platforms such as FB, IG, Twitter, TikTok,...

Be compatible with multiple platforms: Unicom, Dropship, AliExpress, Amazon.
Trustoo Black Friday Deal
Discount:

30% OFF

on All plans (*).
* Apply for all users.
* Enter the code "trustoo.io-BFCM" after installing Trustoo in the left gift icon "Exclusive discount". After redeeming it will be valid for 30 mins.
Duration:

No expiration

.

Redeem link:

Trustoo

.
#6. Searchanise 
Search & Filter Shopify app by Searchanise is a sophisticated site search solution. It helps your customers find relevant information through products, collections, pages, and blog posts.
Searchanise Key Features
Professional Search

: Empower customers with lightning-fast search and autocomplete for easy product discovery.

Smart Filters

:

Allow your shoppers to refine their search based on various attributes, ensuring they discover exactly what they desire.

Marketing Tools

: Leverage merchandising rules, custom product labels, and promotional banners to boost your sales even further.
Searchanise Black Friday Deal
Discount:

20% OFF

on yearly plans (*)
* For new users only.
Duration: November 01st - November 30st, 2023 UTC.
Code: BFCM23_GEMPAGES
Redeem link:

Searchanise

.
#7. Dropshipman: Dropshipping&POD
Dropshipman is the best all-in-one dropshipping supplier that helps you build a successful eCommerce business from off the ground to the next level.
With Dropshipman, you can easily source the winning product niche and fully automate your dropshipping business with high efficiency, from importing products to fulfilling orders. Dropshipman professional agents and the 24/7 customer service team will be your best workmates in China, assisting you along the way.
Dropshipman Key Features 
Efficiently source products and fulfill orders with the automated platform.

Unique customer experience with pod, customized packaging, and storage services.

Maximize profitability in your niche market with trending and winning products.
Dropshipman Black Friday Deal
Discount:

70% OFF

and

$100,000 Coupon

(*).
* Apply for everyone.
Duration:

November 10th - November 30th, 2023

.  

Redeem link:

Dropshipman
#8. Ryviu
Ryviu, the ultimate product review platform, empowers online retailers to gather and showcase authentic customer reviews, enhancing trust and boosting conversions. You can easily import reviews from popular marketplaces to your online stores and customize their display to fit your brand seamlessly. With powerful features like review request automation and insightful analytics, Ryviu is your one-stop solution for harnessing the power of social proof.
Ryviu Key Features
Import reviews from multiple sources: AliExpress, Amazon, Esty, CSV files, etc.

Display customer reviews on your store wherever you want with multiple themes.

Request review emails.
Ryviu Black Friday Deal
Discount:

50% OFF

for 3 months (just applied for users paying monthly) (*). 
* For both new sign-ups and existing merchants.
Expiration date:

December 30th, 2023

.

Code:

RYVIUBFCM23

(Apply this code when upgrading plan)

.

Redeem link:

Ryviu

.
#9. Opinew
Opinew is an all-in-one review management solution with advanced automation features that help you grow with strong UGC. 
Opinew Key Features
Import reviews in minutes from Amazon, eBay, and AliExpress with automatic sync.

Manage and display reviews and Q&A on-site with 8 highly customizable widgets.

Send automated email & SMS requests, and include coupons to get more reviews.

Integrates with GemPages, Google Shopping, Klaviyo, Gorgias, Rebuy & much more.
Opinew Black Friday Deal
Discount:

50% OFF

3 months on all plans.

Expiration date:

November 31st, 2023

.

Code:

e7BCYK

Redeem link:

Opinew

. 
#10. LL: Loyalty Rewards Referrals
Loloyal, the Shopify app for loyalty programs, with features like points, referrals, rewards programs, and VIP tiers, empowers merchants to boost customer retention and sales effortlessly. 
With Loloyal, real-time points are displayed beside product prices, fostering transparency, encouraging more purchases, and ensuring customers stay aware of the benefits they can enjoy. 
During peak seasons, especially for Black Friday, you can utilize the "Limited Time Offer" feature to captivate shoppers.
Moreover, with customizable templates and email notifications, Loloyal is the ultimate solution for you seeking to elevate your sales and engagement strategies.
Loloyal Key Features
Point program: Increase lifetime value by rewarding customers with points.
Referral program: Reach more users by encouraging users to refer.
VIP tiers: Improve customers' stickiness with different VIP tiers.
Loloyal Black Friday Deal 
Discount: Up to

60% OFF

for all paid plans (*).
* This discount is for both new sign-ups and existing users.
#11. Consentmo
Consentmo is the go-to compliance solution tailored for Shopify merchants. With the increasing emphasis on digital rights and privacy, we understand the complexities and challenges that e-commerce businesses face. The Consentmo app seamlessly integrates with your Shopify store, offering an intuitive interface to ensure you meet global compliance standards. With Consentmo, you're not just getting a tool, but a partner in navigating the evolving landscape of e-commerce compliance.
Consentmo Key Features
Auto Cookie Scanner

: Detect and categorize cookies in real-time, ensuring transparency with your visitors.

Customizable Cookie Bar

: Style and position your cookie bar to align with your store's aesthetics.

Multi-regional Compliance

: From GDPR to CCPA/CPRA, we've got you covered no matter where your customers are.

AI-assisted Cookie Categorization

: The 'Arrange with AI' feature effortlessly sorts and classifies unidentified cookies.
Consentmo Black Friday Deal
Discount:

20% OFF

on Plus and Enterprise premium plans.

Duration:

October 23rd - November 17th, 2023

.
The discounted prices will be valid until the Consentmo app is uninstalled.
#12. Subify Subscriptions
Subify Subscriptions is a Shopify subscription app that enables you to offer products (physical & digital) & services to your customers on a recurring basis. It can increase your recurring revenue by enticing customers to repeat orders on products they like with flexible percentages or fixed discounts & delivery frequency. You can choose a suitable subscription model for your store. Create a subscribe and save button, offer membership plans, or create innovative subscription boxes for your subscribers.
Subify Subscriptions Key Features
Customizable & various widget templates that fit perfectly in your store.

Quick setup and Auto-adding widget. Embed app to use directly in Shopify admin.

Seamless customer portal to manage their subscriptions. Skip, pause & cancel..
Subify Subscriptions Black Friday Deal
Discount:

40% OFF

on All plans (*).
* Apply for everyone.
#13. Transcy: AI Language Translate
Transcy: AI Language Translate is a powerful app that allows you to translate your online store into multiple languages and offer real-time currency conversion. With no word limits and seamless integration with Shopify Markets, Transcy is the affordable solution for merchants looking to expand their business globally. Transcy language translation and currency converter ensure that your customers can shop comfortably in their preferred language and currency.
Transcy Key Features
Auto language translate & multi currency converter by real-time Exchange Rate.

Unlimited words: translate store into local language endlessly with AI.

Translate image: show images in customers' languages for greater connection.
Transcy Black Friday Deal
For users who pay monthly: Get

20% OFF

any selected plan for the first month.

For users who pay annually: Get

01 month FREE

on any selected plan.
The discount is applicable only to new users who access it through GemPages. 
Seize the opportunity to capitalize on these exclusive Shopify Black Friday deals during the peak sales season of 2023! Stay tuned as we keep bringing you the latest and greatest deals to supercharge your online business. 
Seize the opportunity to capitalize on these exclusive Shopify Black Friday deals during the peak sales season of 2023! Stay tuned as we keep bringing you the latest and greatest deals to supercharge your online business.