Back to Blog List
How to Dropship From Amazon to Shopify: From Beginner to Expert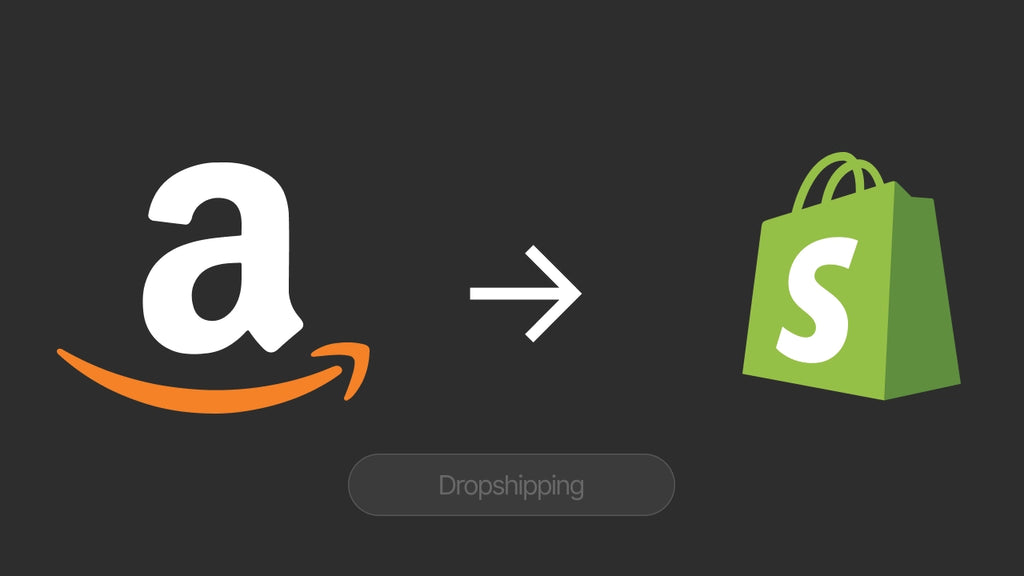 Dropshipping is becoming the way to go for any entrepreneurs looking to get a slice of the growing and profitable eCommerce pie with little up-front investment.
If you are new to this type of business model or looking for ways to jumpstart your current eCommerce business via dropshipping, then congratulations, you're in the right place!
In this article, we will walk you through everything you need to know about dropshipping from Amazon to Shopify: from the hows and whys of dropshipping to a step-by-step guide on how to do Amazon-Shopify dropshipping in the right and most profitable way.
What Is Dropshipping and How Does It Work?
What Is Dropshipping?
Dropshipping is a low-risk business model that allows online sellers to sell products without actually having them in stock. Instead, you outsource the processes of production, storage, and shipping products to a third party, known as a dropshipping supplier.
By doing that, you save yourself a significant amount of money and time to focus on your marketing and customer retention strategies.
How Does Dropshipping Work?
The process of dropshipping is pretty straightforward. 
A customer makes a purchase from your dropshipping store.

You forward the order to the supplier.

The supplier ships the order directly to the customer.

The customer receives the item.
In this model, the customer pays you the retail price set on your store while you pay the supplier the wholesale price of the item; the rest will be your profit.
Learn more: How to Make Money on Shopify
Type of Dropshipping
Dropshipping on eCommerce Platforms:

The dropshipping store finds products from eCommerce platforms like Shopify or Amazon and resells them on its online store.

Print-on-demand Dropshipping:

The dropshipping store creates its own design (in form of text or image), has it printed on products by a print-on-demand service provider, and sells them under its brand.

Business Extension Dropshipping:

The dropshipping store works with retail stores that are not presented online to resell their products online on their behalf.
This article takes a deep dive into the first type of dropshipping and will provide a detailed guide on how to do dropshipping from Amazon to Shopify.
What Are The Differences between Amazon and Shopify?
Amazon and Shopify are two leading players in the eCommerce field, both of which allow you to make money online; however, they work in different ways.
Shopify is an eCommerce platform that provides you with essential tools and features to build and scale up your online business. Meanwhiles, Amazon is an online marketplace that allows you to sell your products alongside other sellers.
With Shopify, you have the flexibility to build your own brand, set up and customize your online store per your needs and preferences. After setting up your store and getting your product listings ready, you have to deploy your own marketing strategies to drive traffic to your website and convert that traffic into buyers.
On the other hand, Amazon lets you create a seller account and list products on its marketplace, but you are limited in how you can adjust your store's appearance and what type of products you can sell. In return, you can take advantage of its massive market to reach a wider range of customers.
Simply put, each platform has certain things that the other does not.
If you want to get the best of these two powerhouses, dropshipping from Amazon to Shopify is your perfect solution.
Learn more: Shopify vs Amazon: Which Is Better For You?
Why Should You Do Dropship from Amazon?
Amazon is a leading online marketplace that offers a massive selection of products and allows worldwide shipping.
Benefits of dropshipping from Amazon:
Free and fast shipping:

Amazon offers an amazing shipping service that allows the items to be shipped within two days.

Wide range of products:

With a huge inventory of approximately 12 million items across all categories, Amazon provides a diverse range of products, from general merchandise to specific ones.

High product quality:

Amazon has strict requirements for the quality of the products it offers, making sure that all products sold on this platform are of the highest quality.
Why Should You Do Dropship on Shopify?
Shopify is a popular eCommerce platform trusted by millions of entrepreneurs to build their businesses.
Benefits of Dropshipping on Shopify:
Ease of use:

Shopify is well-known for its simple installation and easy-to-use interface that allows you to set up your own online store without technical knowledge.

Rich features for eCommerce businesses: Equipped with an online web builder, a diverse collection of templates, and a wide range of eCommerce features that fit the needs of almost all sellers, Shopify is considered a perfect choice to build a prominent online store on your own.
Scalability: 

Shopify allows you to easily scale your business up or down without worrying about tech-related issues or anything else.

Great customer support:

Shopify offers incredible customer service that provides 24/7 assistance through various contact channels: live chat, phone, and email.
Integrated with numerous helpful features for dropshipping entrepreneurs, Shopify is the definitive dropshipping eCommerce platform you should leverage to make selling products via dropshipping easier.
How to Dropship from Amazon to Shopify?
Restrictions of Dropshipping from Amazon to Shopify
Dropshipping from Amazon to Shopify can be a great idea to start your dropshipping business, but there are also some restrictions that you should be aware of in order not to put your business in jeopardy.
Intense competition: Amazon is one of the largest and most popular US dropshipping suppliers. Its products appear on numerous eCommerce marketplaces, causing high competition among both sellers and dropshippers.
Strict dropshipping policies: Amazon has a very strict policy on dropshipping as it does not want people to dropship from them. So, to dropship Amazon products on Shopify, you must be authorized to sell these products by obtaining permission from the manufacturers or brands in advance; otherwise, your Shopify store can be at risk of being suspended or terminated.
Shipping rates: You are not allowed to use Amazon's shipping rates when dropshipping from Amazon to Shopify, as the rates are only applied to Amazon's Prime members, not to third-party sellers. So, when setting up your Shopify store, remember to set your own shipping rates.
Step-by-Step Guide on Amazon-Shopify Dropshipping
Step 1: Do your research
To make sure your dropshipping business is profitable, it is crucial to conduct careful research before you get started, including but not limited to:
finding a demanded and lucrative niche

defining your target audience

researching your dropshipping products
It will be of great help to leverage tools like Google Trends or Facebook Audience Insights for your research.
Step 2: Sign up on Amazon
Once you have a good idea of the target market and the products you want to sell, it's time to get your business rolling.
In this step, for dropshipping from Amazon to Shopify, you simply need to create a regular Amazon buyer account, and the process is pretty straightforward.
Visit the

Amazon website

.

Hover over the

Hello, sign in

button.

If you already have an Amazon account, hit Sign in

and enter your account information to log in.

If you do not have an account yet, click Start here

and enter the required information to register.
Creating an Amazon account is easy and straightforward.
Note that with this type of dropshipping model, you must NOT register for an Amazon Prime membership to take advantage of Prime's fast and free shipping, as this is against Amazon's terms and conditions.
Step 3: Sign up on Shopify
Now that you have Amazon as your supplier, register on Shopify to start building your dropshipping store. Again, if you already have a Shopify store, skip this step.
Currently, Shopify offers users 3 days of free trial to try the platform, after which the price is US$1/month on select plans in 3 months.
Shopify offers 3 days of free trial with no credit card required.
Creating a store on Shopify only requires your email address and some basic information about your business to help your store get set up based on your needs.
Important notes: The most important thing you should pay attention to in this step is your store's name which defines your brand's identity and value in the public's eyes. Make sure it is relevant, meaningful, distinctive, memorable, and enduring so that it sticks to customers' minds once they see or hear about it.
Step 4: Set up your Shopify store
Now, here comes the most fun part of the process. It's time to style your store the way you want. Check out our Shopify Tutorial which provides you with an A-Z guide on how to set up your store from scratch.
Here, we lead you through a few important things to build a well-set Shopify store for your dropshipping business.
4.1. Customize Your Theme
Shopify will automatically set your store up with a default theme, but you can feel free to switch to another one from Shopify's diverse collection of stunning themes.
Learn more: How to Choose The Right Shopify Theme for Your Store?
Go to Online Store.
Click on Themes.
Customize

the current theme.

Or add and customize another theme from the theme library per your needs and preferences.

Hit

Publish

to apply the theme to your store.
With Shopify's diverse collection of stylish themes, you can customize your store per your preferences.
There are chances that you may find this customization process a little time-consuming and ineffective. 
Don't worry! If that's the case, a page builder is what you need to optimize the journey and bring a more unique look, feel, and experience to your brand.
With over 80 feature-packed, conversion-optimized templates which are compatible with all Shopify themes, GemPages page builder will be your game-changer. Install GemPages on top of your existing Shopify theme and take your store up a notch with advanced design and eCommerce features.
Ready to elevate your Shopify storefront?
Take your dropshipping store to the next level with GemPages page builder. Free plan available. Upgrade as you scale.
Learn more: Shopify Customization: How to Build Custom Shopify Pages That Sell?
GemPages page builder empowers you to build and fine-tune your storefront just the way you envision
4.2. Set up a Domain Name
A perfect custom domain is important to help customers trust and find your store easily.
Go to Settings and click on the Domains section.
There, you are provided with two options to add a custom domain to your store:
Purchase a Shopify domain which usually costs US$15-US$100 annually.

Purchase a domain from a third party like Google Domains or Namecheap and connect it to your store.
Shopify allows you to buy a domain name either from the platform itself or from other providers.
Like your brand's name, make sure to keep your domain name different and easy to remember and spell.
4.3. Set up Payment options
Now, you have to choose which payment methods to offer so that you can receive payments from customers buying via your website.
On the Settings section, click Payments. 
If you allow customers to pay using a credit card:
click the

Activate Shopify Payment

button

to use Shopify Payments which are free of transaction frees.

or click

Sell all providers

to select a different third-party provider for your store.
Shopify Payments enable customers to pay using a credit card.
If you do not want to accept credit card payments, scroll down to the Supported payment methods section:
click

Activate PayPal

or

Activate Amazon Pay

to enable customers to pay online via PayPal or Amazon Pay.

or hit the

Add payment methods

button to search and select additional payment methods that suit your needs.
If you want to allow payments made outside of your store, such as Cash On Delivery (COD) or bank transfers, scroll down to the Manual payment methods section, click Add manual payment method, and select the options you want to offer.
Shopify offers a variety of payment providers and methods. 
Important notes: Keep in mind that you must include a trusted and secure payment gateway in the checkout process to build trust with potential customers and reduce the risk of cart abandonment.
If you are wavering between Shopify Payments or PayPal, give your brain a break with our article, Shopify Payments vs. Paypal: What's Best for You in 2023? to find out which payment option works best for you.
4.4. Set Shipping Rates
As stated above, it is against Amazon's terms to use its shipping rates for dropshipping Amazon products on Shopify. So, you are required to set your own shipping rates for accurate pricing based on the types of products you sell.
Go to Settings and head over to the Shipping and Delivery section to start setting your own shipping rates.
Learn more: Shopify Shipping 101: Easy Set-Up Guide, Tips and Tricks (2023)
Step 5: List products on Shopify
Now that your store is basically set up, it's now time to add the very first products to your Shopify based on the dropshipping market and product research you have conducted at the beginning.
On the Shopify Admin, head over to the Products section.
Here you have three options to add products to your Shopify store:
Add manually:

Click on the

Add your products

button and add products one by one. 

Import in bulk:

Click on the

Import

button to import products from a CSV file. Before uploading your CSV, remember to adjust the file following the Shopify CSV template. You can use a

sample product CSV file

to use as a template.

Use an app:

For dropshipping from Amazon to Shopify,

importing your products to Shopify using the

Amazon Importer - Spreadr App

will save you hours. All you need to do is to copy the

Amazon product page link

and press the

Add Product

button.
On Shopify Admin, you can either add products manually or import through a CSV file.  
Important notes: It is essential to add compelling product titles and descriptions that contain keywords for your products to rank well in the marketplace. Besides, make sure your product images are of high quality to best showcase their features and value.
For more information, check out our article for a comprehensive guide on How to Import Products to Shopify From any Platform.
Step 6: Market your Shopify store and get the first order!
You're almost there. This final step is crucial to the success of your Shopify dropshipping store!
How to make your target customers know about and notice your dropshipping store? The answer is simple. Come up with good marketing strategies to drive traffic to your Shopify store and increase your brand's awareness.
Here are several 'old but gold' marketing ideas for you to get started with:
Make your website SEO-optimized

Implement Pay Per Click (PPC) campaign

Offer giveaways, free gifts, discounts, and/or free shipping

Include customer testimonials and reviews

Promote on social media platforms

Run Google ads, Tiktok ads, and/or Facebook ads

Leverage email marketing
Grow Your Online Business Today with Dropshipping!
Dropshipping is a growing trend, and now may be the best time for you to leverage this business model to earn some extra money.
With Amazon as the biggest dropshipping supplier and Shopify as the best dropshipping eCommerce platform, dropshipping from Amazon to Shopify can be profitable but also complicated and competitive.
If your goal is to build a long-lasting eCommerce brand via Amazon-Shopify dropshipping, keep these in mind:
Be well-prepared:

Do your market and product research carefully.

Be well-behaved:

Always follow Amazon's rules.

Be unique:

Build a distinctive, attractive, and user-friendly storefront.

And finally, be visible:

Market your store well!
FAQs About Dropshipping from Amazon to Shopify
Can you dropship Amazon products on Shopify?
Yes, you can dropship Amazon products on Shopify as long as you follow Amazon's dropshipping policy. Make sure to get permission to become an authorized retailer before dropshipping Amazon products on Shopify, and remember to set your own shipping rates when setting up your store.
What are the common mistakes to avoid when dropshipping from Amazon to Shopify?
Here are three common mistakes you should avoid when doing dropship from Amazon to Shopify:1. Not doing enough product research2. Using tricks to dodge Amazon's policies3. Not investing enough in storefront design
What are the most effective marketing strategies for a dropshipping store that sources products from Amazon?
If you are dropshipping Amazon products on Shopify, implement these marketing strategies to effectively promote your store: 1. Build an SEO-optimized website2. Add customer reviews, ratings, and testimonials to your site3. Run Google ads, Tiktok ads, and/or Facebook ads4. Conduct social media promotion5. Run email campaigns
What are the best practices for finding profitable products to dropship from Amazon to Shopify?
The best ways to find profitable products to dropship from Amazon to Shopify are:1. Determine the product trend using tools like Google Trends2. Look for a niche market3. Filter Amazon products based on reviews and sales rank4. Find products that are high in demand but low in competition