Back to Blog List
How to Write Shopify Product Descriptions That Inspire Purchase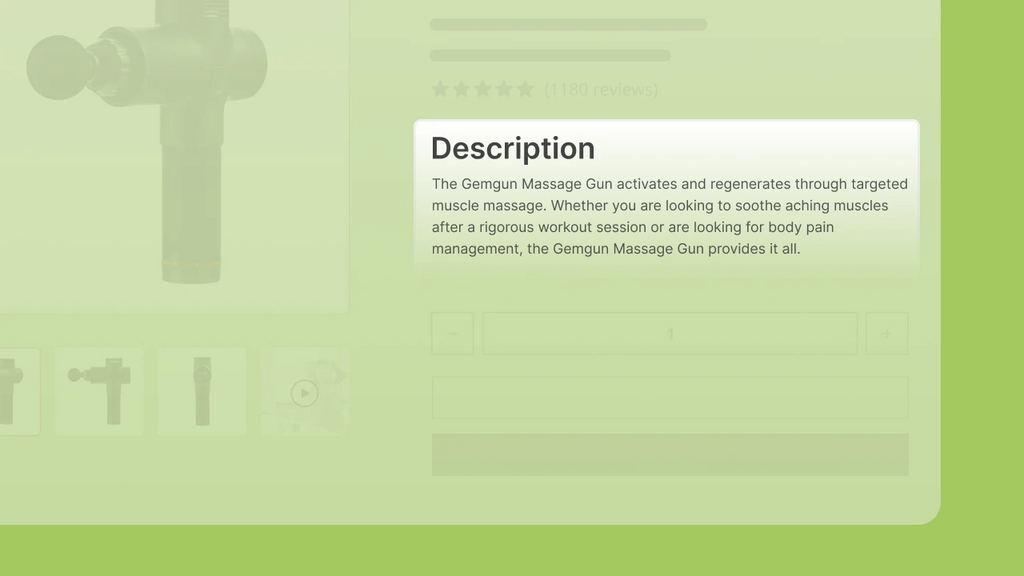 A product description is one of the key components that drive sales in eCommerce.
Let's be honest! We all review the product description section before hitting that "Add to Cart" button, don't we?
Sometimes, even if we already know about the product, we tend to have a quick look at the product description to ensure that we're ordering the right product and what to expect when the product is delivered.
In this blog post, we're covering the most essential aspect of writing Shopify product descriptions, its importance in the eCommerce world, and helpful tips and best practices to write product descriptions that convert.
What is A Product Description?
A product description is a copy that covers complete information about the product including its features, benefits, specifications, and any other information that can help or encourage the customers to buy the given product.
Apart from the purpose of providing information to customers, typically, the product description or copy also has an element of marketing added to it. For example, highlighting the details about free shipping or 30-day returns policy.
In some cases, it may also include instructions about how the product should be used by customers post-purchase. For example, wash care instructions for clothing products.
Why is A Product Description Important in eCommerce?
Increase Your Conversion Rate
When shopping online, customers have hundreds of options to buy a single product. If they visit your store during the search stage, why should they buy your product? This question is answered by your product description.
87% of customers consider product content "extremely" or "very important" when making a purchasing decision. Product description plays a huge role in convincing the customer to buy your product. Thus, it also contributes to increasing your sales and conversion rate.
Provides Customers with the Needed Information
According to an IMRG report, nearly 25% of customers say that they return anywhere between 5% to 15% of everything they buy.
A good product description helps customers make informed buying decisions by providing comprehensive information about the product's features and benefits. Eventually, this can help reduce the likelihood of returns.
Helps You Stand Out from the Competition
The product description section is your opportunity to differentiate your product from competitors. Highlight your unique selling proposition (USP) and convey why they should buy from you and not from the competitors—even if your price may be slightly more than the competitors'.
Enhances Search Engine Optimization (SEO)
According to Google, over 51% of smartphone users found a new company or product while searching on their smartphones. 
By optimizing your product descriptions with the relevant keywords, you can increase the chances of your product being shown in the search result when customers are searching for any information related to your product.
Creates Better Connection with Your Customers
Product descriptions don't have to be just a bunch of text mentioning the technical and informational aspects. A well-written product description goes beyond just that and creates an emotional connection with your customers.
This helps them feel your "brand's vibe" in the product description and makes them feel more motivated to buy your product.
How to Write Product Descriptions on Shopify that Convert
1. Craft the Message For Your Buyer Persona
First things first, you need to know your ideal customer to write anything for them. Otherwise, how would you personalize the message in your product description? You get the idea!
Create a buyer persona - a semi-fictional character that represents your ideal customer. And then, keep that buyer persona in mind while writing your product copy.
Typically, a buyer persona may include many types of information such as name, age, income, profession, location, hobbies & interests, goals, values, challenges or pain points, etc. However, it should at least help you answer most of the following questions:
What are the challenges of your ideal customer?
What are their interest or hobbies that might connect with your product?
What is their age group?
What is their profession?
Here's a sample buyer persona to get an idea about how it may look like. However, you may exclude some or include more details depending on the type of business or target audience.
2. Make it Easy to Read
Make your product description scannable and easy to read for your customers so that they can quickly get the information that they need.
You may have a lot to say about your product and the best practice is definitely to include all the necessary information that needs to be conveyed. 
However, you need to also keep in mind that not most customers won't have time to read all of the information available on your product page. They may want to go through certain pieces of information that are relevant to their needs. 
Pro Tips:
Create headers to summarize lengthy pieces of information. 
For shorter pieces of information, use bullet points. 
Bold and/or italicize certain texts to highlight and emphasize important information.
Protein Works does a great job at making the lengthy product description very easy to read.
3. Prioritize Benefits Over Features
Benefits and features are both important components of your product description. So, you need both of them. However, what's crucial is how you present them.
Your product may have a dozen features but what do they do for your customers? Your customers are more interested in what's in it for them. Ask yourself a question - What benefits will customers get out of those features? And mention those benefits in your product description.
Nike is one of the most popular sportswear brands in the world and needs no introduction. If you take a look at Nike's product page for Sunray Protect 2, you may find more than one takeaway about how to write effective product descriptions.
Nike not only focuses on the product benefits but also highlights them with a bullet point list so that it's easy to read for its customers.
4. Use Power Words to Ignite Your Copy
Power words are the words used in copywriting to evoke an emotional or psychological response from the readers.
If used properly, power words can enhance the persuasiveness of your product copy and boost the conversion rate of your Shopify store.
There are mainly seven types of power words:
Encouragement power words
Fear power words
Anger power words
Lust power words
Greed power words
Safety power words
Forbidden power words
But make sure you don't overuse them, of course! 
If you're looking for a list of power words to write product descriptions, you can find more examples here.
5. Address The Questions of Your Customers
Put yourself in your ideal customer's shoes, and think of all the questions that may come to your mind if you were to buy that product. And then address all of those questions with precise answers.
Don't let your customer leave the store just because they aren't sure of something. You may even create a Frequently Asked Questions (FAQs) section within your product description.
For example, if you're going to buy a smartphone, you may have several questions in your mind and you'll be sure to check them out on the product page.
What is the operating system?

How is the battery backup?

What is the storage capacity?

What are the camera features?
6. Say it with Your Brand's Tone of Voice
For many customers, the brand is an important factor to buy from X company and not from Y and Z. Your product descriptions should speak to your customers with your brand's tone of voice.
There are different types of tones of voice such as authoritative, caring, casual, formal, friendly, humourous, nostalgic, romantic, serious, sympathetic, and so on. Choosing your brand's tone of voice depends on various factors like your brand's mission, values, target audience, and also the products that you're selling. 
To give you a simple example, let's say you're a streetwear clothing brand, you may not want to go with a formal and serious tone of voice. Instead, you may prefer a casual, friendly, and humorous tone.
As we just mentioned about having a casual and humorous tone of voice, we must mention this great example of Oatly's product description:
Oatly makes the product description so much more fun for its customers that you just can stop yourself from reading it.
7. Check out reviews on your website or on Amazon
If you want to learn the voice of your customers, read their reviews. Observe what are the points that they talk about the most.
If you're an established business, chances are you already have a lot of reviews on your website. You can use those reviews to learn your customer's voice and to craft product descriptions for any new products.
However, if you're just starting a new business, you may not have reviews on your website. In that case, you can simply go to marketplaces like Amazon and check out the review on similar products that you're selling.
Amazon is a great platform to explore customer reviews in your niche or product category.
8. Make Customers Imagine Themselves with Your Product
This is one of the great techniques to convert your potential customers.
If you make them imagine themselves with your product through your product description, they'll be more like to buy your product. That's why you should write your product description with creativity and imagination.
For example, if you're a clothing brand selling t-shirts with graphic designs, not only your product images are important but also your product description should convey how the t-shirt will look on them.
9. Write SEO-Friendly Product Descriptions
For any eCommerce business or Shopify store, Search Engine Optimization (SEO) is one of the most crucial aspects of bringing in potential customers and converting them into actual buyers.
Writing SEO-friendly product descriptions means that you're following SEO best practices while crafting your product description.
Make sure that you're using the right and relevant keywords in your product description. To do this, there are several free as well as paid SEO tools that you can use depending on your budget.
Write Shopify Product Descriptions that Convert
Writing a product description may sound like a difficult task if you're not good at writing skills. And that's quite understandable. You don't need to be a writer yourself to write compelling product descriptions.
You can hire professional writers from a freelancing platform like Fiverr to help you write unique and compelling product descriptions. In any situation, if you're looking to enhance your sales and conversions, product descriptions shouldn't be ignored.
FAQs about Shopify Product Descriptions
How long should a product description be?
There is no ideal word or character length to either limit or expand your product description. It may vary product-to-product. Write all the information that your customer should know at the time of purchase. However, if your product description is lengthy, it's advisable to break it into small, easy-to-read sections.
What do you write in a product description?
Ideally, a product description should include your product's benefits, features, specifications, and any other information that could help customers make an informed buying decision.
Are product descriptions good for SEO?
Yes. If written effectively from an SEO standpoint, product descriptions can help your eCommerce or Shopify website to rank higher in the search results. You should focus on the right and relevant keywords that your customers typically use to search for your product.
Do product descriptions matter?
Yes, they do. In fact, product descriptions are important for several reasons such as:

1. Increases Your Conversion Rate
2. Provides Customers with the Needed Information
3. Helps You Stand Out from the Competition
4. Enhances Search Engine Optimization (SEO)
5. Creates Better Connection with Your Customers
How do you write a product description that converts?
Implement the tips and best practices to write product descriptions:

1. Craft the message for your buyer persona.
2. Make it easy to read.
3. Prioritize benefits over features.
4. Use power words to ignite your copy.
5. Say it with your brand's tone of voice.
6. Check out reviews on your website or on Amazon.
7. Make customers imagine themselves with your product.
8. Write SEO-Friendly product descriptions.