Back to Blog List
7 Best Shopify T-shirt Stores to Get You Inspired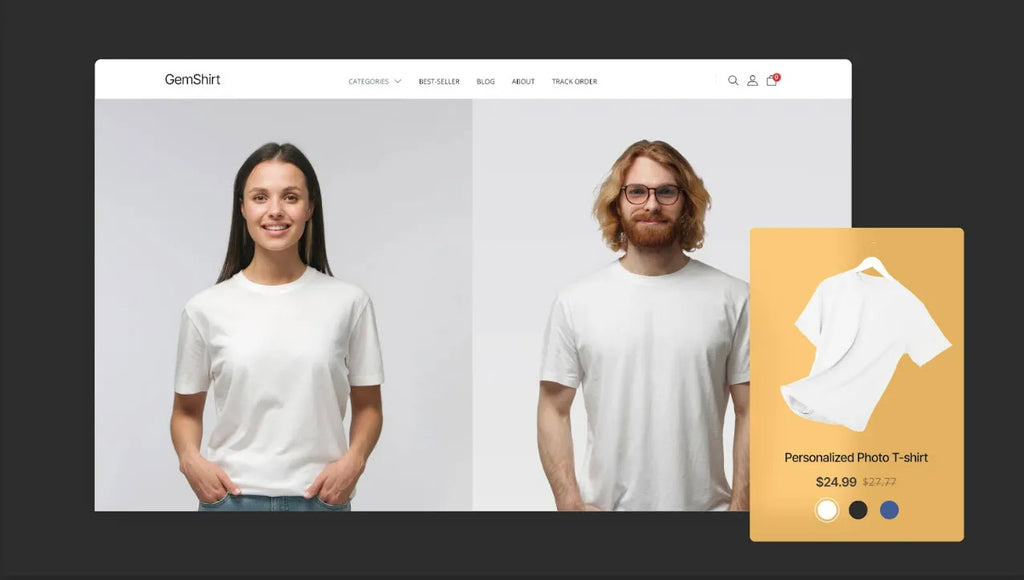 Welcome to the world of Shopify T-shirt stores, where creativity meets commerce in the form of wearable art.
In this article, we'll showcase some of the best Shopify T-shirt store examples that are making waves in the eCommerce world. From bold and minimalist designs to intricate and detailed illustrations, these stores offer a range of T-shirts that are not only fashionable but also make a statement.
We'll also share a slew of helpful tips and tricks that you could help you carve out a niche in the competitive T-shirt industry.
So, if you're looking for inspiration to start your own Shopify T-shirt store or simply want to explore the latest trends in T-shirt design, join us on this exciting journey through the world of Shopify T-shirt store examples.
Best Shopify T-shirt Stores You'll Want To Emulate for Success
In this section, let's have a look at some of the best Shopify T-shirt stores which you can glean on for inspiration.
For each brand, we'll mention what niche they are operating in, what apps they use to create and maintain their business on Shopify, and what makes them "slay" in the market.
Creative Apparatus store
Creative Apparatus is a T-shirt seller on Shopify whose clients are individuals and businesses. Besides ready-made T-shirts, they offer custom designs and produce apparel for brands, companies, retailers, and events.
Right when you access its website, you'll be impressed with its hero banner image showing a fabulous flat lay of T-shirts, hoodies, and tank tops in an orange background.
Creative Apparatus's minimal designs
Besides T-shirts, there are hoodies, buttons, and stickers on other shelves of Creative Apparatus for casual outfits of both men and women.
The brand also offers discounts deducted directly from the original price of each product. For example, you only need to spend $15 instead of $25 for the MICHAEL design and we think this is a beneficial deal you shouldn't miss!
Creative Apparatus offers discounts
Design style: Typography minimal T-shirts for casual wear.
What makes them special:
Minimal design style with creative typography.
Clear return policy.
Focus more on custom, wholesale production.
Trendphoria–a harmonious combination of traditional value and dynamic modern living style.
As a local brand from India, Trendphoria sells clothes inspired by Indian traditional costumes. All of the products are made from high-quality domestic fabrics ensuring a deep sense of comfort and convenience to all customers of Trendphoria.
Besides traditional costumes, Trendphoria comes with a collection of stylized T-shirts for women. Unlike Creative Apparatus, Trendphoria beautifies its T-shirt designs with bright colors such as red, green, yellow, purple, and the like.
The T-shirt designs of Trendphoria are suitable for women's casual wear.
Trendphoria's target customers are wholesale buyers and resellers. It means you can get these unique clothing designs at an affordable price as Trendphoria is the direct supplier.
Trendphoria offers affordable prices as a direct supplier.
Design style: Dynamic designs for women's casual wear.
What makes them special:
The brand's products are inspired by Indian traditional costumes.
T-shirts are specially designed for women only.
Currencies are automatically changed based on the location of customers.
Quick shipping (within 2 business working days after payment).
Various contact options are available.
Affordable price for wholesale.
Illuminated Apparel defines itself as a fun fashion brand.
Another inspiration for your Shopify T-shirt business is Illuminated Apparel–an U.K-based manufacturer and retailer since 2015. The brand's signature product are interactive glow-in-the-dark T-shirts using the UV Glow Torch to draw directly onto the Glow Canvas on the front of each item.
Their T-shirts are suitable for daily wear, especially when you go out at night because it's the time when the patterns on your T-shirts are revealed clearly under UV light, as all the product images show.
Illuminated Apparel is famous for its interactive glow-in-the-dark T-shirts.
Like Creative Apparatus, Illuminated Apparel allows customers to order in bulk besides individual purchases. In addition, customers can customize the glow T-shirts however they want them to be–as long as they order 100 units minimum.
Among all the factors above, Illuminated Apparel is an outstanding example of the best online T-shirt stores that you can learn from. Think out of the box and we believe that you can be another Illuminated Apparel!
Design style: Glow-in-the-dark T-shirts with funny patterns.
What makes them special:
One-of-a-kind design concepts.
Customers can customize the patterns on their T-shirts by themselves.
Quick delivery within the U.S (1-2 days).
Helpful FAQs section that instructs customers to use and clean their T-shirts properly.
Products are safe for kids.
The Foodnited States seems to be a perfect choice for foodaholics.
The Foodinited States, as its name depicts, brings you to a world full of food like "Baconnecticut", "Swissconsin", "New Pork", and more. Indeed, this is an ideal product for those who want to show their big love for food, and great pride in the state they are living in.
The Foodnited States comes with a wide range of food designs.
The design of The Foodnited States is quite simple yet eye-catching, showing the excellent talent of the brand's founder in mixing and matching the colors. You can shop by product category, or select the "Food States" to view all the items within a collection related to that State.
The S'morgeon collection of The Foodnited States.
One plus of The Foodnited States that proves it to be one of the best Shopify T-shirt store examples is the completeness of its website.
Besides basic pages like Homepage, About Us, and Product Page, The Foodnited States creates a Blog page, FAQs page, and links their store to top social platforms including Facebook, Twitter, Instagram, and Pinterest.
While the FAQs section provides comprehensive answers to common questions from customers, the Blog page and social media buttons come as perfect ways for the brand to interact with its followers efficiently.
The Foodnited States has a well-designed store on Shopify
Similar to other stores mentioned above, The Foodnited States is open to individuals and wholesalers. In addition, they also offer an affiliate program that supports other retailers to start their dropshipping businesses.
Design style: Food-related patterns.
What makes them special:
Unique design ideas (combine "food" and "States" of the U.S).
Customers can shop by product categories or "Food States" collection.
Positive feedback from existing customers under each item.
Provide helpful resources for customers (FAQs, About, Order and returns, privacy policy, etcetera).
Offer an affiliate program.
Create a Blog page and link its Shopify store to social media platforms to interact with customers effectively.
Factory43's one-of-a-kind storefront design on Shopify.
If there is an online vote for the most impressive website designs of the year, Factory43 would definitely be in the top 10. Right when you access their Shopify store, you will wow about its animation videos on the Homepage screen.
Factory43 comes with a good selection of items including T-shirts, posters, stickers, pins, letterpress, and the like. Its creative designs can make everyone fall in love at first sight, and these T-shirts go smoothly for all genders and ages. Especially, they employ direct-to-garment (DTG), which is a revolutionary printing method. By spraying the ink directly onto the garment, your T-shirts will have higher-resolution images.
What makes Factory43 successful is its Impressive illustrations on T-shirts.
Specularly, the founders of this brand are expertized in illustrative designs. Plus, they have earned recognition from Communication Arts and the Society of Illustrators among others. Hence, they can offer wholesale, custom designs, and other requirements beyond your expectations.
Factory43 also shows its Corporate Social Responsibility (CSR) in numerous projects. The brand will donate a proportion of total revenue to environmental preservation organizations.
Design style: illustrative graphic T-shirts.
What makes them special:
Creative design ideas.
Well-designed website with 3D animation videos and catchy graphics.
Free shipping for orders of $75 or more.
Clear size instructions.
Shopemoji and its hilarious look.
Emoji is becoming a new language of Gen Z to express their thoughts and feelings. Understand that, Shopemoji has come up with a way to help kids and teenagers to show their personalities freely without any words!
Shopemoji provides plenty of options in terms of colors and sizes. On top of that, the brand shows clear, sufficient information about product materials and how to use them properly. As the main targeted customers are young people, the design of Shopemoji's website is eye-catching with a yellow hero banner which quickly attracts our attention when accessing its Homepage.
The Apparel collection of Shopemoji is filled with various items.
Design style: Simple T-shirts with emojis.
What makes them special:
Dynamic website design which is appealing to the brand's products and targeted customers (kids and teenagers).
Provide sufficient information about clothing materials, age limits, and other remarkable notes when using the T-shirts.
7. Meowgicians - The Best Choice For Cat Lovers
Meowgicians Homepage.
Meowgicians's focus on creating products tailor-made for cat lovers is evident throughout their site–from the brand name, brand logo, and hero banner image, to product images.
Meowgicians has been successful in becoming a shopping community for cat lovers by providing various products with cat-related patterns like shirts, hoodies, pants, and other accessories for cats.
Its T-shirt collection varies greatly by cat memes, 3D-printing spiritual cats, stylized cat drawing lines, and more. You can view the products from different angles and details, hence, you don't have to worry about whether the T-shirt size fits you or not. Plus, there is a clear size chart in different measurement units of centimeters and inches that helps the brand target the international market effectively.
There are lots of T-shirts and long-sleeve shirts on Meowgicians.
Most importantly, Meowgicians enables its customers to track their orders. This is a feature that not many stores offer. As a new T-shirt seller, you can consider integrating an order tracking app on Shopify to bring a better shopping experience to the table.
Design style: Cat-related products
What makes them special:
Design elements showing brand consistency.
Clear Return and Shipping Policies.
Beneficial sales off and discount programs.
Offer order tracking feature for customers.
The Verdict
There are more and more T-shirt stores putting the first brick to get their first sales with Shopify. All of them are attempting to optimize their storefront and the 7 stores we mentioned above are just a small part. However, we believe that you can get inspiration from them, and here is a summary of what these examples have in common:
Minimal website design to shine the spotlight on the products.
High-quality product images are optimized in size, format, and resolution.
A good selection of choices in terms of colors and sizes.
How to Start Your Own T-shirt Business with Shopify
Specularly, many ideas can light up a T-shirt business online. Some people think combining "food" and "states" of the United States is unique. Others find it promising to put pets like cats and dogs into their designs.
If there is something that motivates you to create an online T-shirt store, don't leave it just an "idea". In this section, we'll give you a step-by-step tutorial on how to build your own T-shirt business on Shopify.
1. Choose your niche
Before creating an online store to showcase your products, it's of great importance to find a niche to follow. There are some criteria to pick a niche that possibly benefits you and your T-shirt business as follows:
Customers are showing their interest in that niche.
The design style of that niche fits your competency and preference.
There are many ideas that revolve around that niche to keep your business growing sustainably.
As you can see, the most challenging obstacle when choosing your niche to start a T-shirt business is understanding customer insights.
Below are some ways to collect data-driven analytics related to your potential clients:
Scan Wikipedia's list of hobbies.
Use Google Trends to view the interest of customers in a specific topic.
Browse hashtags or trending topics on social media platforms like Instagram, Twitter, Pinterest, etcetera.
Define your target market and its size using Facebook's Audience Insights.
2. Select Quality Material And Printing Options
Moving to the next step, it's time to look for reliable suppliers who can provide you with quality materials and printing options at an affordable price. It may be hard for you to discover the most optimal choices at the beginning of your T-shirt business because you cannot order in bulk.
However, as your store expands and successfully attracts more customers, it's advisable to put a high priority on quality. This is a key to your success which helps you build customer loyalty for long-term development.
Select quality materials and printing options.
When choosing the materials and printing options for your T-shirts, you need to consider several factors including softness, elasticity, sweat absorption, etcetera. Therefore, you can ask your suppliers to provide a sample to see whether it meets your requirements before collaborating.
3. Create Your Own T-shirt Designs
Next, you should come up with some ideas to create your own T-shirt designs to be printed into the garment. If you're an excellent designer, this is when you can freely show your creativity with supportive designing tools like Adobe Photoshop or Illustrator. In case of idea blocking, you can have a look at Pinterest, Behance, Etsy, Zazzle, Redbubble, Creative Market, etcetera.
Otherwise, you can hire a designer or buy T-shirt designs if all you have is an excellent business mindset. Once you already have the design, try creating mockups for your products by designing tools as we mentioned above.
Create your own T-shirt designs.
In case you haven't had enough budget to take care of the whole process to produce a T-shirt, creating a dropshipping or print-on-demand (POD) business is a good idea. There's no need to worry about warehouse management, order delivery, or inventory.
4. Set Up Your Online Store on Shopify
The final step is the most vital one, which is building an online store to showcase and promote your T-shirt products. If you're looking for an all-in-one eCommerce solution, opting for Shopify wouldn't upset you.
To create a store on this platform, you need to access Shopify and provide personal information, which wastes you a few minutes to complete. Specularly, you can enjoy a 3-day free trial to experience the basic features of Shopify and decide whether it is a perfect fit for your T-shirt business.
Start selling on Shopify for $1/month
Try Shopify for free, then enjoy the next 3 months for $1/month on select plans.
Once you find Shopify ideal for your T-shirt store, there is one thing you need to consider, which is website customization. A Shopify theme is a good foundation on which you can build your Shopify T-shirt stores. However, you can consider installing GemPages for further customization for your store.
GemPages is a drag-and-drop visual builder that helps you create stunning, high-converting store pages without coding skills. You can choose from our library of ready-made templates and make it yours by adding products, visuals, and some fresh content.
GemPages Page Builder provides great support in customizing your Shopify storefront.
Customize your T-shirt store your way
The powerful page builder empowers you to create a T-shirt store that brings unique experiences and convert customers. No coding needed.
Here is a checklist you should complete for a better Shopify T-shirt store:
Tips and Tricks to Create High-converting Shopify T-shirt Stores
1. Pick a proper T-shirt niche for your business
No one can tell exactly how many niches there are for T-shirt designers to choose from. Instead of giving some cliché tips like "picking a niche that attracts great attention from online shoppers", we'd provide you a list of popular niches which helps you find it easier to start with.
The list includes:
Pets
Comics
Games
Music
Traveling and Lifestyle
Culinary
Sports
Family and Love
Work
You can freely go for another niche that you think it's better for your business. However, don't forget to check its popularity on Google Trends to ensure that the interest level of customers in that topic can convert to sales.
Besides, we have a useful tip for T-shirt startups to jot down at the beginning. You can try on a bigger niche before narrowing it down. To be specific, the list mentioned above can be hierarchized as follows:
Pets > Cats/Dogs
Comics > Japanese Manga/Anime
Games > Leagues of Legends/PlayerUnknown's Battlegrounds (these are online games' names)
Music > Rock/Ballad/Jazz
Culinary > Fastfood/Desserts
Sports > Football/Volleyball
2. Get your design ideas from creative websites
You can browse Pinterest, Behance, or simply type "T-shirt ideas for [your niche]" and go to the Google Images section to get some ideas of what you should design. In case you don't know which colors match well, Coloors.co is a website that provides color combination ideas.
Besides, you can go to the marketplaces where other designers showcase their T-shirts for sale. Below are some of our recommendations:
Zazzle
Dribble
Redbubble
Creative Market
Etsy
Teespring
One thing you should keep in mind is that the intellectual property of these ideas belongs to other designers and T-shirt sellers. Therefore, you must not steal their designs and turn them into your own.
3. Ensure the quality of product images
Hi-def images are what contribute to a professional eStore for selling T-shirts. Hence, you should take care of the whole process from taking photoshoots to postproduction image edits.
It's vital to invest in equipment for photo taking. The minimum requirements are a Camera, Tripod, Lighting, Shooting table, White background, White bounce cards, and Duck tape. It would be better if you can set up a shooting studio however, we won't give the highest priority to this investment if you've just started your journey as it's quite pricey for a newly-created T-shirt online store.
Instead, you can invest your precious time in retouching and mocking up your T-shirts after shooting. The good news for you is, you don't have to be a full stack designer to do so thanks to advanced image editing tools like Canva or Picsart. If you're an expert, Adobe Photoshop, Illustrator, or Lightroom would definitely be your best choice.
When uploading product images to your store, paying attention to the image format is a must. Here are Shopify's requirements for image optimization:
Size: Up to 4472 x 4472 pixels (the best-recommended one is 2048 x 2048), file size < 20MB.
Image formats: PNG, JPEG, GIF, PSD, TIFF, BMP, HEIC, WebP. The best formats are PNG and JPEG.
Read more: Shopify Product Images: A 10-minute Guide for Beginners (2022)
4. Invest in your packaging design
Packaging can be considered a part of your business's branding kit, which contributes to the visual identity of your T-shirt store.
Minimal and eco-friendly are two factors you can mix when brainstorming an idea for your T-shirt packages because all of us are paying greater efforts to protect the Earth. You can use renewable, durable paper like Kraft to pack the T-shirts, and then put them into a larger carton box to keep your products safe from a long delivery distance.
In addition, you can use logo stickers to replace normal white tape and put a thank you card inside the packages. If it's possible, you can also design a card instructing your customers on how to wash and dry their T-shirts.
And now, let's see how other T-shirt sellers pack their orders on Pinterest.
Final Thoughts
Opening an online store to sell T-shirts is a wise investment for those who want to be their own boss. Among all the robust eCommerce platforms, Shopify comes as an ideal choice thanks to outstanding features that help merchants create and manage their business flawlessly.
Besides, Shopify provides limitless powerful apps that bring your business to the next level. If you're looking for an advanced page builder that helps you customize your storefront with ease, GemPages is always eager to help. Don't hesitate to contact us when you have any questions or problems, we'll get them solved as quickly as possible.
FAQs about Shopify T-shirt Stores
Can you make money dropshipping T-shirts?
Yes! Thousands of GemPages' customers have earned big bucks by dropshipping T-shirts. This business model allows you to
make money online
without manufacturing costs and inventory fees.
What kind of T-shirts sell best?
Black T-shirts sell best. They go with everything and all skin tones.
How to start an online T-shirt business on Shopify in 2023?
Step 1: Choose a niche for your designs.
Step 2: Look for reliable suppliers who can provide quality fabrics and printing options.
Step 3: Create your own designs and mock up your T-shirts.
Step 4: Create an online store on Shopify, customize the storefront with an advanced page builder like GemPages and start selling your T-shirts.