Back to Blog List
Dropshipping vs. Print on Demand: Which one is the Best Choice for Beginners?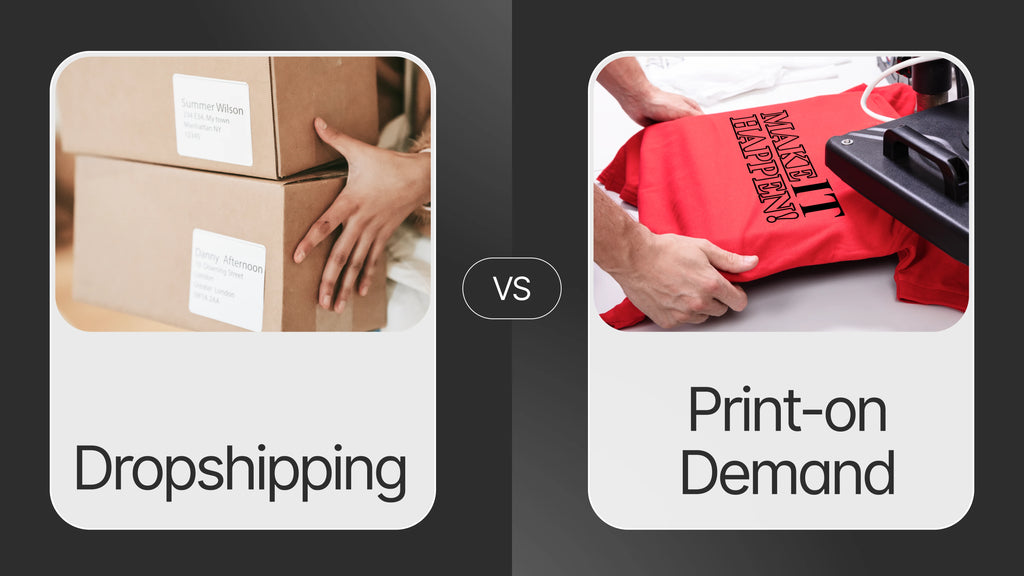 Dropshipping and Print on Demand represent popular business models, making them excellent choices for startups. Nevertheless, newcomers should acquaint themselves with various factors before diving in, including assessing profitability and understanding the investment requirements for each model.
Within this article, GemPages - a Shopify page builder - will help you acquire comprehensive knowledge about these concepts and discover some factors to consider when choosing between Dropshipping vs. print-on-demand.
Overview of Dropshipping
What is Dropshipping, And How Does It Work?
What is Dropshipping?
Dropshipping is a widely adopted business in the eCommerce industry. It has gained popularity worldwide, embraced by wholesalers and manufacturers alike as a means to effectively market and sell their products.
This model allows retailers to operate without the need to maintain inventory. Instead, retailers receive customer orders for products showcased on their online stores and subsequently pass them on to the suppliers for shipment.
Warmly Decor is one of Dropshipping stores on Shopify. They have a diverse range of products for visitors to choose, accompanied with minimalism lay-out style on every page.
This is a great benefit for both retailers and suppliers, enabling them to concentrate on their respective areas of expertise. Retailers can dedicate their efforts to fostering customer relationships while suppliers efficiently manage inventory and handle product shipments. 
Learn more: Dropshipping Tips: 15+ Proven Strategies to Skyrocket Your Sales
Is dropshipping worth it?
Dropshipping remains a lucrative investment option for those seeking a cost-effective and small-scale business venture. Achieving success in this domain hinges upon selecting suitable products, ensuring favorable profit margins, and establishing solid partnerships with reliable suppliers. Addressing these fundamental aspects allows you to quickly set up a thriving and profitable online business as a drop shipper.
How Does Dropshipping Work?
The process of dropshipping involves a contract between the seller and the product supplier. Once the customer placed their orders online, the seller confirmed and sent notification to customers as well as the product supplier. The orders would be packed and set to ship to customers by the supplier.  This model offers ease and low risk for sellers, with suppliers handling inventory and fulfillment.
HORNE, founded in 2008, is a Dropshipping store on Shopify. They use black and white as the main color and add the "quick ship" note for each products.
Pro tip: Let Gempage help you launch an dropship store with our templates equipped with sales-enhancing features and highly customizable
Pros and Cons of Dropshipping
| | |
| --- | --- |
| Pros | Cons |
| Faster order fulfillment times. A dropshipping supplier maintains a ready inventory of product stores, enabling them to ship immediately upon receiving an order. | High Competition. The dropshipping industry is very competitive since entrance barriers are lower. There could be countless companies selling the exact same item as you. Since the product cannot set itself apart from the competition, the crucial thing is to put more emphasis on factors like customer experience. |
| Expanded product selection. Dropshipping provides access to a wider range of products to choose from. | Low Profit Margins. Due to the intense competition, dropshipping businesses often face low profit margins. To generate substantial profits, it becomes necessary to operate on high volumes. |
| Increased profit margins. Dropshipping allows for lower costs per item as it often involves dealing with wholesalers who offer better rates. | Lack of Customization Options. Since you are not directly involved in shipping products to customers, you are unable to provide personalized or value-added services to enhance the customer experience. |
| Reselling returned products. In dropshipping, if a returned product is in good condition, it can be resold to another customer. | Challenging Customer Support. While everything may go smoothly when customers are satisfied with their purchases, coordinating returns or exchanges becomes difficult when issues arise. This coordination with the supplier must be managed in a way that ensures customer satisfaction. |
| No design skills are required: There are no design skills required in a dropshipping business model because the supplier is responsible for creating and manufacturing the products. The supplier will also handle the packaging and shipping of the products directly to the customer.  | |
Not ready to commit but still want to kick the tires?
No problem! Get started with GemPages' free plan. Explore wonderful features that can do wonders for your store.
Overview of Print On Demand
What Is Print On Demand and How does It Work?
What is Print on Demand?
Print on Demand or POD, is a highly efficient business model that operates by producing products, including books, apparel, accessories and so on, only upon receiving an order. 
Unlike traditional methods of creating and stockpiling inventory, Print on demand enables the printing or manufacturing of products as and when required. This innovative approach eliminates the requirement for upfront expenses and excessive inventory, thereby offering entrepreneurs and businesses a cost-effective and flexible solution.
Izzy & Liv is a Print on Demand store on Shopify. They stand out with their unique design that attracts customers.
How Does Print On Demand Work?
The Print on Demand (POD) model operates through a collaborative trio: the seller, the POD service, and the customer. The seller curates and shows the list of the products on the online store. When a customer makes a purchase, it will be confirmed by the sellers and informed to the POD service. The POD service takes charge of manufacturing, printing, packing, and shipping, relieving retailers of inventory management. 
Learn more: 10 Top Shopify Print-on-Demand Store Examples: Inspiring Success Stories
Is Print on Demand worth it?
Yes - Utilizing the Print on Demand model to sell photography or art is a low-risk and beginner-friendly investment. With this model, you don't have to worry about the shipping and packaging process because providers will do it. Thereby, you only need to concentrate on designing your products.
Pros and Cons of Print on Demand
| | |
| --- | --- |
| Pros | Cons |
| No upfront investment. There is no need for an initial investment when utilizing Print on Demand services. Unlike traditional business models, you are not required to allocate funds upfront for inventory or specialized printing equipment. | Higher cost per item. When compared to alternative fulfillment strategies (such as purchasing in bulk or wholesale), your profit margins will be smaller. This is so because the costs of printing, packaging, and hiring production staff are all included in the item price when Print on Demand businesses sell a particular product. |
| Experimentation made easy. With Print on Demand, experimenting with various design concepts is effortless. If a particular design does not generate the expected sales, you can easily move on to the next idea. This flexibility enables you to determine the preferences of your customers and refine your offerings accordingly. | Turnaround times. Print on Demand product delivery timeframes are contingent upon the sum of the fulfillment and shipping times. Your products are created prior to a sale, whether you purchase in bulk or wholesale. Therefore, processing and shipping an order may take a few days. Print on Demand requires more time for order processing and fulfillment because products are produced after an order is placed. |
| Free to Creative. Print on demand grants you the freedom to express your creativity without the burden of managing fulfillment and shipping logistics. | |
| Quick setup. The setup process is swift and efficient, allowing you to swiftly incorporate designs onto products and commence selling within minutes. | |
Ready to elevate your Shopify storefront?
Take your storefront to the next level with GemPages page builder. Free plan available. Upgrade as you scale.
Consider Between Dropshipping vs Print on Demand for Beginners
Print on demand and dropshipping are both successful business strategies. Regarding the amount of time it takes to see a return on investment (ROI), they differ nonetheless.
In general, dropshipping frequently results in higher revenues because of its lower initial investment, diverse and readily available product range and lower shipping expenses. This enables you a prudent stepping stone into e-commerce, offering a low-risk initiation. Setting competitive prices is another option that won't harm your profitability. The company is therefore more likely to generate sales.
On the other hand, Print on Demand is a long term commercial approach. Building a brand and investing in high quality designs are crucial elements. The allure of POD lies in its potential of growing and gaining followers for augmented profitability through the infusion of unique, custom-designed products into the market. This also gives the business a chance  to sell on a variety of channels, which might result in significant earnings.
Learn more: 5+ Shopify Print on Demand Apps in 2023 
In summary, dropshipping tends to yield faster earnings, while Print on Demand may prove to be more lucrative over an extended period of time. As a result, which option is best for you will depend on your business goals. 
For newcomers, starting with dropshipping is a safe choice owing to its straightforward nature and lower upfront costs. This approach allows you to explore the market and grasp the fundamentals of e-commerce with minimal financial risk.
If your business grows to a stable point, choosing POD allows enhancing creative authority and the prospect of increased profits. You can mark your own unique brand and the introduction of distinctive products.
Pro tips: Once you have determined your business goals, let GemPages help actualize your dream store. We are here to help you.
Build high-converting product pages with GemPages
Quickly create and customize compelling, conversion-optimized product pages to wow visitors and convert them into buyers.
Dropshipping vs Print on Demand - The Final Verdict
Dropshipping vs Print on Demand are two similar yet distinct processes in the realm of eCommerce.
Both methods involve forwarding customer orders directly to a designated supplier who handles the production, packaging, and shipping of the items. However, there are notable disparities between the two.
Dropshipping concentrates on products that are produced in large quantities. On the other hand, Print on Demand caters to custom-made products to fulfill each customer's specific requirements. 
In addition, the key disparity between Dropshipping vs Print on Demand lies in the fulfillment time. In a dropshipping model, the supplier can swiftly retrieve the item from storage, package it, and ship it as soon as a customer's order is received. Conversely, in Print on Demand, the supplier must first print the item; this process can be slowed down overall since printing takes time.
FAQs
What is dropshipping and how does it work?
Dropshipping means selling products on a website without maintaining an inventory. Upon receiving an order, the seller forwards it to another company, which then packs and ships the products directly to the buyer. Acting as intermediaries, sellers may apply additional charges.
How do I become a DropShipper?
Choose a business niche and find trustable suppliers; Build your own online store and brand; Register Your Dropshipping Business as a Legal Structure. Now that you are a drop shipper.
How does Print on Demand work?
Print on demand operates much like dropshipping, where products are printed only upon customer orders, eliminating the need for maintaining a stockpile of inventory.
Does Print on Demand create more profits?
This will all depend on your niche, what you're offering, who your target market is, and how well you advertise. Due to the ability to be highly customized, print-on-demand products probably increase profit margins efficiently.
Is Print on Demand considered Dropshipping?
While Print on Demand and Dropshipping share certain similarities, they represent distinct business models.
Dropshipping suppliers face limitations in customizing products and packaging, potentially hindering brand expansion.
Conversely, Print on Demand offers greater flexibility for sellers to customize products and packaging, enabling the expression of a unique brand identity.