Back to Blog List
10 Top Shopify Print-on-Demand Store Examples: Inspiring Success Stories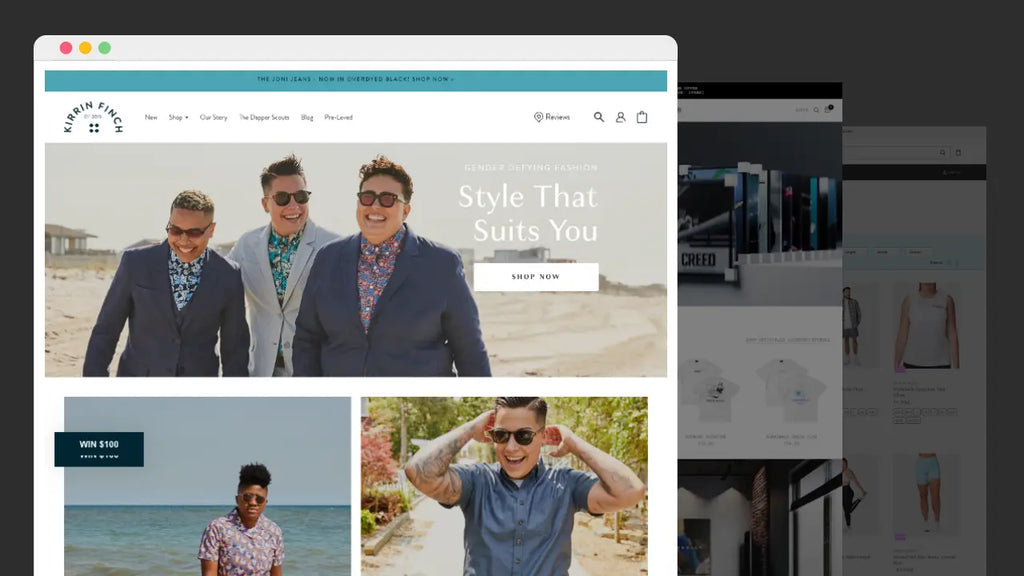 The e-commerce world has opened up so many business opportunities with lower costs than brick-and-mortar stores. For the artists and designers among us, there are also ways to monetize our creative products online, like those Shopify print-on-demand store examples we're about to show you. 
Shopify print-on-demand stores are best for testing a business idea with minimal inventory risks. That said, following best practices would save you a ton of time. Let's explore these successful Shopify Print on Demand store examples together and see what works best for your business!
Top 10 Shopify Print-on-Demand Store Examples 
Below are the top 10 Shopify print-on-demand store examples we have picked out for your reference. We've selected based on diverse product offerings, transparent return policies (except for iLikeMaps), website ease of use, and most importantly, their unique selling points. Take a closer look at each store for more detail!
Learn more: How to Create A Compelling Shopify Product Page (2023)  
1. Tumbleweed TexStyles
Tumbleweed TexStyles and their unabashedly Texan aesthetics
Tumbleweed TexStyles is a clothing brand born and bred in Texas. From Texan-style attire to an array of gear and novelty gift cards, this brand has it all. Started by two high school teachers, Tumbleweed TexStyles has blossomed into a seven-figure eCommerce business thanks to its unique Texan designs, effective marketing strategies, and strong community involvement.
Categories: Clothing, Drinkware, Gear, and Gift Cards.
What we love about this Shopify print-on-demand example:
Hand-drawn designs by owners (who also happen to be high school teachers!).

Highkey Texan aesthetics to a profound connection with its local customer base.

"Selling fast" badge displayed on some key products to create a sense of urgency.
2. Sanrio
Sanrio's Hello Kitty products really make them stand out
This store is just *hands-down* so cute to begin with! Sanrio really knows how to bring out the Hello Kitty and Gudetama lovers in their shoppers. Sanrio's Shopify theme, which is one of the best in the Arts & Entertainment category, reflects the company's cute and well-liked style and is geared toward people who like to wear clothes with cartoon or Japanese-inspired designs.
Categories: Clothing, Bags, Mugs, and Plushies.
What we love about this Shopify print-on-demand example:
Filters by characters for a customized shopping experience

Adorable-styled items for all customers' wants, from daily uses to entertainment

Extremely detailed

return policy page
3. Mid Century
Feel the mid-century modern aesthetics with Mid Century items
Theidea for Mid Century Style Shop was inspired by the timeless allure of mid-century modern aesthetics. This store is a treasure trove for people who want home decor, caps, mugs, and beach accessories with chic shapes and retro designs.
Categories: Home decor, bags, and beach gear.
What we love about this Shopify print-on-demand example:
In-house products designed by award-winning graphic designer Karl Rowley 

Slightly maximalist, in-your-face website look that encourages product exploration

Distinct bright-orange tones to energize the shopping experience
Learn more: 15 Top Home Decor Shopify Stores in 2023
4. Mythical
Mythical products are a mix of practical and playful designs
Mythical truly lives up to its name - offering a range of funky clothing, grooming products, and cool accessories that will make you the envy of all. 
They also showcase products from famous content creators, adding to their reputation for delivering unique and fascinating finds.
Categories: Clothing, cups, puzzles, cubes, games, and stickers.
What we love about this Shopify print-on-demand example:
Free shipping US-wide for orders from $75.

Vibrant store design that perfectly represents the brand personality.

An engaging

Mythical Society

for exclusive access to never-before-seen footage, surprise prop giveaways, and more.
5. Vapor95 
Get really to be blown away by Vapor95's anime-infused style
Prepare to be amazed by the one-of-a-kind aesthetic of Vapor95. Brace yourself as you scroll down and witness fashion taken to a whole new level. This remarkable brand is renowned for its awe-inspiring all-over-print hoodies featuring unique works of art.
Categories: Clothing and Accessories
What we love about this Shopify print-on-demand example:
Impeccable branding that flows through every aspect of the store - from the logo to the clothing designs and even the banners and CTAs.

Various payment methods to cater to your convenience.

A downright enjoyable introduction video on their About Us page.
Pro tip: GemPages is the ultimate tool for designing pages or even crafting your entire Shopify store to perfectly match your brand.
Ready to elevate your Shopify storefront?
Take your storefront to the next level with GemPages page builder. Free plan available. Upgrade as you scale.
6. Beloved
Beloved proves that humor has a solid place in POD businesses
Beloved is the global leader in all-over print clothing with a playful design and global shipping. "The brand that says it's OK to wear pizza on your clothing," humors Beloved themselves. The brand claims to use cutting-edge sublimation and cut & sew technologies to ensure the highest quality of its products. 
Categories: Clothing, home goods, and accessories.
What we love about this Shopify print-on-demand example:
Comprehensive size range across all categories.

Extensive product diversity paired with compelling sales incentives.
Learn more: How to Increase Sales on Shopify: 17+ Proven Strategies (2023)  
7. Wander Prints 
Embrace your vibes and aesthetics the way Wander Prints does
Wander Prints take us back to summer days when school's just over, and there's a whole summer to live, laugh, and relax ahead! Wander Prints retain those memories in their summery style, with home decor and gifts being niche products. 
Their catalog has a wide variety of personalized products for everyone in the family: You'll stumble upon some fleece blankets and doormats that you don't usually find on other websites!
Categories: Mugs, flags, posters, blankets, clothing, pillows, tumblers, doormats, and more.
What we love about this Shopify print-on-demand example:
Global shipping spanning 200 countries and regions.

Unique home decor reflecting relaxed vibes.

Dedicated homepage section showcasing real customer interactions.

Engaging, SEO-optimized blogs that offer insightful reads.
Pro Tip: GemPages has templates for all your needs - whether it's a blog post, product page, or landing page. Just pick one from our template library, give it your personal touch, and voila! Your brand is ready to shine.
8. iLikeMaps 
Believe in your eccentric ideas, even if others say it's impossible - iLikeMaps did it!
iLikeMaps makes maps in many different styles, such as art deco, chroma, and classic for 700+ cities in the world. 
This Shopify store, born from Olivier Gratton-Gagne's side endeavor, has blossomed into a hub for captivating maps in styles like art deco, chroma, and classic. Encompassing 700+ global cities, iLikeMaps breathes life into what was once considered mundane.
Categories: Maps, pillows, posters, and curtains
What we love about this Shopify print-on-demand example:
Customizable maps

Minimalist look
9. Izzy & Liv
Ready to empower your customers? Izzy & Liv's success story will help.
Perhaps it would take quite some time for competitors to match Izzy & Liv's unapologetic designs for Black culture. Their customer-centric designs and diverse products make shopping a breeze for modern, self-confident women. Izzy & Liv sell a wide range of clothes, beauty products, and accessories that they claim to empower their customers.
Categories: Clothing, beauty products, and accessories.
What we love about this Shopify print-on-demand example:
Customer-centric style and tone in website interface

Trendy items accompanied by humorous descriptions

Use of Insta stories to make shopping more authentic and approachable
10. Afro Unicorns
Afro Unicorns celebrate womanhood like no others
Afro Unicorns is where you can find day-to-day accessories, school products, apparel, and gifts tailored to women of color across various age categories. 
Categories: Clothes, accessories, gift cards, and bags.
What we love about this Shopify print-on-demand example:
Authentic representation with Black female models.

Compelling testimonials enriched with supporting images.

Meticulously organized product categories and sub-categories, simplifying searches: Dorm appliances, for example, are neatly placed under the College section. 
Conclusion
These top 10 Shopify Print on Demand store examples can get you started in the eCommerce world. Each caters to a group of customers through its intuitive design, special offers, brand uniqueness, and steadfast community devotion. With their sleek design, exclusive deals, unique branding, and dedicated community, these stores prove that even the most "out there" ideas can find success. 
To make it big in the long run, it's crucial to connect with your target audience and create a sense of belonging. Plus, investing in a visually stunning storefront design can greatly improve customer recall.
Speaking of beautiful stores, why not give GemPages a try? GemPages is the top-ranked Shopify page builder that helps you build, and customize your Shopify pages and even the entire store faster and smarter - with our intuitive drag-and-drop editor, diverse template library, and Image-to-Layout - our first AI feature that helps you generate editable layouts from reference images and URLs. Sounds tempting, right? Try GemPages for free today!
Customize your Shopify store pages your way
The powerful page builder empowers you to create store pages that bring unique experiences and convert customers. No coding needed.
FAQs About Shopify Print-on-demand Store Examples
What types of products can I sell with print on demand?
You can sell almost anything! From clothing, mugs, posters, accessories, home decor, and more. Some stores even sell kid toys among daily-use products without any problem. The key is to seamlessly align your theme with the product offering.
What is the main difference between POD and dropshipping?
Both options allow shop owners to run their e-commerce stores without upfront costs and inventory fees. However, with print-on-demand stores, the items are printed by the seller/owner, whereas dropshipping can include other non-custom products.