Back to Blog List
11 Top Shopify Dropshipping Stores That You Can Learn From in 2023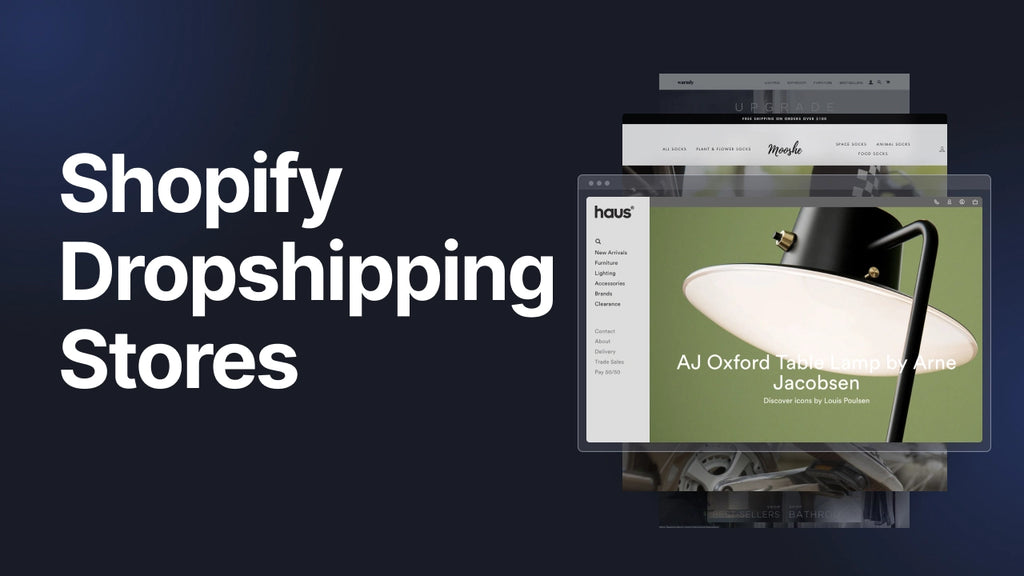 Starting a business without owning inventory of products was made possible by the innovative business model called dropshipping!
Yes, we're talking about one of the most popular business models in the eCommerce world. It has changed the lives of countless people. Especially if you're a new entrepreneur, Shopify dropshipping can be considered a great business to get your foot in the door.
But in this competitive eCommerce era, there are certain factors that Shopify Dropshipping Stores must consider to gain success in the market.
In this blog post, we will help you with the essential elements of building a successful dropshipping store and some of the top Shopify dropshipping stores for your inspiration.
What is a Shopify Dropshipping Store?
A Shopify dropshipping store is an online retail business that uses the dropshipping business model and the Shopify eCommerce platform. In dropshipping, the store owner does not keep any inventory of the products they sell. Instead, they partner with a supplier who holds the inventory and ships the products directly to the customer when an order is placed. The store owner earns a profit by marking up the product's price from the supplier's price.
Shopify merchants can use a third-party app like DSers‑AliExpress Dropshipping to source products from a third-party supplier. Mostly, dropshippers source products from China so that they can pay a lower price to the supplier and earn a higher profit margin. However, it's completely up to you to decide from where to source your products.
8 Essential Elements of Building a Successful Dropshipping Store
1. Target a Specific Niche
Mainly, there could be two types of stores: 1. A general store that sells everything for everyone and 2. A niche store that sells specific products for specific target customers. Building a niche store around a community can help you create a loyal customer base.
You will find many successful Shopify dropshipping stores that have specialized in a specific niche. This proves that niching down really helps in dropshipping business.
2. Stand Out from Your Competitors
Let's face it! There's a high chance that whichever niche you choose would most likely have many competitors. You can still create a distinctive identity for your brand with your own unique selling point (USP). 
Also, keep in mind that other brands can sell the same product but they can't have the same brand story as yours. Present your brand's story to your audience in a compelling and straightforward manner and make them your brand's loyal fans.
Epic Loot - one of the top Shopify dropshipping stores that we're going to review in this blog is a great example of creating a USP through their unique products.
3. Find a Reliable Supplier
Whether it's a dropshipping store or any eCommerce store, product quality is the fundamental aspect of customer satisfaction. Ensure that you have a trustworthy supplier who can deliver high-quality products on a consistent basis. 
Pro tips: Make sure that you order a sample for product testing before you deliver even a single product to your customer. It will help you evaluate the quality of the product and avoid customer complaints, or even worst, product returns.
4. Create a Customer Acquisition Strategy
One of the biggest challenges for a new dropshipping store is to bring in visitors who can turn into your customers. Create a plan and budget to acquire new customers. 
For paid advertising, you can go for Facebook Ads and Google Ads. For organic traffic, you can use different marketing channels such as content marketing, social media and email marketing, etc. Depending on the type of product, you can also collaborate with an influencer in your niche to promote your brand and products.
Sage & Sill, one of the dropshipping stores that we're going to review in this blog, uses Shopify Collabs as a marketing strategy.
Learn more: Shopify Collabs: What Is It and How Do You Use It?
5. Boost Search Engine Optimization (SEO)
SEO is one of the most effective methods to increase organic traffic to your Shopify store. SEO helps your brand to reach out to potential customers who are searching for your product on search engines like Google and Bing.
Keep in mind that SEO is one of the most affordable techniques to bring traffic; however, it's not the easiest one. It may take a few months of constant SEO efforts to get your website ranked higher in search results. But it's definitely worth the effort.
6. Invest in Branding Your Business
Just because it's a dropshipping store, doesn't mean it can't have solid branding. You can choose a private-label dropshipping model. In this business model, you sell products from third-party suppliers but they allow you to do it with your own branding.
A private label dropshipping business gives you the opportunity to differentiate your product and brand from the competitors. Also, see if you can have packaging and thank you notes created with your branding.
7. Create a Premium Website Design
Have you ever visited a website and existed within a few seconds because it didn't look credible or safe? It must've happened to all of us. One of the key factors that influence our perception of a brand is its online appearance and visuals, i.e., the website design.
Let your customers feel that they're shopping at a premium brand that cares about their experience. You may use a Shopify page builder app like GemPages to create a premium website design for your dropshipping store.
GemPages is loved by thousands of Shopify merchants to build all types of Shopify stores. Dropshipping store owners can take advantage of its professionally designed templates to give their brand the premium feel that it deserves.
Want to elevate the elegance of your dropshipping store?
Try GemPages to create store pages that look elegant and premium. Start with a free plan and upgrade only when you need it.
8. Showcase the Social Proof
Social proof has become one of the crucial requirements for eCommerce businesses. Almost all customers expect your store to have some sort of social proof, especially product reviews, which makes their decision-making process easier.
By displaying your customer reviews, expert statements, press reviews, awards, or recognitions, you can give your customers the needed trust and confidence to buy your products.
11 Top Shopify Dropshipping Stores
Fresh Juice Blender - One Product Store with Different Variants of a Portable Blender
Fresh Juice started its business with a simple yet effective idea of making it easy and convenient for people to make fresh juice and smoothies. And the way they have executed this business idea makes them a part of our list for one of the successful Shopify dropshipping stores.
Key takeaways from one of the
best Shopify dropshipping stores
:
Offering Freebie to Boost Email Marketing

 
Fresh Juice is offering a free recipe eBook that includes 7 different smoothie recipes. All a customer need to do is give their email address in exchange for this free eBook. So, customers get value for providing their email and Fresh Juice gets new email subscribers. It's a win-win situation for both.
Great Use of Social Media Marketing
Fresh Juice uses Instagram to promote its product. The brand is almost about to reach 10,000 followers on Instagram. Gaining such a huge count of followers can give you a great opportunity to share branded content and engage with the audience on a wider level.
Asking Customers to Become Ambassadors

 
Your customers are your best marketers! Fresh Juice has come up with a program where they offer membership in its ambassador program. Members of this program can get paid Collab opportunities and earn up to 10% commission by helping Fresh Juice with more sales. Fresh Juice is using
Shopify Collabs
to offer this program.

WaveBeamPro™ - One-Product Dropshipping Store Selling an LED Headlamp
WaveBeamPro is a great example of a one-product dropshipping store.
The brand's one of the core principles is to provide a solution to a problem. They're doing it through their product - the motion sensor LED headlamp.
Key takeaways from one of the top Shopify dropshipping stores:
Top-notch Branding with Website Design

WaveBeamPro has taken some delicate care of branding in its website design. You can see consistency in the color scheme - Black, Yellow, and White - throughout the website. This impressive website design definitely enhances the premium feel of this brand.
Product Descriptions with Visuals
Product description plays a huge role in boosting your conversion rates. However, when you match your product description with highly effective visuals, your customers can get a better idea about the product.
The best thing about WaveBeamPro's visuals is that it shows the product in use and how it can be helpful in various types of scenarios.
Enhancing the Social Proof with Photo Reviews
Showing product reviews is a great way to build social proof. But when your product reviews are along with photos, it becomes even more effective. WaveBeamPro showcases photo reviews on its product page, which makes it easier for customers to figure out how the product looks in reality.
Want to create a one-product store like this one?
Try GemPages for free! Easily create and publish your first store page with the help of our library of templates and intuitive drag-and-drop editor.
Epic Loot - Epic Jewelry Brand Inspired by Nordic Culture
Epic Loot is truly one of the "epic" brands in terms of its unique branding and jewelry products. Epic Loot's jewelry products are inspired by the Nordic culture and the brand focuses on providing unique and amazing jewelry products at affordable prices.
Key takeaways from this Epic Dropshipping Store:
Offbeat Style of Product Design

 
As soon as you land on the homepage of Epic Loot, you'll see some unusual but gorgeous jewelry designs. Whether it's a Viking Odin Drinking Mug or a Runic Viking Wooden Watch, all of Epic Loot's products not only have creative names but also creative designs.
Stunning and Impressive Website Design
With a dark-themed black background, Epic Loot's website design looks so clean and tidy. One of the key aspects that makes the website design looks even more astonishing is the consistent background theme of the product images as well. All the product images blend very nicely with the overall style of the website.


Using Influencer and Affiliate Programs
For a jewelry brand like Epic Loot, influencer marketing and affiliate marketing programs can be extremely helpful strategies. And Epic Loot seems to know this very well. Epic Loot offers both of these programs and promotes them not only in the header menu but also in the footer section of their website.
Using Social Media to Promote Products:
Epic Loot has more than 24,000 followers on Instagram. The brand is posting beautiful product images and short-form videos through Reels. And you can definitely see that their audience loves their content as their Reels are getting thousands of views.
Sage & Sill - Multiple Product Categories - Plant Care, Home Decor, Kitchen & Bath Tools
Sage & Sill is an inspiring dropshipping store that has multiple products around a specific niche. Sage & Sill is a Washington-based "small business with big dreams". 
Their business is inspired by their passion for plants and they aim to delight their customers by providing high-quality home essentials and plant care products.
Key takeaways from one of the
top dropshipping Shopify stores
:
Managing the Wide Range of Collections
Sage & Sill has managed to organize several collections in an effective manner under the sections like "SHOP BY DEPARTMENT", "TRENDING HOME DÉCOR", "NEW ARRIVALS", and so on. This gives their customers a great user experience by making it easy for them to navigate through different types of products.
Boosting the Social Proof through the Featured In Section
Apart from customer reviews, there are other methods to boost the social proof for your brand. If your brand has been featured in any well-known press or media publication, you can display it on your website. Sage & Sill's homepage has a "Featured In" section where they've mentioned famous names like Time, The Washington Post, Cosmopolitan, and so on.
Highlighting the Brand's Mission
Customers don't just want to see your products on your website. They care about who you are as a brand and want to know about it. Sage & Sill makes it very clear as to what their mission is and what makes their brand special through this mission statement:
"We believe plants make people happy.
That's why we're dedicated to brightening every home with timeless planters, pots, vases, and décor and shipped with love."
Notebook Therapy - Stationary Brand Inspired by Japanese & Korean Cultures
Notebook Therapy shares the beauty of East-Asian culture all over the world through its stationary products and accessories. It's quite evident that customers love this brand as it has over 1.6 million followers on Instagram alone.
Key takeaways from one of the
successful Shopify dropshipping stores
Aesthetically pleasing homepage design
Although Notebook Therapy has a minimalistic homepage design, it still looks classy and aesthetic. A well-organized homepage with nice usage of mild colors makes the product images really stand out.
Making the Most Out of Marketing Channels
Notebook Therapy's fan following is not just limited to Instagram only! The brand is also ruling other social medial platforms like Facebook (nearly 125,000 followers) and Pinterest (27,000+ followers). On top of that, the brand also has the Notebook Therapy Blog to increase organic traffic to its website.
The Brand Story on the About Us Page
Many dropshipping stores may overlook the importance of the About Us page. However, it's one of the most important pages on any brand's website. By sharing the story behind the brand, Notebook Therapy creates an emotional connection with its customers.
Learn more: How to Create an Impressive Shopify About Us Page? (+Examples & Templates)
SaberMasters - Niche Dropshipping Store Focused on Star Wars' Fans
SaberMasters is a brand that was founded by two die-hard fans of Star Wars, Blagovest and Viktor. And they are proud to have completed their dream of over 10,000 orders and gained the trust of more than 20,000 SaberMaster fans.
Key takeaways from one of the
best Shopify dropshipping stores
:
Promoting User-Generated Video Content
On the homepage, SaberMasters has a YouTube video where people are shown using the product. Those customers talk about their experience with the product, its features, and how happy they were with the purchase. When other customers see content like this, it can definitely encourage them to buy from this brand.
Helping Customers with Usage Instructions
SaberMasters makes sure that the customers are provided with proper guidance on how to use the product. On top of that, they have also provided a live chat option to customers in case they need any assistance.
It is to be noted that SaberMasters has embedded YouTube videos to ensure that the video content doesn't impact the store speed.
Learn more: 11 Effective Ways to Improve Your Shopify Store Speed
Using Social Media to Boost Sales
SaberMasters makes excellent use of social media channels like Facebook, Instagram, and YouTube. The brand has gained a huge follower base with 16,000+ followers on Instagram and about 45,000 followers on Facebook. More importantly, customers can shop directly through their Facebook page as well.
Create a dropshipping store with unique branding and design
Design your store pages with GemPages' advanced features and make them stand out from the competitors.
Meowingtons - Clothing & Apparel Product Store for Cat Lovers' Niche
When discussing the successful Shopify dropshipping stores, it's hard not to mention Meowingtons. You simply can't neglect this amazingly adorable brand. Meowingtons describes itself as more than just a company! The brand proudly identifies itself as a community of cat lovers. Thus, you must've already gotten the idea about its niche, right?
Key Takeaways from One of the Best
Shopify Dropshipping Websites
:
The brand has ensured that not only its name (Meowingtons) but also its website content shows their love for cats. Throughout the website, you'll find the little play on words like "Shop Meow" instead of "Show Now", "Testi-meow-nials" for "Testimonials", and the tagline - "You Shop. We Give. They Purr."
Admirable Mission of the Brand

 
Meowingtons's team has also been contributing to fostering cats by participating in an Office Cats Foster Program. Meowingtons aims to become a full-fledged fostering team along with its website operation. The brand has also been involved in helping different animal rescue organizations.
Engaging Customers on Social Media
Meowingtons has taken its social media game to the next level by keeping its customers engaged. Meowingtons encourages its customers or community members to share pictures of their cats by tagging their Instagram username - @meowingtonsco. 
Venetto Design - Luxury Products in Multiple Categories - Bedding, Dining, & Home Decor
Here comes an excellent example of creating a dropshipping store in the home decor niche.
Venetto Design offers a variety of products such as dinner sets, kitchenware, bedding, and décor accessories. Venetto Design distinguishes its brand with unique products that are created with artisan care and high-quality materials.
Key Takeaways from this Top Shopify Dropshipping Store:
Dedicated Page for Customer Reviews
We all know the importance of social proof and the impact customer reviews can make on purchasing decisions. But it's also important to present them in a manner that your customers can see them without putting in any effort. Venetto Design does this by creating a dedicated page that can be accessed from the main menu.
Beautiful and High-Quality Product Images

Product images influence the perceived value of the quality of your product. And that's why it's so important to have high-quality product images. Venetto Design's gorgeous and captivating product images help shine the premium look to its products.
Using Gamification to Encourage Email Signups
In one of the examples, we saw the brand - Fresh Juice using a freebie to encourage customers to sign up for an email newsletter. Venetto Design is using gamification to entice customers to try their luck to win a 500€ Gift card by entering their email address. This is also a great strategy to enhance customer engagement and email marketing.
Be Activewear - Niche Store with Clothing & Apparel Products for Athletes and Gym Lovers
Be Activewear is an Australia-based store that offers various activewear, swimwear, and gym wear products from many different brands. This store is selling its products in over 50 countries all over the world.
Key Takeaways from One of the Best Shopify Dropshipping Stores:
Sharing the Brand Vision Through the About Us Page
Be Activewear shares the vision and mission of its brand through a bold statement that reads:
"Be Activewear is all about helping women of all shapes and sizes to feel confident and look great in their active, busy lives. We are also proud to support amazing Australian activewear brands and bring them to a global audience."
Great Use of Short-Form Video Content:
Be Activewear has a strong social media presence with over 51,000 followers on Instagram and nearly 90,000 followers on Facebook. But what's remarkable is that the brand is making great use of Instagram Reels and getting hundreds of views and engagement through short-form video content.
Ring to Perfection - Jewelry Brand Selling Affordable Products
A brand that's run by husband and wife, Chantal and John, Rins to Perfection is not only an online store but also a blogging community. Interestingly, they founded this brand based on their own life event when they wanted the right jewelry items for their own wedding day.
Today, Rings to Perfection offers luxury jewelry products like bracelets, anklets, and rings to its customers at affordable prices.
Key Takeaways from This Wonderful Dropshipping Store:
Offering Customers a Rewards Program
Ring to Perfection has a rewards program powered by Smile which allows customers to earn points through different actions. Customers can turn those points into rewards by redeeming them at Rings to Perfection.
Guiding Customers with Care Instructions
For jewelry products, it's important for people to take proper care of the items to ensure they look good for a long time. Ring to Perfection guides its customers on how they can take care of their jewelry materials, stones, and metals.
Showcasing the Jewelry Product through Photo Reviews
For products like jewelry items, most customers would be keen to know how the product looks on a real person. Ring to Perfection takes care of this aspect by displaying photo reviews on its homepage. This is a great strategy to boost sales and conversions.
Learn more: All About Shopify Jewelry Stores: A Beginner's Guide
Mooshe Socks - Dropshipping Store with the Subscription Model for Socks
Mooshe is a Canada-based brand that delivers socks with unique designs. The brand's mission is to spread happiness, and that too, without breaking the bank of its customers.
Key Takeaways from This Successful Shopify Dropshipping Store:
Creating a Unique Selling Point (USP)
Mooshe has created an innovative USP by offering new socks every month to its loyal monthly subscribers. The team of influencers and designers creates new pairs of socks every month. This not only differentiates the brand from competitors but also helps to have recurring revenue from the monthly subscribers.
Sharing the Brand's Philosophy
Mooshe believes in contributing toward taking care of the planet through simple packaging that requires minimum use of papers and flyers. Mooshe also shares its message with customers about how they can give another life to their socks instead of throwing them into the trash.
Learn more: 30 Top Shopify Store Examples That We Love In 2023
Launch Your Shopify Dropshipping Store with Style
Now that you've seen some great examples of thriving dropshipping stores, it's time to brainstorm on your own idea, plan your strategies and execute them.
Remember—the key is in being unique and creative. It doesn't have to be a completely new product. But you can also come up with a new idea for an existing product and add value to your customers' lives.
Once you're ready with your plan, we're ready with a step-by-step Shopify Tutorial to help you set up your store from start to finish.
Ready with your next big idea for your own unique Shopify dropshipping store?
Don't compromise on the quality of your store design. Start it with GemPages and see your dream coming to reality.
FAQs about Shopify Dropshipping Stores
What stores are good for dropshipping?
You can have success with various types of dropshipping stores. Some good examples include dropshipping stores selling beauty and personal care products, home decor, fitness and sports equipment, jewelry items, pet supplies, kitchen items, accessories, hobby-related items, and so on.
What are the best dropshipping suppliers for Shopify?
Many different apps are available in the Shopify App Store to find dropshipping suppliers. For example, DSers‑AliExpress Dropshipping, Spocket ‑ US & EU Dropshipping, and Zendrop ‑ Global Dropshipping are some of the widely-used Shopify apps with impressive overall ratings.
Is Shopify worth it for dropshipping?
Yes, Shopify is one of the best eCommerce platforms out there in the world. While there have been many emerging platforms recently, Shopify's advanced infrastructure and the entire ecosystem are tough to beat to date.
Is Shopify dropshipping store free?
No. While Shopify dropshipping can be started with a small budget, one should not make the mistake of thinking it's a zero-investment business. Plan a reasonable budget considering the monthly Shopify fees and other variable costs such as app fees, the cost of ordering samples, branding, product returns, etc.