Back to Blog List
5+ Shopify Print on Demand Apps in 2023: An Honest Review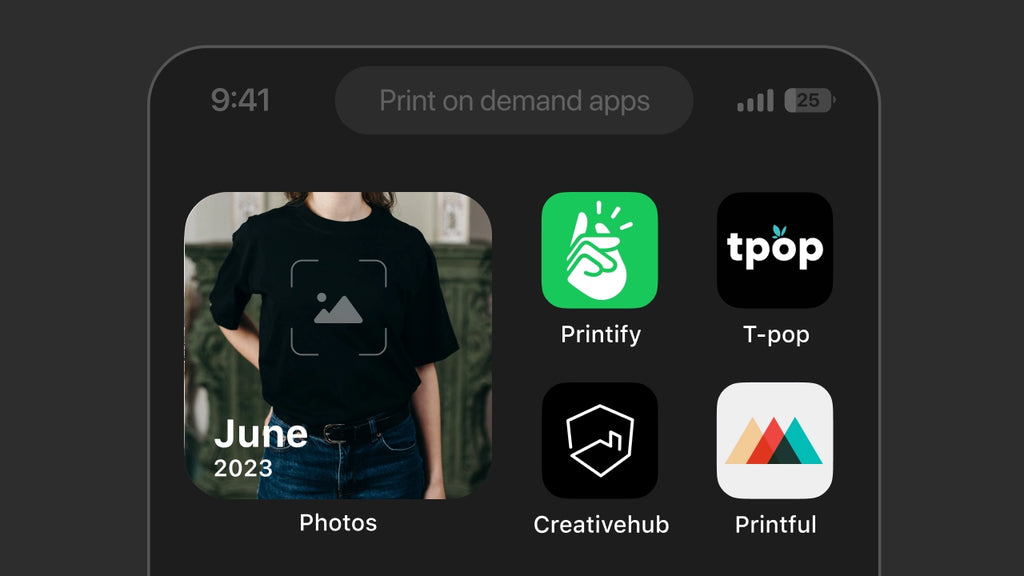 Are you an artist or designer dreaming of launching a new line of custom apparel, unique home decor, or personalized accessories?
Well then, the Print on Demand (POD) model is your gateway to turning those dreams into reality. In the world of print on demand, Shopify has emerged as a trailblazer, featuring a great suite of POD apps to make your new journey easier.
In this blog post, we'll present an honest reviewon the top 5+ Shopify Print on Demand apps in 2023 that will help you navigate the vast ocean of the print on demand industry.
Tips for Finding the Best Shopify Print on Demand Apps
Print on demand, or POD, can be seen as a form of dropshipping. 
In the traditional dropshipping model, you sell products without directly holding inventory or handling the fulfillment process. 
Learn more: Is Dropshipping Worth It? (2023 updated)
Print on demand operates similarly but with a specific focus on custom-designed products, such as t-shirts, home decor items, jewelry, or phone cases. As a POD business owner, you create your own design (or source unique artworks) for your products and grow your business, while the print on demand app serves as your partner, taking care of producing, packaging and shipping the product directly to the customer under your brand.
How Print on Demand works
That said, a Shopify POD app can make starting and running a print on demand business a breeze if you make the right choice. Below are several key considerations when finding the right POD app for your Shopify store:
Pricing and fees:

Research the app's pricing structure, including any upfront costs, subscription fees, or transaction fees. Compare pricing plans and choose the one that aligns with your budget and anticipated sales volume.
Learn more: Dropshipping Pricing Strategy: A Complete Guide for Beginners
Product variety:

Ensure the chosen app offers a wide selection of customizable items in your niche. This allows you to cater to different customer preferences and expand your product offerings, increasing your revenue potential.

Customization options:

Assess the level of customization flexibility offered. Look for the

Shopify POD app

, which features an extensive library of well-designed mockups and allows customers to personalize products with their preferred designs, images, text, or other elements.

Ease of use:

Evaluate the user interface and ease of navigation within the app. An app with a user-friendly interface will save you tons of time and effort to focus on more critical aspects of your business.

Printing and product quality:

Research the app's printing partners and their reputation for quality. The app you choose should maintain high printing standards, namely print resolution, color accuracy, and durability, to help you deliver top-notch items to your customers.

Sample order:

Prioritize any app that provides free samples (or with discounts) so that you can physically see and inspect the products yourself, ensuring the final products match the level of quality you expect.

Production and delivery times:

Make sure the select POD apps produce and ship high-quality products to customers within reasonable times.

Customer service:

Look for an app that provides responsive customer support to ensure a smooth experience and minimize disruptions to your business.
Pro Tip: It is helpful to take into account the reviews and ratings of the app on Shopify's App Store or other reputable platforms. Feedback from other users can provide valuable insights into the app's performance, reliability, and user satisfaction.
5+ Best Shopify Print on Demand Apps
Printful: Print on Demand
Printful is one of the top-rated and most well-known print on demand apps on Shopify.
Top our list of the best Shopify print on demand apps is the industry leader, Printful. As one of the top-rated POD apps on Shopify, Printful is your ultimate solution to a flawless eCommerce experience.
At the core of Printful's services is an impressive product selection, from apparel, accessories, and home decor, to promotional products, letting you customize and sell a wide range of items using its flexible design tools. 
Another outstanding aspect of Printful is its commitment to quality. Printful utilizes industry-leading printing technology with various product customization techniques, namely direct-to-garment (DTG) printing, cut and sew printing, sublimation, embroidery, and direct-to-film (DTF) printing.
Besides, Printful gives you complete control over branding, including custom labels, pack-ins, and packaging, ensuring a unique unboxing experience for your customers.
Pricing: Free to install. You are charged for order fulfillment and shipping.
Highlighted Features:
Easy-to-use Design Maker with built-in visuals and tools;

Product personalization options available for customers;

341+ high-quality products to customize;

Fast and easy fulfillment with 15 global fulfillment centers;

State-of-the-art machinery for premium-quality products;

Custom branding with packing slips, pack-ins or custom packing;

Dedicates, around-the-clock customer support;

Warehousing services for non-Printful products in the USA and Europe; 

Decent production and fulfillment times, from 2 to 7 business days;

Integrations with Shopify, WooCommerce, Wix, Etsy, Squarespace, and more.
Printify: Print on Demand
Printify takes pride in its extensive network of top global print providers that ensure high standards of printing.
Another reputable name for POD is Printify, dubbed as an alternative to Printful.
On Printify, you gain access to the largest catalog of customizable products that are printed at the highest quality and the lowest prices around. Besides, Printify's well-thought-out free Mockup Generator lets you customize, resize, and tweak your designs to perfection with ease. You can also order samples to assess the quality of the end product before selling it online.
What sets Printify apart from other Shopify POD apps on this list is its global network of 80+ reliable and experienced print providers with 110+ printing facilities, ensuring high standards of printing and product quality and fast shipping around the world. The coolest part is you can choose who prints your stuff based on ratings, price, delivery times, locations, sizes and colors.
Pricing:
Free plan:

Free to install.

Premium plan:

US$29/month.

Enterprise plan:

Custom pricing.
(Product and shipping costs are billed when you make a sale.)
Highlighted Features:
850+ top-quality products at the best prices;

Free Mockup Generator;

Auto-generated beautiful mockups;

80+ global printing partners;

24/7 customer support;

Integrations with Shopify, Etsy, Walmart, BigCommerce, Wix, and more.
SPOD ‑ Print‑on‑Demand
SPOD boasts the fastest Shopify POD app, with a speedy production time of less than 48 hours.
SPOD is the go-to option if you are in the market for the fastest Shopify POD app. 
Having over 20 years of high-quality print on demand experience, SPOD's in-house production facilities in the US and Europe are among the best in the industry, boasting a speedy production time of less than 48 hours. Powered by Spreadshirt, SPOD offers some of the lowest prices around, letting you earn the highest margins in the market. 
What's more, with SPOD's intuitive design tool, you can add your own text or designs to 200+ customizable products to offer one-of-a-kind items on-demand to your customers. If you're seeking to enhance your existing designs or add a unique touch, the platform also provides a vast library of over 50,000 free designs for you to choose from.
Pricing: Free to install. External charges may be applied.
Highlighted Features:
200+ unique items to customize;

50,000+ free designs for inspiration;

Fast production within 48 hours;

Up to 20% discounts on sample orders;

4 in-house production facilities located in the US and EU;

Eco-friendly business practices with water-saving printing techniques and plastic-free packaging;

Integrations with Shopify, Amazon, eBay, Magento, Etsy and more.
ShineOn: Print on Demand
ShineOn is a unique print on demand service exclusively dealing with high-margin custom products.
ShineOn earns a spot on our list for being a unique and innovative print on demand platform specializing in high-margin personalized products, namely jewelry and accessories.
Learn more: 7 Best Print on Demand Jewelry Suppliers in 2023
With ShineOn, you can design and sell custom-made pieces crafted with care and meticulous attention to detail. 
ShineOn's focus on personalization is evident in its user-friendly design tool that enables you to easily customize items with names, initials, birthstones, and other meaningful elements. This level of personalization adds a touch of sentimentality to each piece, making it a cherished and sentimental gift for your customers or a meaningful accessory for themselves.
Pricing: Free to install. You are charged for the goods they fulfill on your behalf.
Highlighted Features:
Products crafted from premium materials, namely sterling silver, stainless steel, and 18k gold plating;

High-resolution product design tools and templates;

High-quality training on the app's interface and product marketing;

Luxury box packaging for every order;

Super fast shipping within 7 business days in the US and Europe;

Custom inserts and white labeling;

World-class customer support via email, chat and phone;

Direct integration with Shopify.
Apliiq ‑ Print On Demand
Apliiq is the perfect choice for those seeking to open a streetwear clothing line via print on demand.
Looking to launch a personalized streetwear brand on Shopify?
Apliiq is your perfect match.
Apliiq takes pride in its extensive customization options, featuring a nice range of apparel items (pocket tees, joggers, hoodies, jackets, hats, and more); a wide selection of fabric colors, patterns, and materials; and a variety of techniques (cut n sew, printing, stitching, and more). 
With Apliiq, you can also replace the manufacturer's tags with your own branded label, letting you elevate your branding and create a consistent and recognizable look throughout your streetwear product line.
Pricing: Free to install. You are only charged for orders fulfilled.
Highlighted Features:
Help from in-house apparel experts;

Various branding options, including woven labels, private labels, neck prints, and patches;

Over 55% discounts for bulk orders;

Strong profits of 25% to 50% guaranteed;

Worldwide shipping;

Sustainable, eco-friendly practices;

Integrations with Shopify and WooCommerce.
TPOP: Print on Demand
TPOP is a sustainable Print on Demand solution with a real commitment to the environment.
If sustainability and ethical production are your utmost priority when hunting for the best print on demand apps on Shopify, TPOP is definitely worth a mention.
TPOP is a sustainability-focused Shopify print on demand app that places a strong emphasis on environmental responsibility.
With a real commitment to the environment, TPOP offers a range of eco-friendly practices that make it stand out in the print on demand industry. It reduces the use of plastic in packaging and shipping and prioritizes the use of sustainable materials and environmentally-friendly inks in its production. All products available through TPOP are made of 100% organic cotton and recycled textiles while the inks used are 100% eco-certified by OEKO-TEX.
Pricing:
Free plan:

Free.

Plus plan:

US$30/month.
Highlighted Features:
High-quality, eco-conscious printing service;

Branded packaging with packaging slips, pack-ins, and gift stickers;

Plastic-free and fast shipping within 48 hours on average;

Bulk products creation;

Complete in-house production;

Products always in stock;

Integrations with Shopify, Etsy, and WooCommerce.
What is the Best Shopify Print on Demand App For You?
The Print on Demand industry is obviously ripe with opportunities, and Shopify is leading the way in providing the necessary tools to thrive in this competitive world.
Through our comprehensive analysis, we have identified the five best Shopify Print on Demand apps that are reshaping the market with their exceptional features, user-friendly interfaces, and seamless integration capabilities. 
While all the reviewed apps provide valuable features to help you run your POD business with ease, it is highly recommended to incorporate a robust page builder like GemPages to elevate your business to new heights.
From creating stunning product galleries, interactive product customization options to engaging landing pages, GemPages empowers you to create a compelling online presence without hassle, so you can focus on growing your print on demand business. 
Boost your sales with compelling store pages
Try GemPages for free and start creating store pages that really convert. No coding required.
FAQs About Shopify Print on Demand Apps
What is the best print on demand app on Shopify?
Is print on demand with Shopify profitable?
Yes, it is. Thanks to its user-friendly interface, scalability, powerful eCommerce capabilities, and robust app ecosystem, Shopify is a suitable platform for entrepreneurs to tap into the potential of the Print on Demand model and create thriving online businesses.
What are the top print on demand Shopify stores?
There are plenty of successful print on demand Shopify store examples out there, and here are some of Shopify print on demand stores to get you inspired:1.
Classic Dad
- home to the best dad t-shirts and dad gifts;2.
The Feminist Vibe
- an apparel brand with the social purpose of ending gender inequality;3.
Black Fathers Exist
- a clothing brand with a commitment to changing the narrative around black fatherhood;4.
Pop Chart
- specializing in infographic posters about everything;5.
Canvas Freaks
- offering top-quality handmade neon signs and canvas wall art.
What is the difference between Print on demand and Dropshipping?
Both print on demand and dropshipping are business models that allow entrepreneurs to sell products without holding inventory. The key difference between the two models is:1. POD focuses specifically on customized or personalized products that are printed on demand;2. Dropshipping encompasses a wide range of products that are already manufactured and readily available from suppliers or wholesalers.3. Check out our article:
An Honest Shopify Dropshipping Review (2023)
for a better understanding of the dropshipping model.