Back to Blog List
10 Best Home Decor Dropshipping Suppliers for Your Online Store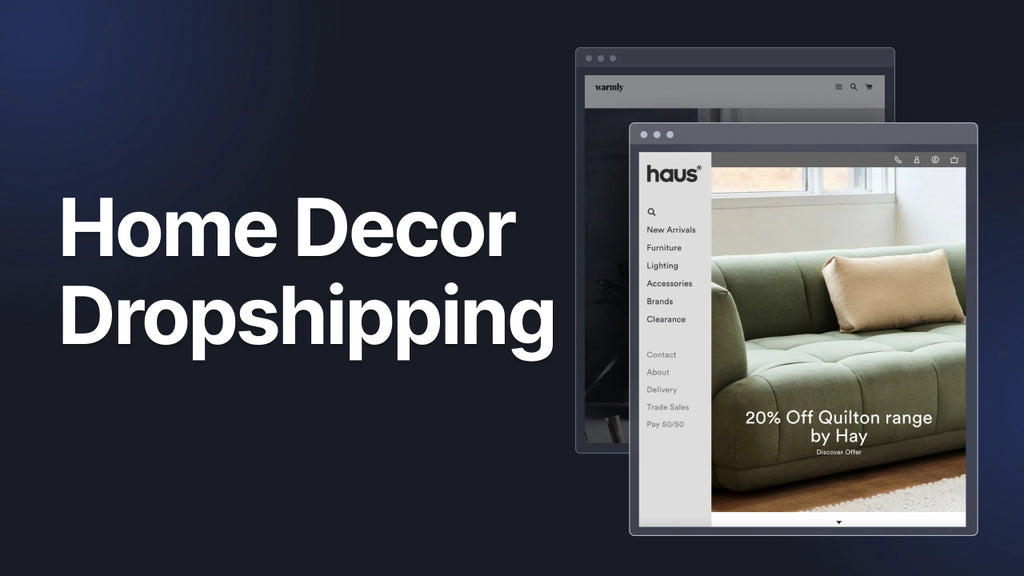 Are you considering running a dropshipping business but still looking for a niche? 
Give home decor a try!
Home decor has been one of the most prominent and profitable niches in dropshipping for years and is continuously witnessing healthy growth in popularity and value.
But before tapping into this broad market, it is vital to prepare for yourself a list of profitable products and trusted dropshipping suppliers for home decor.
Look like a lot of work to do?
Don't worry! To help you get an easy start, we will provide a detailed overview of the 10 best home decor dropshipping suppliers for your online store.
Why Choose Home Decor Dropshipping?
Dropshipping is a business model allowing eCommerce businesses to sell products without carrying any stock. Instead, you work with a supplier to handle production, inventory management, shipping or other logistics. 
The customer pays you the retail price set on your dropshipping store while you pay the supplier's wholesale price; the rest will be your profit. 
Regarding dropshipping, home decor is one of the best niches to target.
Home decor dropshipping allows you to sell home decor products without worrying about managing inventory or shipping.
So why is home decor the perfect niche for your dropshipping business?
High demand:

Homeowners are often searching for new ways to embellish their own homes, so there are always a large audience and a strong demand staying in the home decor niche.

Data from Statista

revealed that American consumers spent approximately $188 billion on home decor in 2022 alone.

A broad range of products:

The variety of home decor products allows dropshippers to target different customer segments, from those looking to furnish a new apartment to those simply looking to refresh their current living space.

  
Low start-up cost:

Another advantage of

dropshipping home decor items

is lower start-up costs compared to traditional wholesale models. You can list plenty of products on your website without having to purchase and store them beforehand. 

Highly valued industry:

Home decor has gained traction over the past decade. In 2019, the value of the global home decor industry stood at $616.6 billion and was estimated to reach

$838.6 billion by 2027

, promising to be one of the most profitable niches in dropshipping.
Home decor market value in the United States reached US$188.09 billion in 2022.
10 Best Home Decor Dropshipping Suppliers
1. Amazon
First on our list here is no doubt Amazon, the world's largest eCommerce marketplace. Based in the United States, Amazon is probably the first choice for worldwide dropshippers as it offers every kind of product fitting the needs of both customers and online retailers.
Amazon offers a vast selection of home decor products, with approximately 40,000 items available in a variety of categories. These categories include but are not limited to curtains, rugs, mirrors, pillows, lighting, and throws, as well as wall art, wallpaper, handmade decor, and more.
What's special:
Fast and reliable shipping for all products. Prime members can enjoy super-fast and free shipping.

Incredible customer support available 24/7 via phone or email.

Domestic warehouses in major countries, enable faster delivery times to customers.
With its super-fast shipping and an endless array of home decor products, Amazon is one of the best home decor dropshipping suppliers in the United States to start your home decor business.
Learn more:
2. AliExpress
If you are looking to dropship Chinese home decor products, then AliExpress should top the list.
As a China-based leading online retailer marketplace owned by the Alibaba Group, AliExpress offers eCommerce store owners an extensive choice of Chinese home decor manufacturers and suppliers.
AliExpress has a vast inventory of home decorations and accessories that come at a lower cost than Amazon.
What's special:
Affordable pricing for all products, allowing dropshippers to boost their profit margins.

No minimum order quantity required.

Domestic warehouses in major regions such as the US, UK, and Europe.

Worldwide shipping.

AliExpress Dropshipping Center allows retailers to easily research and find in-demand home decor products.

The buyer protection program guarantees product quality and delivery times.
By offering an endless range of home decor products at unbeatable prices, AliExpress has consolidated itself as the go-to eCommerce marketplace for dropshipping.
3. Alibaba
The next most sought-after eCommerce marketplace for home decor dropshipping is Alibaba. This renowned Chinese online wholesaler operates as a sister company to AliExpress under the Alibaba Group.
 While Alibaba is primarily a B2B wholesale marketplace, it can also be a useful platform for home decor dropshipping.
With a connection of over 150,000 manufacturers and wholesale suppliers, Alibaba offers an extensive product catalog in the home decor category, from decorative flowers, paintings and wall arts, candles, and mirrors, to decorative accents, plaques, doormats and many more.
What's special:
Low cost of goods which can translate into higher product margins. 

Various deals and discounts provided to dropshippers.

Private labeling services allowing dropshippers to sell products under their brand label.

Worldwide shipping, enabling delivery to global customers.

The buyer protection policy ensures product quality and delivery times as per the contract agreement.

Alibaba Dropshipping Center enables dropshippers to integrate their Shopify/eBay/WooCommerce, etc., into Alibaba.
Offering various trendy and innovative home decor products from a large selection of suppliers at affordable pricing, Alibaba is a complete solution for beginner dropshippers to start their home decor dropshipping business.
4. CJDropshipping
Another popular platform for dropshipping home decor items is CJDropshipping, a reliable all-in-one dropshipping supplier headquartered in China. CJ Dropshipping provides you with a massive collection of home decor products, from home textiles to arts, crafts, and sewing.
What's special:
Dropshipping-friendly interface.

Product sourcing feature to request products not yet available on the platform.

Private labeling service. Online retailers can customize products and sell them under their brand.

Good quality control process, ensuring high quality of products for dropshippers.

Faster shipping times than most other infamous Chinese suppliers, such as AliExpress.

Domestic warehouse in over 30 countries, offering a wider choice of products and faster delivery times.

Fast processing times. Orders are processed in less than 24 hours.

24/7 customer support.
Designed and built by a group of experienced dropshippers, CJDropshipping is considered one of the best options for home decor dropshippers, providing them with useful features and an extensive selection of home decor products from reliable suppliers.
5. DHGate
DHGate is the next Chinese eCommerce marketplace on our list that provides home decor dropshipping at cheaper costs.
Having been around in the eCommerce field for 20 years, DHGate features an extensive inventory of made-in-China goods, connecting small and medium retailers to numerous Chinese wholesale sellers.
The home decor segment at DHGate is beautifully divided into different categories, such as home accents, home fragrances, wallpapers, carpets, etcetera.
What's special:
Customization options offered for certain products.

Domestic warehouses in 16 countries.

Multiple payment methods, including bank transfer, local payment, credit/debit card, and DHpay.

DHGate's buyer protection program for secure payment and effective returns & refund policy.

Effective quality control system to ensure product quality and minimizes the risks of fraud.
Created with the top priority of trust and safety, DHGood is quickly becoming one of the most trusted marketplaces for dropshipping low-cost home decor products from China.
6. Wayfair
Wayfair is a popular online retailer specializing in home goods and decor. Wayfair's website features easy-to-use search and filtering tools, so customers can find the perfect items for their homes quickly and easily. 
In addition to home furnishings, decor, and housewares, Wayfair also offers a wide range of home improvement products, making it a great option for anyone looking to spruce up their living space or tackle a DIY project.
What's special:
Domestic warehouses in major regions such as the US, UK, Germany, etc., offering faster delivery times to customers.

Two-day shipping on all products.

MYWAY membership program offering free shipping and next-day delivery and access to exclusive items and promotions, with an annual fee of $29.99.

Various payment methods, from credit cards to PayPal, Apple Pay, and Wire Transfers.
Claimed to have "Expertise in Home," Wayfair is a perfect dropshipping supplier for home decor products.
7. Benzara Inc.
Another great option for the home decor niche is Benzara, one of the most popular US-based suppliers of top-quality home decor and furniture goods. Besides selling on its website, Benzara also appears on large third-party marketplaces, namely Wayfair, as a popular home decor brand.
Benzara features a large inventory of exquisite home decor products that come in various categories, from decorative accessories, lamps, and statues, to wall decor.
What's special:
Fast order processing times of 1-2 business days on average.

Free and fast shipping in the continental United States.

Transparent shipping and order and return policy.

Flexible payment options, such as credit/debit cards and PayPal.
As a leading player in the home decor industry, Benzara provides both trendy and unique home decor items, all with high production and quality standards, making it stand out from other dropshipping suppliers. 
8. Aspire Home Accents
Aspire Home Accents is the US's leading wholesaler and distributor of high-end home decor and unique giftware that fits every taste, from modern, traditional to everything in between.
Featuring amazing products for home decoration that are categorized into different segments, from accent furniture, accessories, clocks, lamps, mirrors, and planters, to wall art, Aspire Home Accents is the perfect choice for your home decor dropshipping store.
What's special:
Well-known wholesale supplier of

luxury home decor products

.

Detailed product information and high-resolution product images.

No minimum order value required.

Fast and reliable shipping throughout the United States.

High-quality packaging using tried and tested methods to avoid product damage.

Free dropshipping service.

Top-level customer support.
Built with online retailers in mind, Aspire Home Accent has made its name in the home decor industry with on-trend products with great style and value, deserving to take a spot on your selected list of trusted home decor dropshipping suppliers.
9. Sagebrook Home
Next on our list is Sagebrook Home, another great US wholesaler and dropshipping supplier for evergreen home decor products.
Created from a love of design, a commitment to service, and a dedication to quality, Sagebrook Home provides a large catalog of unique, elegant, and stylish home decor products, spanning home accessories, furniture, garden, wall decor, lighting, to candles.
What's special:
A large selection of over 10,000 high-quality home decor products. Fast delivery in the United States.

Outstanding customer service utilizing a "service excellence" standard.
Sagebrook Home's notable aspect is their focus on providing unique and elegant designs in their products. This could make them an attractive home decor dropshipping supplier for anyone looking for something new and distinctive in the home decor niche.
10. Homespice Décor
Unlike other dropshipping suppliers listed above, Homespice Décor is a US-based award-winning wholesaler and dropshipping supplier specializing in authentic American custom-made rugs and accessories.
With over 25 years of experience in rug manufacturing, Homespice Décor has become a well-known marketplace for rug dropshipping across the US, Central America, Canada, and the Caribbean.
What's special:
A full-fledged collection of classic American handmade rugs and accessories categorized by style, material, room, size, shape, and color.

Clear getting-started process, making it easy to become a Homespice Décor retailer.

Very niche supplier, allowing dropshippers to get a unique position in the overall

home decor dropshipping

market.

Clear return policy, warranty policy, and order tracking guidelines.
If you are seeking a unique niche for your home decor dropshipping store, Homespice Décor will be the perfect choice to provide your customers with something exceptional and authentic to beautify their homes or to give out as a little housewarming gift.
Learn more: 15 Top Home Decor Shopify Stores in 2023
Choose The Right Home Decor Dropshipping Supplier for Your Best Fit
Starting a home decor dropshipping business can be challenging as home decor is a broad market with an extensive selection of products and an enormous range of suppliers for you to choose from.
Take an easy start with our hand-picked list of the ten best home decor dropshipping suppliers, each loaded with high-quality products, unique features, and specializations to help you succeed in the home decor niche.
Now that you have an ideal dropshipping supplier for home decor products in your mind, it's time to start building your home decor brand.
If you don't know where to start, GemPages Page Builder will be your trusted solution to build a unique and visually appealing Shopify store for a successful home decor dropshipping business.
Enhance your home decor store's visual appeal with GemPages
Try GemPages for free to create dazzling store pages that sell. Free plan available. No credit card required.
FAQs About Best Home Decor Dropshipping Suppliers
Is dropshipping furniture profitable?
Running a furniture dropshipping business can be quite profitable. In 2022, American consumers splurged around
$188 billion on home decor
, according to
Statista
. With a wide range of home decor products, dropshippers can target various customer groups. What's even better is that dropshipping requires lower startup costs compared to traditional wholesale models. For me details, check out
our article
.
Is home decor a good niche for dropshipping?
Yes!. Home decor is a perfect choice for your dropshipping business, given that it is a multi-billion-dollar niche with a massive selection of products, a large audience, and strong and consistent demand.
How do I start a home decor dropshipping store?
Here are five steps to start an industry-leading home decor dropshipping store:Research the home decor niche.Decide which types of furniture and home decor products to sell.Find a reliable home decor dropshipping supplier.Create and optimize your home decor dropshipping store in Shopify with GemPages page builder.Market your store well to the target audience.
How do I find great dropshipping suppliers for home decor?
There are tons of home decor dropshipping companies in Europe, the USA, the UK, and China, so it is important to research carefully before making a deal.A great dropshipping supplier for home decor should at least meet some of the following factors, including:1. a wide product range offered at affordable pricing2. fast and reliable shipping and delivery3. outstanding customer service4. clear return policy
What are the best home decor dropshipping products?
Here is a list of the best home decor dropshipping products you can try out:1. Carpets and rugs2. Curtains3. Wall clocks4. Lamps5. Wall stickers6. Table cloths7. Pillows8. Blinds9. Candle holders