Back to Blog List
Everything You Need to Know About Bundle Pricing on Shopify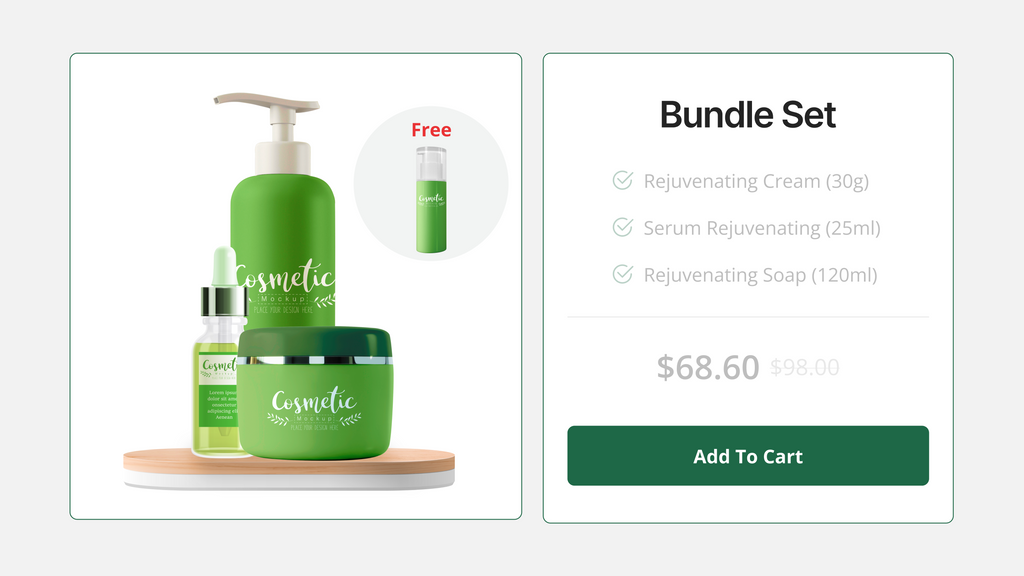 Bundle pricing is a common marketing tactic we often come across in real life. From the delightful burger combo at the world-famous Golden Arches to the brilliant bath bombs gift set from Lush that has your bathtub looking and smelling wonderful, something is enticing about a product bundle that turns our heads.
In eCommerce, bundle pricing is even more prevalent. The nature of virtual shopping makes it easier for customers to compare prices, product quality, and convenience. If done right, this marketing strategy can give your store an edge over competitors.
That said, how do you nail bundle pricing and have your products sold like hotcakes? We won't keep you waiting, let's learn all about bundle pricing on Shopify with this blog post.
What is Bundle Pricing?
In a nutshell, bundle pricing is a popular pricing strategy that offers a set of similar products or services, which are often sold at a discounted price. This business model can be found across all industries, from food and clothing to electronics and books.
It has been reported that 35% of customers' visits are for bundle orders at fast-food giants namely McDonald's, Burger King, and Wendy's. In its US locations, McDonald's has seen an impressive 5.4% increase in sales after the chain launched McPick 2 - a limited bundled deal that features two items for two dollars.
With the surge of eCommerce, online retailers soon adapted this strategy to their businesses. People are often more inclined to add a product bundle to their cart at a reduced price rather than purchasing each item individually at a full price.
But there is a catch.
Bundle pricing doesn't mean simply grouping products together. Sometimes, this tactic gets customers to buy items they did not originally need just because of an alluring price. Knowing what to combine can have your products flying out the door and vice versa. 
First, let's explore the different types of bundle pricing.
Types of Bundle Pricing
You may type the question "What are the types of bundle pricing?" on the one trusty search engine that we all use and get your answers from multiple sources across the web. The results can differ, but they all include the two bundle pricing models: pure bundling and mixed bundling. 
Other models, such as leader bundling or cross-product bundling, can be labeled as bundle pricing types or counterparts of the two mentioned models.
This blog post will focus on these two methods, as they cover all the quintessential elements of this conducive marketing tool.
Not ready to commit but still want to kick the tires?
No problem! Get started with GemPages' free plan. Explore wonderful features that can do wonders for your store.
Pure bundling
Pure bundling is a pricing strategy where the products can only be purchased within the bundle. This means each item is not sold individually. If you want to get one item, the others will tag along as well. 
This pricing tactic makes sense when the products go well with each other, and will not sell well if separated either way.
Examples of pure bundling can be found in food subscription services. Take Universal Yums for instance: the store curates snack boxes that contain a country's most iconic treats, whose items are not sold separately.
A German snack box curated by Universal Yums.
This product bundle has an established theme: snacks made in Germany. This way, although there is no customization option, it is still a well-received product among customers who are interested in exploring this country's exclusive treats.
Mixed bundling
Mixed bundling, you guessed it, refers to the bundle pricing strategy where each item can be bought individually, or together as a part of a set. This method is more flexible for both sellers and buyers, as the products do not depend entirely on each other to sell.
Daisy Jewellery's "Beloved Moonstone" set takes this principle to heart. As jewelry is usually worn as a set, the brand has put products of the same design together as a set. By purchasing both the pendant and earrings, buyers will save £28.
Complete the look with this jewelry bundle from Daisy Jewellery.
Learn more: How to create product bundles
What Can Bundle Pricing Do for You: Check Out These Benefits
Increase sales
Bundle pricing is an efficient method to increase the average order value of customers. By strategically presenting relevant items as a pack, you can scratch the itch that buyers didn't know they had. Bundle pricing is also the top medium for sellers to upsell and grow their Shopify stores.
Minimize extra marketing costs
Business owners can cut down on marketing and distribution costs by advertising a product bundle, instead of promoting every single product. This can save time and resources for businesses that are looking to reduce their spending.
Introduce new products
Newly launched products could be less popular among buyers than existing ones. Introduce them as a part of a bundle boosts their visibility. Creating bundles such as "Newbies Alert" to present these new items as a pack or make them parts of a leader bundling set are excellent ways to bring them to your buyers' attention.
Relieve slow-moving inventory
Similar to new products, stagnant stock can be sold via the use of bundling. Finding out what the unpopular products' weaknesses are is the key to turning them into strengths with bundle pricing. Try mixing these products with more popular ones to relieve slow-moving stock faster.
Pro tip: Show the Stock Counter next to your product to push your visitors before they turn into slow-moving goods
Provide competitive deals
We have mentioned the use of enticing deals to attract more customers, especially ones that are not normally in your demographic.
If done right, bundle pricing can be a useful tool to set you apart from your competitors. Nobody can resist a meal combo that is both fulfilling and cheap. That is the secret to the success of the biggest fast-food chains on the planet.
Maintain customer loyalty
By providing convenient bundles that meet your customer's needs, your business is more likely to leave a positive impression on them, hence higher customer retention.
If you are a dropshipping business, knowing what type of products to carry will keep your customers coming back for more. Instead of going to different retailers to fill up their shopping lists, they can make one single purchase from your store.
Build high-converting product pages with GemPages
Quickly create and customize compelling, conversion-optimized product pages to wow visitors and convert them into buyers.
Examples of Shopify Stores That are Acing the Bundle Pricing Game
All that talk calls for practical examples to back it up, doesn't it? Since Shopify is nothing short of reputable, the list of thriving businesses that are using bundle pricing is quite chock-full. Below are our top picks for the best bundle pricing examples that are killing the game. Let's learn from the frontrunners.
Topicals picks the top 3 best-selling products to feature in a bundle.
Topicals are all about skincare, but not everyone's skin is the same. Acknowledging that, the brand built their bundles based on customer's most common concerns. The "Faded Fan Club" kit featured above is a mini collection of their best products to target hyperpigmentation. Using mixed bundling, the products are available as a bundle and separately. However, customers are more drawn to this bundle, all thanks to the discounted price and convenience, in comparison with buying each product individually. The success of Topicals' tactic is evident through the positive customer testimonials.
Build your own variety pack with Pipcorn's "Build a Bundle" option.
Pipcorn took bundle pricing to another level by putting full-fledged freedom in their customer's hands. Customers make all the calls on every component of their variety pack to build the bundle that is perfect for a cozy movie night. Simply scroll and click to create your unique snack box with this website's foolproof tool. The user-friendly navigation ensures that you are guided at every step, up until the check-out process.
Huppy puts all three flavors of their toothpaste tablets in a bundle, alongside an exclusive item that can't be purchased individually.
Huppy's minty-fresh product bundle is a prime example of leader bundling. They offer the main products - toothpaste tablets, alongside aluminum tins, an item that is not available as a standalone product. While the kit circles around the main products, customers are more prone to purchase the whole package just to get the handy-dandy tins. With over 1,500 five-star reviews, this has proven to be a popular bundle option among Huppy's consumers.
Pro tip: Showcase the reviews to prove the trust of your product. You can integrate third-party review apps with the Liquid element on GemPages editor.
Chippin's "Super Bundle" pack contains all of their iconic treat flavors for maximum convenience.
For dog owners, no matter the amount of treats, it is never enough. By combining all of their planet-saving treats into a 5-piece bundle, Chippin hit the bull's eye with their "Super Bundle". They took it further by utilizing a subscription service since pet food can be used up in a short amount of time.
By purchasing this bundle, fresh dog treats are delivered at the time of their choice, at a cheaper price. The fur babies are guaranteed to be fed, without the owners having to haul a 10lb bag of dog food from the grocery store. If your Shopify store also carries pet food, this business model from Chippin is one to learn from.
Get a year's worth of dental care products with this limited edition bundle from Cocofloss.
Another minty contender for amazing bundle options is Cocofloss. Specializing in dental care, especially their floss of many colors, the company has several product bundles that are guaranteed to deliver just what you need.
The "Cocofloss Rainbow Set" bundle features six fragrances of floss, all packed in a vibrant box. The "Limited Edition" badge proposes a sense of urgency, encouraging customers to place an order, while the reduced price is a bundle pricing classic to increase AOV.
Your landing pages could look like these
Try GemPages for free to create high-converting landing pages for any marketing campaign. No coding is required.
Dossier designs a niche product set that is popular among their customers with a reduced price tag.
Dossier knew what their customers wanted, and they delivered just the thing. Being an indie, affordable perfume brand, Dossier does not try to surpass the big guys who have been in the industry for way longer. Instead, they tapped into their customer's need: finding a dupe for high-end perfumes.
The "Inspired by Tom Ford Set" bundle features three perfumes inspired by Tom Ford's highly sought-after fragrances. Dossier customers can now get their hands on these dupes in one purchase by paying a fraction of the price.
Beardbrand caters to their customer's needs with the much-needed "Bald & Bearded" bundle.
Beardbrand's products are more than just the name suggests. The store carries male grooming products, from shampoo, deodorant, to fragrances.
Their "Bald & Bearded" bundle is all about scalp, beard, face, and skin care. A transparent product list, discounted price, and an option to select fragrance are what Beardbrand has done right with this bundle.
Get all the essentials to finish your grooming routine at a discounted price with this handy bundle.
eCommerce Bundle Pricing: How to Do It Right?
These Shopify stores sure have found their footing, so it's your turn!
If you are still not sure where to begin, the following tips will paint a clearer image of what to focus on, and what to bypass when it comes to bundle pricing.
Make sure the products go together:

you know the drills, don't sell apples with oranges. Take note of their purposes, popularity, and customer buying trends. 

Implement bundle customization:

one man's trash is another man's perfect bundle. There are bound to be people who are not keen on the existing bundles in your store. Consider giving customers customization options to fit a wider range of needs.

Balance the profits and product value:

bundle pricing often equals cheaper pricing. But that is only sometimes the case. Only offer a discounted price when your business can afford it. If not, focus on combining the right products first.

Pay attention to individual sales:

for mixed bundling, be sure to promote the product individually as well. Avoid product cannibalization when it comes to advertising a new set of bundles versus stagnant stock.
If you are trying to conceptualize these tips, some assistance from a third-party app like GemPages can help you achieve the most optimized bundle pricing strategy. With automated features and user-first navigation, creating professional product bundles with GemPages is as easy as ever.
Your store needs some bells and whistles?
Explore GemPages' features and see what works best for your store. Free plan available. No strings attached.
Wrapping Up
eCommerce opens up a slew of marketing opportunities, and bundle pricing is one of them. Although this tactic has existed for a long time, knowing how to effectively implement it in your online store could be a learning curve that all business owners have to face. We hope this blog post from GemPages is the guide that you need to start mapping out the strategy that your business calls for through bundle pricing. 
FAQ About Shopify Bundle Pricing
How do you create product bundles on Shopify?
If you have your own Shopify store, product bundles can be easily created, either with a powerful page builder like GemPages or via a product bundle app. More information can be found in this article:
How To Create Bundles on Shopify: 2 Simple Ways
.
What are the benefits of bundle pricing on Shopify?
Bundle pricing is a great method to grow your Shopify store. Some of the benefits include:
Increase sales
Reduce marketing and distribution costs
Help introduce new products
Relieve low-moving inventory
Provide competitive deals
Maintain customer loyalty
How should you price a product bundle?
A product bundle is often sold at a lower price than individual products. This tactic entices customers to make a bigger purchase. However, this is not always the case. Knowing how to balance profits and product value is the key to growing your business. Click here to learn more about the
tips and tricks of bundle pricing
.