Back to Blog List
Can You Sell CBD on Shopify? Yes! Here's How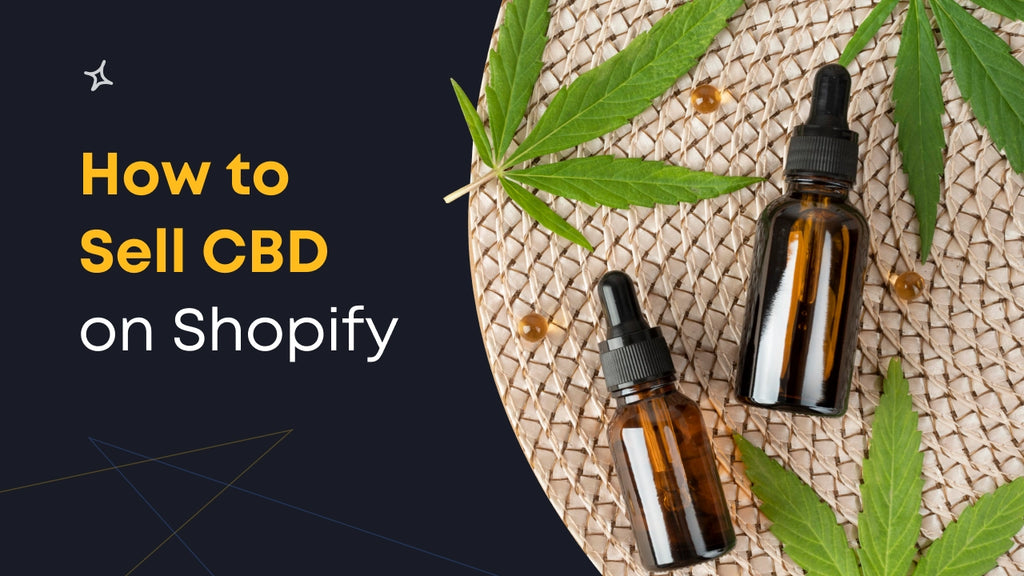 Can You Sell CBD on Shopify? Yes! Here's How.
So, you've decided to start selling cannabidiol (CBD) products online. That's a great decision! But now you need to figure out the best, legal way to do it.
There are a few different eCommerce platforms out there, and Shopify is one of the best. But can you sell CBD on Shopify?
The answer is: Yes! But while normally it's easy to get started on Shopify, there are a few things you should know first before you start selling CBD on this popular platform.
From rules, to regulations, to store design, there is a lot you need to know.
Why selling CBD on Shopify is a great idea
The CBD market is booming, with the number of people trying CBD for the first time increasing rapidly.
According to GMI, the cannabidiol market was worth $128 billion in 2021 and is expected to grow at a rate of 21.7% between 2022 and 2028.
Furthermore, increasing awareness of the health benefits of cannabidiol (CBD) and its effectiveness in pain management and other treatments is propelling the CBD industry's growth.
Suffice to say, if you want to enter this market, now is a good time.
But a bricks and mortar store, in the digital age, is not enough. A web presence is crucial for modern retailers, and for purveyors of CBD products, there is no exception.
In this article, we're going to show you how to set up a Shopify CBD store, give you a quick overview of the CBD market, and run you through how you can most effectively use Shopify to sell hemp-derived CBD products.
Hemp or cannabis tincture.
What Is CBD?
CBD is a naturally occurring cannabinoid that is extracted from hemp. Raw hemp contains up to 25% CBD and is used in the production of CBD oil and other CBD-concentrated products.
CBD oil comes from hemp plants, which are grown specifically to produce this oil. Hemp plants contain very low levels of THC and do not get users high.
Some studies suggest that consuming CBD oil might help reduce anxiety and depression in people who suffer from those conditions
In recent years, CBD has become popular as a natural alternative to pharmaceuticals for treating things like anxiety, chronic pain, and epilepsy.
In 2018, The Agriculture Improvement Act of 2018, Public Law 115-334, was passed at the federal level, and subsequently, the 2018 Farm Bill was signed into law on December 20, 2018.
Among other things, these new laws change certain federal regulations relating to the production, sale, and marketing of CBD.
These changes include removing CBD from the Controlled Substances Act (CSA) which means that cannabis plants and derivatives containing no more than 3% THC by dry weight are no longer controlled substances under federal law.
So if you're looking to expand your product line into cannabinoid products, the time is now and Shopify's eCommerce platform is a great place to do it.
A cannabis based face cream.

What Is Shopify's Policy on CBD?
Shopify is an excellent platform for CBD vendors looking to expand their business online. But before you start selling cannabinoid products on Shopify, it's important to understand the Shopify policy on CBD. If you don't follow it closely, and your operation is found to conflict with its guidelines, your account could be canceled.
Shopify's policy on CBD is that you can sell it as long as it's legal in the country you're selling to. This means that you need to check the laws in the specific jurisdiction to make sure that you're compliant.
Another thing to keep in mind is that Shopify requires all CBD products to be lab-tested. This is because there are a lot of products out there that claim to contain CBD, but don't actually have any of the beneficial properties of the cannabinoid.
So, ensure that your products are tested and compliant with Shopify's CBD policy.
It is also important to note other requirements that you'll need to meet before getting started such as compliance with U.S. Food and Drug Administration (FDA) regulations.
Certain authorities, such as the U.S. FDA, can take action if a product or an ingredient in a product is unsafe for consumers.
So if you're looking to sell CBD on Shopify, make sure your products have been properly tested and certified safe for consumers too.

CBD Hemp Oil 
How to Sell CBD on Shopify
Shopify has been the preferred platform for many big and small CBD businesses since it began supporting the industry in 2019.
To get started selling CBD on Shopify, you'll need to create a Shopify account. It's free and easy to sign up.
If you're selling CBD in the USA
Once registered, you will need to review and submit the Attestation for the Sale of Hemp and Hemp-Derived Products if your business is based in the USA.
To complete this form, you must be logged into your Shopify account as the store owner. If you are not the store owner or your store address is not in the United States, this link will automatically redirect you to the Shopify admin.
If you're selling CBD in Canada
For Canada-based merchants that want to sell CBD, you must be an authorized CBD seller and must be using Shopify Plus.
Merchants in other jurisdictions must continue to be compliant with Shopify's Terms of Service and Acceptable Use Policy, which includes ensuring that the merchant is selling products in compliance with all applicable laws and regulations
Payment gateways that support payments for CBD products
Shopify does not assist with payments for hemp or CBD items at this time. However, you can use third-party payment gateways. Note: each gateway's approval requirements for CBD sales may differ.

Some of the Shopify payment processors that support CBD payment are:


DigiPay
eMerchants Brokers
Limelight
Contacting customers regarding CBD products
You will need to set up email-only ordering and shipping notifications for customers. You are permitted to only send email notifications about CBD products and shops. SMS messaging is not supported.
Designing an awesome CBD store
Finally, you'll need to create an attractive and professional-looking store that showcases your CBD products in the best possible light.

If you want great conversion features and great ways to optimize your eCommerce store then install the GemPages page builder app from the Shopify app store.
With GemPages you don't have to know a lick of code. Using the drag and drop editor you can build your online store in your brand's own image with ease.

CBD oil can be used on your skin too.
3 Shopify CBD Stores for Inspiration
So you're ready to start selling CBD on Shopify? Awesome! Here are three well-designed CBD stores on Shopify for inspiration.
These stores all have their individual unique branding and product selection, so be sure to browse through them and take notes on what you like (and don't like).
Briogeo
The Briogeo store landing page.
Briogeo's Shopify CBD store has a wide range of CBD products to choose from focusing exclusively on selling CBD-infused hair care products. They're able to target a lucrative audience and differentiate themselves from other CBD stores.
Briogeo is one of the few stores to have its products included on Shopify's CBD landing page.
LEEF
The LEEF store landing page.
LEEF was founded with a mission to provide botanically based beauty products to improve and positively impact lives everywhere.
Their products range from CBD Bath tea to CBD-infused exfoliating body scrub
All of LEEF's products are 100% organic and non-GMO.
It's a great place to start if you're looking for inspiration for your own CBD store on Shopify.
Josie Maran
Josie Maran store landing page
The Josie Maran store primarily sells makeup and skincare, but they also sell hair care products and bath accessories.
Josie Maran places a high value on the ingredients in their products. They even have a dedicated page with information on each one and this has helped them build trust over the years.
Conclusion
So, what is the takeaway? Shopify is open to CBD products, but there are a few things you need to do before you can start selling them.
First, you'll need to make sure you comply with all applicable laws and regulations. This can vary from state to state, so you'll want to do your research and make sure you're fully up-to-date on the latest guidelines.
Second, you'll need to make sure that your CBD products are of the highest quality. This means using top-notch ingredients.
Finally, you'll need to create an attractive and professional-looking store that showcases your CBD products in the best possible light.
Two hands cutting cannabis flowers and plants.
FAQs for Shopify CBD
Are you allowed to sell CBD on Shopify?
The answer is YES! It's as easy as setting up a Shopify account, reviewing and submitting the Attestation for the sale of hemp and hemp-derived products, and setting up your third-party payment gateway.
Where can I sell my eBooks online?
You can sell a variety of CBD products on Shopify, including:
CBD tinctures
CBD capsules
CBD topicals
CBD edibles
CBD vape oils
As you can see, there are a lot of options to choose from when it comes to selling CBD Products. So if you're looking to expand your business into the eCommerce realm, Shopify is a great choice. Plus, it's easy to use and has a wide variety of features that can help you grow your business.
Can You Dropship CBD Products?
Yes, you can dropship CBD products on Shopify. One thing to keep in mind is that you'll need to be registered with Shopify as a vendor to start selling. Once you're registered, it's a pretty simple process to add your products and start taking orders.