Back to Blog List
10+ Best Shopify Dropshipping Apps in 2023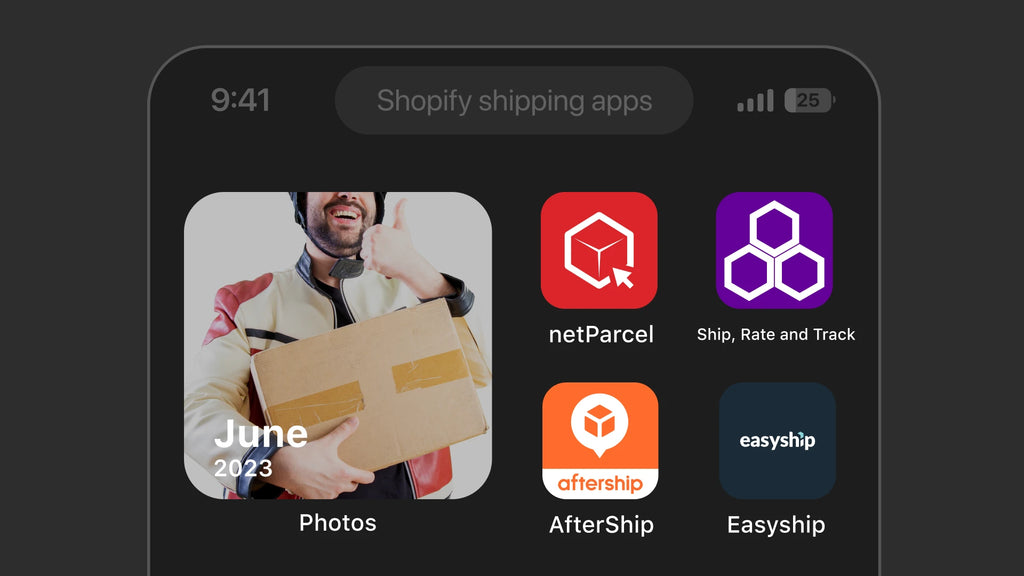 One of the most popular platforms for dropshipping is Shopify, which offers plenty of powerful tools and features to help streamline the process of setting up and managing a dropshipping store. 
However, with so many Shopify dropshipping apps available on the market, it can be overwhelming to choose the right ones for your business. In this article, we'll explore some of the best Shopify dropshipping apps available, taking into account their features, ease of use, and pricing. 
Whether you're looking to automate your product sourcing, improve your marketing efforts, or optimize your store performance, there is a Shopify dropshipping app out there to help you achieve your goals.
What is Shopify Dropshipping?
Dropshipping is a popular eCommerce business model that allows online sellers to sell products without the hassle of managing inventory, packaging, or shipping. Meanwhile, Shopify is the ideal eCommerce platform for these sellers to start their dropshipping business from scratch.
If you are low on budget but still want to build your own brand, dropshipping on Shopify is the way to go.
Learn more: 10 Creative Ways to Make Money on Shopify in 2023
Shopify is the ideal eCommerce platform for dropshipping.
Shopify dropshipping is the easiest way to start, run, and grow a dropshipping business with less risk and lower cost.
In addition to saving upfront costs and time with the dropshipping model, building a dropshipping store on Shopify lets you leverage its great set of functionalities, features, and tools to optimize your business without advanced technical skills.
Why Do You Need a Shopify Dropshipping App for Your Online Store?
Reducing your workload:

Good Shopify dropshipping apps will simplify the process of finding and importing products to your store, managing inventory as well as shipping. This frees up your time to focus on other aspects of your business, such as marketing and customer service.

Increase your product offering:

A dropshipping app can give you access to a diverse range of products from different suppliers. This allows you to offer a broader selection of products to your customers, increasing the chances of making a sale.
11 Best Shopify Dropshipping Apps
1. CJdropshipping
 CJdropshipping Shopify App 
Touted as the best dropshipping supplier and fulfillment service based in China, CJDropshipping deserves the first mention on our list.
CJDropshipping allows sourcing thousands of quality products spanning various categories from multiple quality Chinese marketplaces, namely 1688 and Taobao, with more affordable pricing than AliExpress.
CJDropshipping helps you source any products you want, even those not yet available on the website. You only need to post the products, and CJDropshipping will help you find the suppliers.
Reviews and ratings: 4.8/5 (3,270 reviews)
Pricing and plans: Free to install, but additional charges may apply.
Key features:
Lower product prices than AliExpress

No minimum order

Bulk dropshipping orders via Excel

Print-on-demand service included

Product sourcing and auto-listing features

Easy order syncing and automatic order fulfillment

Product and packaging customization

Strict quality control system

Shipping cost calculation and tracking

Global warehouses for faster delivery times

Outstanding customer support

Decent shipping times
Designed and built by a group of experienced dropshippers, CJDropshipping is considered one of the best dropshipping apps for Shopify.
2. DSers‑AliExpress Dropshipping
Second on our list is the highest-rated dropshipping app on Shopify, Dsers-AliExpress Dropshipping.
DSers is the first dropshipping option for eCommerce businesses seeking to source products from AliExpress. As a well-known AliExpress partner, DSers let you get access to an unlimited number of products and the best suppliers on AliExpress.
Reviews and ratings: 5/5 (14,002 reviews)
Pricing and plans: 14-day free trial
Basic plan: Free to install

Advanced plan: US$19.90/month or US$190.80/year

Pro plan: US$49.90/month or US$478.80/year
Key features:
Allow placing, processing, and paying hundreds of orders in one click

Optimize suppliers to help find cheaper, better, and more reliable suppliers

Update stock and prices automatically

Allow finding, importing and editing products

Track order and package status automatically

Manage multiple Shopify stores in one account

Select shipping methods per your preferences

Have top-notch customer support
Stamped as one of the best and most trusted AliExpress dropshipping tools for eCommerce, DSers provides a revolutionary dropshipping solution that helps your dropshipping business run as smoothly as possible.
3. Zendrop ‑ Global Dropshipping
As a Shopify global dropshipping app, Zendrop is an all-in-one dropshipping solution where merchants and online stores can find winning products from reliable suppliers.
With fast shipping times, automatic fulfillment, top-notch customer support, and many more, Zendrop is considered the best AliExpress alternative for dropshipping.
Reviews and ratings: 4.7/5 (5,465 reviews)
Pricing and plans: 7-day free trial
Free plan: Free to install

Pro plan: US$49/month or US$399/year

Plus plan: US$79/month or US$549/year
Key features:
Interactive and user-friendly interface

Access to various trending products

Expedited shipping

One button add-to-store feature

Automated fulfillment

Custom packaging and invoices via private labeling

No minimum order required

US fulfillment options

Zendrop Academy

Custom branding

Real-time analytics

World-class customer support
Made by dropshippers, for dropshippers, Zendrop is the perfect solution to streamline and simplify your dropshipping business, saving you considerable time to focus on accelerating your store growth.
4. Printful: Print on Demand
If you are looking for a print-on-demand dropshipping service for your eCommerce business, Printful may suit your needs.
With Printful, the top-rated print-on-demand (POP) dropshipping app on Shopify, you can create and sell custom products under your brand and have the products shipped directly to your customers.
Printful also takes away the burden of the dropshipping process by taking care of all the tedious tasks, from inventory management and order fulfillment to packaging and shipping.
Reviews and ratings: 4.6/5 (4,292 reviews)
Pricing and plans:
Free plan: Free

Plus plan: US$9/month

Pro plan: US$49/month or US$539/year
Key features:
A wide selection of premium-quality custom products

Free and quick set-up

State-of-the-art machinery

Easy-to-use design tools

No upfront or hidden costs

Product personalization options

Custom branding

Global warehouses

Reliable customer support
Printful is a one-stop shop that provides everything you need and need to be done while allowing you to take full control of your ideas, time, and finances. Printful is your must-have app for a flawless Shopify dropshipping experience.
5. Spocket - US & EU Dropshipping
Gaining the trust of over 25,000 entrepreneurs worldwide, Spocket is the best Shopify dropshipping app that connects online sellers to top dropshipping suppliers from major regions, namely the US, UK, Europe, Australia, Asia, Brazil, and Canada.
With Spocket, you get access to a huge catalog of US and EU-based products and even test out the products yourself within a few clicks.
Reviews and ratings: 4.7/5 (3,616 reviews)
Pricing and plans: 14-day free trial
Free plan: Free

Starter plan: US$29.99/month

Pro plan: US$49.99/month

Empire plan: US$99.99/month
Key features:
A huge range of exclusively curated products

A strong selection of suppliers all over the world (with focus on the US/EU regions)

Heavy discounts (30-40%) or wholesale prices on all products

Easy importing of products

Fast and reliable shipping

Image search feature

Convenient order fulfillment and inventory management services

Automated AliExpress dropshipping

No minimum order and upfront cost

Branded invoicing

Responsive customer support
As the most trusted Shopify dropshipping app, Spocket lets you stand out in the dropshipping world with the best products from top suppliers, fast shipping, and attractive pricing.
6. Printify: Print on Demand
Another popular print-on-demand dropshipping app on Shopify is Printify, an all-in-one platform for a profitable yet stressless POD business.
Used by more than 4 million merchants worldwide, Printify is a trusted solution to make big money without risk.
Reviews and ratings: 4.4/5 (1,908 reviews)
Pricing and plans:
Free plan: Free to install

Premium plan: US$29/month
Key features:
A large catalog of custom products with attractive prices

Risk-free with no upfront cost

Free and easy-to-use Mockup Generator to create unique designs that sell

Easy and quick uploading of designs

Automatic syncing with your online store

Simple creation process for new items

Access to a global network of top printing service providers

Seamless and fast order fulfillment

Worldwide printing and shipping

24/7 merchant support
Featuring a huge selection of high-quality custom products, a comprehensive network of the best printing providers worldwide, and a great set of design tools and features for a fast, simple, and risk-free dropshipping process, Printify is proud to be the irresistibly easy way to start your own online business.
7. Trendsi ‑ Fashion Dropshipping
Fashion is an ever-trending niche in dropshipping.
So, if you plan to build an online fashion store on Shopify, Trendsi is your go-to Shopify dropshipping app.
Trendsi makes your fashion business easier without monthly fees, upfront costs, minimum orders, and logistic headaches.
Learn more: 15+ Best Shopify Apps for Clothing Stores (2023)
Reviews and ratings: 4.9/5 (1,753 reviews)
Pricing and plans: Free to install. Additional charges may apply.
Key features:
Ease of use

Reasonable product pricing

Access to 100,000+ quality on-trend fashion products from trusted US brands and foreign suppliers

Real-time smart inventory sync for fast restocking

Auto checkout

No upfront inventory cost and no minimum order required

Stunning in-house photography

Branded invoicing

Custom packing and private labeling

Fast shipping and returns

Great customer support.
Offering a vast assortment of high-margin products and eliminating all the logistic headaches, Trendsi is definitely a game changer for online boutique brands, promising to be the one-stop shop supply chain solution for a successful fashion dropshipping business.
8. Ali Orders AliExpress Dropship
This free yet powerful Shopify dropshipping app will be your helping hand in automating your AliExpress dropshipping business in just one click.
With Ali Orders by FireApps, all you need to do is find trending products on AliExpress, import them into your dropshipping store, and let Ali Orders handle the rest.
Reviews and ratings: 4.9/5 (1,484 reviews)
Pricing and plans: Free to install. Additional charges may apply.
Key features:
Access to best-selling AliExpress products

Unlimited orders per month

Easy importing of AliExpress products

Easy pushing of bulk products to Shopify

Automated product price and stock update

Automated order fulfillment

Multi-products merging

Built-in product info editor

Easy and fast migration from DSers and Oberlo
Ali Orders offers a comprehensive solution to run an automated and efficient AliExpress dropshipping business without any back-and-forth hassle, saving you time and effort to focus on what you do best.
9. Dropshipman‑ Ali Dropshipping
Next on the list is an ultimate eCommerce dropshipping solution, Dropshipman.
Just launched in 2020, Dropshipman has quickly grown to be a leading dropshipping solution provider gaining the trust of nearly 1 million Shopify stores.
Reviews and ratings: 4.9/5 (1,218 reviews)
Pricing and plans: 180-day free trial
Basic plan: Free to install

Advanced plan: US$19.90/month
Key features:
High-quality products spanning various categories

No minimum order for all products

Fast and easy product sourcing via images, titles, and links

Bulk import of goods from AliExpress

Fast and reliable order fulfillment

Real-time tracking of order status

Strict quality inspection service

Custom labeling and packaging services

Worldwide shipping

24/7 responsive customer service
Regarded as the best all-in-one dropshipping supplier for Shopify, Dropshipman offers a one-stop dropshipping solution for those seeking to start a Shopify dropshipping business with AliExpress and to scale up their business efficiently.
10. Spreadr App - Amazon Importer
Spreadr App is one of the best Shopify apps to find and import products from Amazon to your Shopify store in just one click.
Reviews and ratings: 4.8/5 (1,330 reviews)
Pricing and plans: 
Basic plan: US$5/month

Pro plan: US$10/month

Gold plan: US$20/month
Key features:
Unlimited product imports

Consistent store UI

Easy product import

Super-sync option

Auto-tagging

Geo-localization

Markup pricing

Currency conversion

Better SEO and traffic

Responsive customer service
For those seeking to do dropship from Amazon to Shopify or earn affiliate commissions, Spreadr App will be of great help. Get the best of the two eCommerce leaders with Spreadr App now!
Learn more:
11. EPROLO – Dropshipping & Branding
If AliExpress is currently your dropshipping supplier, consider using the EPROLO app, a trustworthy dropshipping partner and sourcing agent based in China.
With EPROLO, you can throw away all your logistic headaches, from product sourcing, branding, inventory management, order fulfillment, and quality control to packing and shipping.
Reviews and ratings: 4.7/5 (1,285 reviews)
Pricing and plans: Free to install
$19.99 one-time payment for Junior branding service

$99 per year for Senior branding service
Key features:
Stable and unlimited supply chain

Stable and fast shipping

Automated order fulfillment

One-click importing of products

Unified supply management

Quality control system

Convenient product sourcing

Print-on-demand (POD) service

Custom packing and branding
EPROLO, a dedicated one-stop Shopify app for dropshipping, is your solution for better products, faster shipment, more sustainable business, and an easier way to do your business.
Choose the Right Shopify Dropshipping App to Simplify Your Business
The concept of dropshipping is straightforward, but owning and managing a real dropshipping business is, in fact, more challenging than it may seem.
That's where Shopify dropshipping apps come in–to save you much of that stress.
With careful preparation and proper tools, you are on the right path to building a profitable Shopify dropshipping business without minimum effort and upfront cost. 
But, to really take your dropshipping business to the next level, you will surely need the help of a power page builder like GemPages. GemPages equips you with everything you need to build a dazzling dropshipping store that wows your visitors and converts them into buyers.
Your dream dropshipping store is just a few clicks away
Transform your dropshipping store from dull to dynamic with GemPages page builder. Free plan available. Upgrade as you scale.
FAQs about Shopify Dropshipping Apps
Is Shopify good for dropshipping?
Yes. Shopify is a good choice for dropshipping. Besides its ease of use, Shopify equips you with great features, tools, and apps to build a fully functional store and simplify your dropshipping business.
What should I consider when choosing a Shopify dropshipping app?
Finding the right app to back you up is crucial, so consider these factors to choose the best Shopify app for dropshipping:Ratings and reviewsRange of products and suppliersDelivery timesFeaturesCustomer servicePricing
What is the best Shopify app for dropshipping?
Shopify App Store features a broad range of dropshipping apps; each has certain things to offer. Considering the app ratings and reviews, pricing, range of products, and features, CJDropshipping, DSers, Zendrop, Spocket, and Printful are the must-have apps for Shopify dropshipping.
How do I dropship on Shopify?
The process of dropshipping on Shopify is pretty simple.1. Decide your niche and types of products to dropship2. Find a trusted dropshipping supplier3. Build a dropshipping store on Shopify with GemPages4. Find and integrate a Shopify dropshipping app into your store5. Market your store