Back to Blog List
Shopify for Services? Yes! Here's How.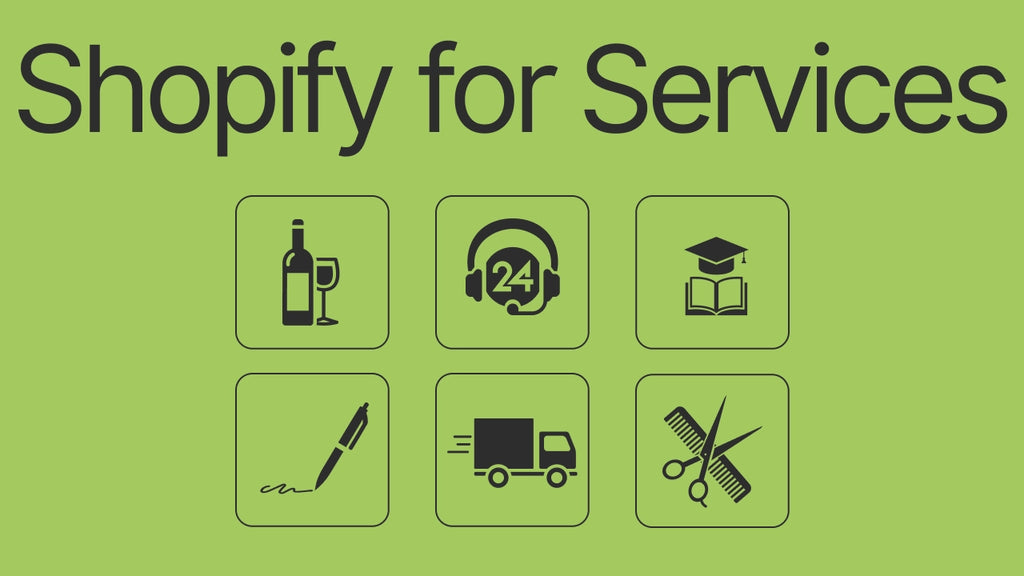 In the world of eCommerce, Shopify is by far one of the most popular platforms on which to launch and grow your business. Millions of businesses use it to sell their products all over the globe everyday.
But can you use Shopify for services?
Well, the short answer is – Yes! You absolutely can!
The more important question then becomes: How do you most effectively use Shopify for services?
That's exactly what we're going to cover in this blog post along with plenty of other useful insights and a step-by-by guide to help you build a successful Shopify store for your service business.
Why sell services on Shopify?
Here are the top reasons why selling services (or anything for that matter) on Shopify can be a good idea.
Complete All-in-One Solution
One of the biggest advantages of starting a service business with Shopify is that you can get a complete solution for your business, including a domain name, hosting, themes, apps, and sales channels all on the one platform.
Also, you get flexibility with your domain name. If you want, you can get your domain name from a third-party provider and connect it to your Shopify store. It doesn't have to be from Shopify.
Reliability and security
When you create any store with Shopify, it's guaranteed PCI compliant by default. This ensures that your payment info, business data, and customers are safe.
Shopify's Level 1 PCI certification protects your store and takes care of the security of its web hosting and shopping cart.
Shopify theme store
The Shopify theme store has a collection of lots of beautiful as well as high-performing themes that you can install and use to start building your store fairly easily.
Depending on your budget and the type of your service business you are operating, you can use just about any free or paid (one-time payment) theme to customize your store.
With Shopify, it's easy to sell beauty services online.
Shopify Apps
Adding to the efficacy of Shopify, more than 7000 apps are available on the Shopify app store. These apps help you level up your store's capabilities and functions in several different aspects such as website design, marketing, customer service, product sourcing, and so on.
For example, if you want to create a stylish and appealing homepage that explains who you are and why you are the best fit for anyone looking for the particular service that you are offering, you can use a page builder app like GemPages.
Powerful Performance
Apart from security, Shopify's hosting is great in terms of its power as well. Shopify offers unlimited bandwidth in its hosting, meaning you won't have to worry about the traffic volume on your website. Also, Shopify's global servers enable your store to load faster.
Top-notch Customer Support
With Shopify, you can always rest assured about the quality of customer service. Also, based on your preference, you can choose to get support from Shopify in many different ways. You get 24/7 live chat support, request a callback, leave a message, or even post questions in the community to resolve any queries or concerns.
Start selling services on Shopify for $1/month
Try Shopify for free, then enjoy the next 2 months for $1/month on select plans.
What kind of services sell well on Shopify?
You can sell almost any type of service on Shopify. Literally, any service that you could offer to a client based on your skills or experience can be sold on Shopify. The sky's the limit!
While the best way to choose your service or niche should be to consider what you are passionate about, to give you some perspective, here are the types of services that have great potential in the global market:
Coaching Services
According to iPEC, more than 1.5 million online searches are conducted every month by individuals and companies that are seeking life coaches, business coaches, and executive coaches.
And looking at the trend of growing online businesses and people working on their personal branding, the coaching business is sure to stay for a long time to come. So, if this is your area of interest as well as expertise, you should definitely explore more.
Classes or Training
Whether you're looking to provide one-on-one or group training sessions, you can create different packages or membership plans and sell them on your Shopify store.
This category of service business has a very wide scope and there are many different areas or niches where classes and training are in high demand. The education, fitness, and corporate sectors, among many others, require different types of training.
Selling training seminars is one way to make money on Shopify.
Consultancy Services
Consultancy services have been popular for a long time. In fact, the global consulting market was projected to reach nearly $132 billion in the year 2020 alone.
If you have expertise in a certain field or industry, you can help people by sharing your guidance and knowledge in the form of a consultancy service. Some examples of highly in-demand consultants may include marketing consultants, financial consultants, human resources consultants, SaaS consultants, IT consultants, and accounting consultants.
Event Management
Different types of personal as well as professional events such as weddings, formal parties, concerts, and ceremonies are usually managed by event planners and managers. If you are good at managing and organizing such events, you could create a business around this.
Rental Services
Rental services provide customers with any sort of physical product, equipment, or even place for a specific time in exchange for rent.
Other in-demand services:
The list of services could go on and on. But just to give you some general idea, here are some other services that are doing well:
Food Delivery
Writing Services
Hair Salons
Web Design and Development Services
Graphic Design Services
Essential apps for your Shopify services store
Before we jump on the step-by-step process to build your Shopify store, here are some of the essential Shopify apps that will be super helpful creating your store.
GemPages Powerful Page Builder
When you are starting a service business, it's so important to present yourself or your brand in a professional and persuasive manner. So, it goes without saying that your website is your brand identity and represents the credibility of your business.
GemPages is a powerful page builder app that lets you design your website's home page, about me/us page as well as landing pages. And you can do all these with its drag-and-drop page editor that's fairly easy to use.
Pricing: GemPages offers a Free plan with no credit card required. The paid plans start from US $29/month.
Shopify App Store Link: GemPages Powerful Page Builder
Customize your Shopify service store your way
Create appealing store pages that bring unique experiences and convert customers. No coding needed.
Klaviyo: Email Marketing & SMS
Klaviyo is an email marketing and SMS marketing app that can help you automate your email and SMS flows. This is a very crucial aspect to build your relationships with clients by providing them with email and SMS updates at regular intervals.
You can use this app to run promotional and marketing campaigns by using automated campaigns. Klaviyo also has some other useful features such as segmentation, reporting, and benchmarks.
Pricing: Free plan for up to 250 email contacts and 50 SMS contacts. Paid plans start from USD $20/month for email and USD $5/month for SMS.
Shopify App Store Link: Klaviyo: Email Marketing & SMS
Tasks like creating and managing invoice for your service business can be done using Shopify apps.
Sufio: Professional Invoices
For any service provider, creating and sending invoices to their clients is an essential part of their business. Sufio is an app that can help you automatically create and send invoices to your customers or clients. Also, they can download their invoice from your store if needed.
You can create invoices with professionally designed templates that are easy to customize. What's more interesting is that you can let customers pay later via wire transfer (bank transfer), COD (Cash on Delivery), or even online through a credit card.
Most importantly, it assures you are compliant with accounting legislation in multiple countries. On top of that, this app offers support via live chat and email to help you with your tax, invoices, and setup questions.
Pricing: The app offers a 03-day free trial. The basic plan starts at $19/month.
Shopify App Store Link: Sufio: Professional Invoices
Sesami: Appointment Booking
If your business requires appointment booking for certain services, you can use the 'Sesami: Appointment Booking' app. For example, if you're offering classes, lessons, or training - online or at your physical location, you can let your customers book a session for themselves.
If you are running a service agency, you can add all your team members and it will allow you to manage their calendars. You can either allow your customers to choose any of your team member or auto-assign appointments.
Also, you can let your customers reschedule or cancel appointments easily and they can stay updated with all the notifications.
Pricing: The app offers a 30-day free trial. The basic (Small) plan starts at $19/month.
Shopify App Store Link: Sesami: Appointment Booking
Request a Quote ‑ Hide Price
For service businesses, it's common to provide custom quotes for tailor-made orders or different project scopes. Thus, if you are planning to offer custom quotes to your clients or customers, this app from Omega can get the job done for you.
Pricing: This app offers a free plan with its basic features. Paid plans start at USD $7.99/month, along with a 7-day free trial.
Shopify App Store Link: Request a Quote ‑ Hide Price
Note: Alternatively, you might also want to check out "G:Request a Quote + Hide Price" from Globo. Both of these apps have a good number of reviews and impressive overall ratings.
7 Steps to Build a Successful Shopify Store for Your Service Business?
1. Create your online store with Shopify
First things first, you'll need to create a Shopify store to start building your business website. Shopify offers a 03 day free trial so that you can test the platform and check everything even before you pay for any plan.
Go to Shopify and click on the 'Start free trial' button on the top-right corner. Follow the instructions and insert the required details regarding your business. Once you submit all the details and click 'Create Shopify account', your online store will be ready to build and customize.
You can start your services business on Shopify with a 03-day free trial.
Bring your services online with Shopify
Try Shopify for free, then enjoy the next 2 months for $1/month on select plans.
2. Choose your store's theme
When you click on "Online Store" in Shopify admin, you'll see the "Dawn" theme installed in your store. But it's completely up to you whether you want to continue with the same theme or change it to a new one.
The Shopify theme store has a lot of cool, free as well as paid themes to choose from. You can browse through all the themes, check out demo stores, and even try any of the paid themes before purchasing them.
Setting up your own store can be quick and easy using a pre-designed 'theme'.
Here are some of the themes that you can check out for your Shopify service store.
Free themes
Paid themes
3. Install required Shopify apps
As we discussed earlier, depending on the nature of your service business, you may need to add Shopify apps to help you manage your business.
4. Create your service packages or plans
This is an important step as it will ensure that your service is properly configured in your admin and nicely presented to your customers. In order to create your service package or plan (depending on your pricing model), you need to add it under 'Products' in the Shopify admin.
You then need to follow the below steps as applicable to your service business.
1) Add the name of your service in the 'Title' section.
2) Add a detailed 'Description' right below the title explaining what your customers or clients will get when they buy your service.
3) Add some images/videos under 'Media' to showcase your service offerings in a visual manner.
Add your service as a product in the Shopify admin.
Helpful Tips: You can create some amazing images using Canva. If you are comfortable being on camera, you can add a short introductory video about yourself explaining your service and its benefits.
4) Under the 'Shipping' tab, uncheck the option that says: "This is a physical product." Since a service or digital product does not require shipping of any physical product, this option needs to be unchecked to indicate the same.
5) Under the 'Options' tab, you can create your package and name your plans if you are planning to offer tiered pricing for different plans such as Starter, Advanced and Premium plans.
6) If you are planning to offer more than one package, you can click on the '+ Add another option' and configure multiple packages. Example: monthly and/or annual pricing packages.
You'll need to make sure your product is not listed as a physical object.
7) If you have created different plans under a package, you can set different pricing for each of them. Also, if you want to limit the number of orders that customers can place on your store, you can set the 'Quantity' based on how many orders you can manage. This could be helpful to solopreneurs who prefer to take orders only up to a certain number due to limited time availability.
8) Under the option 'Search engine listing', add 'Page title' and 'Meta description' to define how your product page will appear on search engines. Also, you can edit the 'URL handle' if necessary. This is an important aspect from an SEO (search engine optimization) standpoint.
Add your service as a product in the Shopify admin.
9) Once you have all the service details filled in, click on 'Save' and your service page will be ready.
Read more: How to Add Products to Shopify: A 5-Step Instructional [2022]
5. Customize and design your website
When it comes to website design, your home page is the most crucial aspect of your entire business website. Thus, it is imperative that you put some thought and effort into creating a homepage that will appeal to your customers and make them interested in you and your services.
6. Ensure all settings are configured
On the bottom-left corner, there's a little tab called 'Settings' which is a significantly important one. You should ensure that all the settings are properly configured before launching your store.
These are the most critical that you must not ignore: 'Payments', 'Checkout and accounts', 'Taxes and duties', 'Domains', 'Notifications', and 'Policies'.
7. Launch your Shopify store
Once you've got everything set up, it's time to launch your store!
To make your store accessible to everyone, you need to remove the password requirement of your store.
To do this click on 'Online Store' and go to 'Preferences' and you'll find a 'Password protection' field.
When you're ready to open your store to the public simply remove the password protection.
Uncheck the option that says 'Restrict access to visitors with the password' and click on 'Save'.
And that's it! Your website would be live with immediate effect.
How do I promote my Shopify services business?
There are many ways to promote your service business. Shopify makes it very easy to utilize multiple marketing methods such as content marketing, email marketing, and social media marketing.
Engaging influencers to promote your service
Apart from the above methods, you could also consider influencer marketing. Shopify has recently launched a new feature called, 'Shopify Collabs' that can help you to work with content creators and build your own influencer marketing strategy.
Learn more: How to use Shopify Collabs to promote your service
Good examples of using Shopify for services
If you want to see some real-life examples of service businesses that are built using Shopify, check out: Partners Hair Design, Study Active, and/or Buti Yoga.
These Shopify stores are all using GemPages to level up their branding and visual appearance.
Ready to Bring Your Services to The Online World?
Starting your online service business can be a lucrative business model. With the right platform and strategies, you can launch and grow your business effectively.
There are many good reasons for businesses all over the world to trust and rely on Shopify and its incredible ecosystem. Also, since Shopify provides a 03-day free trial, you have the opportunity to get an idea as to how things work on the platform before you commit financially.
So, if you want to launch your service business online, Shopify is definitely a robust and reliable platform.
FAQ about selling services on Shopify
Is Shopify good for selling services?
Yes! Shopify is a powerful eCommerce platform that can be used not only to sell physical products but also services.
How do I create a service website on Shopify?
It's fairly easy to create a service website on Shopify. You can simply start with a 14-day free trial and build your service website by using GemPages.
How much money do you need to start selling your service on Shopify?
While this depends on various factors and the Shopify plan that you choose. Just to give you a general idea, Shopify's Basic Plan costs USD $29/month. Additional costs depend on the theme and Shopify apps that you use to enhance your website. You may check out the Shopify App Store and Themes to get more idea on their respective pricings.
What are the top trending services to sell on Shopify?
Here is the list of top trending services that you could sell on Shopify: Coaching Services, Classes or Training, Consultancy Services, Event Management, Rental Services, Food Delivery, Writing Services, Hair Salon, Web Design and Development Services, Graphic Design Services.