Back to Blog List
24 One Product Store Ideas in 2023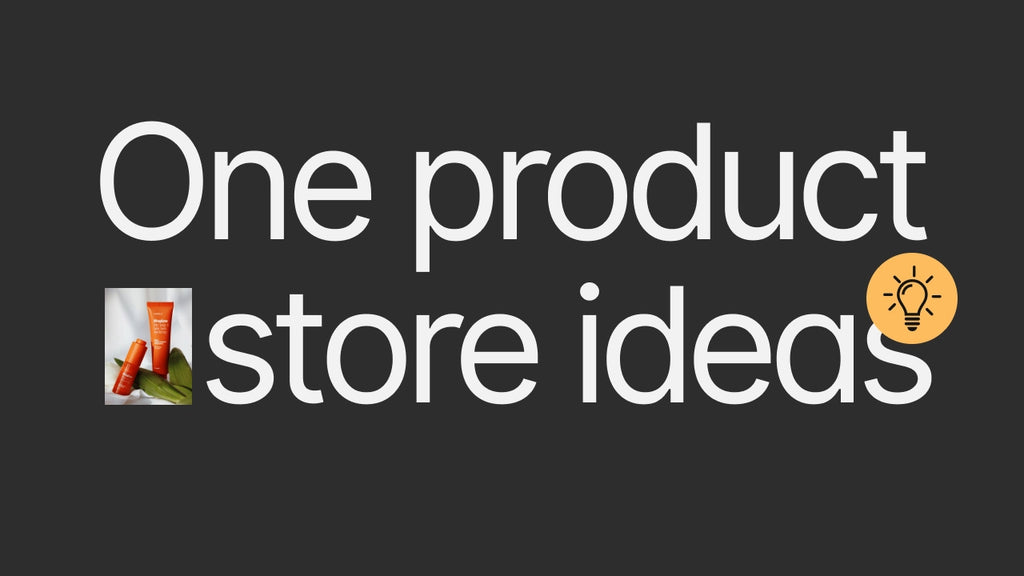 Starting and building a successful one-product brand is possible.
However, like any other business, you need to make sure that you identify the right target market, the specific niche, and the product you want to sell to them.
If you're looking for trending or unique product ideas for a single-product store, we've got you covered. In fact, we've got more than that!
In this blog post, we're sharing some of the best one-product store ideas along with pro tips to help you create a successful one-product brand.
First of all —
What is a One-Product Store?
A one-product store—also known as a single-product store—is an eCommerce business that sells only one product or different variants within a single product line.
You must have heard about 'the strategy of niching down' in the business realm to attract a specific community. But this is going a step beyond choosing a niche. You're not just choosing a niche but also selecting a specific product.
Drop Bottle, Palmpress, and Death Wish Coffee are some great examples of brands that started with one product. And how can we not mention the unicorn brand, Spanx, that started with Sara Blakely's brilliant idea of footless pantyhose?
Black Friday Deal: 15% off Monthly Plans
Exclusively for users making any first payment from Oct 1 to Dec 31, 2023 UTC.
20+ Best One-Product Shopify/eCommerce Store Ideas
1. Portable Electric Blender Fruit Juicer
Portable blenders have always been an important kitchen item. Also, it can be helpful to people of all ages, especially those who love to drink healthy juices.
As you can see on Google Trends, the "Portable Blender" has constantly been trending worldwide with a popularity score around 70-80 in the past 12 months:
This portable juicer comes with glass material. It has a 1500mAh battery that can be charged with a USB port. As mentioned by the supplier, once fully charged, it can last for about 10 cups.
Pro tip:
You can use GemPages to design your own one-page store. With a seamless editor and a huge library of different temples from GemPages, even non-techies can create stunning stores that reflect their unique vision. You can also use the new AI-powered image-to-layout feature to generate editable layouts from a reference image or URL, making your page building process faster and smarter.
2. 4 In 1 Magnetic Wireless Charger
A wireless charger is one of the trending products. But what's more interesting about this product is that it's not a regular wireless charger. It's 4 in 1 charger, meaning you can use it for four devices at the same time.
Pro tip:
Use Google Trends to see which market (country/region) has more potential to sell a particular product. As you can see wireless charger is a more popular keyword in Australia, New Zealand, Singapore, the UK (United Kingdom), and UAE (United Arab Emirates).
3. Winter TV Hoodie Blanket
This uniquely designed and stylish winter hoodie blanket is made of good material. It's comfortable to wear and comes in a variety of colors as well.
One thing you must consider for this product is that it's a seasonal product. So, you need to keep your target market in mind to see when this product can have a high demand and when you should expect it to go down.
For example, if your target market is the United States, as you can see in Google Trends, winter hoodies get a huge upward trend before the winter season—around November—and then after the season is over, it drastically goes down.
4. Winter Air Heater
One more seasonal product that could be a good product for your one-product store is the winter air heater. This product helps customers keep the temperature warm during the winter season.
This air heater fan is made of a PTC (Positive Temperature Coefficient) ceramic heating element. It uses electric heating to increase the temperature inside a room. You can also adjust the temperature if you wish to do so.
Since it's a small and lightweight heater, you can easily carry it along when going camping or traveling as well.
5. Mini Mops Floor Cleaning Sponge
The home and kitchen products are great for a one-product store.
This home cleaning mop is designed for a single-hand grip and lets you clean your home without getting your hands dirty. It looks really cool and it does not take much space to store anywhere in your house as it can be folded. 
6. Plastic Spray Water Bottle
This product not only looks stylishly designed but also has very useful features. This can be an awesome product for athletes and gym lovers.
This spray water bottle comes with a spring cover that can be opened with a button. It has a large capacity of 1000 ml. It can also help you monitor your daily water intake.
7. Multifunctional Kitchen Storage
Now, let's take a look at this kitchen item that helps store multiple items.
This multifunctional storage comes with four plastic storage compartments and is very convenient as it can be rotated 360 degrees. It also comes with a chopstick spoon storage holder. As per the supplier, the item is made of PP material which makes it strong and durable.
8. 3PCS Sports Clothing Set
This seamless sports set is designed for women who are enthusiastic about yoga, gym, or sports.
It has a stylish and beautiful design and comes in a variety of colors as well.
9. Cat Tent Enclosed Pet Bed
This is a wonderful product idea for cat lovers' niche.
This cat tent is made of high-quality and waterproof fabric. This could be especially helpful when going on camping, travel, or any outdoor activities. It is suitable for small and medium-sized pets.
Pro tip: 
With time, as you start generating revenue in your business, you can expand the product line with tents for other pets as well. And then, you can also look into other pet care items in the future.
10. Inflatable Camping Mattress
Outdoor and camping products are excellent for one-product stores.
This product is made with a good quality flocking which is soft and comfortable. It's a very useful item when you're going to travel by car.
During long travels, it's easy to get tired and you might need to take a nap or sleep. This product can come in very handy during such situations.
Pro tip:
Collaborate with a travel influencer to promote your product. When launching the product, you can create a launch-special offer and promote it through the influencer. If you're selling on Shopify, you can use Shopify Collabs.
11. Smart Trash Can With Lid
This smart trash can is a great product for hygiene-conscious people.
This trash bin has a lid that can automatically sense a human approaching it, and thus, it doesn't require you to open it manually by your hand.
Hoodies are such a popular product during the winter season, and that's why, we've found one more product idea. But this one has a slightly different design.
This winter hoodie is made of a good quality and comfortable material. The fabric is made of polyester and thick material. It has different colors including black, gray, brown, wine red, and navy blue.
13. LED USB Magnetic Wood
This LED magnetic wood has a magnetic suction design. It has different modes like night light mode, energy-saving mode, soft light without dazzling, and long light mode as well.
14. Computer Gaming Chair
This product is for all gaming enthusiasts. Looking at the big gaming industry, this product could be one of the top-selling products.
This gaming chair is made of a wood-based panel and artificial leather. It allows you to adjust the height, up and down, as needed. It's also rotatable and reclinable to ensure it's convenient.
15. Charging Package Backpack
We all must've been in that situation when you're going on a trip, you want to use your iPad or tablet, and you realize that its battery is about to die, right? 
That's where this product can come in handy.
This charging bag is made of nylon material and comes with a zipper. As mentioned by the supplier, it's also waterproof,  wear-resistant, and shockproof.
16. Waterproof Camping Tent
This waterproof camping tent is also one of the best products for outdoor activities.
This waterproof tent comes with 4 windbreakers, 10 ground nails, 3 poles, and tent construction instructions. Its outer bag is made of polyester. 
17. LED Ring Light
The creator economy is growing rapidly and that's why LED ring lights are one of the highly demanded products by creators. Especially TikTok, Instagram, and YouTube creators would love this product.
Google Trends shows a consistent trend for this product worldwide in the past 12 months.
It has three adjustable color settings: white light, warm white light, and warm light. It also has a setting to increase the brightness if needed. It has a 270° rotatable cradle -head that helps you rotate it from all different angles to get the desired effect.
18. Golf Practice Net
This golf practice net cage is a great product for golf lovers. It can be used to practice golf outdoors or just to have some fun in the backyard or park.
The kit comes with an expandable fiberglass pole to assemble it easily. It also comes with a polyester carrying bag so that you can easily pack it and transport it anywhere.
19. Plastic Mechanical Keyboard
Mechanical keyboards make typing a different experience, especially the sound of clicks. Many gaming enthusiasts, coders, and writers love this type of keyboard.
This mechanical keyboard is made of plastic material. It's a wired keyboard that comes with a 1.5m long wire.
20. Cartoon Shark Sleeping Bag
You must've seen many TikTok videos or Instagram Reels where people wear strange costumes to have fun with their family members, right?
This product is made exactly for such mad fun. It can sell very well with young target customers and families with kids. It's also a quite suitable product to promote as a gift item.
These creatively designed shark pajamas are made of soft flannelette fabric which is lightweight and feels comfortable. It comes in gray-blue color and four different sizes.
Bonus Single-Product Store Ideas
Now, let us share some more one-product ideas based on some of the existing brands we've seen in the market:
21. Snack Box Subscription
Snacks are a kind of product that customers buy repeatedly, and thus, they can be sold on a subscription-based business model.
22. Tea or Coffee
Tea and coffee are consumed every day by lots of customers. This makes a good idea for starting a one-product store to sell tea or coffee. This business can also be done with the subscription model.
23. Hair Removal Handset
Selling a hair removal product for young women can be an excellent idea. The beauty and personal care market is growing, making it a stable and profitable industry choice.  
24. Motion Sensor Headlamp
This product is designed for hikers, campers, runners, and adventurers. Going back to nature is one of the biggest trends in recent years, and outdoor enthusiasts tend to buy hands-free gadgets that let them fully indulge in various activities.
Learn more: One Product Shopify Stores Done Right
Final Thoughts on One-Product Store Ideas
We hope you find these product ideas helpful to begin your journey to a successful one-product store.
But again, remember — whichever idea you go for, it's important to perform market research and identify your target market and customers.
Also, make sure to use the right platform and tools to create stunning branding for your store. Shopify along with GemPages is a deadly combination to create a professional-designed and premium brand for your one-product store.
Ready to elevate your Shopify storefront?
Take your storefront to the next level with GemPages page builder. Free plan available. Upgrade as you scale.
FAQs for One-Product Store
What is an example of a one-product business?
Death Wish Coffee is a great example of a one-product business as it sells a single product, i.e., coffee.
How to make a one-product store?
To create a one-product store, you may go through the following steps: 1. Choose a target market and niche 2. Choose the hero product to sell 3. Build your online store 4. Start marketing. Here's the detailed guide on
How to Create a One Product Shopify Store
.
Are one-product stores successful?
Yes!
There are many big and successful brands that started as a one-product store. The biggest example is
Spanx
which was valued at over $1.2 billion. As they say, Riches are in the niches!
Can you start a brand with one product?
Yes, you certainly can. Starting a brand with one product has many advantages too. For example, it requires smaller investment, marketing is simple, affordable for market testing, and you can build a community around your product.