Back to Blog List
Streamline Your Online Business with Shopify Automation: Top 10 Tools and Expert Advice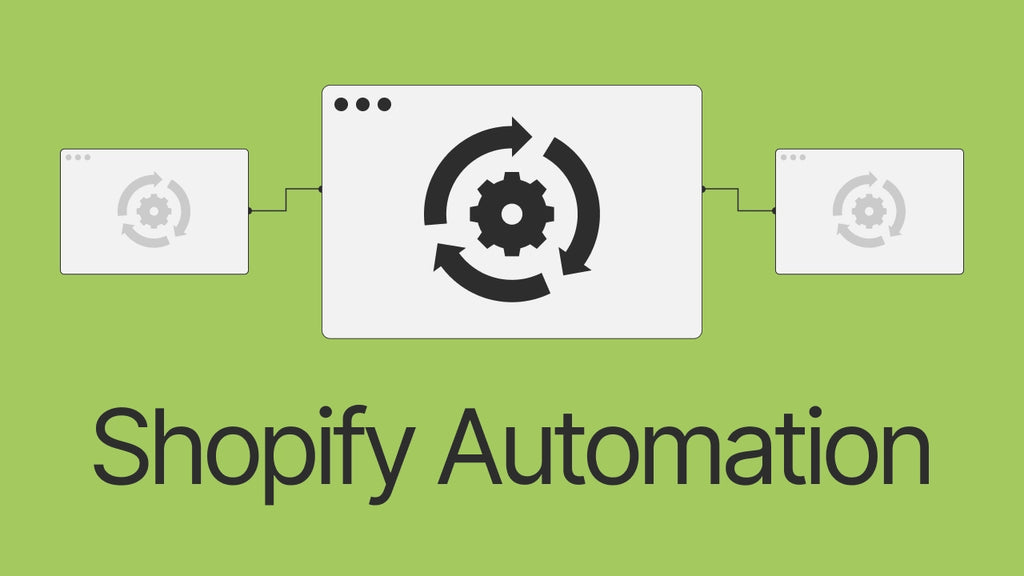 Running an eCommerce business involves juggling multiple tasks.
But automation tools can make your job easier. Especially when selling through Shopify, you can manifold the power of task management with the help of Shopify automation apps.
In this blog post, we'll help you with the basics of eCommerce automation, its benefits, the automation checklist, and the best Shopify automation apps.
What is Shopify Automation
Shopify automation is setting up automated workflows using different apps and tools to minimize manual human invention and monitoring of routine or repetitive tasks.
Here's an example:
A customer visits a Shopify store, adds some items to the cart, goes to the checkout page, but abandons the checkout. Heartbreaking for any entrepreneur, isn't it?
This is where email marketing automation comes into the picture. 
You just need to have an app for email marketing automation and set up an email flow for abandoned checkout scenarios. So, whenever these events are triggered, emails will be sent automatically to customers.
You can set different conditions in the email automation flow.
Shopify eCommerce Automation Checklist
Before we share the list of specific Shopify automation apps, let's cover the checklist about the key areas of Shopify or eCommerce business where automation is helpful or essential.
Design automation can help you quickly enhance the visuals in your store design. We'll talk more about design automation later in this article to guide you on how GemPages can make your design process much easier and faster with its brand-new feature.
Recent statistics found that "successful companies" use marketing automation almost four times more (79%) than "unsuccessful companies" (21%).
The former brands use marketing automation for lead generation, qualification, and customer retention. You can use email and SMS marketing automation for these purposes.
Order Fulfillment & Inventory Automation
Managing the order fulfillment processes is a time-consuming and repetitive activity. On top of that, you also need to ensure that you're keeping an eye on inventory and its data in your system. By using apps like Order Automator and Auto Fulfill, you can automate these processes, and serve your customers better.
Custom Workflow Automation
There are many different tasks and apps involved in an eCommerce workflow for various purposes. But there may not be an app for each specific requirement. Custom workflow automation, along with effective task management software, allows you to automate tasks as per your business needs.
Also, automation apps like Zapier can help you enhance the workflow by allowing you to integrate your store with other automation tools.
Customer service is one of the most crucial aspects of any business. Sometimes, however, it may be hard to keep up with all the customer service channels, especially when you lack human resources.
In such a situation, automation can help you manage order tracking, FAQs, live chat, emails, social media, and the ticketing system from a single platform.
Fraud Protection Automation
According to Statista, eCommerce losses due to online payment fraud were estimated at around 41 billion USD worldwide in 2022. And the figure is anticipated to rise to 48 billion USD by 2023.
It may not be feasible for you to monitor and handle every single transaction manually. Automation can protect your business from fraud practices of wrong chargebacks.
Accounting & Taxes Automation
Accounting and taxes are two of the most difficult tasks for eCommerce business owners, especially if you're not from an accounting or finance background. By automating your accounting and sales tax processes, you can definitely reduce your workload and save time from these stressful activities.
Benefits of Using Shopify Automation Tools
Here are some of the key benefits you can obtain from implementing different automation workflows:
Focus on Critical Tasks
Time is the most valuable asset for any business owner. Instead of spending hours designing your store, you can use GemPages, for examples, to build, customize and optimize stunning Shopify store pages. Image-to-Layout - its upcoming AI feature  can even help you generate editable layouts from a screenshot or URL in a snap. This means you can focus on scaling up your business.
Ready to elevate your Shopify storefront?
Take your storefront to the next level with GemPages page builder. Free plan available. Upgrade as you scale.
Enhance Engagement with Customers
Engaging with your customers is so crucial to building your brand. But again, time constraints may limit how much you interact with your customers. For example, setting up email automation allows you to engage with customers — right from the welcome email to the post-purchase email and more.
Increase Sales & Conversions
Some email flows are created to make customers aware of information, some are   created to engage with them, and some are created to convert potential customers. Marketing automation like 'cart abandonments' and 'abandoned product browse' can help you convert those opportunities into sales.
Reduce the Chance of Errors
Bulk activities done in huge volumes are better with automation — as long as feasible. If such activities are done manually, it can potentially lead to human errors or might be missed entirely. Sometimes, these errors can be too costly. Automation can reduce or eliminate such errors.
Protect Your Business and Profit Margins
Running an eCommerce business successfully is not a walk in the park by any means. You need to take care of potential risks of chargeback fraud and product returns. By using the right automation tools, you can protect your business from such risks and minimize the loss of revenue as well.
Top 10 Shopify Automation Tools
If you're looking to learn how to automate a Shopify store, we've created a list of the top Shopify automation apps.
#1 GemPages - AI-Powered Image-to-Layout Feature
GemPages is a top-ranked drag-and-drop pagebuidler that helps merchants to build and customize their stores, without coding. Recently, GemPages has introduced Image-to-layout, an AI-powered feature that automatically generates a reference image or a URL into editable layouts. 
GemPages v7 will be released soon with its AI-based feature to help you take your store design to the next level. Try now!
How Image-to-Layout works
Simply put, design automation at its best!
GemPages Key Features
Apart from the latest image-to-layout feature, here are some other essential features for your quick reference:
80+ CRO templates and 65+ elements to make the design process smoother, faster, and yet highly professional.
SEO & Speed Optimization:
Design your store with SEO-friendly and mobile-optimized templates that are fast and responsive.
Add elements — a countdown timer, stock counter, bundles, etc.  — to your store that will help you increase your sales and conversions.
Perform an A/B test to find out the best version of a web page for conversion or any other goal as per your business needs.
Learn more: How to Run a Proper Shopify A/B Testing on Your Store?
With over 3500 reviews and an overall rating of 4.9 out of 5 stars, we can definitely say that GemPages is one of the most used and loved apps on the Shopify App Store.
GemPages Pricing
#2 Omnisend - Email & SMS Marketing Automation
Email and SMS marketing are effective eCommerce strategies that almost all Shopify store owners love to leverage. There are many email and SMS marketing apps available in the Shopify app store. 
Omnisend is amongst the most popular apps in this category.
Omnisend is one of the highly-rated and trusted apps for email and SMS marketing.
Omnisend Key Features
Pre-built Workflows & automation:
When you're just beginning your email marketing campaigns, you might need some ideas or references as to how you should set up the email flow. Using the pre-built workflows and automation makes your job much easier.
Professional Email Templates:
Using professional email templates, you can speed up your email marketing campaigns and impress your customers as well.
Apart from email marketing campaigns, Omnisend also lets you create promotional popups and signup forms. Popups can be very useful to increase your conversion rates.
Omnisend Pricing
#3 Shopify Email Marketing automation - Create Automated Email Flows
This automation option is somewhat similar to the email marketing solution we mentioned above. However, this one includes Shopify's own email marketing app (Shopify Email) and allows you to create automation flows within Shopify admin.
Go to Shopify admin, and click on the Marketing tab on the left sidebar. Then, click on the Animations tab under Marketing.
Click on either the Create automation button or the Start automation link given under the automation section. Both lead to the same page where you'll have two options: 
Automation templates:

Start your email automation from pre-built templates. Edit the templates if you want.

Create custom automation:

Create your email flow from scratch by defining the triggers, conditions, and actions.
Here are some of the marketing automation workflow examples:
Shopify Email Key Features
You can send branded emails to your customer based on different segments.
Email templates can help you quickly create nicely designed emails instead of creating email designs from scratch.
Evaluate the effectiveness of your email marketing campaigns by tracking key metrics like click-through rates (CTR), purchases, and even the items added to the cart.
Shopify Email Pricing
#4 

Shopify Flow
- Create Custom Workflows Without Code
Shopify Flow allows you to create custom workflows depending on your needs. What's more interesting is that Shopify Flow also allows you to connect with your other apps to broaden your workflow capabilities.
Shopify Flow is a recently launched app from Shopify, and thus, it doesn't have many reviews yet. However, since it's Shopify's own app, it definitely has the potential.
Shopify Flow Key Features
Three key building blocks of this app — trigger, condition, and action — let you easily create a unique workflow based on your custom requirements.
You can install the pre-built workflow templates for some of the popular use cases to quickly start your automation.
While creating workflows, you can insert time delays for certain actions to ensure the execution is done at the right time.
Shopify Flow Pricing
#5 Zapier - Automate Work by Connecting Shopify with Other Apps
Zapier is one of the most popular automation tools. It allows you to connect and automate workflows across more than 5,000 apps.
With Zapier, you can automate and manage different tasks like tracking your orders in a spreadsheet tool, adding new customers to the ads platform, and so on.
Zapier Key Features
Like most other automation tools, Zapier also provides you with pre-built templates to help you get started. And you may create Zaps from scratch too.
This feature lets you automate multiple tasks at once without needing to code anything.
When creating Zaps, you can use filters to ensure Zaps run only when the set conditions are met.
You can schedule Zaps to run at a specific time.
Zapier Pricing
#6 Chargeflow Dispute Chargebacks - Automation Protecting from Chargeback Fraud
Chargeflow helps you automate the chargeback management and saves your time from disputes. This app uses Machine Learning and Artificial Intelligence (AI) algorithms to create a "science-based" Chargeback Response Template.
Chargeflow provides you with active fraud protection and increases your win rate in disputes with the help of an AI-based evidence builder.
Chargeflow Key Features
This is one of the unique features of this app. You need to pay only for chargeback transactions that are recovered successfully.
You can analyze the chargeback data for different payment providers from a centralized dashboard.
This AI-powered feature lets you estimate the possibility of recovering an open dispute.
Chargeflow Pricing
#7 Order Automator - Automate Orders and Fulfillment
Managing order processing and fulfillment may sound like an easy task from the surface. However, as your business grows, the number of orders can also increase significantly and so do the responsibilities.
With Order Automater, you can set rules for order processing and fulfillment, and it will automatically take care of your orders 24X7.
Order Automator apps can help you automate order-related tasks such as tagging, fulfillment, notification, etc.
Order Automater Key Features
You can auto-tag not just orders but also customers which could be very useful to organize, filter, and export your data for marketing purposes.
This feature helps you sync inventory and fulfill orders smoothly with Amazon FBA integration.
Auto email notifications:
Automatically trigger email notifications to the supplier or staff members depending on your order conditions.
You can protect your business from potential fraud orders by using auto cancellation and you can also get email notifications for the same.
Order Automater Pricing
#8 Willdesk‑Live Chat, Helpdesk - Manage Customer Service Operations
Willdesk is one of the high-rated helpdesk automation apps on the Shopify app store — with an impressive 5-star rating from 500+ reviews.
Willdesk helps you manage your customer service operations smoothly from one platform.
Willdesk Key Features
Create a self-service widget with your own branding and integrate other important elements such as order tracking, FAQs, and a contact form.
Centralized ticketing system:
Lets you manage all the inbox tickets — from live chat, WhatsApp, multiple social media accounts, and emails — in a centralized platform.
You may use the Willdesk mobile app to respond to your customers at any time, from anywhere.
You can get insights about the customers through all of their interactions and provide personalized customer service.
Willdesk Pricing
#9 ReturnGO Returns & Exchanges - Automate Product Returns, Refunds, and Store Credits
If your business is at risk of higher product returns, which most product-based businesses are, you could use the ReturnGo app to manage your returns.
ReturnGo Key Features
You can offer different options like product or variant exchange, store credits against return, or gift returns.
Manage return transactions:
Various aspects involved in the return transactions such as return reasons, image and video uploads for evidence, and follow-up questions can be managed through this app.
The app lets you create various automation rules for scenarios such as auto-approve, auto-exchange, auto-refunds, and auto-credits. Set these rules depending on your policy.
AI-based actionable insights:
Based on your product returns data and using AI, the app creates actionable insights that can help your business to improve your net revenue and enhance the returns workflow.
Manage your integrations with other required parties such as shipping carriers, 3PLs (Third-Party Logistics), helpdesks, APIs (Application Programming Interface), etc.
ReturnGo Pricing
#10 QuickBooks sync by Webgility - Automate Accounting, Inventory & Other Workflows
This app from Webgility Online is developed to sync your Shopify store's accounting with QuickBooks Online. Also, the app offers inventory automation and other workflow automation.
The Webgility app helps you manage the complex tasks of accounting, inventory, and sales tax filing.
Webgility Key Features
The app helps you eliminate manual bookkeeping entries for your orders, taxes, and fees.
It lets you record your income for each transaction or payout on a real-time basis.
You can handle complex tasks such as sales tax filing easily with automation that records sales taxes for multiple stores.
Webgility Pricing
Build & Scale Your Automated eCommerce Store
In the entire journey of building your Shopify store and scaling it to a profitable business, you'll always find support — not just from apps but also from the community of supportive people.
But the thing is, the eCommerce business model typically requires some testing and experiments at different phases. It's all part of the business practices. So, do not hesitate to try different apps or tools to find what's best for your business.
Setting up the right automation processes can help you scale the business at a rapid pace. At the same time, you must also evaluate and ensure that the customer experience is not hampered by any of these automated processes.
Customer satisfaction must always be the top priority!
FAQs about Shopify Automation
Are Shopify automation free?
There is a free option for Shopify automation, i.e., the Shopify Flow app, which is available on the Shopify, Advanced, or Shopify Plus plans. This app allows you to create custom workflows using its building blocks - trigger, condition, and action.
What is Shopify email automation?
Shopify email automation is setting up automated email campaigns to strategically send emails to your customers. Some examples of such email flows are welcome email series, abandoned checkout, abandoned cart, post-purchase thank you emails, upsell emails, and so on.
Which are the best Shopify automation apps?
The best Shopify automation apps depend on the purpose of automation. Here are some recommended apps: 1. Design automation - GemPages2. Email automation - Shopify Email or Omnisend3. Workflow automation - Shopify Flow and Zapier4. Chargeback - Chargeflow5. Orders - Order Automater6. Helpdesk - Willdesk7. Returns - ReturnGO8. Accounting - QuickBooks sync by Webgility.Learn more in our article
Shopify Automation: Top 10 Tools and Expert Advice
Does Shopify automatically do SEO?
Shopify stores have built-in SEO (Search Engine Optimization) features that help merchants optimize their website content. Shopify and its themes automatically take care of some important aspects of SEO. That said, there is a lot that you can do to boost your SEO further.