Back to Blog List
Shopify SEO Checklist for Beginners (2023)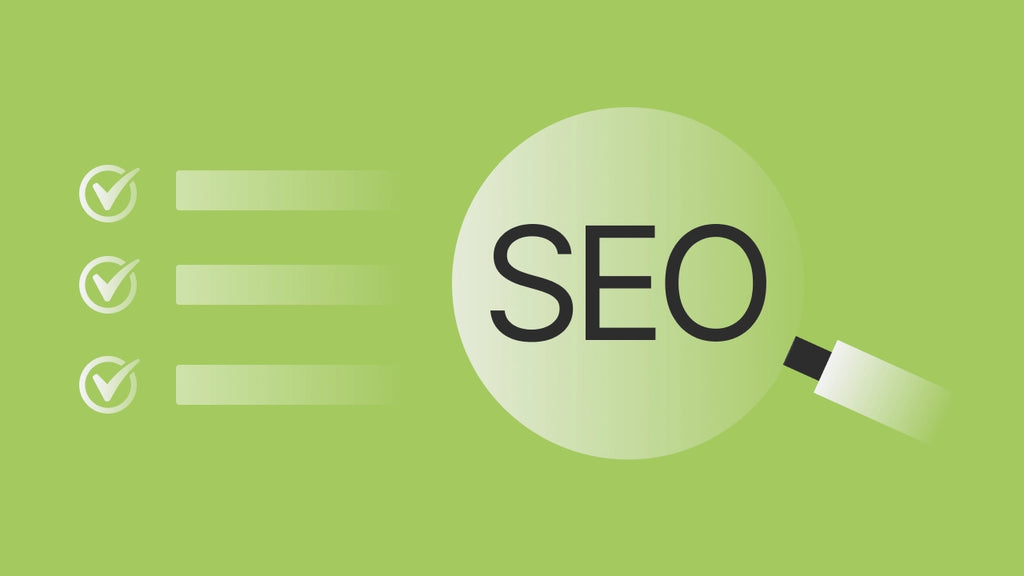 Building an online store is not hard — bringing traffic to it is.
And that's why Search Engine Optimization (SEO) is one of the crucial strategies that every Shopify or eCommerce business owner must pursue. 
SEO helps your website climb the ranks on popular search engines like Google and Bing. On average, 53.3% of traffic comes through "organic search", meaning users land on a website with the help of search engines. But how to improve SEO on Shopify?
SEO is a vast ter, and it can be overwhelming to navigate all the different aspects and techniques. That's why we're here to save the day with an extensive Shopify SEO checklist covering all you need to know to supercharge your SEO game. 
SEO Best Practices During Store Set Up
1. Choose Your Domain Name Carefully
Although your domain name may not have a direct impact on SEO, it's better to take care of the following best practices:
Get yourself a custom domain that truly represents your brand instead of using the default "myshopify.com" domain.

Keep it short, easy to pronounce, and memorable. Here are some examples from awesome Shopify brands: jewelsbyaurora.com, magicalwool.com, airshipcoffee.com

If it naturally fits, you may use the keyword related to your product. But make sure you don't stuff your domain name with long keywords like "best-birthday-gift-items.com".

Changing your domain name may impact the SEO, so choose one that can be used for the long term. 
2. Install a Fast and Responsive Shopify Theme
Your store's page speed is not only a direct ranking factor in Google, but it could also impact your SEO indirectly. If your store pages take too long to load, most likely, the customer will leave — increasing your bounce rate.
So, choose your store's theme carefully.
3. Set Up Google Search Console
Google Search Console is a free product from Google that every Shopify store owner should install. Google has also suggested it as an important tool to optimize your ranking.
When you create a new website, Google does not list all your store pages automatically. Using Google Search Console, you can request your store pages for indexing. Also, you can monitor your site's performance and resolve issues that may impact your site's SEO.
Setting up Google Search Console is easy. Google has all the necessary guidelines to get you started. 
Use Google Search Console to check if your pages are indexed on Google or not.
4. Submit Sitemap to Search Engines
One more important task you should complete before launching your store is to submit your sitemap to search engines like Google and Bing.
Submit your sitemap to Google:
Shopify automatically generates your sitemap. To see your sitemap URL, just go to the root directory domain, e.g., yourdomainname.com/sitemap.xml. Submit that URL on Google Search Console as shown here:
For more details, you can refer to this guide.
Submit your sitemap to Bing:
Bing also accepts XML sitemap format. You can submit your sitemap to Bing by clicking on the "Submit sitemaps" button on this page. You'll also find more information about it on the same page.
5. Set Up Google Analytics 4
Google Analytics 4 is another free product from Google. This tool helps track and analyze the data of your website visitors and lets you analyze which pages are performing well and which ones need to be optimized.
While Google Analytics itself won't boost your SEO, it can help you define data-driven SEO tactics and put your effort in the right direction.
6. Install Shopify Apps for SEO
Installing a Shopify app for SEO can help you take care of many essential aspects of SEO, such as bulk image compression, optimizing your meta tags, monitoring and redirecting your broken links, and so on. 
You can use SEO apps like Booster Seo & Image Optimizer, Avada SEO & Image Optimizer, Tiny: SEO Speed Image Optimizer, SearchPie: SEO Booster & Speed, and Smart SEO. Or search for more SEO apps on the Shopify apps store.
Shopify App Store has dozens of apps for SEO but make sure to install only the ones that you require. Adding unnecessary apps may impact your store speed.
Shopify SEO Tips for On-Page SEO
7. Perform Keyword Research
Keyword research is one of the most crucial strategies for SEO. Identify who your competitors are and research them to see which keyword they are targeting. By doing this, you'll find the keyword opportunities and gaps that you can leverage in your content strategy.
Create content structure/keyword map. Use free keyword research tools like Google Keyword Planner, AnswerThePublic, Moz, etc. Also, pay attention to search intent — the reason why a customer types a specific query in a search engine.
Here are different types of search intent:
Informational: Users seeking to learn something (e.g., what is trendy now?) 

Navigational: Users trying to find a specific page (e.g., a brand's shipping policy)

Commercial: Users researching something for a buying decision (e.g., best clothing brand)

Transactional: User looking to complete a certain action (e.g., buy a winter jacket)
Pro Tips:
Identify and target your "money" keywords, meaning the keywords that bring you leads, sales, and conversions. Start with long tail keywords, which are easy to rank for.
8. Write High-Quality Content
"Content is king."
Whether you want to provide value to the audience or rank higher on search engines, content is the key. But creating content on random topics with keyword stuffing won't help.
Before you start creating any content, you need to identify your target audience and write content tailored to their needs. Use visual elements as needed. Keep things concise, and provide valuable information to them. The longer they stay, the better.
Google cares about the quality of information provided to its users. And that's why Google's Page Quality Rating Guideline considers Experience, Expertise, Authoritativeness, and Trustworthiness (E-E-A-T).
9. Optimize URLs, Meta Titles, and Descriptions for SEO
In your Shopify admin, when you go to any page — product page, collection page, blog post page — you'll find a section for search engine listing. This section helps you edit your page URL, meta title, and description that appears on search results.
So, this is your opportunity to optimize your page for Search Engine Results Page (SERP). Here are a few quick tips to make the most out of this section:
Keep URLs short and to the point.

Make sure your target keyword is included in the URL, meta title, and description.

Write enticing titles and descriptions for a better Click Through Rate (CTR).

Don't try to use clickbait tactics in your title or description. It might land you a visitor to your website, but when they don't find the information as expected, they'd immediately exit your website and it'll increase your bounce rate.
10. Follow SEO-Friendly Content Structure
Using a proper heading structure is one of the most common SEO best practices. It not only helps with SEO but also enhances the readability of your content. And thus, it enhances the user experience of your website visitors too.
Whether you're writing product descriptions or blog posts, you can properly structure your content with heading tags, starting from H1 to H6. You'll find the option to switch different heading tags right above the text section.
11. Don't Neglect Image Alt-Texts
Your Shopify store may have hundreds of images in your product, collection, blog, and other pages. And it may sound overwhelming to add image alt-texts to all of them.
However, Google won't know what those images are about — unless and until you add clear alt-texts explaining those images. You may also add your keyword in those alt-texts if it's relevant.
Keep in mind — image alt-text also helps people with visual impairments to get a better context of your content, and thus, it improves the accessibility of your website.
You may use a Shopify app like Booster Seo & Image Optimizer to generate image alt-text from a template, e.g., product title + your store name.
Pro Tip: When using GemPages to create your landing pages and blog post pages, you can use SEO tools to improve your on-page SEO. Here's what you can do with SEO tools on GemPages:
Edit the page title, URL, and meta description of your landing pages and blog posts

Set heading tags

Set alt-texts for your images

Set alt-texts for your hero banner
Your store needs some bells and whistles?
Explore GemPages' features and see what works best for your store. Free plan available. No strings attached.
12. Enhance Internal Linking
Internal linking helps Google crawlers to understand your site architecture and index your pages. Also, internal links can help increase the engagement of your website visitors. The longer users stay on your site, the better chance of converting them to paid customers.
Organize your content data in a spreadsheet or any other tool for better visibility of all content pieces. This will make it easy for you to find opportunities for internal linking.
Pro Tip:
Don't treat internal linking just as a one-time activity. Review your content at regular intervals for opportunities to link your new content with old content pieces and vice-versa.
Shopify SEO Best Practices for Technical SEO
12. Optimize Your Site Speed
As mentioned before, your site speed plays an important role in improving your SEO. However, there are multiple factors that affect your site's speed. Apart from your store's theme, some other factors that may impact your site speed are — the number of Shopify apps, image and video content, fonts, tracking codes, and so on.
Also, Google highly recommends achieving Core Web Vitals to be successful with your SEO efforts. You can check your Core Web Vitals Assessment through Google's free tool: PageSpeed Insights.
14. Optimize for Mobile Users
A few years back, Google used to consider the desktop version of a web page for its ranking system. But that didn't help ensure a better experience for mobile users.
Thus, Google introduced mobile-first indexing and started using the mobile version of a website for indexing and ranking. This makes it imperative for you to optimize your website for mobile users.
If you're looking to optimize your website design for mobile, you can try a page builder app like GemPages. It'll help you design stunning store pages while keeping them mobile-friendly.
How do you know if your website's mobile version has issues?
Use Google Search Console. Click on the Mobile Usability tab on the left sidebar. Once you click on that tab, you'll be able to view any issues with your site's mobile version and find the reasons for the same.
Here's an example:
15. Use a Proper Site Architecture
Think of a drive on your laptop and all the folders inside that drive. If you don't have proper folder management, it'll be so hard to find the files. You might end up looking for a file in the "Marketing" folder that is lying under the "Accounts" folder.
The same happens to Google when you don't have a proper site architecture. Organize your site structure with proper categories and sub-categories to make it easy for search engines to crawl.
To organize your website architecture, you need to ensure all your store pages are categorized and organized in a logical hierarchy. One of the leading SEO tools—Semrush—has explained the site architecture with this simple example:
16. Fix Broken Links
As some pieces of content become outdated or the product goes out of stock, you may delete those pages. But if you've inserted links to those pages in your other content, it would create broken links.
If your website has too many broken links, Google might consider it an unmaintained website. Review your store at regular intervals and fix any issues with broken links or 404 errors. You can use apps like Smart SEO to detect and fix broken links.
17. Add Schema Markup
Schema markup is code that you can insert into your website to make it easier for search engines to understand your site's content. With the help of schema markup, search engines can better represent the information to the users.
By adding schema markup, you can increase your visibility on Search with rich snippets. E.g., these are FAQs, rating, and review schema markup:
If you're interested in learning more about schema markup, you can refer to this resource.
Best Practices for Off-Page SEO
18. Link Building
Link building is considered one of the most effective SEO strategies — because it's an important ranking factor for Google as well. If other "prominent websites" link your brand's content to their website, Google considers it a positive signal for your website's authoritativeness and trustworthiness.
19. Use Social Media
While social media is not a direct ranking factor in SEO, it does help your SEO efforts with content distribution and expand your reach. Once you have a solid presence on social media, you can leverage it to share links and enhance your brand awareness.
20. Guest Posting
We mentioned the importance of link building. Guest posting is one of the great methods for obtaining external inks. Collaborate with other businesses that have a similar target audience and offer them to write a guest post. 
It could also help their audience. And in exchange, you can introduce them to your audience through their guest posting or email newsletter. So, it's a win-win for you and the other brand.
21. Use Press Release (PR)
Press release is an official statement related to any important or newsworthy updates that are shared with news media. It helps your brand to share such announcements with a broader audience and gives your an opportunity to boost your SEO.
To make the most out of your press release, make sure to include the right keywords and optimize them for search engines. Here are some of the events when you may consider publishing a press release:
Your company's achievements

Merger, acquisition, or partnership announcements

Charitable events

Awards or recognitions

New product/service launch

Leadership changes
Best Practices for Local SEO
22. Set Up Google Business Profile
This one is very important if you want to target local customers, especially for businesses like restaurants, clothing stores, etc. It'll help customers easily find your business through online search.
Learn more: Shopify for Restaurants: How to Do It Right?
Create a Google Business Profile ((formerly known as Google My Business). With a Google Business Profile, you can share important information such as your phone number, business hours and showcase what your business does with pictures and other elements.
23. Pay Attention to the Contact Us Page
Contact Us page may also affect your store's SEO. Make sure you're properly using the meta title and description on the Contact Us page to optimize it for SEO.
Customers may visit the Contact Us page to check the authenticity of your brand or company. Provide the necessary details to your visitors such as your business address, phone number, and email address.
Pro tip: GemPages offers an extensive library of pre-built templates, helping you build a professional looking and informative Contact Us page with ease. 
With GemPages, you can effortlessly build a Contact Us page
Learn more: How to Create A Contact Us Page on Shopify (+ 5 Inspiring Examples)
FAQs about Shopify SEO
How is SEO done in Shopify?
There are many ways to boost your Shopify SEO: Write SEO-optimized content with keyword research, optimize your website URLs, meta titles and meta descriptions, images, install Shopify SEO apps, and so on.
Which SEO app is best for Shopify?
Based on ratings and reviews, here are some of the popular Shopify SEO apps: Booster Seo & Image Optimizer, Avada SEO & Image Optimizer, Tiny: SEO Speed Image Optimizer, SearchPie: SEO Booster & Speed, and Smart SEO.
An SEO strategy is using different techniques with your website content to increase its chances to appear and rank higher in search results. The key purpose of implementing an SEO strategy is to leverage organic traffic through search engines like Google and Bing.