Back to Blog List
Shopify vs eBay: What Are The Key Differences?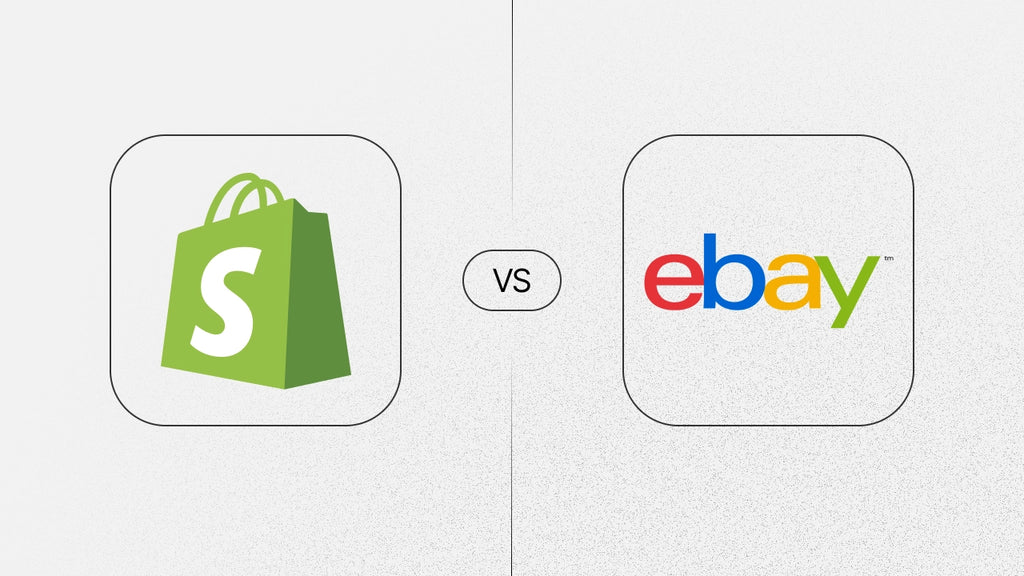 If you are familiar with eCommerce in the slightest, you must have heard of Shopify and eBay. These two platforms have become household names for a variety of different reasons, and are often the top choices for both rookie and veteran business owners. 
But even with only two options, we are certain that you would want all the information you can get to pick the one that suits your business better. 
So, Shopify vs eBay, which one is better for your online business? The answer lies in this very own blog post.
About Shopify and eBay
When Shopify and eBay are put side-by-side, we see two websites that serve the same purpose - an eCommerce platform that lets you sell goods to customers.
Of course, that is a grossly oversimplified definition. Each platform has its own unique features that differentiate itself from the other.
Shopify is an all-in-one platform that allows you to create your own online store. You will be mostly in charge of setting up, managing, and growing your own business with Shopify's assistance in the background. 
Shopify is a compact commerce platform that allows you to create your own store from scratch.
While also powering eCommerce, eBay is defined differently. eBay is an online marketplace that offers a vast collection of exclusive items, as well as secondhand goods and auctions. When you build a storefront on eBay, it is similar to renting a stall in a physical market fair - your customers will find you through eBay and finish their buying journey on this platform. Being the second largest eCommerce website in the world, this business model has evidently worked out for them for decades.
Basic steps to start selling on eBay
Perhaps you are already leaning towards one of these two big guys after reading a sum-up of how they work, or perhaps not. Remember, they have built a name for themselves because they have something that nobody does, and that one feature or detail might just help you determine what matches your brand the best. 
Keep reading, and we will let you in on their fortes and what they have to offer.
The Key Differences between Shopify and eBay
This segment will dig deeper into the differences between Shopify and eBay in regard to the features that they offer to merchants on their own websites. With each one, we will highlight the good and bad of the two and give our verdict on the winner at the end.
Below is our Shopify vs eBay comparison table for you to leaf through:
| | | |
| --- | --- | --- |
| Feature | Shopify | eBay |
| | eCommerce website builder and hosting platform. | Online marketplace for buying and selling goods and services. |
| | Highly customizable with a wide range of design options. | Limited customization options. |
| | Supports a variety of payment gateways. | Payments are processed through a limited selection of methods. |
| | Subscription fees + transaction fees based on plans. | Listing and final value fees plus other optional fees. |
| | Allows for managing inventory, tracking orders, and shipping | Serves as a platform for individuals and businesses to sell products or services. |
| | Small to medium-sized businesses and entrepreneurs. | Individuals and businesses looking to sell products. |
| | Offers 24/7 customer support via phone, email, and live chat. | Offers customer support via phone, email and chat. |
| | Merchants are responsible for generating their own traffic. | eBay generates traffic to the site. |
Types of Platform
We have talked a little bit about how Shopify allows its users to create their own storefronts. But how exactly does that work? Let's have a closer look.
Initially, there are 12 basic steps to set up your Shopify storefront from scratch, including the upkeep after the store has been successfully published (test runs, SEO optimization, etcetera).
Start selling on Shopify for $1/month
Try Shopify for free, then enjoy the next 3 months for $1/month on select plans.
Minutes after your Shopify account has been created, you can find a checklist-styled Setup guide that aims to help speed up the process of building your store.
A helpful aid from Shopify that makes setting up your store easier.
From this point onwards, you can take the next steps to personalize your store and configure the necessary settings to launch it as your very own branded business.
Although Shopify has gone the extra mile to take the work off for their users, most of the steps required premeditated preparation, which goes beyond just simply having a store name and product idea.
On the contrary, eBay provides its users with the option to go with either a Personal or a Business account. This means that if all you need is to quickly sell your old Nintendo NES games on a trusted website, a Personal account is more than enough. For a business with a larger scale, a Business account is your best friend.
eBay provides you with the options of both a Personal and Business account.
Though it's pretty straightforward to signup, eBay requires a series of formal information in order to get your account verified and working. Some of the information on the list includes proof of identification, a legal business name, Employer Identification Number (EIN), banking details, etcetera.
Our verdict: We's got to give this one to eBay. Though the initial paperwork might stump you at first, it is not impossible to get it sorted and send out for verification. Moreover, a Personal account is a neat leeway for you to test the water and sell small before going all in.
Customization Flexibility
An online store is more or less similar to a brick-and-mortar, the more you can customize it, the more your brand's personality has a chance to shine through. If you are looking to customize, choosing the fitting platform is one big step to taking your brand to the next level.
When it comes to Shopify, the sky's the limit. As you lay down the first brick of your store, you will slowly fill in the blank canvas with the theme of your choice. And lo and behold, Shopify is packed with versatile themes that fit every brand's aesthetics to a T.
It is worth mentioning that there are currently 12 free themes and 120 premium ones, with the lowest-priced theme at US$180. We'd highly recommend beginners to go with one of the free options, which are more than enough to give your store a stunning outlook. However, if you want to splurge, by all means, go for it!
There is no coding knowledge required to integrate a theme into your store. Almost everything is automated and you can play around with the color theme and images to your own desire. A full-fleshed store can be designed with a few clicks of the mouse.
Additionally, there are several third-party apps available on the Shopify App Store that can help you enhance the functionality of your store. One such app is GemPages, a drag-and-drop page builder that allows you to create custom pages and layouts without any coding skills. 
With GemPages, you can easily create landing pages, product pages, and even a blog for your store. It comes with a library of pre-built templates and sections that you can use to create beautiful and functional pages in no time. The app is highly rated by users and offers a free plan, making it a popular choice for Shopify store owners looking to create a professional-looking website.
Customize your Shopify store pages your way
The powerful page builder empowers you to create store pages that bring unique experiences and convert customers. No coding needed.
Unfortunately, eBay does not offer its users as much design flexibility. Since your store is a part of the eBay website, the options to customize are pretty limited. Apart from the business name, logo, and media content, the rest is harmonious with a standard eBay template. Thus, your brand will not be instantly recognizable as compared to an independent storefront on Shopify.
Our verdict: Shopify takes the cake on this one, thanks to its flamboyant selection of store themes and made-simple editor tools. 
Check out our article on How GemPages works with your theme for more information on design flexibility with the aid of our Page Builder.
Payment Options
 Shopify works with over 100 payment providers around the world.
Shopify does not shy away from partnering up with over 100 payment providers all over the world to cover the most basic to advanced needs of its users. In the meantime, eBay is standing at 9 payment methods. This disparity is noticeably huge, but will it impact your selling experience?
The answer is yes.
Shopify's own payment gateway - Shopify Payments omits third-party transaction fees, while all eBay's payment methods are subjected to a list of different selling fees. 
Both websites share common payment gateways such as PayPal, Apple Pay, and the good ol' Visa and Mastercard. On Shopify, with these third-party payment providers, a transaction fee of 0.5%, 1%, and 2% will be applied, based on your chosen plans with them. We will touch on this in the next segment.
Our verdict: Shopify takes the win. The wide selection of payment gateways is impressive, and no transaction fee on its own payment method will not make a dent in your profits, which cannot be said the same for eBay.
Pricing and Fees
Let's talk pricing.
Being an entrepreneur comes with a slew of creative freedom, but the most obvious downside is: you are not guaranteed a steady payment monthly, especially in the starter phase. Thus, even before the store is materialized, some careful consideration on which type of plans you should go with will prevent future financial loss.
For Shopify, users are welcome to go with the following five plans:
Starter: US$5/month

Basic: US$25/month

Shopify: US$65/month

Advanced: US$399/month

Shopify Plus: starting at US$2000/month
The difference in prices understandably reflect in each plan's features and services. 
The Starter plan is a nifty tool for people who want to sell via social media, WhatsApp, email, etcetera. Its no-code setup is perfect to create your store with just a few clicks. However, it's worth noting that you won't be able to have a fully developed store with this plan. 
The three most popular plans from Shopify cover the most basic requirements: a storefront, unlimited products, sales channels promotion, marketing automation, and so on. The notable upgraded features are the number of staff accounts (2 for Basic, 5 for Shopify, and 15 for Advanced) and store's performance reports.
As briefly mentioned, the transaction fees are lowered as the plan prices increase. 
Shopify Plus is designed for businesses on a significantly larger scale. The price starts at $2000 and varies according to your needs. The number of stores one can own is up to 10, with features that are exclusive to this plan.
eBay is also on par with Shopify with its 5 subscription plans as followed:
eBay's subscription plans for different needs.
The higher price points equal more fixed-price and auction listings, lower final value fees, quarterly eBay branded shipping supplies, and on the two highest-priced plans, dedicated customer support.
Our verdict: The price is right, with Shopify! And we are not just taking the price at face value into consideration. The versatility of each plan caters to one's business size and needs. More importantly, the costs of using a Shopify plan are lower than that of eBay, when all the surrounding fees (listing, final value, etcetera) are factored in. Therefore, Shopify is the winner.
Start selling on Shopify for $1/month
Try Shopify for free, then enjoy the next 3 months for $1/month on select plans.
Inventory
Managing inventory is essential to run a business smoothly.
Shopify fully understands this. That's why they include an inventory management tab in the Editor for sellers to easily keep track of their products as sales increase. Individual product tracking helps ensure a smooth buyer's journey with no setbacks.
Order tracking and shipping can also be found on the same page.
Shopify has an integrated Inventory tab in the editor.
Inventory speaking, eBay does not have an automated app or tool for sellers to stay on top of their inventory levels yet. Thus, third-party tools such as 3Dsellers and Zoho are among the popular choices that eBay merchants opt for to manage their inventory.
Additionally, small-scaled owners on eBay find it viable to manually sort out their inventory with a Google or an Excel sheet.
Our verdict: Shopify wins, by a landslide. For medium to large businesses, tracking inventory levels, orders, and shipping status is incredibly important. As an all-in-one eCommerce platform, Shopify has truly delivered in this department. Since eBay simply serves as a hosted website for its users to make sales, this factor is not yet developed.
Target Audience
From the look of the two, eBay might not be as hip and flashy as Shopify. However, if we take its target audience into account, eBay's website offers exactly what its users need: an established platform to sell anything and everything (legally, of course). eBay's account options and plans embrace individual sellers who want to make some extra cash on the side by creating a listing for the products that they want to sell. There is no need to build and customize a store if they deem it as a temporary thing.
As for Shopify, its features, design options, and subscription plans are catered towards individuals with a brand vision in mind, who aims to form their own business from scratch and plan to manage it in the long run. Hence, the target audience of Shopify is small to medium-sized businesses and entrepreneurs.
Our verdict: The choice to go with either Shopify or eBay depends largely on your vision and the ultimate goals and aimed longevity of your business.
Customer Support
Help and support are imperative for a business to run smoothly. Getting the solution to your problem will prevent a domino effect later on when your customers come to you with their own issues.
Shopify is doing an excellent job in this area. For all the plans, they offer 24/7 email, phone, and live chat support. There is also a community tab and help center that might just have exactly what you are looking for.
Shopify offers all types of support to its users.
With eBay, the level of support increases depending on one's plan of choice. The basic support system includes phone, email, and chat. However, the chat is not operated 24/7.
eBay does not offer a 24/7 live chat and often encourages its users to find answers via the Help Center first.
eBay has an exclusive support system called eBay Concierge, which is a personalized, premium service that is open to select members who have purchased higher-tiered plans only.
Benefits of eBay Concierge for both buyers and sellers.
Our verdict: Shopify takes the crown for better customer support for its sellers, in comparison with eBay's rather limited services.
Want to turn your store into a cash cow?
With GemPages page builder, you can create compelling store pages that wow visitors and convert them into buyers.
Traffic
Being so close to the top of the most popular eCommerce websites race, when it comes to traffic, eBay's statistics speak for themselves. With 135 million worldwide users, 1.7 billion live listings, and 743.8 million visits in March of this year alone, eBay has proven that its 28 years in the biz have paid off. The website is still thriving, despite other eCommerce platforms' recent gains of popularity, namely Shopify. 
With that being said, eBay's reputation is a double-edged sword. It is an extremely competitive market.
However, as long as you don't jump straight in or blindly throw things at the wall and see what sticks, you can definitely make sales on eBay in a good niche of choice, with compelling product listings.
As for Shopify, the traffic is generated by you - the sellers. There is no existing customer base when your store has just been launched. You will be the one who does all the heavy lifting of social media marketing, SEO optimization, etc. This is why we said that Shopify is more fitting for a small business or a team of entrepreneurs, rather than everyday people who want to make a quick buck.
Our verdict: All things considered, eBay wins! Strictly speaking about traffic to your storefront, eBay is the better pick.
Learn more: How to Increase Sales on Shopify: 17+ Proven Strategies
Make Use of Shopify eBay Integration
Now, what if we tell you that you can have the best of both worlds?
If your business is located in Canada, the United States, the United Kingdom, Australia, or Germany, then Shopify eBay integration could be the way to go. 
This feature will enable you to sell on both platforms by simply connecting Shopify to eBay. 
With eBay as a sales channel, all your product listings on Shopify will be migrated to eBay with just a few clicks. You now have access to a huge amount of traffic on one of the leading eCommerce platforms without compromising the customization freedom that comes with your Shopify store!
For more details, check out our article on How to Set Up The Shopify eBay Integration?
Shopify vs eBay: Which One Should You Choose?
With their 11-year age gap, eBay shares a lot of similarities with an old-school business model with the largest eCommerce website - Amazon, while Shopify has a league of its own competitors, which were mostly born after the notorious Y2K. 
There is no best-in-show award for either of these platforms. If you are an entrepreneur with a long-term plan to build your business and want to have total control over its branding, Shopify will bring it home. If you are looking to experiment on a credible eCommerce website and don't need too much design flexibility, try eBay.
Of course, similar to many of our blog posts, our analysis only aims to provide you with useful suggestions for you to make a decision that works best for your business. Therefore, we will hand it over to you to make the right move for your brand.
FAQ about Shopify vs eBay
What is the main difference between Shopify and eBay?
Shopify is an all-around eCommerce platform that helps you build your own online store from scratch, whereas eBay is a marketplace for you to make listings to sell a product or service.
Is Shopify or eBay cheaper to use?
Generally speaking, eBay is more pricey than Shopify from a seller's perspective with commission fees on all products, while Shopify has a no-fee transaction cost option.
Can I use Shopify and eBay together?
Yes! You can easily import eBay to Shopify by adding it as a sales channel and start selling on both platforms.