Back to Blog List
Landing Page vs. Homepage: What Are The Key Differences?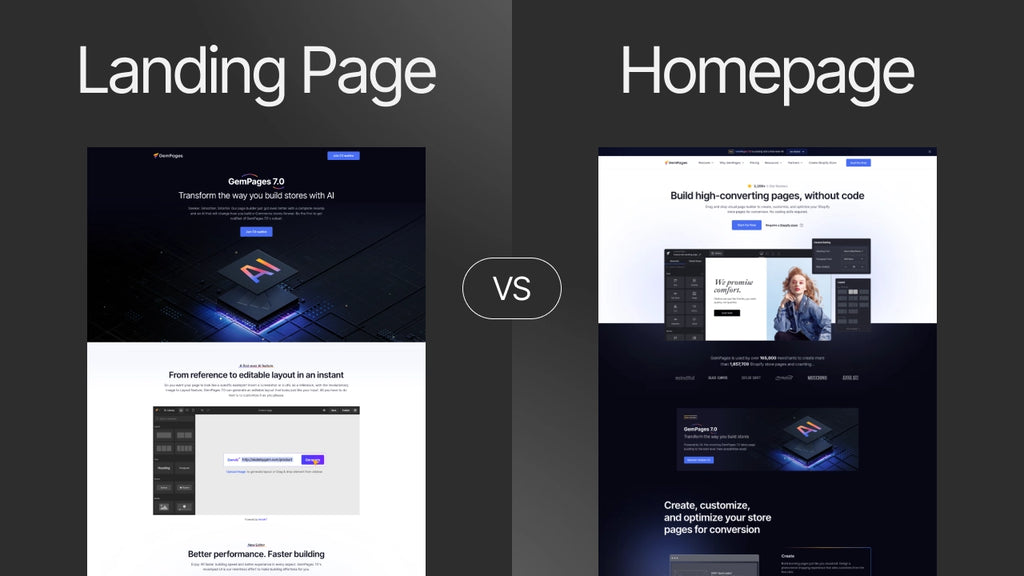 Running an eCommerce store goes beyond selling and making profits. Not every customer comes on the internet with the intention of making a purchase. Sometimes, what they look for is an answer to a specific question regarding a generic product. Your job is to provide a destination for potential buyers to land on, via a webpage of choice on your online store. This is when knowing the differences between a landing page vs. homepage comes in handy.
This article will explore what advantages these webpages can serve you, their unique features, and when to utilize them based on your needs and goals. Getting a clear-cut understanding of their differences will be the first crucial step in making them work in tandem to achieve a high-converting business.
Landing Page and Homepage: What are They?
What Is A Landing Page?
A landing page is a stand-alone webpage that visitors will arrive at, often via an advertisement link. This page is built to drive traffic to your website and convert prospects into leads. A landing page can take many forms, including:
Lead-capture page: used to generate leads through data collection.
Click-through page: a go-between to encourage visitors to click on a CTA button that takes them to another page.
Squeeze page: a minimally designed page to collect email addresses in exchange for incentives (discount codes, exclusive content, etc.).
Sales page: either short-form or long-form, aims to close the deal at the end of the sales funnel.
Splash page: provides precise information or makes an announcement, it usually precedes any page that your customers might click on.
Viral page: focuses on strengthening brand awareness, contains links to social media platforms.
Learn more: A-Z Guide to Creating A Striking Shopify Landing Page
What is A Homepage?
A homepage is the introductory page, a.k.a the first thing that visitors see when they click on your website's URL from a search result page. Though it does not possessing as many appearances as a landing page, the importance of a well-designed homepage can't be overlooked. It reflects your brand's personality and story through the choice of images, fonts, displayed products, amount of text, and so on.
Similar to the table of content in a book, a homepage is a crucial element of any website, sans its purpose. Websites that operate as personal blogs, event websites, public forums, and of course, eCommerce stores, all call for a homepage of their own. A visitor can choose to stay on or click off your business solely based on the look of your homepage.
The following section will dive deeper into the differences between a landing page and a homepage, based on a variety of deciding factors that comprise the two. 
What are the Differences Between a Landing Page and a Homepage?
Putting these two web pages side-by-side, we can see a striking contrast:
A landing page is designed with a distinct goal to drive conversions via the use of persuasive messages, which aim to collect data from visitors or encourage them to make a purchase. On the other hand, a homepage is the main entry point for a website, which contains general information and contact options for visitors.
Though their differences can be summed up in two sentences, we know you are here for a detailed explanation. So, let's get right to the meat and potatoes.
Below is a skimmable table for easy leafing through the homepage vs. landing page differences:
| | | |
| --- | --- | --- |
| | Landing Page | Homepage |
| | Specific goal | Provide an overview and guide visitors |
| | Focused, concise | Broad range of content |
| | Limited options to prevent distractions | Extensive navigation menus |
| | Specific campaigns or marketing initiatives | Organic traffic, direct visits |
| | Maximize conversions, clear call-to-action | Gateway to site's content, not always conversion-focused |
Objectives of a Landing Page and a Homepage
Landing Page
There are a plethora of landing page types, each carries a specific purpose. It does not just exist as a mere link on the navigation bar that provides your visitors with information regarding your products and services. Its objective is to get visitors and prospects to perform a string of actions that ultimately will lead to sales.
For instance, GemPages' landing page is utilized for advertising campaigns and a display to showcase our most popular users, third-party apps, template library, and more. When scrolling through this landing page, visitors are presented with a clear encouragement message: get started with GemPages for free.
GemPages' landing page is used for running our latest advertising campaigns.
Homepage
The goal of a homepage is explicit: to introduce a website's content to a visitor. Even first-time visitors who are not familiar with your products should get an idea of what your business is all about after a few seconds of scrolling. 
Since the intention is to inform and guide visitors whose wishes can vastly vary, a homepage should mainly contain a broad overview of your storefront, alongside generic, unobtrusive CTA buttons such as "Contact Us" or "Click for More".
We will take a look at GemPages' website again. Compared to the aforementioned landing page, our homepage includes a navigation bar on the site header. Right above the fold is a clear summary of our product in bold, hard-to-miss letters, followed by a short description underneath.
With this approach, we aim to show visitors exactly what we have to offer: a free, no-coding page builder for your Shopify store.
All the information about GemPages can be found on our homepage.
Learn more: Transform Your Shopify Homepage from Ordinary to Extraordinary: A-Z Guide & Top Examples
Contents of a Landing Page and Homepage
Landing Page
Now that we have gone over the "what's a landing page" question, let's see which type of content should be covered on this webpage.
When you build a landing page that serves one single purpose, there is no point in overcrowding it with irrelevant, distracting information. A landing page is not meant to be a jack-of-all-trades.
Backbone Swag is one of our most loyal customers, and they have managed to create a killer landing page to promote their apparel subscription service.
Backbone Swag makes use of a landing page to advertise their subscription plans.
The whole page is focused on what their subscription service is about, what perks customers will get, and a helpful FAQ section at the bottom. Visitors are not preoccupied with other information that does not concern their subscription plans, hence a smoother shopping experience and higher conversion rate.
Similarly, if a landing page's focal point is to collect email addresses, other options to explore more products or share your website on social media should be ejected.
Homepage
A good homepage packs a punch. The content does not only introduce your business, but it should be comprehensible enough to guide potential customers around and enticing enough to keep them there.
The average bounce rate for an eCommerce website is between 20% and 45%. According to Google, this metric is not confirmed to be a ranking factor. Nonetheless, a higher bounce rate is the result of inefficient website design, poor loading speed, and low-quality content. Keeping this bounce rate to a minimum is a good call, and optimizing content from the main page lays the first stone.
So, what to include? 
Of course, it depends largely on the industry you're in. That said, here are some elements that we think every eCommerce should implement in their homepage:
A business overview: short or long, make sure it is insightful and interesting.

Links to other pages: shipping, blog, products, our mission, contact us, etc.

Professional

product photographs

: showcase your products at their best angle, right on the front page.
Cocofloss's striking homepage captures the spirit of their business.
Navigation of a Landing Page and Homepage
Landing Page
The navigation on a landing page is streamlined to prevent interruption. In most cases, the navigation bar is omitted or minimized.
Huppy opts for a minimal approach with their landing page.
Huppy - a sustainable toothpaste tablets brand, does not feel the need to include their sticky navigation bar on their landing page. The eye-catching CTA buttons are scattered across the page as you scroll, which promotes the goal of the page: encourage their customers to make a purchase.
Homepage
Despite being the mothership that houses other counterparts of your storefront, a homepage is no use if visitors are unable to navigate around with ease. This is when a navigation menu, search box, and useful CTA buttons come into effect.
Have a question regarding shipping? The 'Contact Us' and 'FAQ' sections are around the corner.
Not sure where to find the physical store? The address can be found on the website's footer.
Keen on having a look at what's on sale? The drop-down 'Shop' menu should contain the answer.
Another aspect to keep in mind is mobile optimization. Your customers should not have to jump through hoops to find what they have in mind, especially on a palm-sized screen.
The hamburger menu appears when you browse Cocofloss's website on mobile.
Traffic Sources of a Landing Page and Homepage
Landing Page
A less surfaced difference between a landing page vs. website's main entry point, a.k.a homepage, is the traffic source. For a page created with targeted content and goal, the traffic source is bound to be less organic as well. eCommerce merchants often utilize paid advertisement on search engines and social media to drive traffic into their stores, based on the user's search keywords and personal interests.
These campaigns, if done right, can provide your potential customers with exactly what they want, or what they didn't know they need. You can up the number of landing pages and get more visits to your business via paid ads, but that also means more time and money are expected to be spent.
Another cost-effective traffic source that business owners can make use of is email marketing. This tactic works well for both prospects and long-time customers. Keeping the content of your newsletters engaging with a personal touch, alongside a link to your landing page is a top-notch strategy to boost traffic and conversion rate for your store.
Homepage
As mentioned, organic traffic is more attainable with a homepage. The front page of your website holds the content that can take your store to the top of the search result page. Search engine optimization (SEO) and content marketing are the golden duo to achieve organic traffic naturally without spending hundreds of bucks on advertisements. Knowing which keywords to include will result in more clicks, more visits, and eventually, more conversions.
Though this strategy is slow-burned, it is essential to businesses of all types to not only get more leads but to elevate their content marketing game and gain knowledge into the industry they are in.
Conversion Focus of a Landing Page and Homepage
Landing Page
Although there are exceptions, the ultimate measure of a successful landing page is its conversion rate.
From a business owner's standpoint, making sure that your store converts is crucial. A landing page that focuses on that sole purpose is a practical medium to take one's business to a new level. 
This checklist from our GemPages team will give you an in-depth analysis of what makes a high-converting landing page: The Ultimate Landing Page Checklist You Need in 2023
Homepage
When talking about landing page vs. homepage conversion focus, a homepage is more about drawing an overview picture of your business and instructing your customers on what step to take next, rather than pushing them to make a purchase right away. 
As buyers, we don't like being bombarded with twenty 'Shop Now!' buttons when we have only been on the site for mere 2 minutes. This is why even with eCommerce and retail stores, the priority is to give the visitors time to have a look around and make the decision themselves.
Esse Studios brings high-end fashion magazine-worthy quality to their homepage.
When to Use a Landing Page or Homepage
The comparison above has hopefully given you an intensive understanding of the two web pages' features. If you are still unsure at which point a homepage or a landing page will be unlocked to its full potential, refer to our short guide below to know when to use which one.
You want to get your brand's message and mission across - Homepage is the way to go.

This piece of information is useful for both new and repeat customers.

You want to run an advertisement on social media - Landing page all the way.

To generate leads and boost conversions, informing random Facebook scrollers that you have a business is not enough. You need to sell your products by showing the best part of them.

You have an URL in your business's social media bio - Both work well.

When there is a special campaign going on (i.e. bundle sale), your followers want to be taken there quickly. Inserting a landing page link in your bio is a good idea. On the other hand, when no event is active, having a staple homepage URL in your bio is the best introduction to new customers.
Build a High-converting Store with a Striking Landing Page and Homepage
Knowing these web pages' differences is the first step in making them work with each other to create an astonishing eCommerce website. In this rapidly developing digital age, employing different marketing assets is a great gateway to giving your business an edge over your competitors.
Your landing pages could look like these
Try GemPages for free to create high-converting landing pages for any marketing campaign. No coding is required.
Stores that belong in the Shopify ecosystem can easily create and manage their own landing pages and homepages with the help of a powerful tool like GemPages Landing Page Builder.
The Bottom Line
There you go, folks. The differences between a landing page and a homepage are noticeable, but they both have one thing in common: to help you achieve more success with your business. This article aims to help make your process of differentiating the two easier and getting positive results faster. But at the end of the day, it all lies in how you make these pages work for you, as you are the one who knows your business best.
FAQ About Landing Page vs HomePage