Back to Blog List
How to Create and Manage Multiple Shopify Stores?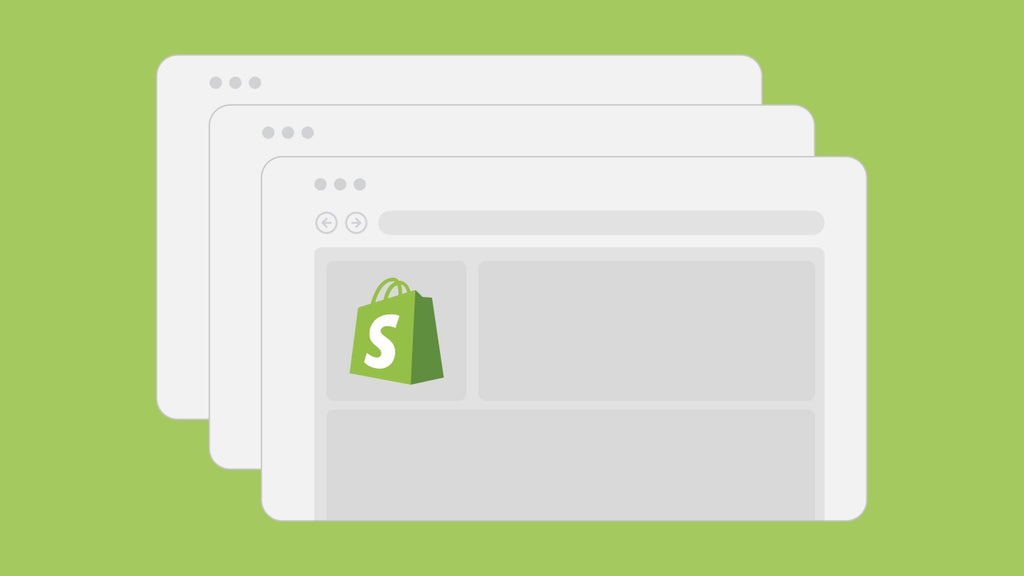 When it comes to selling online, the ideas and possibilities are endless.
For many entrepreneurs, launching one business and being successful at it isn't the end of the story. In fact, it's an opportunity for them to scale and expand their business.
If you are also looking to expand your Shopify business, you can do so with multiple Shopify stores.
That said, you need to take care of certain aspects to ensure that you manage multiple stores in the right manner.
So, we've created this blog post to take you through a step-by-step process to create multiple stores on Shopify, best practices, and the top Shopify apps that can help you manage Shopify multi-stores.
Things You Need to Know About Multiple Stores on Shopify
First, let's address some of the most common questions:
Can you have multiple stores on Shopify?
YES. Shopify does not limit you to creating any specific number of stores. You can create as many Shopify stores as you want.
But can you have multiple stores on one Shopify account?
The answer is both 'Yes' and 'No':
YES, if you have a Shopify Plus plan - which has the Shopify organization admin that allows you to operate multiple stores at the organizational level.
No, if you have Shopify's Starter, Basic, Shopify, or Advanced plan.
Learn more: Everything You Need To Know About Shopify Plus Before Upgrade
Then how do you create multiple Shopify stores without Shopify Plus?
The good news is, you can have multiple Shopify stores with a single email address. This means every new store that you create using that email address will have a separate account and a unique .myshopify.com domain.
That said, if you want to use separate emails for separate accounts, that's also doable and it's entirely up to you how you want to create them.
Start selling on Shopify for $1/month
Try Shopify for free, then enjoy the next 3 months for $1/month on select plans.
How to Create Multiple Shopify Stores in 4 Steps?
Now that we have all the basic questions out of the way, let's figure out how to add multiple stores on Shopify using one email. Assuming that you already have one Shopify account/store, process the of creating a new store would be as follow:
Step 1: Open the Stores tab
Log in to your Shopify admin, go to the top right corner, and on your name to open the dropdown menu. Then, click on the Stores tab from the dropdown menu.
Step 2. Create another store
Once you click on the Stores tab, you'll find a button to Create another store.
Once you click that button, you will be asked to enter the name of your new store. Enter your desired name for the new store and click on Create store button.
The new store will be connected to the email address that was provided for your primary store, and it will be free for 14 days.
Step 3. Verify the email address(es)
For account security reasons, you'll need to verify your email address for each of your stores. The same is applicable to staff email addresses if any.
For managing multiple Shopify stores, you can switch between your different stores using the store switcher after logging into your Shopify admin.
Step 4. Customize your store and settings
Once the new store is created the remaining process remains the same as you must've done for your first/primary store. The key tasks that you would need to complete in this phase would be:
Install the required Shopify apps
Configure all the Shopify settings
Copy products from your primary store if selling the same products OR add new products and collections if the new store is for different products
There are various Shopify apps to help you copy products, themes, and some other elements. But we'll be covering more on those apps in the later part.
Benefits of Having Multiple Shopify Stores
Manage a Global Business
For any global brand, managing the business operations and marketing in multiple countries is not an easy task. From an operational standpoint, you need to take care of the transactions with different currencies and taxes.
Also, different countries may require different store experiences based on the target customers, their preferences, languages, styles, and most importantly, cultures. By creating country-wise separate Shopify stores, you can operate or sell globally and provide a personalized experience to your customers.
Exploring Different Niches or Products
Let's say you're selling any niche-specific products and your entire business is built around that specific niche. Now, if you want to expand your business to a different niche or you want to start selling different types of products altogether, creating a new Shopify store would help you to target a new audience or customers through completely different branding as well as marketing.
Selling to Different Markets
If you've been in the eCommerce space for some time, you might already be aware of the different types of markets, especially some popular ones like business-to-business (B2B), business-to-consumer (B2C), direct-to-consumer (D2C).
Businesses in each of these categories serve different markets, and thus, having multiple Shopify stores can help you cater to the needs of each market separately.
Challenges of Having Multiple Stores on Shopify
When you're expanding your business with multiple stores, along with more business, certain challenges may also come your way. But the important thing you need to see is the return on investment (ROI).
Is the ROI worth taking on these potential challenges? If yes, you already know that it's worth taking on the challenges. Also, for some of these challenges, there are Shopify apps that can help you reduce the work and lot of time.
Multiplication of SEO Efforts
Search engine optimization (SEO) plays a crucial role in bringing organic traffic to your store, but there's a lot that goes into optimizing your website for search engines. Having multiple stores can multiply those efforts, too.
Managing Orders and Inventory
Depending on your order fulfillment process, managing orders on multiple Shopify stores can be a challenging task. You need to ensure that orders are being managed and fulfilled at each store and that the inventory level is monitored.
Bulk Products
If your store's product count is in the hundreds or thousands, managing multiple stores with bulk products can create a lot of work in adding and managing products, images, and other product data.
Cost of Running Multiple Stores
This may seem obvious but surely something that you need to put into consideration. Creating and managing multiple stores would mean increased costs of Shopify fees, theme and app charges, or any other cost involved with each individual store.
Best Practices to Optimize and Manage Multiple Shopify Stores
Customize Each Store's Branding
Based on your primary purpose and goal behind creating a separate store, you need to ensure that those stores are designed in a unique way. You can keep a common theme for your primary brand but there has to be something that makes one store look different from another.
For example, if you're selling in two completely different niches, the branding of your stores would need to be personalized according to the respective niche. However, if you're selling to the same niche but in different countries, you can personalize your store with the key aspects related to the countries and their cultures.
Designing websites for multiple stores can be made a lot easier by using the Shopify app - GemPages. GemPages allows you to transfer your saved templates with up to 5 stores per month. By doing this, you can save a lot of time and effort that goes into designing your multiple Shopify stores.
GemPages have a huge library of templates that can help you design or customize multiple stores with stunning designs in a short time.
Proper Usage of Manpower
If you are managing multiple Shopify stores, most likely, you would have a small or big team to manage them. Proper planning and utilization of your team is an essential element of your business.
Make sure that you define clear roles and responsibilities so that your team can properly execute your plans. Also, you should create Standard Operating Procedures (SOPs) and share them with the team to streamline their processes and work.
Sync Orders, Inventory, and Product Attribute
As we discussed earlier, managing orders, inventory, and products on multiple Shopify stores can be a huge challenge. However, you must know that the Shopify app store is a place to find solutions to any of your challenges.
Using a Shopify app, you can sync the inventory of multiple Shopify stores in real time. You can even sync your orders from multiple stores and centralize your order fulfillment process through the app. We'll cover more on this Shopify app later on.
Level Up Your Customer Service
Whether you own one store or multiple ones, customer service is the key factor to your success. Your customer service has to be top-notch. So, make sure that you have a sound system or processes set up to ensure that all queries or concerns received from all your stores are not only addressed but addressed in a timely manner.
Implement a Robust SEO Strategy
Although SEO activities may increase the workload for you or your team, you can't just neglect it from your business strategy. After all, who wouldn't want to see their business ranking high on Google search results?
You need to ensure that all your site maps are submitted to Google Search Console, web pages are indexed to appear on Google, and the other key elements for SEO such as keyword usage, meta titles, and alt-texts are also taken care of on every store.
Apart from these basics, your content marketing strategy plays a significant role in the SEO of each store. So, you should plan and implement the strategies for each store.
Customize your Shopify store pages your way
The powerful page builder empowers you to create store pages that bring unique experiences and convert customers. No coding needed.
Top Apps to Support You Build and Manage Multiple Shopify Stores
1. GemPages
Rating and reviews: 4.9 out of 5 (3000 reviews)
When managing multiple stores on Shopify, you are not only required to design every store but also manage the continuous need to customize your stores. Whether you want to give your store different themes based on the seasons and festivals or you want to introduce any promotional campaigns, you need a solid page builder app that can get the design done easily and quickly. GemPages can help you accomplish all these!
GemPages provides various types of elements, blocks, and page templates that can help you design your multiple Shopify stores.
With its drag-and-drop page builder, you can manage all your web design needs such as building homepages, landing pages, collection and product pages, about us pages, coming soon pages and much more.
You can experience the power of the GemPages app by signing up for free with no credit card required.
Pricing: GemPages has a free plan and paid plans start from US$29/month.
2. Syncio Multi Store Sync
Rating and reviews: 4.7 out of 5 (162 reviews)
Syncio is a Shopify app that is specifically created to sync product attributes, orders, and inventory tracking on multiple Shopify stores. Using this app, you can get accurate inventory data as it helps to sync them in real-time. Thus, you can reduce the risk selling out of stock products.
Syncio app helps multi-store owners to sync and update important information on a real-time basis.
Product information including new variants, price tags, and product images across different Shopify stores can be merged using the Product Sync add-on from this app. Also, you can automatically sync the orders with the source store for fulfillment.
Pricing: Syncio offers a 14-day free trial. Paid plans start from US$19/month.
3. HelpCenter | FAQ Chat Helpdesk
Rating and reviews: 4.7 out of 5 (1286 reviews)
HelpCenter app helps you smoothen the process of managing all the customer queries from different Shopify stores. The app offers multiple solutions related to customer services such as live chat, chatbot, FAQ builder, and HelpDesk ticketing.
HelpCenter app allows you to manage repetitive customer queries by using its HelpDesk automations (rules).
HelpDesk ticketing system enables you to centralize customer communications from all different channels and lets you access them all from a dashboard. This can help you to stay on top of all your customer communications and address them without fail.
Pricing: HelpCenter offers a 7-day free trial. Paid plans start from US $3.99/month for FAQ + Tabs. The Helpdesk plan is priced at US$10.99/month.
4. Rewind Staging
Rating and reviews: 3.8 out of 5 (92 reviews)
Rewind staging app can be helpful if you want to create another store with the same products as well as other website content. For example, this app can be helpful if you want to create multiple stores for the same brand and products but for different countries.
Rewind Staging app enables Shopify merchants to copy data from a source store to a destination store.
Rewind Staging can help you copy products and their titles, descriptions, images, tags, prices, and other product attributes. Apart from these, the app can also copy pages, blog posts, and files from any live store. (Files from a Shopify trial plan cannot be copied.)
Note: It is to be noted that this app cannot copy some of the elements. For example, store settings, product inventory, customers, orders, and shipping zones/rates, to name a few.
Pricing: This app has an Unlimited plan priced at US$99/month which allows unlimited copies and/or ongoing sync. Please make a note that if you are setting up more than 1 store, it would be US$29 per additional store.
5. Translate Your Store ‑ Weglot
Rating and reviews: 4.6 out of 5 (1347 reviews)
When selling in multiple countries, you can localize your store by translating it into the local language. Translating your store can not only help you to enhance your customer experience but also helps you from an SEO standpoint. Weglot helps you translate your store instantly and manage all your translations as you need.
Weglot is a language translation solution for Shopify store owners that want to provide a personalized experience to customers through a local language.
Weglot can easily translate all your website content including the checkout pages, email notifications, and even dynamic content such as pop-ups, product reviews, and third-party apps.
Pricing: Free for one translated language with up to 2,000 translated words. Paid plans start from US$9.99/month for one translated language with up to 10,000 translated words. Also, it offers a 10-day free trial.
Build Multiple Shopify Stores with GemPages
While creating multiple Shopify stores can multiply the revenue and profits, you also need to consider the cost, time, and effort required to manage them. The decision to build multiple Shopify stores has to be a well-thought and analyzed decision.
Before you create another store, conduct proper market research, plan the budget and requirements, and set your business goals. Depending on your business needs, consider the must-have Shopify apps that you'd require to set up your stores and streamline your operations.
Building your Shopify stores with GemPages will allow you to give stunning and top-notch branding and design to your stores that can help you stand apart from the competition. And all of these can be done fairly easily and effectively with all the elements, templates, and other amazing features from GemPages. And yeah, it will save you a lot of time, too!
With an excellent rating of 4.9 out of 5 from 3,000 reviews, GemPages has proven to be a trusted Shopify app for thousands of Shopify store owners. If you haven't already experienced the power of GemPages, go for the free trial now, and of course, no credit card is required.
Customize your Shopify store pages your way
The powerful page builder empowers you to create store pages that bring unique experiences and convert customers. No coding needed.
FAQs about Multiple Shopify Stores
Can You Have Multiple Shopify Stores Under One Account?
The answer varies depending on the scenario. If you have a Shopify Plus plan, the Shopify organization admin allows you to operate multiple stores at the organizational level.

If you have Shopify's Starter, Basic, Shopify, or Advanced plan, you cannot create multiple Shopify stores under one account. However, you can have multiple Shopify stores with a single email address.
How Many Stores Can You Have on Shopify?
You can create as many stores as you want. There's no limit on how many stores you can create on Shopify.
Is There a Discount for Multiple Shopify Stores?
No, Shopify does not offer any discounts for having multiple stores. But if ever you are currently subscribed to its monthly plan and you upgrade it to an annual plan, there will be a discount of up to 10%.
How much Does it Cost to Open Multiple Shopify Stores?
The cost to open or run multiple Shopify stores depends on several factors such as the pricing plan you choose with Shopify and the apps you install on every store. But just to give you a rough idea, Shopify's most popular - Basic plan costs $29 per month, and its Advanced plan cost $299 per month (for one store).

Shopify theme prices range from $0 (free themes) to up to $350 one-time charge. And, depending on your requirements, the cost of apps may roughly go anywhere between $50 to $200 per month for each store.