Back to Blog List
How to Cancel Shopify Free Trial in 7 Steps?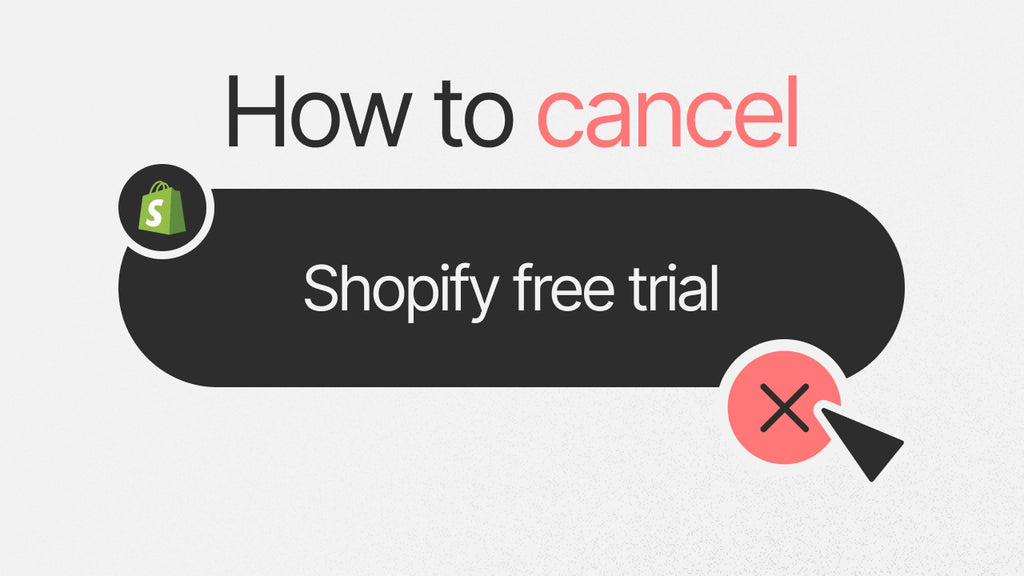 Shopify is a powerful eCommerce platform to kick off a thriving online business on the go.
One of Shopify's unique selling points is its awesome free trial deal, allowing you to test out the platform's features before subscribing to a paid plan. If you decide that the platform is not the right solution you are seeking, you might need to cancel your free trial before it ends.
In this article, we will provide you with a comprehensive guide on how to cancel your Shopify free trial in 7 easy steps and several tips to consider before deciding whether or not to continue using the platform.
What to Do Before Cancelling Shopify Free Trial?
Before deactivating your Shopify store, ensure to take the following actions:
Back up your store data,

such as product listings, order details or customer information, so you do not lose any important information if you reconsider your cancellation.

Delete your credit card information

on the

Payments

settings section to ensure your credit card details are removed from your Shopify account.

Cancel third-party apps purchased

, so you are not charged for any additional months after you cancel the trial.

Transfer any custom domains purchased from Shopify to a different domain registrar so you can reuse them for another site.
How to Cancel Shopify Free Trial?
Step 1: Log in to Your Shopify Account
The first step to cancel your Shopify free trial is to log in to your Shopify account.
Visit

Shopify's official website

and click

Log in

in the top right corner

.

Then enter your email address and password to get signed in.
Step 2: Head over to the 'Settings' Page
Once you are logged in, your Shopify admin panel will appear.

Hit

Settings

in the lower left corner of the dashboard.
Step 3: Click 'Plan' to See Your Plan Details
On the

Settings

page, find and press on the

Plan

section.
Step 4: Choose 'Deactivate Trial'
Now you are seeing your

Plan Details

that display the information about your current plan.

Navigate to the page's bottom and hit the

Deactivate Trial

button to start the cancellation process. (If you change your mind, then click

Choose Plan

to select a paid plan and continue enjoying Shopify's features).
Step 5: Press 'Cancel Subscription'
As a Deactivate Store box pops up, click on

Cancel subscription and deactivate store.
Step 6: Select a Reason for Canceling
Shopify will then ask you about the reason why you want to close your store.

Pick a reason from the drop-down box and hit

Continue

.
Step 7: Confirm the Cancellation
The final step is here! Enter your password to confirm your cancellation, and press Deactivate now.
And that's it! You will then receive an email to confirm that your store is deactivated and you will no longer have access to your store. 
Important notes: You can still reactivate your account or view your past bills within 2 years of closing it. However, you will need to pick a Shopify paid plan to re-open your store and continue where you left off.
What is Shopify Free Trial?
Shopify's free trial is a period of time during which you can test and use the platform for a limited time without any charge. The trial begins when you first sign up for a Shopify account, not when you start working on your store.
Important notes: The day of the trial can vary as the Shopify team may give offers with different deals periodically just for testing.
Currently, Shopify offers a 3-day free trial to experience the platform before committing to a paid plan.
As a new user, you can also enjoy Shopify's $1/month for 3 months deal, which lets you extend your free trial for only $1/month on your first three months. This offer applies to all Shopify pricing plans, and after the first three months, the plan you select will continue at its normal cost.
Learn more: Start Your Online Business with Shopify–Only $1 for the First 3 Months
As a new Shopify user, you can start selling on Shopify for free and then pay $1/month for your first three months.
Start selling on Shopify for $1/month
Try Shopify for free, then enjoy the next 3 months for $1/month on select plans.
During the trial, you can build your store, create and customize your website, and explore various features of the Shopify platform without obligation to continue using the service beyond the trial period. However, your products will not be visible for customers to purchase until you select a monthly subscription plan to activate your checkout and remove your storefront password.
Shopify provides everything you need to bring your online business to life.
Tips to Get the Most out of Your Shopify Free Trial
Shopify's free trial is a great opportunity to try all of Shopify's features and tools for free and decide if the platform is the right fit for your business before settling down on a paid plan.
Learn more: 10 Creative Ways to Make Money on Shopify in 2023
Therefore, if you are serious about your eCommerce journey, here are some tips to get the most out of this eCommerce giant.
Set clear goals

to make sure you have a clear idea of what you want to achieve with the platform.

Set up your store

, including adding business information, connecting a custom domain, configuring tax settings, and many more.

Customize your store

to make it look professional and visually appealing using Shopify's built-in customization options and a Shopify page builder,

GemPages

.

Add products to your store

along with compelling titles,

product descriptions

and high-quality images and videos.
Learn more: Shopify Tutorial: Set Up Your Store from Scratch to Finish
Customize your Shopify store pages your way
The powerful page builder empowers you to create store pages that bring unique experiences and convert customers. No coding needed.
The Final Verdict
Cancelling your Shopify free trial is a no-brainer.
However, before making a decision, it's essential to consider all the factors, including exploring all the features and functionalities of Shopify, comparing it with other eCommerce platforms, or having a backup plan in place.
Also, check out our Shopify launch checklist to see whether your business is truly optimized for success.
Or, if Shopify really does not seem to you, follow the steps outlined to avoid any unexpected consequences and ensure your eCommerce journey is off for a fresh start.
FAQs about How to Cancel Shopify Free Trial?
Can I cancel my Shopify free trial at any time?
Yes. You can cancel your Shopify free trial without any charges at any time during the 3-day trial period. Once done, your Shopify account will be immediately deactivated, and you will no longer have access to your data or any of the features and tools available on Shopify.
What happens if I forget to cancel my Shopify free trial?
In case you forget to cancel your Shopify free trial, there are two scenarios that may happen:1. If you have yet to select any subscription plan during the free trial, Shopify will automatically freeze your account after the trial ends, and you do not need to take any action.2. If you already chose a pricing plan before the end of your free trial, Shopify will automatically charge you for the plan you selected. You can still cancel your account at any time, but you will not be eligible for a refund for the charges already made.
How do I remove my personal information from Shopify after cancelling my free trial?
After cancelling your Shopify free trial, your Shopify store will be effectively closed, and you can no longer do anything with your account. Therefore, make sure you remove your personal information BEFORE you cancel your trial.
Can I re-open my store after cancelling Shopify free trial?
Yes! You can re-open your store by signing up for a paid Shopify plan, and your store information is guaranteed for 2 years. Once you commit to a paid plan, you can use your previous login credentials to access your account and reactivate your store.
How can I delete my Shopify account after the trial?
To delete your Shopify store from Shopify's system, it is recommended that you reach out to Shopify's live support team to get assistance.However, it is unnecessary to delete your Shopify account after the trial. When your free trial is up, your Shopify account will be automatically frozen and not be billed further unless you log back in and pick a plan to reactivate the store.
How can I cancel my Shopify subscription?
If you are on a paid plan and do not want to run your store anymore, you can easily end your Shopify subscription at any time. The steps to unsubscribe from Shopify are basically the same as when you cancel your free trial. Head over to Settings -> Plan -> Deactivate Store -> Select a reason for your deactivation > Continue > Enter your password > Deactivate now. You can reactivate your account within 30 days of closing by choosing the exact plan you were on prior to cancellation.