Back to Blog List
Shopify Checklist: A Complete Guide to Launching and Scaling Your Online Store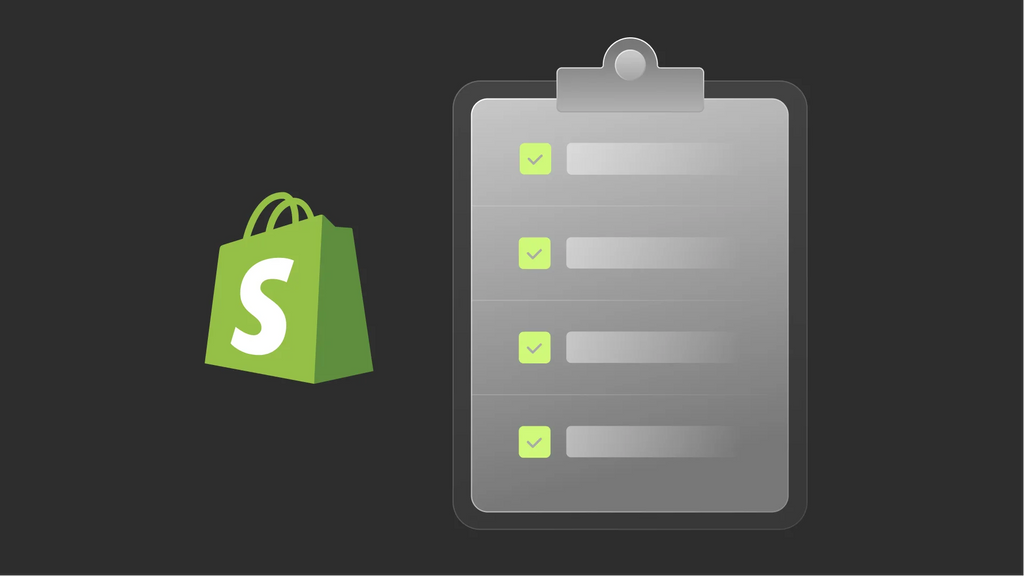 Finish setting up your Shopify online store but wonder whether you have completed all the essential tasks required for a successful launch and growth?
Don't worry! That's when our Shopify checklist comes in handy: to set out a clear plan of action that keeps you organized and on track, making sure your store is optimized for conversion.
In this article, we will provide you with an ultimate Shopify checklist that covers all critical steps, from pre-launch to post-launch periods, to get your business off to a strong start.
Shopify Checklist for A Successful Online Business
Pre-Launch Shopify Checklist
1. Add Essential Business Information
First thing first, set up business information for your Shopify store. This step is crucial to establishing credibility, professionalism, and legal compliance for your online business, providing clear communication and gaining customer trust.
From your Shopify dashboard, click on Settings and select Store details.
Here, set or change all critical business information and make sure they are accurate and updated, including:
Store name (displayed on every page of your website) and legal business name (displayed on your Shopify bill)

Business address and contact information

Store currency

Store time zone and units of measurement

Order ID format (optional)
2. Connect a Custom Domain
When you sign up for Shopify, your newly-created online store is given a "myshopify.com" URL which will be displayed to customers when they browse your store.
Although this default web address is good to go, setting up a custom domain that matches your brand is a smart move to establish a cohesive, professional and trustworthy online presence. A custom domain also lets you improve your visibility and rankings on search engines, making it easier for potential customers to find your online store.
From the Domains sections of your Shopify Settings, you can either buy a new domain from Shopify or connect a domain already purchased from a third-party domain provider.
3. Customize Store Theme
Themes are an important element determining how your online store looks and feels to visitors. Therefore, picking the right Shopify theme is critical to creating a good-looking presence for your brand and giving customers the best first impression.
Learn more:
15 of the Best Shopify Themes for Clothing Stores
Best Single Product Shopify Themes
When your Shopify store is created, it comes with a default Dawn theme which you can choose to customize or replace with another theme. Shopify features a massive selection of well-designed themes, both free and paid, that can be easily customizable to suit each online store's unique branding and style.
Check out our A-Z guide on Shopify customization for more detailed instructions.
Pro tip: To set your online store apart from other stores on Shopify, leverage the GemPages Page Builder app. With 80+ well-crafted templates, GemPages offers greater flexibility to transform the look and feel of your Shopify store in the way you want.
Customize your Shopify store pages your way
The powerful page builder empowers you to create store pages that bring unique experiences and convert customers. No coding needed.
Satisfy's homepage built with GemPages Shopify page builder
4. Set Up Payment Gateways
Next up, configure your payment gateways to accept payments from customers.
On the Settings section, click the Payment tab and choose the payment providers you want to integrate into your Shopify store.
You can read our detailed guide here: Set Up Payments for Your Shopify Store.
Shopify provides over 100 payment gateways, including Shopify Payments, PayPal, Stripe, and Amazon Pay to credit cards and other manual payment methods.
Remember to add popular and trustworthy payment methods that fit your business requirements to facilitate a secure, smooth and reliable checkout process for customers. Including different payment options on your checkout page is also recommended to cater to different customer needs.
Learn more: Shopify Payments vs. Paypal: What's Best for You in 2023?
5. Set Up Shipping Options
Select Shipping and delivery on the Settings page to start setting up your Shipping options.
Learn more: Shopify Shipping 101: Easy Set-Up Guide, Tips and Tricks (2023)
This involves:
choosing your shipping zones;

determining your shipping rates;

selecting shipping methods;

configuring shipping settings as per your preferences.
Pro tip: You can install a Shopify shipping app giving additional shipping capabilities, automation, and customization options to streamline your shipping process and enhance your customer's shipping experience. Read our article on the 10+ Best Shopify Shipping Apps for A Seamless Post-Purchase Experience to hunt the right shipping app for your store.
6. Configure Tax Settings
Double-check your tax settings before launching your Shopify store to confirm they are accurate, properly calculated for each order and compliant with the relevant tax laws of your jurisdiction.
To configure your taxes, go to Settings and click on the Taxes and duties section. Here determine the tax rates that apply to your products or services based on your business location and the locations where you have tax obligations.
Pro tip: If you are unfamiliar with the tax settings, consult with a tax professional or seek guidance from relevant tax authorities to guarantee that you accurately set up taxes on your Shopify store in compliance with local tax laws.
7. Optimize Your Product Listings
Before making your online store publicly available to customers, carefully review each product page to check for possible errors or incompleteness. There must be well-written titles and descriptions, high-quality product images and videos, transparent pricing, inventory and shipping information on every item. Also, your product details must be accurate, appealing, and aligned with your overall branding and messaging.
Learn more: Explore our comprehensive guide on How to Add Products to Shopify for a flawless and effortless product listing process.
Bippy's product page created with GemPages
Additionally, it is highly recommended to group your products into collections based on product type, category, season, or any other relevant attribute that makes sense for your store. Collections let you organize your products in a logical and structured manner, making it easier for customers to browse and discover products in your store.
From the Products section on your Shopify dashboard, select Collections and click Create collection to set up your collections.
Ensure the products within a collection are relevant to the collection title or theme. Also, pay attention to the visual appeal of your collections by using attractive and high-quality product images that represent the collection effectively.
GAP's collections are displayed in categories and sub-categories.
8. Set Up Your Email Notifications
Email is your strong helping hand in both customer communication and marketing. Properly setting up your email notifications enables you to stay informed about your store's activities, allowing you to efficiently manage your online business and provide timely responses to your customers.
Go to the Settings section from your Shopify Admin and click on Notifications to review and customize your email notification settings to align with your brand's tone and style.
Pro tip: Consider using Shopify's built-in email automation features to set up automated email marketing campaigns that help you streamline your communication with customers and efficiently manage your Shopify store. 
Learn more: Maximize Customer Engagement and Store Sales with Shopify Automated Emails
eBay's automated emails get people shopping on their website.
9. Create Standard Store Pages
One key task to focus on in your Shopify launch checklist is creating standard store pages that provide crucial information to your customers.
Here are 11 must-have Shopify pages that you should include in your Shopify store:
Kokada makes itself stand out from the crowd with its About Us page.
Shipping's terms and conditions are clearly stated on the Shipping Policy page of Saturnbird Coffee, a GemPages client.
You can easily create and customize these pages in your Shopify Admin or utilize GemPages page builder to build highly-converting store pages with clear and concise content, visually appealing graphics, and seamless navigation to enhance the shopping experience on your Shopify store.
Your store needs some bells and whistles?
Explore GemPages' features and see what works best for your store. Free plan available. No strings attached.
The Factor Formula's landing page designed with GemPages
For more information, please check out our article on Shopify Pages 101: A Beginner's Guide to Creating a Killer Online Store.
10. Perform a Content Audit
Do not leave this critical step unchecked in your Shopify checklist before launch.
A misspelling word, a grammatically incorrect sentence, a broken link, or outdated information can negatively impact customer experience and damage your brand image.
Therefore, thoroughly review and evaluate all the content on your website to confirm that it is accurate, relevant, consistent, and aligned with your brand identity. This sets the foundation for a well-optimized and customer-friendly online store, increasing the chances of a successful launch.
11. Add Sales Channels
Multichannel selling is a strategic move for new online businesses like yours to expand your brand exposure, reach more potential customers and increase sales opportunities.
Learn more: Shopify Amazon Integration: The Ultimate Guide to Sell on Amazon with Shopify
On your Shopify dashboard, click on the Sales Channels section to browse and add appropriate sales channels to your Shopify store.
Shopify offers several types of sales channels that allow you to sell your products or services on different platforms. Here are some of our recommended sales channels that you should consider integrating into your store:
Google Shopping

Facebook

Instagram

Tiktok
12. Optimize Your Store for Search Engines
You must not miss this task in your Shopify store launch checklist.
Optimizing your Shopify store for search engines before publishing is essential to improve your website's visibility in search results, increase organic traffic, enhance user experience, and drive more sales.
Here are several things you can do to help your store rank high in search engines:
Conduct keyword research;

Optimize store pages' title tags and meta descriptions with relevant keywords;

Create high-quality, keyword-rich, unique, and relevant content;

Use descriptive and keyword-rich URLs for your Shopify store pages;

Use descriptive and optimized

product titles and descriptions

;

Optimize your Shopify store's

loading speed

;

Ensure

mobile responsiveness

;

Submit your sitemap to search engines;

Install Shopify's SEO apps and plugins.
Learn more: How to Customize SEO Settings.
13. Set Up Analytics
Setting up analytics tools is an effective way to track your website's traffic, customer behavior, conversions, and sales data for insights and optimization.
Shopify does offer its own built-in analytics tool giving you a comprehensive overview of your store's performance. To access Shopify Analytics, you can go to the Analytics section in your Shopify dashboard.
However, you are recommended to install additional eCommerce analytics tools, namely Google Search Console, Adobe Analytics, and Google Analytics, to gain more detailed insights into your business.
14. Develop a Pre-Launch Marketing Plan
A solid marketing plan before launch is a must to generate buzz and create anticipation among potential customers while preparing your store for a strong start once it goes live. This creates a positive impression among your target audience and sets the stage for long-term success.
There is no limit to the way you want to market your store; however, your pre-launch marketing plan should at least include the following:
Teaser landing page (

coming soon page

)

Content marketing (blogs, videos, etcetera)

Social media marketing

Email marketing

Online advertising

SEO
Example of a coming soon page
15. Set Up Your Billing Information
Another important task in your Shopify store launch checklist is configuring your billing settings before your 3-day free trial ends to ensure smooth payment processing and avoid disruptions to your store's operations.
Select the Finances section of your Shopify admin and click on Billing to add a payment method for purchases and bills in Shopify. 
16. Test Your Store
The final item to check in any eCommerce launch checklist is testing to identify and fix any issues or errors, ensuring your store is ready for a smooth and successful launch.
Here are some steps to test your Shopify store before launching:
Test shopping cart and checkout process

Test payment gateways

Test navigation and links

Test shipping and tax settings

Test email notifications

Test mobile responsiveness

Test third-party apps and integrations

Test contact forms and customer support
Your Shopify Store is Ready to Be Launched
17. Open Your Shopify Store to the Public
Congratulations! It's finally time to launch your Shopify store!
From the Sales channels section of your Shopify Admin, click Online Store, head over to Preferences, and scroll down to Password protection.
Pick a Shopify plan to remove the password protection automatically enabled when you create your Shopify account.
Shopify offers three pricing plans, each offering a unique set of features and benefits to suit your needs and requirements
And that's it! Your store is officially live!
Post-Launch Shopify Checklist
18. Collect Customer Feedback
In the post-launch period, it is vital to collect customer feedback on your products and their shopping experience on your website. This helps you understand their needs and expectations, identify areas of improvement, and make data-driven decisions to optimize your store.
Consider creating feedback forms, sending email surveys, engaging on social media, and using live chat or product reviews to gather valuable customer feedback.
19. Unleash Your Store's Full Potential with Shopify Apps
While Shopify makes it easy to enhance your store's performance with a wide array of built-in features, installing additional apps can provide extended functionality that may not be available out of the box.
Important notes: Do not overload your store with a bunch of unnecessary apps, as they can add up to your monthly expenses and also slow down your site's loading speed.
Carefully evaluate your business needs and select reputable apps from Shopify App Store that align with your specific requirements and goals.
Shopify App Store features an extensive marketplace of apps designed to enhance your Shopify store's functionality and performance.
If you don't know which app to install, explore our recommended categories and apps for a profitable Shopify store.
Learn more: Also, read these articles for more detailed information on the best Shopify apps and their key features.
20. Implement Marketing Campaigns
Now that your business is launched, it's time to market and promote it.
Based on the pre-launch marketing plan you set up earlier, develop and implement post-launch marketing strategies to drive traffic, generate sales, and build brand awareness.
Whether you conduct email marketing or social media marketing, run paid advertising campaigns or launch promotions or giveaways, continuously monitor, refine and optimize your campaigns for ongoing success.
21. Monitor and Optimize Your Online Store
The last step in your Shopify store checklist is here: regularly monitor and improve various aspects of your business.
Track your store's performance and sales, conduct regular website audits, test and optimize marketing campaigns, improve user experience, monitor and respond to customer inquiries, and regularly review and update product offerings.
With regular monitoring and optimization efforts, you can improve customer experience, boost sales, and build a long-lasting and prosperous online business in the ever-changing eCommerce world.
The Final Verdict
Launching a Shopify online business can be exciting and overwhelming at the same time since the process of setting up, managing and growing an eCommerce store may involve various tasks and details.
Take the time to carefully review and complete each item on our detailed Shopify checklist to ensure your store is fully functional, highly optimized, and ready to conquer and thrive in the competitive realm of eCommerce!
Boost your sales with compelling store pages
Try GemPages for free and start creating store pages that really convert. No coding required.
FAQs about Shopify Checklist
What tasks are included in a Shopify setup checklist?
A Shopify setup checklist typically includes various tasks to ensure your Shopify store is properly set up and ready to launch.Read our article:
Shopify Tutorial
: Set Up Your Store from Scratch to Finish (2023) for a complete guide.
How can I publish my Shopify store?
To open your Shopify store to the public, you need to pick a Shopify pricing plan to remove the password protection enabled by default when you create your Shopify account.Under the Sales channels section of your Shopify Admin, go to Online Store > Preferences > Password protection > choose a plan.
What is the checklist before launching my Shopify store?
A typical Shopify checklist before launch involves many vital tasks. Consider the below checklist as a recommended guide to follow:1. Business information2. Domain3. Theme4. Products5. Payment gateways6. Shipping settings7. Tax settings8. Email notifications9. Standard pages10. Content audit11. Sales channels12. SEO13. Analytics14. Marketing plan15. Billing information16. TestingFor more detailed information, check out our article:
Shopify Checklist
: A Complete Guide to Launching and Scaling Your Online Store.