Back to Blog List
17 Shopify Product Page Examples to Learn From in 2023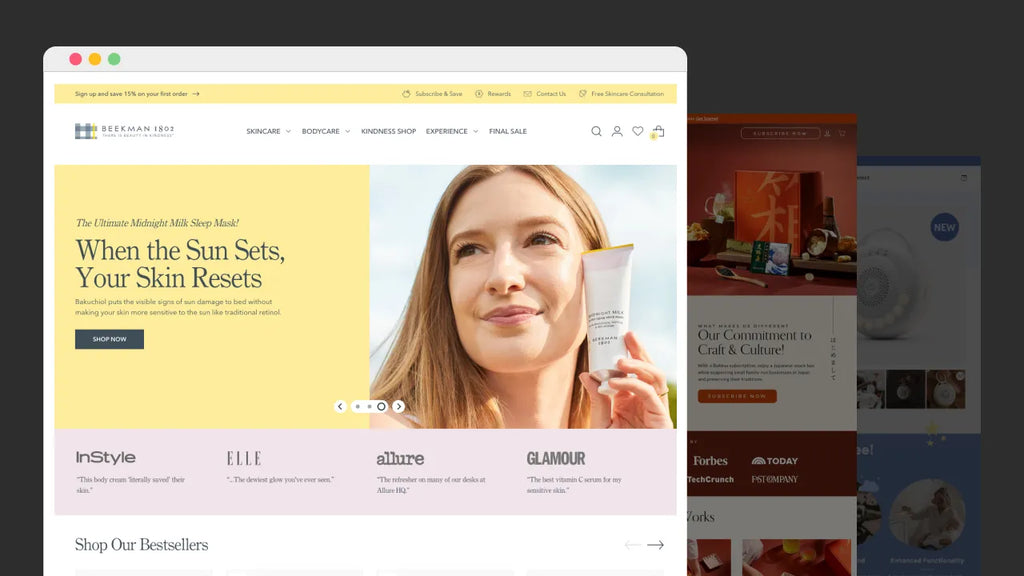 In eCommerce, the anatomy of an online store is not completed without the backbone: the ever-so-pivotal product page. It is the place that generates sales - the goal of every business, so you know that it has to be stellar.
But what constitutes a high-converting product page? Keep scrolling for our list of the most compelling and successful Shopify product page examples and learn from these top picks.
17 Shopify Product Pages that We Love
No need to test the water yourself, we have done the heavy work of compiling the most eye-catching Shopify product pages. Keep on reading to find out what makes them stand out among other competition.
#1. Beekman 1802 - Cosmetics
Beekman 1802 is an American-made skincare and body care cosmetic brand. Their products are plant-based, with neutral-toned packaging. As you scroll, you won't find yourself being blasted with strong colors and walls of text since the store chose a modest design approach. Their spirit can be easily caught onto just after a few seconds of checking out their product page.
Beekman 1802 offers more than just plain product images with intriguing demonstration GIFs.
Fun demonstration GIFs are placed between professional photographs to showcase the product's texture, while a useful comparison chart gives you a helping hand while shopping.
Beekman 1802's comparison chart on their product page.
Give your product page a slick and modern makeover similar to this store with this stunning template by GemPages in minutes.
#2. Nodiee - Sleep Machine
Nodiee knows that a parent's love for their baby is unmatched, and they aim to make life easier for busy parents. If you are having trouble helping your baby catch some z's, this on-the-go sleep machine is here to the rescue.
Nodiee focuses on designing the most beautiful and intricate product pages to highlight their specialties. The soothing blue and white color palette complements their sleep machine, while other elements are nothing short of instructive. Though this particular product is not necessarily on every parent's bucket list, Nodiee has done a good job conveying their vision through several "Why choose us" sections, alongside a helpful list of FAQs and customer testimonials. Besides these practical components, one feature that stands out is the use of product bundle offers.
Nodiee makes use of a product bundle offer feature with discounts on their product page.
This option is especially clever for the specific product that Nodiee carries. When a parent of two or more children is weighing their options on what brand of sleep-aiding machines to buy from, this discounted bundle might just be the deciding factor that gives this brand an edge over the other competitors.
Easily create a product bundle offer using this baby product template from GemPages' template library.
#3. Bokksu - Japanese Snacks
The Shopify subscription box model is a breeding ground for repeat customers. Bokksu has found a popular niche that many take an interest in: Japanese snacks. Curating boxes of made-in-Japan snacks and treats with alluring themes, this store uses its product pages to show buyers exactly what they will be getting through remarkable photos, alongside a short description of what each treat is made of. With nearly 12,000 reviews and a 4.8-star rating, this approach has definitely paid off.
Many captivating product images can be found on Bokksu's product page.
Build an enticing product page for your Shopify subscription business with this fully customizable template.
Learn more: Shopify Product Images: A 10-minute Guide for Beginners (2023)
#4. Wilfreds Pies - Food
Wilfreds offers a variety of savory and sweet pies, and they know how to make them look enticing. Surprisingly, it is not always about the mouth-watering photographs. To impart the distinct taste of each product, Wilfreds has chosen to insert a beautifully written description to go along with their product. The customer's reviews right below further complete the appetizing sense, without any need for intricate product images and visuals.
Wilfreds lets the product shine with its description.
Showcase your product and write up a storm with this simple template.
#5. Abbott Lyon - Custom Jewelry
Personalized items are always thoughtful gifts. Abbott Lyon could become your next bookmark for custom jewelry for yourself or your loved ones. All their UK-made jewelry is of the best quality, and it reflects in their product image and description. To give buyers a more realistic look at their products without the studio lighting and retouching, a "Styled on Instagram" section near the bottom of the page is utilized to feature customers' feedback. This also gives buyers a wider look at the product on different skin tones and styles.
Abbott Lyon features feedback photos from customers on their product page.
Let your jewelry shine through with this GemPages' jewelry and accessories template.
Learn more: All About Shopify Jewelry Stores: A Beginner's Guide
#6. Kokada - Organic Snacks
Kokada's product page is as flavorful as how their products taste. The brand carries a line of organic coconut spreads and demonstrates them through striking visuals. Taking advantage of the lively packaging, they combine the product's images with the page design, which gives of a fun and fresh vibe to the whole page.
Kokada's unique display of their product.
Breathe a new life into your product page using this colorful GemPages' template.
#7. Lucy & Yak - Clothing
This clothing store Lucy & Yak is packed full of personality, and it shows on its product page. In cahoots with their main page, the product page houses bold texts, full-sized, unedited product images, and intensive product and shipping details. Customers are greeted with a sense of friendliness and are more inclined to perform an action via explicit CTA buttons all over the page.
The sticky "Add to Basket" button appears as you scroll down Lucy & Yak's product page.
Incorporate clear-cut CTA buttons into your clothing store with the help of this versatile template from us.
#8. Verso - eBooks
eBook is a sustainable Shopify product niche that has seen a 45% year-over-year increase in 2022. Verso is the biggest independent publishing house that specializes in English books. Verso's website is kept classic and uncluttered, where the book is the star of the show. The anatomy is straightforward: a title, image, prices, description, reviews, and suggestions with no redundant information.
The clean, product-focused design of Verso's product page.
Your eBook product page can be made easily with this simple yet high-converting template.
#9. Brosa - Furniture
Brosa brings you an ample array of furniture with different price points. This online store eliminates the hassle of browsing around a huge department store by streamlining your shopping experience. 
Brosa's product page focuses on convenience. Details such as a stock counter badge, shipping information, warranty & returns, and images from different angles help potential buyers shop in just a matter of minutes. The "Add to wishlist" feature ensures that you won't accidentally lose track of a product you have been eyeing by clicking the wrong button.
Brosa's product page is easily navigable.
Get inspired with our template for furniture and home decor to build your own brilliant product page.
#10. Leatherup - Leather Goods
If you are looking to expand your biker jacket collection, Leatherup is a one-stop shop for all things leather. This store's design is everything but plain and simple. Their product page has every question of yours covered. Almost every essential information can be found above the fold, from shipping and warranty, payment options, to size charts and product badges. 
One component that can be learned from this store is the "You may also like" section on the right of the product's information, which catches visitors' attention immediately when they land on the page. This clever practice efficiently boosts cross-selling and conversion rate of the store.
Leatherup's effective product recommendation placement on its product page.
This SEO-rich GemPages' template is perfect to fit the most useful information into your product page.
#11. Buti Yoga - Services
Shopify is an undeniably lucrative outlet for selling services. Buti Yoga's website is dedicated to bringing you a new way to work out and become your best self.
The main difference between this site and others on the list is, since their service cannot be disclosed through images and description only, a preview video of their workout DVD is much imperative. Their product page is kept simple, with the DVD's content, video, description, and customer reviews as the main components.
A preview video is featured on Buti Yoga's product page.
With this GemPages template, inserting a video into your product page is a piece of cake.
Learn more about adding video on product page here:
#12. Neurogan - CBD products
Selling cannabidiol (CBD) on Shopify is no longer a taboo concept. This compound possesses many proven health benefits, and Neurogan is one of the go-to places to purchase CBD products online.
Their product ranges are incredibly versatile, but each product page is not at all distracting. The off-white background and muted colors help visitors focus on the product's benefits, usage, as well as other surrounding information on this supplement. The FAQ section, introduction video, and customer reviews all intend to convey their vision and provide more data to visitors.
Numerous products on this site can be seen with a badge, indicating their availability (running low, limited), popularity (best seller), and promotion (save $). These badges are visible on the preview image and the product page, which are extremely effective in drawing attention and helping visitors decide on purchasing.
Neurogan's product has a badge right next to its price.
Create similar components and drive traffic with this template from GemPages.
#13. Samuel Hubbard - Handcrafted Shoes
Made in Portugal with the finest craftsmanship and high-quality materials, Samuel Hubbard's handcrafted shoes aim to bring the utmost comfort to every customer.
Their product page is minimal and well-constructed. They focus on what their potential customers look for: a pair of shoes in the color and size that they wish. The meticulous product images from different angles do not leave visitors any room for doubts before clicking that "Add to cart" button.
By displaying color and size options right below the title, visitors won't have a hard time navigating around their page. Different sections like "You may also like" and customer reviews have also been utilized to their full potential.
The use of a stock counter as pictured below is a neat tactic to grab visitors' attention and increase conversion.
Samuel Hubbard adds a "Last chance" announcement to showcase urgency on their product page.
Add a stock counter to your product page with this customizable template from our template library.
#14. Vanity Planet - Skincare Products
When it comes to high-end skincare products that are trusted by reputable salons, Vanity Planet is up there on the list, with features in Forbes, Cosmopolitan, Elle, and so on. This brand's presence is chic, professional, and sleek. Their product page has encapsulated this essence perfectly.
Vanity Planet is a shining contender for the best-looking product page in the industry.
Upon checking the page, visitors are met with a calming color palette, compelling product description, transparent ingredient list, instruction video, bundle offer, and customer reviews. They won't leave the page wondering "What exactly does that product do?" since everything has been answered precisely.
The upfront payment option is strategically placed below the price. The interest-free installments are an ideal medium that diminishes hesitation with a more pricy purchase.
Various payment options are displayed on Vanity Planet's product page.
Customize a product page with a similar feel with this GemPages template.
#15. Hopps - Cat Brush
This one-product store might just be the next present for your fur baby. Advertised as tough on hair knots but gentle on cats, Hopps aims to bring you the only pet brush that you'll ever need.
Their product page contains all the information that a feline lover requires. The pastel purple background makes their colorful products stand out. The star ratings, shipping information, demo video, and customer reviews are all by-the-book elements that give this page a professional and trustworthy impression. 
One unique feature is the attached studies portion that gives visitors a more thorough look at the benefits of loose-hair remover tools for your cats, thus encouraging them to make a purchase at their store.
The 'Did You Know?' section informs visitors on the importance of cat brushes on Hopps' product page.
Learn from Hopps and elevate your pet product page with this template from GemPages.
#16. Creative Market - Digital Products
Creative Market truly embodies its name, since over 4 million digital resources can be found on this website, much similar to a physical marketplace. You can explore fonts, photos, illustrations, templates, videos, mockups, and so on. With a tremendous number of product varieties, Creative Market keeps their product pages informative and easy to navigate.
A font's product page features a slideshow of full-sized images showing different uses. Options to visit the shop and customer reviews can be found as you scroll. Whereas the upselling feature and membership and loyalty programs are the leading stars of the page.
Creative Market encourages buyers to spend more and sign up for a membership on their product page.
Get the same impression and zhuzh up your product page with a stock counter, product bundles, and more, using this template from our library.
Learn more: How to Sell Digital Products on Shopify for Profit in 2023?
#17. Chippin - Dog Treats
Another pet product store worth mention is none other than Chippin. Dedicated to creating dog treats that are great for your good boys and our planet, this pet food brand is able to showcase its products on its killer product page.
The occasional pops of color and comic-styled bubble texts got visitors' attention as they scrolled along. Benefits, nutritional facts, packaging information, testimonials, and pictures of happy K9s are scattered over the page. 
Knowing that food is fuel, Chippin has cleverly implemented a subscription model for their customers to make a purchase every 4 to 12 weeks. This feature saves time for busy dog owners and brings in profits naturally for the brand.
Chippin's "Subscribe & Save" option on its product page.
If you have the same niche, this pet store template from GemPages is a good place to start your own stunning product page. 
Tips and Tricks for Conversion-ready and Stunning Shopify Product Pages
All the pages in your Shopify store have to be on par with each other. A meticulously-designed homepage will make a basic-looking product page pale in comparison. To successfully convert a lead into a sale, your product page does not only need a dazzling appearance but also the right elements and details.
Below are some of the components that can be incorporated into your product page to boost conversion rate:
Learn more: The A-Z Guide to Creating Effective Shopify Product Pages (+Best Examples from The Pros)
The Smarter, Faster Way to Create and Customize Shopify Product Pages
These visually appealing and conversion-focused product pages all started from somewhere. Since its inception, Shopify has made the process of building and refining product pages streamlined to a T, empowering many passionate individuals to embark on their entrepreneurial journey. However, while the standard Shopify product pages offer fundamental features like font, image size, etc. to help entrepreneurs get rolling, they might give off a generic vibe and sometimes require coding knowledge.
Luckily, third-party apps like the top-ranked Shopify page builder -  GemPages can help e-sellers build, customize and optimize high-converting and stunning product pages - no coding required. Our intuitive drag-and-drop editor, conversion-focused elements, seasonal templates, etc. will take your pages to the next level faster - so you can focus on your business, not the tools. 
Delve into our extensive templates library and take one step closer to attaining perfect product pages where meaningful conversion happens.
Build high-converting product pages with GemPages
Quickly create and customize compelling, conversion-optimized product pages to wow visitors and convert them into buyers.
FAQ about Shopify Product Page Examples
What is a product page on Shopify?
A product page on Shopify is the page where you can find information and purchase a product or service. A Shopify store can have one or several product pages, depending on its business model.
What should be on your product page?
Some key elements of a product page include:1. Product title and description.2. Product images, videos, and gifs.3. Call-to-action buttons.4. Product recommendation.5. Special discounts and campaigns, such as product bundles.6. Conducive customer reviews and testimonials.7. Shipping, refund, and return policy.8. A FAQ section.9. A/B testing to monitor and advance conversion.
How to create a product page with Shopify?
A Shopify product page can be easily created in four steps. Step 1: Click on "Products" on your Shopify dashboard.Step 2: Press "Add product".Step 3: Enter all the basic details (title, description, media)Step 4: Add more advanced details (pricing, variants, shipping, etc.)Check out our
15 Best Products to Sell on Shopify in 2023