Back to Blog List
10 Best Shopify Clothing Stores That Are Crushing It in 2023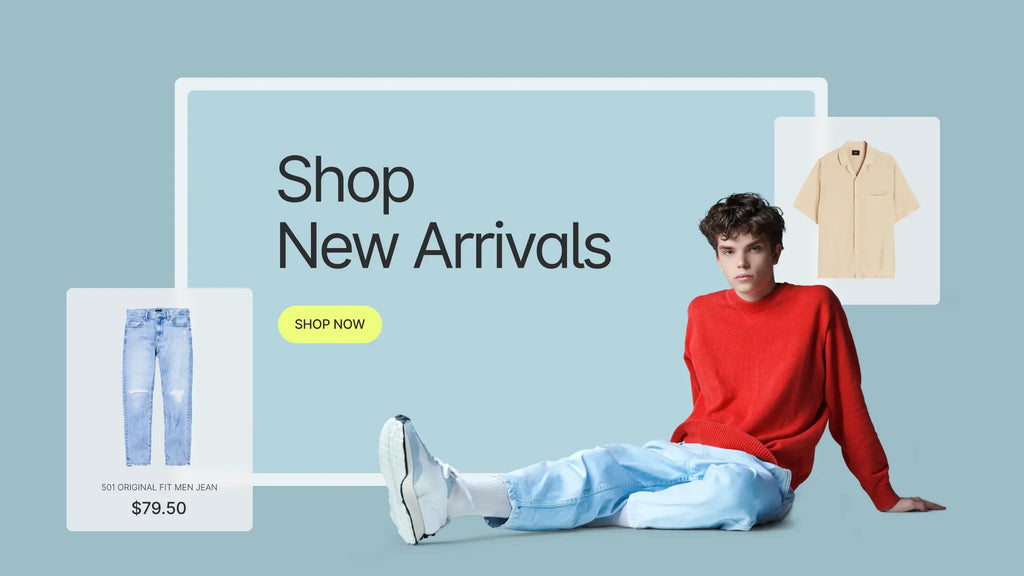 With the online retail industry growing in leaps and bounds, the fashion industry has not been left behind. An increasing number of consumers are turning to online stores to purchase clothes, even though it might not seem intuitive to buy clothes online. This means eCommerce stores, many of which run on Shopify, are enjoying a boom in business. 
So, which Shopify clothing stores are crushing it in 2023? Continue reading to find out.
Is Shopify A Good Option for Clothing Brands to Create eCommerce Stores?
In a nutshell, yes!
Shopify is an excellent platform for building your online clothing store. For starters, the platform is intuitive and easy to set up. It comes with numerous native features that every online store needs to thrive, including inventory management tools. 
Additionally, Shopify allows you to scale up to meet the traffic demands of your online store. Whether you're a startup looking to establish yourself in the fashion industry or run a multi-million dollar fashion brand, Shopify can meet your needs.
Crucially, numerous clothing companies have achieved enormous success selling clothes using Shopify, as you will see below.
Why Choose Shopify to Build Your Online Clothing Store?
Inherently Responsive – Shopify is innately responsive. Therefore, you can create a Shopify store that loads quickly and offers an excellent user experience.
Integrates well with social media – In an era where social media plays a massive role in marketing, integrating your eCommerce store well with your social media platforms is critical to success. Shopify integrates seamlessly with all major social media platforms, making social marketing much easier.
Access to a vast library of apps – using Shopify provides access to various apps that can make your business more efficient and cost-effective. For example, you can use the GemPages page builder to build stunning Shopify store pages optimized for conversion.
Ready to elevate your Shopify clothing store?
Take your clothing store to the next level with GemPages page builder. Free plan available. Upgrade as you scale.
Best Shopify Stores for Clothing and Fashion
1. Gymshark
Estimated Revenue: $550 million
Gymshark was founded in 2012 by proprietor Ben Francis. The company had humble beginnings, starting with just a sewing machine and a printer operating from a garage. Ben and his friends used to prepare orders and send them out in jiffy bags. A decade later, the company has grown to a billion-dollar company. 
A notable element of Gymshark's success as a brand and a Shopify store is its insistence on building a vast social media following. 
To give you a sense of the scale of their following, they have over 6.1 million followers on Instagram on their main account Gymshark. They have accrued over 1 million followers on their Gymsharklifting branded account and over 3.3 million on their Gymsharkwomen branded Instagram account.
Their following is equally enormous across other social platforms, totaling close to 8.5 million followers across Facebook, TikTok, Twitter, and YouTube.
Significantly, Gymshark has transformed its enormous and loyal following on social media into 14 successful ecommerce Shopify stores with customers in 230 countries.
What Makes the Gymshark Store Successful?
Their Shopify stores have a user interface optimized for sales. They've combined rollover images with a 'Quick Add' function that makes it easy for customers to quickly add products to their carts without opening a

product page

or clicking away from the page. 

They have excellent social media marketing focusing on building a huge and loyal following.

Gymshark uses creative influencer marketing strategies to get its brand and products to reach more people authentically. For instance, they've worked with Ross Edgley, the swimmer, to swim around Great Britain's 1780-mile coastline.

An enduring focus on what makes their brand excel–quality, performance, and comfort of their gym wear.
2. Fashion Nova
Estimated Revenue: Over $500 million.
Fashion Nova is a Southern California-based eCommerce store and clothing brand built on Shopify. The brand has grown in stature within the fashion industry as one of the go-to destinations for all the latest fashion trends at affordable prices. Notably, it has something for everyone and every season.
Fashion Nova is a leader in social media marketing. They've worked with and received endorsements from global stars such as Cardi B, Kylie, and Black Chyna (which can be expensive). 
The company has turned endorsements into a vast social media following, especially on Instagram. 
They have over 25 million followers across its social channels—much of its success emanates from converting its loyal social media followers into buyers. 
What Makes the Fashion Nove Store Successful?
They provide their customers with a stellar visual experience featuring

high-quality product images

and videos and an engaging blog. 

Their Shopify store is optimized to convert followers and traffic to buying customers with features such as "Customer Favorites.

They've seamlessly integrated with their social media platforms. For instance, their site has a "Shop the Look" feature linked to their Instagram account.
Learn more: How to Connect Shopify to Instagram in 6 Easy Steps
3. Good American
Estimated Revenue: $400 million.
Good American is one of the leading Shopify women's clothing stores today. The brand focuses on one fashion industry category – denim jeans. It's the brainchild of brand expert Emma Grede and Khloe Kardashian. 
The company launched to rousing business success in 2016. Good American sold over $1 million in products on their first launch day.
Since its launch, the company has grown tremendously and expanded beyond denim products. They're ever-increasing their product categories while sticking to their core values–providing their customers with clothes that fit and flatter the entire range of women's body shapes and sizes.
What Makes the Good American Store Successful?
Their historic launch and meteoric rise in the denim segment of the fashion industry are mainly due to the enormous following that Khloe Kardashian has. She has amassed over 250 million Instagram followers. 

They offer products with unique selling points: denim jeans (and now other clothing items) that fit well for body shapes and sizes rather than a one-size-fits-all. 

An intuitive shopping experience for customers makes it easy for customers to add products to carts and checkout.
4. Bombas
Estimated Revenue: $237 million
Bombas is a clothing brand that sells items under four categories: socks, t-shirts, underwear, and slippers. The New York-based brand is renowned for supporting the underprivileged in America.
Since its founding in 2013 by David Heath and Randy Goldberg, the brand has been operating its famous One Purchased = One Donated program, which has been part of its branding since its inception. 
For every clothing item customers purchase, they donate a similar clothing item to charities. To that end, they've partnered with over 3,500 Giving Partners and have donated over 75 million items. 
What Makes the Bombas Store Successful?
Bombas has implemented ethical marketing well. Their "One purchased = one donated" policy endears the brand to their customers. Customers looking for a way to do good and help the less fortunate can make purchases on Bombas to facilitate the donation of clothes. Importantly, they have incorporated this unique selling point into their branding. 

They have a stellar shop design, a vibrant color palette, and intuitive navigation. Their homepage above-fold displays all of their product categories. Customers can navigate to the different product categories without scrolling.

Bombas is also thriving, thanks partly to its 2013 appearance on Shark Tank – a reality show focusing on investing in businesses. The appearance of David Heath and Randy Goldberg on Shark Tank not only earned their company $200,000 in investment but a lot of publicity.
5. Kith
Estimated Revenue: $100 million
Kith is a streetwear brand that has used Shopify to bolster its success. While the company was established even before Shopify existed, switching to Shopify has made it possible for the company to grow online sales tremendously.  The brand is a renowned trendsetter in the streetwear market and has garnered endorsements from the likes of LeBron James. A visual experience dominates the store. Their store uses large, high-quality images to give customers a clear vision of every clothing item. You can shop by collection or by a more visually dominated function - the "Lookbook".
What Makes the Kith Store Successful?
The brand has niched down to and focused on selling the best streetwear possible. As such, it has become the go-to store for streetwear for many.

Their store has a minimalist design that prioritizes the visual experience of its customers. They use large images that display products in great detail. 
6. Knix
Estimated Revenue: $100 million
Knix is an intimate women's apparel brand that supplies women with leak-proof underwear and wireless bras. Their range of underwear, loungewear, maternity clothing, shapewear, and much more is designed and crafted to offer exceptional comfort. 
From its inception, the brand has focused on educating women and providing experiences centered around experts helping women find their right fit, whether at their stores or online. With the global pandemic reducing in-store businesses, the company shifted its focus to providing expert advice online. 
They developed and implemented a low-fi virtual fitting system involving a 20-minute consultation with a "Knixpert" right into their Shopify store.
Additionally, amid the pandemic, they moved their annual warehouse sale online, attracting over 35,000 customers within 10 minutes of the sale going live.
What Makes the Knix Store Successful?
The foundation of their success is the quality of their products. They provide high-quality intimate garments optimized for excellent fitment and comfort across different sizes and shapes. 

Knix has maintained the excitement of hunting for products akin to what their physical warehouse sales offer in their virtual warehouse. For instance, they have mystery bundles geared towards helping customers discover new products they would otherwise not consider. 

They offer a unique customer experience characterized by a personal touch offered by Knixperts, attracting women needing expert advice and personalized solutions.
7. Kotn
Estimated Revenue: $20 million
Kotn is a clothing brand that targets Gen Zs and millennials. The Canada-based company is renowned for selling high-quality clothing items that last long with being relatively cost-effective. Additionally, the company is best known for its unique business model.
Their farm-to-store business model allows Kotn to bypass expensive and sometimes unreliable intermediaries while maintaining a high-quality production process. The net benefit of their model is that they pass on the cost savings to their customers while giving farmers in Egypt higher returns for their crops. 
Ultimately, they produce clothes with ethically sourced raw materials, which has helped them grow to Certified B Corporation® voted Best for the World™.
What Makes the Kotn Store Successful?
Kotn sells exceptional quality products at competitive prices. All of their clothes are made using Gossypium Barbadense directly sourced from farmers.

The brand employs ethical marketing. They support over 2000 farmers and funded 15 schools. As such, their target market (millennials and Gen-Zs who care about supply chain ethics) knows they're buying products from a company, not burdened by the typical ethical question faced by many brands in the fashion industry.
8. The Elder Statesman
Estimated Revenue: $11 million.
Launched in 2007 by Greg Chait, The Elder Statesman is a luxury loungewear clothing brand known for oversized joggers, slouchy T-shirts, crew-neck sweaters, hats, and cardigans made from cashmere. The brand's core philosophy is creating high-quality clothing that can endure generations. 
With this in mind, they use the best quality hand-spun cashmere sourced from Japan, Italy, and Mongolia. Additionally, all the pieces are created by experienced traditional artisans, giving each piece a unique look and feel.
What Makes The Elder Statesman Successful?
They choose a niche – clothing items made of cashmere – and focus on creating the best quality clothing items regardless of cost. Consequently, they've created a luxury brand selling premium cashmere products.

The Elder Statesman Shopify store is designed to exhibit the creativity of every clothing item. The visual display of items enhances the company sales considerably.
9. Black Halo
Estimated Revenue: $5 million
Black Halo Store is a California-based, female-founded clothing company selling evening and business wear and tailored dresses. The company makes excellent use of email marketing and social media, especially Instagram, to drive traffic to its Shopify store, which has grown tremendously. The visual-centric user experience extends from their social media use to their store. 
For instance, their Shopify store uses large high-definition imagery to display and sell their clothing. 
What Makes the Black Halo Store Successful?
Strong social media presence and email marketing have allowed Black Halo to grow customer loyalty. 

Visual-centric store design and layout enhance conversation as customers can see what their products look like in detail. 

Great use of influencers who model their clothes to showcase the brand's creations.
10. Asphalte
Estimated Revenue: $3 million.
Asphalte is a unique clothing brand that Antonin, William, and Rodolphe created in 2016.
The Bordeaux-based clothing brand's unique pre-order business model relies on customer input to decide which clothing items to design, make, and sell. In other words, the company co-creates products with its customers. The co-creation process has enhanced Asphalte's customer retention.
After all, many of their customers are interested in buying products they play an active role in creating.
Before the company produces a new collection, they survey its loyal customers and followers on its email list and social media. The product design team uses the feedback to design their product prototypes. After that, the prototypes are released on their website, where customers can pre-order. 
Consequently, the company has an estimated annual turnover of around €25 million, with its website garnering over 500,000 monthly visitors.
What Makes the Allbirds Store Successful?
They offer a unique proposition to their customers – the co-creation of their product line. As such, customers are vested in the resulting clothes as they play a part in their creation.

Asphalte matches customer needs through product surveys. 

They do not encounter overproduction, which lowers their production cost. The benefit of lower prices is passed on to their customers. 
Learn more: 30 Top Shopify Store Examples That We Love In 2023
Tips and Tricks from Successful Shopify Clothing Stores
1. Build A Unique Brand
When you study the 10 Shopify clothing stores crushing it in 2023, you'll quickly realize the importance of branding. Branding is at the core of these companies' success in previous years and today. Each of these companies has a strong brand that they continue to nurture. 
Additionally, we learn that it's essential to intuitively showcase your unique value proposition and selling points as part of your branding. Whether a company niches down to a particular product category or even clothing item (such as denim jeans in the case of Good America), these brands create unique selling prepositions and ensure they educate their customers about it.
You can recreate these elements of their branding success using GemPages Page Builder. With GemPages, you can create a unique on-brand storefront that provides a seamless and intuitive user experience for your customers, making it easier for them to engage with your brand and make purchases.
By leveraging GemPages' intuitive drag-and-drop interface, you can easily create custom page layouts, add photography and multimedia elements that reflect your brand's personality and unique value proposition, and choose from a range of custom themes that help your clothing store stand out.
Your store needs some bells and whistles?
Explore GemPages' features and see what works best for your store. Free plan available. No strings attached.
2. Stock High-Quality Products
A common theme among successful clothing brands on Shopify is their focus on selling high-quality products. Learning from the companies we've explored above, clothing brands should sell premium products for their brand to succeed. 
Focusing on the quality of their products bodes well for retaining existing customers, which, in turn, bolsters a company's bottom line and continued growth.
3. A User-friendly Website Enhances Your Chances of Success
All top Shopify clothing stores combine unique website layouts, photography styles, custom themes, and other design elements as part of their online branding efforts. By creating and implementing unique front ends with stellar UX, they make a great user experience part of their branding.
You can recreate these elements of their branding success using GemPages Landing Page Builder.
4. Use Innovative and Unique Marketing Strategies
The fashion industry is highly competitive. Additionally, more companies are coming online, increasing the competition. With this in mind, clothing brands should be innovative with their marketing to succeed in growing their companies. Whether you choose to use social media and influencer marketing as Gymshark has done or follow the path of Bombas and implement ethical marketing, clothing brands must ensure they're innovative.
The Bottom Line

Builtwith.com indicated that over 4.25 million Shopify stores exist today, with sellers across 175 countries. Shopify has proven to be a sales-effective, cost-efficient, scalable, and reliable platform for creating eCommerce stores. As our list of top 10 Shopify clothing stores crushing 2023 shows, you can use this platform to create a thriving clothing business. And with an excellent page builder such as the GemPages Landing Page Builder, you can create a store that meets branding needs and optimize your store to convert website traffic into paying customers.