Back to Blog List
The A-Z Guide on How to Add Video to Shopify Product Page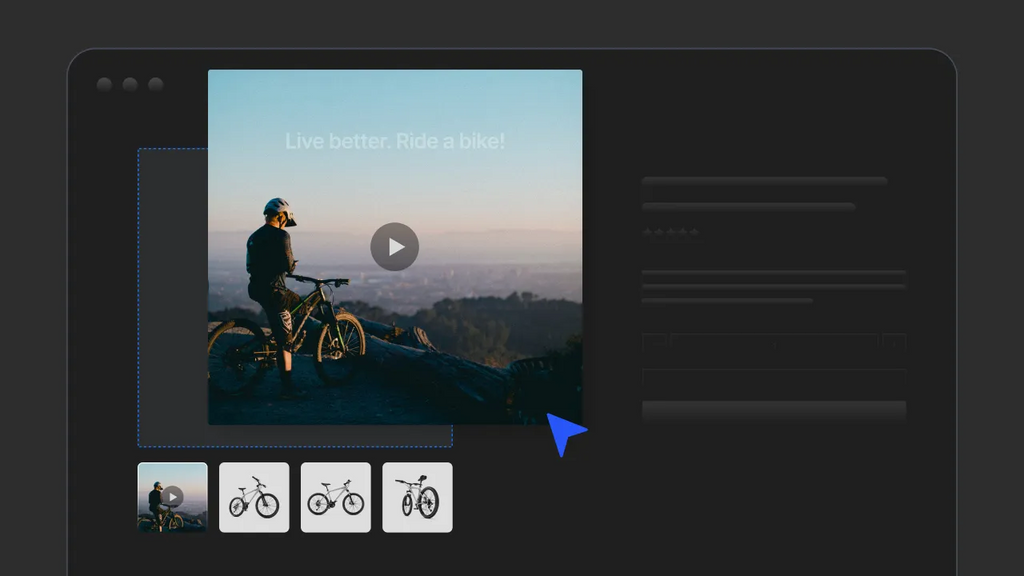 The emergence of online shopping enables customers to directly buy anything they need over the Internet within a few clicks and get it delivered right to their doorstep; however, it takes away customers' real experience with the goods.
So, how to make online shoppers easily imagine your products and make a purchase quickly? 
That is when product videos come in, to remove the gap between online stores and their customers.
There are plenty of places to put your product videos; however, in this article, we will provide you with an A-Z guide on how to add video to your Shopify product page, where customers entering your e-Commerce website can see it right away.
The Benefits of Adding Video to Shopify Product Page
Apparently, product images, descriptions, and videos all have the same functions, to illustrate what the product looks like and how it works. However, by adding video to your Shopify product page, you are increasing the chance of selling the products in ways texts and photos alone cannot do.
Learn more: 17 Shopify Product Pages that We Love 
According to a 2015 study by Animoto, the leading online video maker, 4 times as many consumers prefer watching a video that explains a product to reading about it.
The 2015 Video Marketing Cheatsheet by Animoto. Source: Animoto
Your store can benefit from adding product videos to your Shopify product page in a handful of ways, including:
1. Improve SEO Rankings
Search engines love video, making video a powerful tool for SEO (Search Engine Optimization).
Recently, Google has shown video thumbnails in 26% of search results, giving the results higher click-through rates. Research also reveals that video increases organic traffic from SERPs (search engine result pages) by 157%.
Besides, by improving 'dwell time' - the time people spend on a web page, video helps websites with video content rank higher on Google and have a higher chance of showing up on the first page of search results.
2. Increase Product Understanding
By showing your product in motion and explaining it in a quick and easy-to-digest way, videos help customers better visualize the product itself, its features, and its value while entertaining and engaging them.
3. Increase Conversion Rates
Better understanding of a product helps customers easier in making a shopping decision.
In fact, an Animoto survey revealed that 73% of respondents say they are more likely to make a purchase after watching a video explaining the products.
4. Make Your Store Stand Out
While videos are super important, they are not usually used by eCommerce sites to showcase their products due to a lack of time and financial resources. That's why you should capitalize on this kind of content to create your competitive advantage and drive more sales to your Shopify store.  
5. Boost Your Brand Reach
Video is apparently more shareable and clickable than bland text pages, helping extend your reach further, especially with the likes of social media such as Facebook, Twitter, Tiktok, and Youtube.
Learn more:
How to Connect Shopify to Instagram in 6 Easy Steps
How to Connect Your Shopify Store to YouTube?
6. Increase Trust
By providing an in-depth explanation and clear demonstration of your product, you are being transparent about what your product looks like, how it works, what are its benefits, and why it is valuable, thus increasing customer confidence.
How to Add Video to Shopify Product Page?
There are several ways to add videos to your Shopify product page. Here we list three possible ways to make it happen.
1. Adding Video to Your Shopify Product Gallery
With this first way, you can add videos to Shopify without YouTube or Vimeo.
Here's how:
Step 1: Head over to Shopify Admin and navigate to the Products section.
Step 2: Find the product you want to add the video to and click on it.
Step 3: From the product's details page, scroll down to the Media section. Here, you can add a video in one of the following ways:
Drag and drop the video wherever you want in the Media section.
Hit Add and upload the video you want to add.
Click Add from URL and enter the video URL of the product from YouTube or Vimeo.
Step 4: Remember to hit Save to save these changes.
Note: On Shopify, you are allowed to add up to 250 images, 3D models, or videos to a product. However, the number of videos and 3D models you can add to Shopify is limited depending on your plan type.
2. Inserting Video into The Product Description
With this second way, you will need the embed code of the video to add it to the product description. To do that, your video must be hosted on a third-party hosting service like YouTube or Vimeo.
Step 1: Upload your video to a third-party hosting site. In this example, we will use YouTube.
Step 2: Find the video you just uploaded and copy its URL.
Step 3: Go to Embed Responsively to create a responsive embed snippet code that makes your video responsive with any change in devices.
Step 4: Select the media source and paste the URL you copied into the field, then click Embed.
Step 5: After an embed snippet shows up, select the entire code and copy it.
Step 6: Now that you have the embed code of the video you want to add, go to your Shopify Store. Head over to the Product section and select the product you want to add video to.
Step 7: In the Description section, click the <> icon to Show HTML.
Step 8: After the product description text, type in <!-- split --> and then paste the embed code of your video.
Step 9: Click Save and your video will show up on your product description.
3. Adding Video to Shopify Product Page Using GemPages (The Easiest Way)
If an embed code is way too complicated for you to handle, here comes your solution: using GemPages page builder is the easiet way to add video to your Shopify product page.
Check out our GemPages tutorial video about how to add a video to Shopify pages with GemPages page builder. This tutorial also instructs you step-by-step on how to embed custom videos on your page.
GemPages page builder provides you with four available video elements, including YouTube, Vimeo, Video Background, and Popup Video, each of which serves different purposes. 
In this article, we list down step-by-step instructions on  a deep dive into how you can leverage YouTube and Vimeo elements effectively.
3.1. Add the GemPages app to your Shopify
Before going into details, let's start by adding the GemPages app to your Shopify. If you are already a GemPages user, skip this part.
Step 1: On Shopify Admin, hit Add apps and click the Shopify App Store link.
Step 2: On Shopify App Store, type the name GemPages in the search bar and select the recommended result.
Step 3: Click Add app to connect GemPages with your Shopify store.
Step 4: Hit Install App to finish the process.
With GemPages page builder added to your Shopify, you can now use it to edit whatever pages of your store you want.
3.2. Add YouTube videos to your Shopify product page
Step 1: Head over to the GemPages dashboard and hit the Product Page section.
Step 2: Click Create New Template button to edit your product page using the GemPages template library.
Step 3: Find the Youtube element by entering the keyword YouTube in the Search bar. Then drag and drop the element to wherever you want on the page.
Step 4: Replace the default YouTube link with your video link on YouTube.
Step 5: On the left sidebar, you have several options to edit the video added; for example, enabling sound, autoplay, or loop; showing YouTube controls or logo; etc.
Step 6: Remember to hit Publish to save the changes to your live site.
3.3. Add Vimeo videos to your Shopify product page
To add Vimeo videos to your product page using GemPages, follow the same steps we laid out; just replace YouTube with Vimeo when you search for the element.
Best Practices for Adding Video to Shopify Product Page
Videos can be a double-edged sword for your store. If you do not do it right, instead of drawing more customers in, video can completely drive them away. 
Here are the best practices for adding video to your Shopify product page so that you can use this kind of media to your advantage.
1. Keep Video Length Short
People are busy, and their attention span is short, so do not turn them off by making your video too long. Although the optimal video length varies depending on the type of products, type of content, video format, and target audience, studies show that videos under two minutes in length generate the most engagement and interaction.
If you are making videos explaining your product, just keep it short and focused on what you want to deliver.
2. Make It Relevant
You may want to cram all the details you have in one piece of video to make the most out of it. But what really matters is that your video can provide customers with the answers they expect to get. So, just stick to the point, make it relevant to the product you're selling, and focus on features, benefits, and how the product can be used.
3. Use Video with High-quality Image and Audio
In addition to great content, make sure to keep your video's image and audio of high quality. High-quality video production shows how dedicated you are to your product and your business, thus improving the perceived value of your product and building trust with potential customers. Besides, videos with high resolution and high-quality audio can improve customer experience and engagement, thus boosting conversion rates.
4. Optimize Videos for Mobile Devices
Now that online shoppers are mostly mobile users, making your video optimized for viewing on mobile devices is particularly important, as you may not want to miss out on this large portion of potential customers. Besides, with the rollout of Google's mobile first indexing, e-Commerce sites with mobile-friendly videos will have a better chance of ranking higher in search results.
5. Use A Compelling Thumbnail
A video thumbnail gives your viewers the first impression of your video, and "you never get a second chance to make a first impression," so make a good one. Use a thumbnail that accurately represents the video content and that will grab the attention of visitors and make them want to click through and watch the video.
6. Be Consistent across All Videos
If you want people to recognize your brand once they watch your product videos, try to keep a consistent look, i.e. background and lighting, and feel across all your videos, even when demonstrating different product types.
7. Add Video to Multiple Places
In addition to adding a video to your product page, consider adding videos to other areas of your site such as your home page or a dedicated video page. By doing this, you can boost the video's reach and increase the chance it is clicked and watched.
8. Include A CTA in Your Videos
At the end of the video, be sure to lead viewers to take action by adding a call to action or a destination, such as your website address or a link to order. By doing this, you are making it easier for potential customers to make a purchase.
9. Leverage The Human Element
We, as humans, are prone to feel related to and connect with other human beings, so adding the human element to your product video can help to personalize your products and improve your storytelling to impress and entertain viewers.
By providing viewers with a human experience, you are forming a connection between the brand and viewers that build trust, keeping them staying longer at your site and potentially leading to a sale. Make sure to choose the right person to tell your story, whether they are the product manager, an employee, a customer, or an influencer.
See how Make Up For Ever uses the human element in its product video to make it stand out from the crowd.
 10. Use Descriptive Titles and Descriptions
Make sure your video titles and descriptions accurately reflect the content of your video and use keywords that will help your videos show up in search results.
11. Use Captions
There is a chance that some of your viewers are deaf or have hearing difficulties, so make sure your video is accessible to all people by adding captions. This can also help to expand your reach further and improve engagement for people who are watching your video without sound.
12. Offer Multiple Videos for One Product
Consider offering multiple videos for a product to provide a more well-rounded view of your product and help to increase engagement. Besides an explainer video, try to make a product demo, a customer review video, a comparison video, or a how-to guide video. 
13. Track and Analyze Performance
Use Shopify's built-in analytics tools to track the performance of your videos and make data-driven decisions about how to optimize your video strategy in the future.
Level Up Your Product Pages with Videos and Reap Rewards
We, as customers, love videos, and search engines love them, too. So why are you still going around in circles, when videos can be your real game-changer to make your store stand out from the crowd?
First impressions always matter when it comes to online shopping, and videos can help you kill two birds with one stone. Video content is a great way for you to explain your product while grabbing customer attention at first sight and enhancing their engagement, thus increasing conversion rates and boosting sales.
Now, if you are ready to change your game with videos, head over to GemPages Page Builder and start elevating your Shopify store to the next level.
Build high-converting product pages with GemPages
Quickly create and customize compelling, conversion-optimized product pages to wow visitors and convert them into buyers.
FAQs about How to Add Video to Shopify Product Page
Can I add videos directly to my Shopify product page?
Yes, you can add videos (as well as images and 3D models) directly to your Shopify product page using the Video element in the page editor.
How do I embed a video on Shopify?
To embed a video on Shopify, you can either use the Video element in the page editor or embed the video code directly into the product description using HTML.
Can I use YouTube videos on my Shopify product page?
Yes, you can use YouTube videos on your Shopify product page by embedding the video code from YouTube into the product description or using the Video element in the page editor.
How do I add a video to my Shopify product gallery?
To add a video to your Shopify product gallery, you can just head over to your product details pages and add videos to the Media section and save changes; your video will then show up on your product gallery.
Or you can use an app or a custom code solution. Some popular apps that can help you add videos to your product gallery include Product Video by BigCommerce, Product Video & Gallery by HulkApps, and Product Video by HEXA.
Is it possible to add videos to Shopify collections?
No, it is not possible to add videos directly to Shopify collections. However, you can add videos to individual product pages and then add those products to your collections.
Is it possible to add videos to Shopify without YouTube?
Yes, it is totally possible to add videos to Shopify without YouTube. To do this, you will add videos to your product gallery by going to your product details pages and adding videos to the Media section.