Back to Blog List
Shopify Legal Pages Made Easy with These Pre-made Templates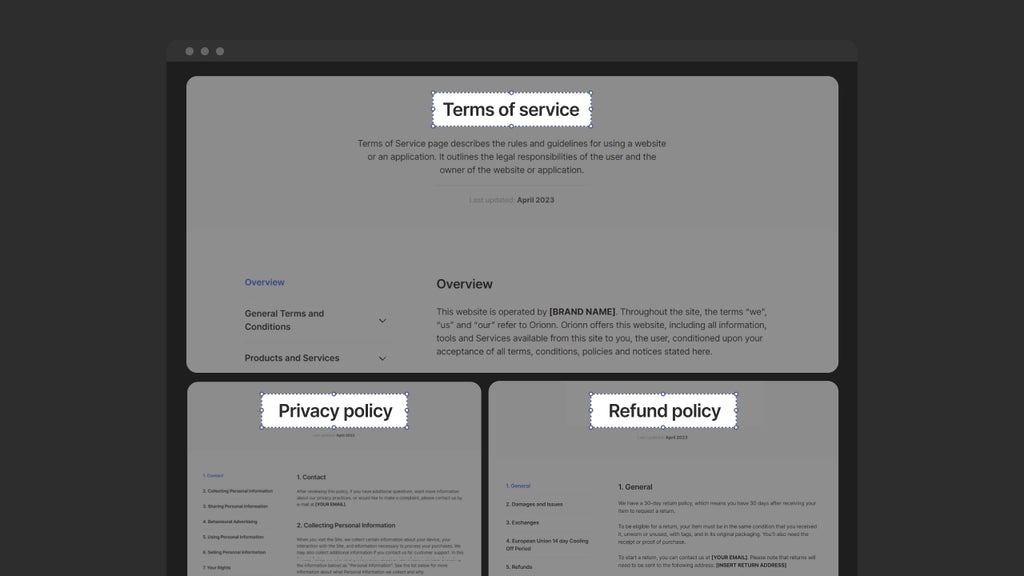 As an online business owner, you know that having a strong online presence is essential for success. But do you have all the legalities covered? That's where Shopify legal pages come in. These pages may not be the most glamorous part of your website, but they are crucial for protecting your business and your customers.
From privacy policies to terms of services, Shopify legal pages help you stay compliant with the law and provide a transparent and trustworthy shopping experience for your customers. 
In this article, we will explore everything you need to know about Shopify legal pages and why they are must-haves, not just cherries on the cake.
Overview of Shopify Legal Pages
As an online business owner, having legally compliant pages on your Shopify store is crucial for several reasons:
It helps establish trust with your customers. By providing them with transparent and legally compliant pages, you are showing that you are a trustworthy and legitimate business.

Having legally compliant pages can protect your business from potential legal issues and disputes with customers, which can be costly and damaging to your reputation.
When it comes to Shopify legal pages, there are several different types to you need to include into your online store:
Terms and Conditions (or Terms of Service) Page : sets out the legal framework for your online store, including details on payment methods, shipping, and warranties.
Privacy Policy Page:

describes how you collect, use, and protect your customers' personal information.

Refund Policy Page:

outlines your store's policy on refunds and returns, which can help reduce confusion and customer dissatisfaction.
By now, you should have a good understanding of what Shopify legal pages are and why they are important for your online store. In the next section, we will delve deeper into each of the Shopify legal pages we mentioned earlier and provide you with some best practices for creating them. 
We know that this might seem much of a headache to you, but stay calm and be cool. We've got you covered!
Terms and Conditions Page
Shall we start with the infamous Terms and Conditions page? The one that every store owner knows they need, but most are too lazy to create a proper one.
So, what exactly needs to be included in the terms and conditions page? Well, the answer is that it depends on your business and the products or services you offer. 
However, there are still some pieces of "one-size-fits-all" information. This includes details on billing and account information, shipping and delivery, warranties, and any legal disclaimers. 
The brand Corpus Naturals' terms of services page
If you're feeling unsure about what to include in your Terms of Service page, don't worry! The GemPages team has carefully crafted a comprehensive template that includes all the necessary information your Terms of Service page needs.
Important notes: The materials are for informational purposes only and do not constitute advertising, a solicitation or legal advice.
You should also consult independent legal advice before publishing these agreements. You should read the generated information with care and modify, delete or add all and any areas as necessary.
To use our template, follow these steps:
Step 1: Head to the GemPages dashboard > Create a new page > Landing page
Step 2: Click on the Explore Template button. Choose Information Page to filter templates. You will see different legal page templates.
Step 3: Hover over the Terms of services template. Click on Add to page
Step 4: Next, you need to make a few simple adjustments to match your business. This might include adding your brand name, email address, and store location. 
You can also further customize your page by dragging and dropping elements to your preferred position. Let's say you want to add your brand logo on the left side of the page. Hover over the image element and drag it to the "Drop element here" box.
That's all! Easy as pie, right?
By using GemPages' template for your Terms of Service page, you can save time and ensure that your page is legally compliant. This can give you peace of mind and protect your business from potential legal issues. 
Plus, with our intuitive drag-and-drop editor, creating a professional-looking Terms of Service page has never been easier. So, why not give it a try and see how GemPages can help you create a decent Terms of service page in a snap?
Shopify legal pages made easy
Save time and hassle with GemPages' pre-made legal page templates, designed by eCommerce experts, applicable for almost all businesses.
Tips:
Use simple language and avoid legal jargon as much as possible.

Make sure your terms and conditions are up to date and in compliance with relevant laws and regulations.
Privacy Policy Page
Besides the terms and conditions page, it's also important to have a privacy policy in place that outlines how you collect, use, and protect your customers' personal information. Not only is this a legal requirement in many countries, but it can also help build trust with your customers and protect your business from potential legal issues. 
So, what should be included in a privacy policy for a Shopify store?
First, your Privacy Policy page should clearly explain what personal information you collect from your customers, such as their name, email address, and payment information. 
It should also outline how you use this information, whether it's to process orders, improve your website, or send marketing emails. Additionally, your privacy policy should explain how you protect your customers' personal information, such as through encryption and secure data storage.
The brand Not Pot crafts a detailed privacy policy page in their online store
However, creating a Shopify privacy policy page can be a daunting task, especially if you are not familiar with legal jargon or the privacy laws in your country or state.
Moreover, privacy laws and regulations are constantly evolving, and it can be challenging to keep up with the latest changes and ensure your privacy policy remains compliant. 
For example, the General Data Protection Regulation (GDPR) in the European Union requires businesses to disclose specific information and obtain explicit consent from customers, and failing to do so can result in significant fines.
To make things easier, many store merchants opt to use a pre-made Shopify privacy policy template, like the one offered by GemPages. 
Shopify privacy policy template by GemPages
This GemPages' privacy policy page template is carefully crafted to cover all the necessary sections your privacy policy page should cover, such as how you collect and use personal information, how you protect this information, and how customers can opt-out of marketing communications.
Using this ready-made template, you can also rest assured that your privacy policy is accurate, compliant, and up-to-date with the latest laws and regulations.
To use this GemPages' template, simply click on the "Add to page" button in the GemPages dashboard and customize it to match your business. Pretty much the same as how you work with the terms and conditions page template before.
You can easily edit the template to include your business name, contact information, and other details. Plus, our template is designed to be easily customizable, so you can add any additional information that is relevant to your business.
Take the stress out of creating legal pages with GemPages
Get started with our pre-made templates, plug in your specific information and you will have a legally compliant privacy policy page in no time.
Tips:
Make sure your privacy policy content is written in plain language.
Avoid using complicated legal jargon or overly technical terms.
Including a link to your privacy policy page in your footer menu or checkout page.
Refund Policy Page
In the wild world of eCommerce, every click of a button could lead to a purchase and every purchase could lead to a return or refund.
Returns and refunds are part and parcel of any online business, and as a Shopify store owner, you will inevitably encounter customers who want to return or exchange their purchases.
Having a well-written refund policy page can help reduce the stress and uncertainty surrounding returns and refunds and ensure a smooth and positive experience for both you and your customers.
Kokada has crafted a refund policy page that can help to turn a potential disaster into a positive experience
When creating a refund policy page for your online store, there are some key pieces of information that must be included. 
First, you should outline the eligibility for a refund, including the timeline for refunds and any specific conditions or limitations. It is also important to specify the refund information, including whether customers will receive a refund or store credit, and how long it will take to process the refund. Providing this information upfront can help avoid confusion and frustration for both you and your customers.
Now that you know what to include in your refund policy page, it's time to make it visually appealing and easy to read. Using clear headings, bullet points, and white space can help break up large blocks of text and make your policy more digestible. You may also want to consider adding a frequently asked questions section to address common concerns.
Feeling overwhelmed by the idea of creating a refund policy page from the off? We got you. 
GemPages offers a customizable refund policy template that is super easy to use and can be tailored to your specific needs. Simply add the template to your Shopify store and customize it with your own information to create a professional-looking refund policy page in no time.
Shopify refund policy template by GemPages
This GemPages' refund policy template is good enough. But if you wish to provide further clarity and transparency, consider adding a frequently asked questions (FAQ) section to address any common questions or issues that customers may have.
Luckily, with GemPages, you have access to over 30+ pre-designed FAQ blocks that you can easily incorporate into your refund policy page. 
To add these sections to your refund policy page:
From the GemPages library, choose Blocks > FAQs.

Click onto the eye icon to preview the FAQ block. 

Once you find your favorite option, click "Add To Page".
You can then customize and adjust the content to fit your specific needs, making sure that your refund policy is comprehensive and easy to understand.
Learn more: 
Shopify Pages 101: A Beginner's Guide to Creating a Killer Online Store
Shopify Tutorial: How to Set Up A Shopify Store from Scratch for Beginners
Shopify Checklist for A Successful Online Business
Creating Shopify legal pages ain't a big deal
With GemPages' pre-made legal page templates, you can rest assured that your store is legally sound and compliant with relevant laws and regulations.
Wrapping Up
Voilà! You have successfully navigated the complex world of Shopify legal pages. By now, you should have a solid understanding of the must-have legal pages for your Shopify store, what information to include, and how to create them.
Remember, while creating legal pages can be overwhelming, it is crucial for the protection of your business and customers. By following best practices and using ready-made templates like those provided by GemPages, you can create these Shopify legal pages with ease and give your customers the confidence they need to purchase from you. 
Happy selling!
Not ready to commit but still want to kick the tires?
No problem! Get started with GemPages' free plan. Explore wonderful features that can do wonders for your store.
FAQs about Shopify Legal Pages
What legal pages should a website have?
Privacy policy page: explains how you collect, use, and manage visitors' personal informationTerms of services page: outlines the rules and agreements between the website and its usersRefund policy page: explains how customers can return or get refunds for products or services
How do I create a legal page?
The easiest yet most effective way to create a legal page is to use
GemPages' pre-made templates
. These templates include all the necessary information that each Shopify legal page should cover, applicable for most businesses. So, you can save tons of time and effort researching legal requirements.
How do I create a legal page with GemPages?
Step 1: From the GemPages dashboard, choose Create a new page > Landing page.Step 2: Click on the Explore Template button. Choose Information Page to filter templates. You will see different legal page templates, including Terms of Services, Privacy Policy, and Refunds Policy template.Step 3: Hover over the legal template you want to create. Click on Add to page.Step 4: Make a few simple adjustments to match your business. This might include adding your brand name, email address, and store location. Your Shopify legal page is now ready to be published.
How do I show legal pages on Shopify?
Create legal pages: create pages for each legal type (privacy policy, terms and conditions, etc.) with your contentLink to legal pages: add links to the footer or header of your Shopify store so visitors can easily access themDisplay during checkout: enable the "Terms of Service" checkbox during checkout to require customers to agree to your terms before completing their purchase
What pages are needed in a Shopify store?