Back to Blog List
Top Five GemPages Alternatives to Consider in 2023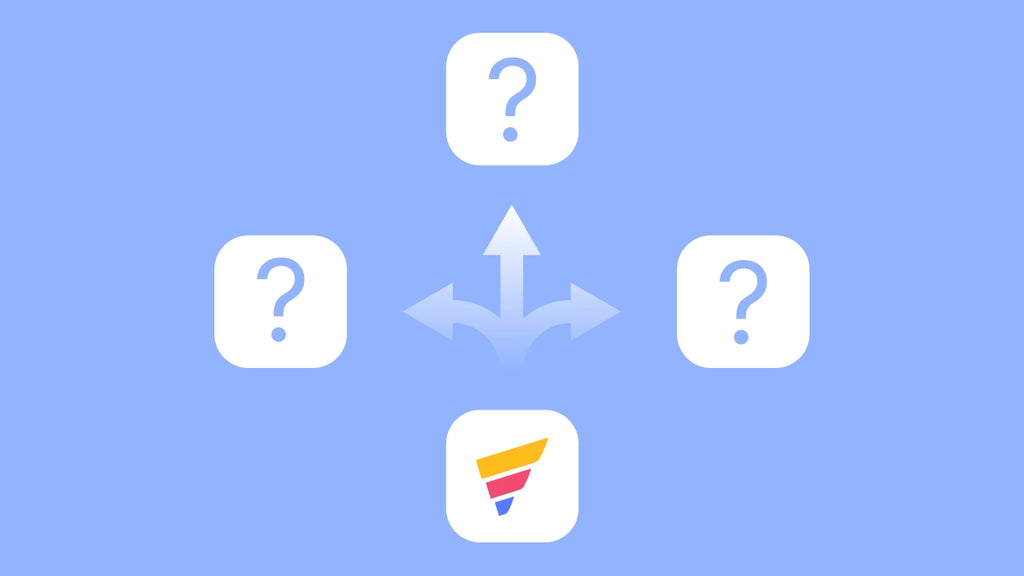 While we always go the extra mile to improve your experience with GemPages, we're not the only page builder for Shopify merchants on the market.
That's why if you're here looking for GemPages alternatives, we're still willing to provide you with all the essential information you need.
This article will look at five GemPages alternatives, their features and drawbacks—to help you make a well-informed decision.
Shogun
Shogun Page Builder
Shogun is a drag-and-drop visual builder that helps to build optimized Shopify landing pages, homepages, product pages, or any page types without design and coding skills.
Shogun Features
1. Global Styles
If you have to repeatedly edit every tiny detail on your pages to unify your store's appearance, then Global Styles is what you need. This feature allows you to make all your adjustments in a single place and apply them to each page, so you will no longer have to spend tons of time and effort ensuring your brand consistency.
With Shogun, this feature is available out-of-the-box. You can save, edit, and update Shogun's Global Styles and apply them on different pages. This reduces development time and creates a cohesive look across all of your store pages.
Does GemPages have this feature?
Global Styles is one of our core features. With GemPages Global Styles, you can:
Quickly import styles from your theme OR create a new preset from scratch AND customize the preset to your specific needs. All with just a few clicks;
Create as many preset as you wish;
Apply your preset to each of your pages.
2. Image Compression and Lazy Loading Tools
Of course, it's not only about page design. Brands also need to balance beauty and performance. Shogun has an image compression feature and lazy loading tool to preserve bandwidth and improve loading speed.
Does GemPages have this feature?
Yes. GemPages helps to compress media files automatically and comes with high-speed CDN external and a lazy loading feature. You can design your pages however you want, and add as many elements as you wish without worrying about speed—stunning sites without performance tradeoffs.
At the end of 2022, GemPages released an exclusive feature called Instant Landing Pages. This feature helps to build landing pages that are faster to load and mobile-optimized. Also, our next-gen frontend technologies ensure ultra-smooth in-app performance, so you can enjoy a smarter editor experience.
Shogun Drawbacks that GemPages solves
1. No Unlimited Pages
Shogun has four pricing plans, but no plan offers you an unlimited number of pages.
If your business is small to medium-sized, this might not be something you need to consider now. But if you're a large business or your business matures over time, you should really think about it.
Unlike Shogun, GemPages doesn't limit the number of pages you can create and publish on our two paid plans, namely the Optimize and Enterprise plan.
So, why settle for less when you can always go for a page builder that knows no bounds like GemPages?
2. Not Truly Value for Money
Compared to Shogun, GemPages offers more bang for your buck. You can take a look at GemPages' Optimize plan vs. Shogun's Measure plan to see the difference.
 Features
GemPages' Optimize Plan - US$59/month
Shogun's Measure Plan - US$149/month

AI Image-to-Layout feature

(in Beta)

Yes
No
Unlimited pages
Yes
No
Template
80+
70+
Element
100+
33+
Custom code

Yes

No

SEO Controls

Yes

Yes

A/B Testing (v6)

Yes

Yes

Live chat support

Yes

Yes
As you can see, if you go with Shogun, you have to 2.5x your budget but you get far fewer features.
Also, there are a bunch of important features that GemPages has that Shogun doesn't. They are Instant Landing Pages, before and after images, content and video popup, sticky elements, and flow actions. Especially, our first AI-powered Image-to-Layout feature (currently in Beta mode) in version 7 While Image-to-Layout has received many positive feedback from e-Commerce enthusiasts, we are constantly improving the feature to bring the best user experience.
"It's an awesome app, I was using [the] Shogun page [builder] before. And this is MUCH MORE POWERFUL and MORE FLEXIBLE and MORE EASY, and you can't believe that IT IS AT A LOWER PRICE. It's just too good to be true, but it happens."
- NIU Euro Shop.
Launched in May 2022, EComposer is a Shopify page builder app that allows merchants to easily create custom pages and layouts for their online store.
EComposer
EComposer Page Builder
Launched in May 2022, EComposer is an easy and fast page builder that helps Shopify merchants to create any page type and section.
EComposer Features
1. Professionally Crafted Page Templates
EComposer has an extensive library of dazzling, ready-made templates. Whatever your industry, your business model, and whatever types of pages you're about to create, you will likely find an EComposer template made for you. 
All these templates are mobile-responsive, so you can rest assured that your pages look on point on whatever devices your customers are browsing.
The only drawback is EComposer hasn't yet offered tailor-made templates for special occasions like Valentine's Day, Mother's Day, and Christmas. Hence, you will need to put more effort into crafting compelling holiday-based landing pages fitting the joyous occasion.
Does GemPages have this feature?
Absolutely yes! GemPages has 80+ polished templates designed by eCommerce CRO experts, optimized for conversion, for every niche, and purpose.
Besides, GemPages also offers a slew of seasonal templates, making it easier for you to dress your store in the festive spirit.
There's no need to start from scratch. Just choose your cup-of-tea template from our seasonal template library, then make it yours by adding high-quality visuals and fresh content.
2. Highly Customizable Pre-designed Blocks
Working with a full-page template is convenient, but sometimes you don't want the entire page to be preset for you. With blocks, you can mix and match pre-designed options to get your desired layout.
EComposer has a library of 250+ blocks which you can freely drag and drop and highly customize to make them fit your design.
Does GemPages have this feeature?
Absolutely yes! GemPages has way more blocks than EComposer—430+ blocks covering all essential functions, from product display, social proof and sticky CTAs to boosting sales. 
Each of GemPages' blocks is built with simplicity and independence in mind, making the task of fitting the different blocks together much easier for users.
EComposer Drawbacks that GemPages Solves
1. No Smart Optimization Assistant
A page builder helps to create and customize your store pages without coding skills. But if you have zero design knowledge or don't trust your own artistic eyes, chances are you will need some more help.
From the CS agent? Yes, both EComposer and GemPages have 24/7 expert support.
But GemPages went one step further.
Besides human support, GemPages developed a built-in automated tool named GemMeter, capable of analyzing elements, evaluating page performance, and providing design suggestions for your landing page instantly.
By February 2023, this smart optimization tool can detect 13 design errors and provide real-time suggestions to improve readability, enhance the allure of your landing pages, and boost performance.
It's easy to see that GemPages is a better bet for store merchants that have little-to-zero design skills. With GemPages, you get assistance every step of your way, both human and automated support. So you can build efficiently and fine-tune your pages with ease.
2. No Page Scheduling
Page scheduling is an advanced feature that allows you to set a date and a time for your page to go public.
Unfortunately, EComposer hasn't supported this feature yet. That's why you might have to carry your laptop during beach days to launch your campaign pages.
GemPages, on the other hand, can give you a completely off-the-grid downtime because you determine when sales pages will be published beforehand. Your promotion will go live while you're enjoying your sunny beach getaway.
PageFly
PageFly dashboard
PageFly is a drag-and-drop page builder that helps to build and optimize your Shopify store pages for better sales and conversion.
PageFly Features
1. Responsive Web Design
All PageFly templates and elements are mobile-friendly, so you can rest assured that your customers can enjoy a seamless digital experience across devices.
Does GemPages have this feature?
100% yes! We understand that mobile-friendly designs provide a better user experience and drive conversion. That's why we always put responsiveness at the core of our designs.
With GemPages, responsive edits are generally inherited from larger screen sizes down to smaller ones. It means if you design your pages in the desktop view first, then all the settings will automatically apply to the remaining three views—laptop, tablet, and mobile. Then, you can freely make adjustments to each device if necessary.
2. 3D Images
PageFly supports 3D images as one of their product media types. You can add 3D models to help customers take a 360-degree view of your products instead of the usual scrolling and zooming with 2D images.
Does GemPages have this feature?
Like PageFly, GemPages also supports 3D product images. The best part is that uploading 3D images to the GemPages dashboard is super quick and easy; even newbies can do it in just a few minutes.
PageFly Drawbacks that GemPages solves
1. Lacks Advanced Animations
PageFly has a decent range of animations and effects. But most of them are pretty basic and are what other page builders already have.
You don't want to be just another online store, do you? To really take your storefront to the next level and stand out from the pack, you need something more sophisticated.
Here are some of GemPages advanced animations and elements that you can't find on PageFly:
Video background
Parallax scrolling effect
Before and after images
Content and video popup
Dynamic checkout buttons
Flow actions
Related products
These features are your shortcuts to the unique, polished storefront that you've always dreamed of. Why choose only the basics when you can opt for GemPages and get so much more?
"I used PageFly which is a great app, but this is a level or two up. Easier to build a store and this app have [sic] support who can do things in your shop that you can not imagine. Amazing app!"
- Napping Pack.
"Very nice app (GemPages). Support is amazing, they are usually always around and can help right away, which makes a big difference when you are trying to do something. I tried using PageFly first. PageFly feels a little more technical and needs more practice, but this is easier to pick up faster, I could still do everything here."
- Zest Balance.
2. No A/B Testing Feature
A/B testing, simply put, is the method that allows you to compare two versions of your page against each other to determine which one performs better.
This feature is not available on all PageFly plans. Hence, if you want to kiss guesswork goodbye and make data-driven decisions, go for GemPages instead.
The A/B testing feature is available on our paid plans, starting from $29/month. You can create a variation of your page, run two pages simultaneously, customize your test duration, and link to your Google Analytics.
The below video will give you a closer look into our A/B testing feature. Check it out!
Zipify
Zipify Page Builder
Zipify is a page builder and editor that enables you to build high-converting sales funnels, product, and landing pages.
Zipify Features
1. Compatible with Most Shopify Themes and Online Store 2.0
Zipify is compatible with most Shopify themes and Online Store 2.0. So basically, whatever Shopify theme you're using, you can install Zipify on top of it and start customizing for a more advanced storefront.
Does GemPages have this feature?
Yes. GemPages is also compatible with almost all Shopify themes and Online Store 2.0. We've got the 'up-to-date' tech label from Shopify, which approves that GemPages works with all the latest themes. But Zipify hasn't yet been officially recognized by Shopify for this feature.
2. Integrates with Shopify Apps for Seamless Installation
At the time of writing, Zipify was able to integrate with seven Shopify apps, meaning Zipify users can install these apps right inside Zipify—without having to go to the Shopify App Store and then starting to set them up from scratch.
Does GemPages have this feature?
Absolutely! GemPages supports in-app integration with 34+ Shopify apps. This number definitely surpasses Zipify! Of course, we're always putting every effort into lengthening this list, so you can have everything you need—all in one place.
Zipify Drawbacks that GemPages solves
1. Zipify Only Has Two Pricing Plans
If you're a small-sized business or just starting out, chances are you will find Zipify's plans a little over your budget, not to mention their range of features are not that great (more on this shortly).
"Excellent page builder for my webshop! The service is also top-class, and I got help immediately from the tech team. Tested PageFly and really wasn't for me, Zipify is too expensive. So I would recommend Gempages for sure."
- Stabil Posture
Meanwhile, GemPages has a freemium plan and three paid plans, and the price is accessible for all business scales, big or small. Here's what GemPages offers:
GemPages also offer a 20% discount if you pay annually
2. Lacks Some of The Most Essential Features
Zipify has neither a drag-and-drop editor nor Global Styles feature. Yes, you read it right!
If you are paying $67 per month for a non-drag-and-drop page builder, you may want to rethink your investment.
Meanwhile, GemPages offers a free plan with the drag-and-drop editor and access to all elements. With our drag-and-drop editor, you can see how an element looks in multiple positions with one swift move.
And because Zipify doesn't support the Global Styles feature, chances are you will end up tweaking every detail on different pages all over again. This can be boring and time-consuming! Why not save yourself from this long and painful task with GemPages Global Styles?
LayoutHub
LayoutHub Page Builder
LayoutHub is an easy page builder that helps merchants quickly set up an online store with any page type by using their library of pre-designed layouts and blocks.
LayoutHub Features
1. SEO Control
Apart from driving more traffic to a website, SEO can be complementary to brand awareness. The more visible your pages are in search results, the faster you can attract the right customers to your business.
With LayoutHub, you have complete control over on-page meta descriptions, titles, and alt-tags. You can easily configure these settings for Google bots and crawlers.
Does GemPages have this feature?
We understand that speed and mobile responsiveness are two of the most crucial ranking factors. That's why all GemPages templates and elements are optimized for speed and mobile-responsiveness.
Besides that, we also grant our users granular control over image SEO. You can provide search engines with a text description of what's on the image by adding an alt tag and alt text for your image. This improves accessibility, and if you include your keywords, your chances of ranking in image searches too.
2. The Ability to Add Custom Code
LayoutHub supports adding custom code to further customize your Shopify store. This feature is mainly geared towards developers and tech-savvy users who demand a one-of-a-kind functionality that might go beyond what a page builder offers.
Does GemPages have this feature?
GemPages page builder is powerful and flexible, and you can solve most challenges with built-in templates and elements. But of course, you can always add custom code for a special feature that meets the unique needs of your business.
If there is a feature you wish to have on GemPages, let us know and we'll see what we can do. At GemPages, your opinions always matter.
LayoutHub Drawbacks that GemPages solves
1. No Flow Action Feature
Flow actions are custom actions that render a flow. They are efficient methods to enhance engagement and calls-to-action.
This feature is currently not available on LayoutHub but comes by default on GemPages. For the technical details, see: How to create automated interactions using the flow action feature.
2. Unable to Transfer Pages
We know that with many sleek templates coming out, you might be tempted to change the style of an existing page. Instead of inputting everything all over again, you can transfer your templates and blocks to the destination page in just a few minutes.
Unfortunately, you are unable to do so on LayoutHub. But if you go for GemPages, you can transfer your pages without a hitch. Designing your storefront is getting easier and more efficient, so you can invest more time in acquiring new customers for your store.
Why Is GemPages Still The Best Page Builder for Your Shopify Store?
While there's no denying that all of these GemPages alternatives have fantastic features, they also have some drawbacks that keep them from being truly great.
Instead of tradeoffs, why not choose GemPages and get the most of all these GemPages alternatives with none of the drawbacks?
GemPages will give you:
The intuitive drag-and-drop editor that Zipify and LayoutHub don't have.
The advanced features that EComposer, PageFly, and Zipify don't offer.
The ease of use and stability that PageFly lacks.
The value for money that Shogun will not.
And the endless customization that none of these GemPages alternatives has to offer.
"For Shopify, this is the best page builder app out there, and I've tried them all...Shogun, PageFly, Zipify... but GemPages takes the cake. It integrates with Shopify..., it has all the customization you need (unlike Shogun, Zipify), and it actually works, no bugs (unlike PageFly)."
- Cotton Coat.
Besides top-notch features, GemPages also offers you round-the-clock support. No matter which GemPages plan you go with. No matter what issues you encounter. We've got your back, always!
Also, GemPages is the only Shopify page builder among this GemPages alternatives list offering a 30-day money-back guarantee. You can get your money back if you change your mind in the first 30 days. But please share with us anything you are not yet satisfied with, so we can improve GemPages for you.
We always strive for the best, and never settle for less.
Ready to elevate your Shopify storefront?
Take your storefront to the next level with GemPages page builder. Free plan available. Upgrade as you scale.