Back to Blog List
Sellvia vs Shopify: Which is Best For Dropshipping?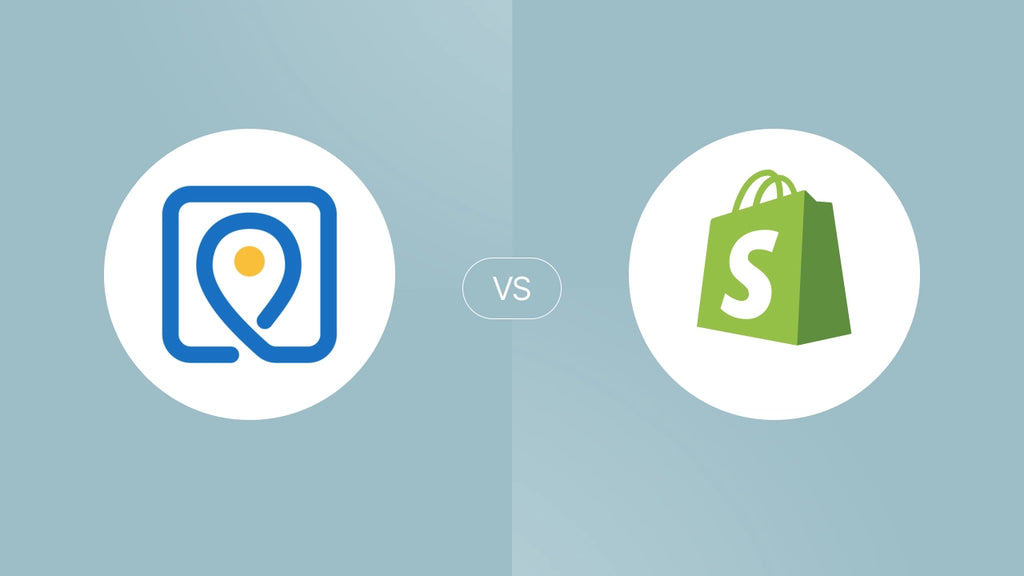 Sellvia vs. Shopify has become a crucial contemplation for individuals entering the realm of dropshipping entrepreneurship. Both platforms have a unique set of strengths that can turbocharge your dropshipping business. 
In this blog post, we'll break down the key differences between each platform to find out which offers the best combination of tools and resources for building a successful dropshipping store.
Whether it's sourcing products, flexible payment options, competitive pricing, or top-notch customer support, join us as we dive deep into the showdown of Shopify vs. Sellvia.
What Is Sellvia and How Does It Work?
Sellvia is a popular dropshipping ecosystem in the United States
Sellvia is a US-based comprehensive dropshipping ecosystem that offers everything from dropshipping process to shipping products directly to your customers. It zeroes in on the dropshipping model, making it an attractive option for beginners.
Here are two Sellvia pricing plans that provide additional features for customization and growth.
Sellvia - $39 per month: This plan is the best for those already selling online. All you need to do is to install Sellvia on your online store and import products. Then Sellvia will process your orders, pack the items, and ship them to their doorstep. 

Sellvia PRO - $399 per year: This plan is the best for starting a business from scratch. After completing the registration process, you'll fill out a survey to gather necessary information about your preferences. Once submitted, the Sellvia team will build a store tailored to your needs.

 
What Is Shopify and How Does It Work?
Shopify caters to various business models, including dropshipping
Shopify, a heavyweight in the e-commerce realm, empowers entrepreneurs with a comprehensive platform catering to various business models, including dropshipping. From inventory management to payment and shipping processes, Shopify streamlines the entire sales process into one platform. 
Moreover, Shopify is an excellent option for businesses seeking to expand into international markets. This platform offers multiple language translations, multiple currencies, and the ability to handle local taxes and customs.
Shopify has three pricing plans that help every owner start, scale, market, and run a retail business of any size. The company offers $1/month for a three-month deal, applying to all pricing plans. 
Basic - $39 per month: This plan is suitable for individuals and small businesses and provides everything you need to create your store, ship products, and process payments. 

Shopify - $105 per month: This plan levels up your business with professional reporting and more staff accounts.

Advanced - $399 per month: This plan gets the best of Shopify with custom reporting and the lowest transaction fees.
The platform also powers many successful Shopify dropshipping stores which allows many business owners to thrive and flourish in the market. 
Sellvia vs Shopify: Which One Is The Best for Dropshipping?
Sellvia offers a curated selection of dropshipped products with automated order fulfillment, simplifying e-commerce for beginners. Shopify is a comprehensive platform allowing greater customization and flexibility in creating online stores. Choose Sellvia for ease, Shopify for versatility.
Here's a quick summary:
| | | |
| --- | --- | --- |
| Feature | Sellvia | Shopify |
| Product Sourcing | A Curated selection of high-quality products from US suppliers.  | Wide variety of products from global suppliers by integrating with third-party apps.  |
| Payment Gateways | Over 10 payment gateways, including PayPal, Stripe, 2Checkout, etcetera. | Over 100 payment gateways, including PayPal, Stripe, Shopify Payments, etcetera. |
| Shipping Options | 1-3 business days shipping across the US. | Shipping globally through third-party apps. |
| App Ecosystem | Built-in apps | Over 8,000 apps ranging from marketing, shipping, store design, inventory management, and more. |
| Customer Support | 24/7 customer support and a marketing academy | 24/7 customer support and a Shopify academy |
| Pricing | From $39 per month. | From $39 per month. Shopify offers $1/month for a three-month deal, applying to all pricing plans.  |
| Store Design | A good selection of dropshipping-focused templates, which are easy to set up but might have limited customization options. | A vast collection of professionally designed themes catering to various industries and extensive customization, thanks to its Editor and third-party apps.  |
Where Sellvia Wins?
1. A High-quality US-sourced Product Catalog
Sellvia boasts a carefully curated selection of high-quality dropshipping products
Sellvia boasts a carefully curated selection of US-sourced dropshipping products, handpicked for quality and market demand. This can save you time and effort that you might otherwise spend researching and sourcing products individually.
2. Faster Shipping Across The US 
Customers nowadays have grown used to same-day and next-day shipping. Based in the US, Sellvia offers 1-3 day US shipping policy, giving you the edge to increase customer satisfaction. 
Sellvia ships products within the US only so it might be a good choice for entrepreneurs targeting this market. Shopify would be a better option for dropshippers aiming at international customers. 
3. Dropshipping-focused Support
Both Sellvia and Shopify offer 24/7 customer support via chat and email. They also have a large knowledge base with a variety of training resources, such as webinars, video tutorials, and blog posts to guide you along the way.
While Shopify Academy is a more general resource that covers different aspects of eCommerce, Sellvia Marketing Academy is specifically designed to help you learn marketing strategies and is tailored to dropshipping.
In addition, once signing up for the Sellvia Pro plan, you will be assigned a dedicated manager who will give expert dropshipping tips from product selection to marketing strategy. This personalized support sets Sellvia apart and ensures that you'll receive comprehensive guidance throughout your dropshipping journey.
Where Shopify Wins?
1. A More Diverse Product Portfolio
Instead of sourcing dropshipping products, Shopify provides a platform connecting you with third-party dropshipping suppliers all over the world.
Business owners can effortlessly import products to Shopify from various sources like Amazon or AliExpress via third-party apps. Such practice allows entrepreneurs to access products that are more diverse in terms of originality, pricing, and so on. 
2. More Payment Gateways 
Sellvia offers a limited selection of over 10 payment gateways. Meanwhile, Shopify accepts a variety of payment gateway options, from popular options like PayPal, Shopify Payment, Apple Pay, Google Pay, and Stripe to more specialized ones like Braintree and Authorize.net., making it easier to accept payments from customers around the world. This flexibility helps improve your Shopify conversion rates and expand your market reach.
3. A Wider Range of Apps
The Shopify App Store offers over 400 apps designed explicitly for dropshipping. These dropshipping apps will help you streamline and automate the process of running a dropshipping business.
Shopify offers over 400 dropshipping-focused apps
From sourcing products, managing inventory, and fulfilling orders to improving shipping times, these apps will help you streamline and automate the dropshipping process, then have more time to focus on growing your business.
4. More Flexible and Customizable Store Design
Shopify allows for extensive customization when it comes to store design. You can choose from a wide range of Shopify themes and edit the code to customize your stores as you desire. 
Even if you're not a coding pro, you can always turn to visual page builders like GemPages to have greater control over your brand presentation effortlessly. GemPages offers a faster and smarter approach to page building, thanks to the powerful drag-and-drop Editor and 80+ pre-built templates. 
GemPages offers a faster and smarter approach to page building
Customize your Shopify store pages effortlessly
The powerful page builder empowers you to create stunning store pages smarter and faster. No coding needed.
In contrast, when the Sellvia team builds your store for you, you may face limitations in modifying the store design and making it truly unique to your brand.
Sellvia vs Shopify: Pricing
Subscription plan
Here is a pricing comparison table between Sellvia and Shopify. Please note that Shopify currently offers 3 months for $1/month deal, exclusively for new users. 
Platform

Shopify

Sellvia

Plan

Basic

Shopify

Advanced

Sellvia & Sellvia Pro

Free trial

3-day free trial

14-day free trial

Monthly plans

$39/month

$105/month

$399/month

$39/month

Annually plans

$29/month

$79/month

$299/month

$399/year
Transaction fees
Sellvia's transaction fees are associated with payment gateways, which range from 0.75% to 5%. On the other hand, there are no transaction fees for stores using Shopify Payments. If you choose a third-party payment provider, there will be additional fees of 2%, 1% or 0.5% for their Basic Shopify, Shopify, and Advanced Shopify plans, respectively.
Sellvia vs. Shopify: The Final Verdict
Shopify and Sellvia both offer various features to help your dropshipping business accelerate growth. Sellvia can be advantageous for dropshippers who intend to sell to US-based customers and a simplified dropshipping experience. On the other hand, if you seek a platform that would help you build a highly customized store and serve international customers seamlessly, Shopify emerges as the clear contender. 
However, it's essential to carefully assess your business goals, niche, and requirements to determine if Sellvia and Shopify's offerings align with your long-term strategy. 
FAQs About Sellvia and Shopify
Does Sellvia Work with Shopify?
Yes
. You can download a third-party app
Sellvia
from Shopify App Store and import products from Sellvia into your Shopify store.
Which Is Better For Dropshipping: Shopify or Sellvia?
When comparing Shopify vs Sellvia to find out which platform is better for dropshipping, it ultimately depends on the products and the markets you want to sell. While Sellvia offers fast shipping within the US, with Shopify, you can sell globally through its third-party dropshipping apps.