Back to Blog List
15 Best Shopify Sneaker Sites That We Love in 2023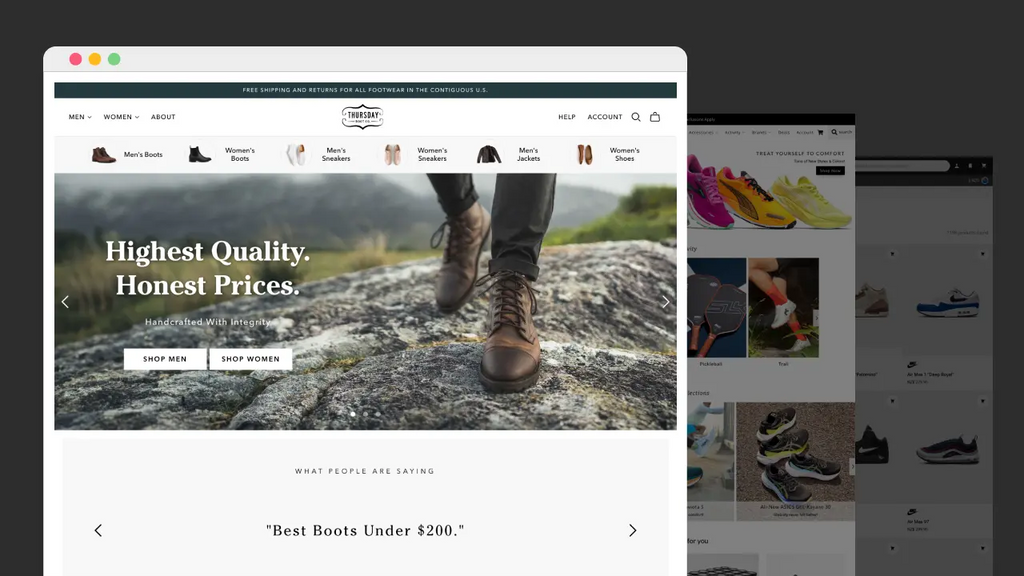 Sneakers aren't just footwear products, it's a culture!
And this decades-old sneaker culture has made it an evergreen business—generating revenue worth billions in the footwear industry.
According to Statista, the sneakers segment has contributed revenue of a whopping US$76 billion in 2023, and the year isn't over yet. As we look ahead, the sneaker market is expected to grow at 5.31% annually (CAGR 2023-2028).
If you're ready to tap into this lucrative market and build or expand your sneaker brand on Shopify, you've come to the right place. In this blog post, we'll take you through the best Shopify sneaker sites along with the key aspects that make them awesome sneaker brands.
So, get ready to learn some great insights!
15 Best Shopify Sneaker Sites to Get Inspired From
Thursday is a brand that was started with the mission of providing high-quality footwear with "honest pricing". The brand then expanded into sneakers and other products too.
Thursday's sneakers collection page is nicely designed with lifestyle images.
What makes Thursday one of the best Shopify sneaker stores?
Thursday's website has two header menus—one with a mega menu sticky header and the other one (non-sticky header) has specific shoe categories—which makes site navigation so easy.
Great copy to build an impression of a premium and credible brand.
Your website copy is your brand's message. The headline
"Highest Quality. Honest Prices."
and the sub-headline
"Handcrafted With Integrity"
—immediately grab attention and convey the brand's message. And it also creates a perception of what you can expect from this brand.
Sharing behind-the-scenes and the brand's values.
The About section of this store shares how products are expertly handcrafted. Also, it represents the values this brand follows in manufacturing its products and how they care about the team and community around this brand.
Beckett Simonon's business model is designed to offer high-quality products at a reasonable rate. For this, the brand crafts the products only upon receiving an order to avoid keeping inventory. Also, the brand is selling online only to exclude the margin of retail stores from its pricing.
Beckett Simonon delivers high-quality sneakers that are handcrafted by artisans.
What makes Beckett Simonon one of the best Shopify shoe stores?
Trust badges with an amazing footer design:
Beckett Simonon has a nice and clean footer design that adds to its premium brand image. More importantly, they've covered some trust badges that build the credibility of the brand. With guarantees like a "60-day money back guarantee", and a "1-Year warranty against defects," customers can feel confident in their purchases. Plus, they proudly display the Certified B Corporation icon to further enhance their credibility.
Displaying the craftsmanship behind the products:
Beckett Simonon showcases how its products are made with traditional techniques and what goes into making those "intentionally designed" products. This sets them apart from their competitors and adds to the allure of their brand.
Pro tip: GemPages help you customize your pages and even your entire store faster and smarter, overcoming certain design limitations of Shopify themes. 
TAFT was founded by a husband and wife—Kory and Mal—in 2013 from their small 2-bedroom apartment. And now, their brand is among one of the successful Shopify stores. This shows that if you have passion for your business, you can take your business to the heights of success, no matter how small you start.
TAFT sneakers come with great designs and you can custom those designs too.
What makes TAFT one of the best Shopify shoe stores?
Offering customized sneakers to customers.
Personalization is one of the best selling points that any brand can implement. TAFT has created a made-to-order platform where customers can create their own customized sneakers by choosing a style, size, sole, material, laces, and more.
Growing a great social media presence and making the most of it.
For a sneaker brand, Instagram is a great platform to be on. TAFT has grown its profile with over 630,000 followers on Instagram. Also, they've kept a dedicated section on its homepage displaying the Instagram feed and encouraging customers to follow TAFT on Instagram.
Pro tip: You can effortlessly add social media icons to your Shopify pages using GemPages
Crepdog Crew is a sneaker and streetwear brand that started its journey with an Instagram page. The brand has now transformed into a "premier destination for sneakerheads" in India.
Crepdog Crew's website has an amazing and aesthetically pleasing design.
What makes Crepdog Crew one of the best Shopify sneaker stores?
Offering customers an option to chat for support.
Crepdog Crew offers a chat option to customers for any questions or concerns they may have related to any product. The chat widget also allows tracking the order. So, if customers are only looking to check the order status, they can resolve the query on their own.
Allowing customers to request a sneaker with a different size.
Imagine falling head over heels for a sneaker, only to be left disappointed when your size is nowhere to be found. Crepdog Crew tries to resolve this issue by allowing customers to send a size request so that the right size can be made available.
Giesswein is a family-based business that's being run by the third generation of the family—Markus and Johannes Giesswein. Both co-founders have been dealing with the usage of wool since childhood and that's why their brand crafts truly distinctive products using this natural and cozy material.
Giesswein's homepage design looks clean and elegant.
What makes Giesswein one of the best Shopify shoe stores?
Building trust through reviews along with user-generated content (UGC).
UGC makes it possible for customers to see the product being used in real life. Giesswein knows that very well and encourages customers to share their pictures on Instagram. As a result, Giesswein thrives in presenting this vibrant UGC on its website, allowing potential buyers to connect with the brand through genuine, relatable moments.
Sneaker Politics is a sneaker and clothing boutique. After starting in Lafayette, LA in 2006, this brand has expanded its horizons to six different locations so far.
Sneaker Politic highlights its upcoming products on the homepage with a dedicated section.
What makes Sneaker Politics one of the best Shopify sneaker stores?
Creating seasonal discount offers to entice customers.
As a business owner, you always need to be prepared for all special occasions throughout the year. After all, those are your big selling opportunities. As you can see, Sneaker Politics created a special discount code for the 'Back to School' season offering a 15% sitewide discount.
Building credibility by displaying pictures of physical locations.
For any online brand, gaining the trust of customers is crucial. Since Sneaker Politics sells its products online as well as through physical stores, the brand shares their physical location(s) to create a sense of trust.
Pro tip: Boost your seasonal campaigns with GemPages' diverse template library. Be one step ahead with all the essential templates and conversion-ready elements you need for the biggest eCommerce holidays like Black Friday and Christmas.
Bata has created an attention-grabbing hero image section displaying some awesome sneakers along with the 5% cashback offer.
What makes Bata one of the best Shopify shoe stores?
Style-centric Categories.
Bata has categorized the sneakers into different style-based categories such as casual, sporty, trendy, classic, and outdoor-inspired. This smart move turbocharges user experience, allowing customers to swiftly explore the styles that resonate with them.
Creating blog content for enthusiastic

sneakerheads.
Bata has a blog section on its homepage, providing different articles and guides on sneakers. They even unravel the history behind these iconic footwear choices. By sharing such insightful content, Bata solidifies its brand identity and gains credibility in the sneaker community.
Founded in 2002, Undefeated is one of the popular Shopify stores to buy authentic sneakers and apparel. Undefeated has an awesome collection of a variety of footwear products as well.
Undefeated has a quite simple homepage design.
What makes Undefeated one of the best Shopify sneaker stores?
Minimalistic design with consistent color scheme and product images.
Even if you keep scrolling through the collections on the Undefeated website, you'll not feel drastic changes in the overall visual theme. It's because the website has a minimalistic design and all of its product images have the same background color.
Ready to elevate your Shopify storefront?
Take your storefront to the next level with GemPages page builder. Free plan available. Upgrade as you scale.
What makes AFEW STORE one of the best Shopify sneaker brands?
Building hype and anticipation for your product.
AFEW STORE allows its customers to enable push notifications for a specific future product release. By doing this, it creates anticipation for the product. Also, it's a great marketing strategy to notify customers when the product is available in stock.
High-quality product images to allow customers to zoom in.
Sometimes you want to take a close look at the product to see how exactly the design or material looks. AFEW STORE has high-quality product images that look great even when zoomed in by customers.
Shoe City has been selling its products through multiple retail stores in the US for more than 30 years. The brand has now started selling through its Shopify store to serve its nationwide and international customers.
Apart from sneakers, Shoe City offers a variety of footwear products such as women's sandals, men's boots, and kids' shoes as well.
What makes Shoe City one of the best Shopify shoe stores?
Allowing customers to find and buy products by shoe size.
Show City created a page where customers can find different size charts. Within these charts, customers can click on their specific size number and they'll be directed to all the products available with that size.
Now, it's time to check out a Shopify store that offers running shoes for workout lovers. NOBULL provides its customers with running and training shoes that are created specifically for high-intensity workout sessions.
NOBULL is not just a brand but it's a community.
What makes NOBULL one of the best Shopify shoe stores?
Great collection of products with different designs and styles:
Customers love to explore different designs before making a final decision. NOBULL sneakers come with a variety of amazing designs and cool styles.
Building a community around your brand and products:
Team NOBULL—the brand's community—believes in the philosophy of "Training is everything" and hosts online and in-person events. The community consists of millions of athletes, military service members, ambassadors, employees, medical professionals, and so on.
Featured started as a small sneakers store and then expanded its business with other product categories as well. Apart from its online store, Feature also has physical stores located in Las Vegas, Calabasas, and Scottsdale.
Feature has a collection of more than 120 premium brands including Nike, Stone Island, Rhude, and Comme des Garçons.
What makes Feature one of the best Shopify sneaker brands?
Offering interest-free installment payment options to customers.
Since many premium products of Feature are at higher-end in pricing, offering the option of installment payments can make it easy for customers to purchase such items. Feature of three different installment payment options—Klarna, AfterPay, and Shop Pay.
Optimizing the produce page to increase conversions, upselling, and cross-selling.
Pro tip: GemPages offers many product page templates that can help you boost sales
TellMenShoes.com was founded in 1998 and now it's one of the leading manufacturers of elevator shoes in the US. The brand creates innovatively designed footwear products to help its customers look taller.
TallMenShoes.com has also partnered with other brands like CALDEN, Insole King, and CALTO—to offer a vast collection of high-quality footwear.
What makes TallMenShoes.com one of the best Shopify shoe stores?
Creating a dedicated FAQs page.
TallMenShoes.com has created a FAQ page where they've answered all frequently asked questions. The FAQs are divided into three sections: General Questions, Shipping, and Return. On top of that, it also has a search section where customers can just type the keyword to easily find the answers.
Using different types of social proof to gain trust from customers.
TallMenShoes.com uses customer reviews received on different marketplaces like Amazon, eBay, and Yahoo. And just customer reviews, it also shows Google Trusted Stores Site Validation certification which is assigned for the brand's excellent shopping experience and customer service.
Holabird Sports is a family-owned brand that has been in the business for over four decades. The brand keeps a stock of more than 2,000 styles of shoes along with sneakers.
What makes Holabird Sports one of the best Shopify shoe websites?
Offering value to the audience with educational blog content.
Holabird Sports has many blog articles on its site that provide information and guidance on various topics related to its target niche. The blog has different categories such as running, tennis, training, and nutrition.
Enhancing the social proof with Trustpilot reviews.
Trustpilot is a third-party review platform where customers can post their reviews about businesses. Holabird Sports proudly shares its impressive Trustpilot rating of 4.8 out of 5 stars from more than 9,000 reviews. It increases brand authenticity even further because it's a third-party review platform where the brand has no control over reviews.
Rockport was founded as a father-sun startup in 1971 selling products with their van and now it's become a global brand.
Apart from sneakers, Rockport also sells various styles of footwear products such as loafers, boots, sandals, and more.
What makes Rockport one of the best Shopify shoe brands?
Creating an enticing offer for email newsletter sign-up.
Every business wants to build an email list to leverage email marketing. But you need to offer something to entice your website visitors to join your newsletter. Rockport offers 20% off on the first order to customers that subscribe to the newsletter.
Displaying the product's benefits on the product page.
Right below the product images section, Rockper has another section where the brand shows how its products have a unique technology that provides comfort and flexibility.
Pro tip: With GemPages, you can design a newsletter sign-up form with ease. 
Tips to Build The Best Online Sneaker Store
Create Aesthetic Website Design
When it comes to selling products like sneakers, having a visually appealing website is essential. It not only enhances your brand's appeal but also showcases your brand personality.
Whether you're a modern and bold brand or a classic vintage brand—your brand personality is presented through your website design.
Use a top-ranked Shopify page builder app like GemPages. GemPages' drag-and-drop visual editor, template library, and a vast collection of sales & marketing elements can help you create a visually stunning store design. On top of that, GemPages v7 comes with Image-to-Layout - an AI feature that help you converts reference images or URLs into editable layouts, significantly speeding up your design process.
Learn more: Transform Your Shopify Homepage from Ordinary to Extraordinary
Stay Updated on What's Trending in the Market
In any lifestyle, fashion, or apparel business, you need to keep up with the trends if you want to stay in the business. Keep an eye on the social media platforms where your target customers are and observe what makes them excited, what are the common trends, etc.
Just take this post on X (formerly Twitter) for example. In just about a month, this "Venice Beach" sneaker has got more than 14,000 likes and 1,495 reposts.
Create a Customer-Centric Returns Policy
Sneakers are a kind of product where customers usually worry about the issue of size mismatch. And that's why they might hesitate to buy your product if you don't have a clear and generous returns policy. Offering a good returns policy can assure them to trust your brand. 
Also, make it easy for your customer to access your return policy. You can also display it as a trust badge—as we saw with Beckett Simonon.
Showcase Stunning Visuals with Images & Video Content
Since customers can't touch or feel the products on an online store, you need to impress them with your product images and videos. Display how awesome your sneakers look with high-quality images or videos.
If budget allows, you may also work with influencers to create images or videos with a lifestyle theme. Make sure to optimize all images and videos to ensure they don't impact the load speed of your website.
Start a Lifestyle Blog Focusing on Sneakers
Starting a blog on your website can help in more than one way.
First, you can share valuable content with your target customers and build authority in your niche. Secondly, it helps your website's search engine optimization (SEO). You need to ensure you're creating content strategically and using the relevant keywords.
Learn more: 11 Best Shopify Blog Examples
Best Shopify Sneaker Themes
Shopify theme store has plenty of awesome themes—free and paid—and you may choose the one that matches your brand style and requirements. 
Here are some of the recommended Shopify themes for sneaker brands:
Free Shopify Sneaker Themes:
Dawn has a minimalist design and is one of the fastest Shopify themes.
Although this theme doesn't have any reviews yet (as of writing this article), we recommend checking it out. It's a fresh new theme with an elegant design.
If you're looking to give your store a classic or vintage theme, Origin is a great option and worth giving a try.
Paid Shopify Sneaker Themes:
This theme has a premium design and its style is quite suitable for a sneaker brand.
Ira has a clean design and a fresh look. The theme has got 91% positive reviews from a total of 105 reviews which is quite impressive.
With its beautiful and stylish design, the Prestige theme is made for brands that sell premium and luxury products. Among the paid themes, Prestige is one of the fastest themes. But if you consider the cost aspect, it's a bit expensive though.
Ready to Start Your Shopify Sneaker Store?
So, now that you have so many inspiring Shopify sneaker sites and great insights to learn from this article, we hope it'll help you kickstart your journey to build your own sneaker brand.
To start building your eCommerce business, you don't need to go anywhere else. Shopify is one of the best eCommerce platforms in the world and GemPages is a powerful page builder loved by thousands of Shopify merchants.
And we've got all the resources to help you start and scale your business. Let's do this together!
FAQs about Shopify Sneaker Stores
What shoe websites use Shopify?
Many popular shoe brands use Shopify. The examples we covered in this article: Thursday, Beckett Simonon, TAFT, Crepdog Crew, Giesswein, Sneaker Politics, Bata, Undefeated, Feature, and many more brands powered by Shopify.
Can I sell my shoes on Shopify?
Yes, you can. You can sell your own shoes or purchase from a wholesaler and sell them on Shopify with your profit margin.
How to sell sneakers on Shopify?
No, the official Nike store (nike.com) is not powered by Shopify
. However, there are many Shopify stores like
Feature
,
Shoe City
, and
Off The Hook
that sell Nike shoes and sneakers.