Back to Blog List
The Best 10 Shopify Food and Beverage Stores We Love in 2023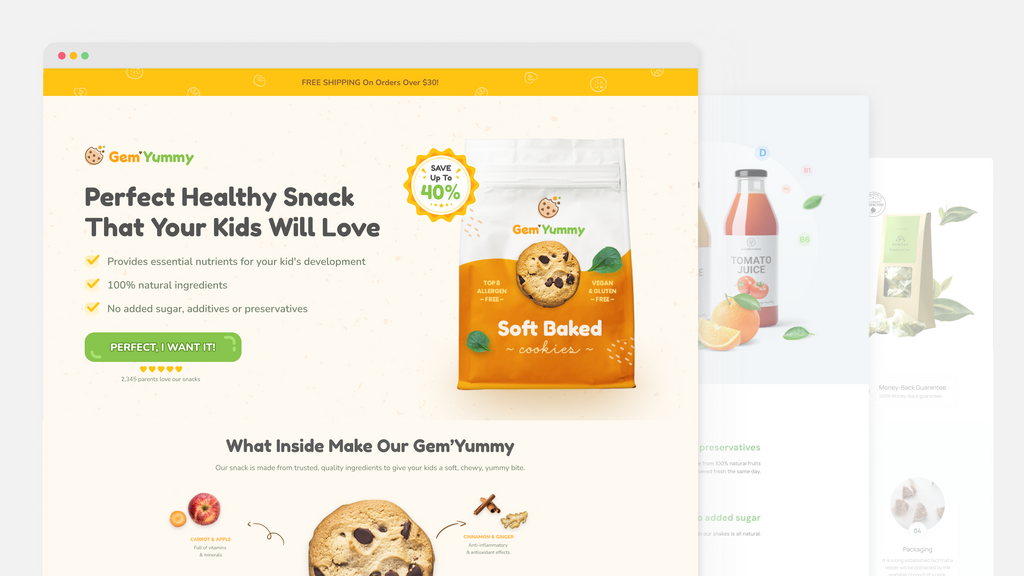 Food fuels our bodies and minds. If you have a knack for cooking and love to turn this hobby into a business, Shopify is an excellent outlet to actualize this idea. In this blog post, we will delve into the current state of food eCommerce, what niches to tap into, examples of businesses that are killing it, and what it is like to open a Shopify food store in 2023 as a whole. Without further ado, let's get into it.
Is Selling Food and Beverages on Shopify Still Profitable in 2024?
We will give you a concise answer: yes.
According to Insider Intelligence, the US food and beverage eCommerce sales will amount to nearly $150 billion in 2026 with its annual double-digit growth. The industry witnessed a 99% surge in sales back in 2020 as the unavoidable result of the pandemic, where people had to turn to online shopping during lockdown. Ever since then, this buying trend has become more or less of a habit, which explains the steady growth year after year.
That said, food eCommerce has proven to be a profitable market. Moreover, since it is an umbrella term, sellers have a wide array of niches to go for.
There is no guaranteed business plan to make a Shopify food store skyrocket right after its launch, but there are plenty of tips and tricks to help you jumpstart. Let's get into the niches of this lucrative industry below.
Start selling on Shopify for $1/month
Try Shopify for free, then enjoy the next 3 months for $1/month on select plans.
Food and Beverage Niche Ideas for Your eCommerce Business
Coffee is a popular niche in food eCommerce.
Coffee
There is a reason why this beverage never goes out of style. Standing at #3 in the most consumed beverages list for the United States in 2022, coffee has proven itself to be a timeless classic.
In food commerce, coffee is also a popular niche. Sellers offer a variety of products, from beans, capsules, and instant, to bottles and cans. Coffee is versatile in types and flavors, so the risk of getting overshadowed by the predecessors can be minimized with the right research and marketing.
Packaged Snacks
Packaged snacks are more often consumed than we thought, from the peanut butter-flavored protein bar to the hot chip bag you have just purchased from the grocery store. Popcorn, beef jerky, keto/vegan/allergy-friendly snacks, and so on, are a few packaged goods that you can tap into. They often have a long shelf life, appeal to many audiences, and are less likely to be damaged in shipping. All these attributes make packaged snacks one of the most sought-after niches for eCommerce sellers.
Baked Goods
If baking is your passion, then starting an online store to showcase your baked goods is a good call. Depending on the types of baked goods, you can opt for local, nationwide, or even worldwide shipping. Bakeries with physical locations like Magnolia Bakery and Sprinkles Cupcakes have built successful eCommerce stores to sell their baked goods, while still running their in-person businesses simultaneously. Some common products within this niche are cookies, cupcakes, donuts, bread, and pastry.
Food from a Specific Cuisine
Shopify is an incredible platform to showcase food from different cuisines. You have a golden opportunity to reach the people who grew up with those dishes and flavors, as well as curious minds who want to have a taste of something exotic. While freshly made dishes are not ideal to sell digitally, items such as spices, condiments, packaged snacks, and bottled beverages are great matches for a platform like Shopify. A heads-up: be sure to keep it authentic, or in other words, only sell what you are well-versed in.
Pet Food
When we say food, that includes our beloved pets too! If you are a pet owner, why not try the pet food industry?
Pet food eCommerce is reported to account for 55% of total pet food sales in the US by 2025, which is also a result of the shift in shopping trends when the pandemic broke out. A Shopify pet food store generally has the same components as a Shopify human food store, so if this niche appeals to you more than the rest, this is your sign to test the waters.
Signs of a Successful Food and Beverage Business
Running an eCommerce store is multifaceted, and a well-built website is key to a successful business.
Purposeful Content
If you want to exceed the bare minimum, shoot for the stars. What constitutes purposeful content is your intention and goal behind it. For instance, a beverage store is the perfect host for a blog corner dedicated to weekly recipes featuring its very own products. Similarly, dedicating a section to impart your mission to visitors instead of repeating the same-old "buy our products" mantra can increase customer loyalty. Successful Shopify food stores do not leave any room for futile information, as every page is worth a peep.
Striking Visuals
It goes without saying how important it is to invest in your online store's appearance. This includes eye-catching photographs, a unique web layout, background colors, and even a minute detail like text size. Food should look appetizing, and sometimes it is hard to convey this aspect digitally. If you are looking for a time-saving medium without spending the big bucks, a free AI photo editor like Pixelcut could give you a leg up for a photography setup on a budget.
Learn more: Shopify Product Images: A 10-minute Guide for Beginners (2023)
Compelling Product Descriptions
This feature is especially important for edible goods, as consumers are more conscious than ever about what goes into their bodies. A detailed description of your food items is a must-have, and it should cover every aspect of the product, including ingredients, nutritional value, allergy disclaimer, and any specific benefit. This detail could make or break a purchasing decision from your buyers.
Transparent Certification
A piece of brownie is different from a dad cap. As your goods will be going into their bodies, you need to instill trust in your customers for them to make an informed purchase. Making sure your food products comply with the Food and Drug Administration's (FDA) regulations is paramount before selling them. Other required food certifications are unique to each region, so registering and displaying (if possible) these qualifications are one of the first steps in opening an online food business.
Clever Purchasing Models
Food is classified as a consumer packaged goods (CPG) item. Thus, its purchasing frequency and volume can differ from jewelry, for instance. As an online food store owner, you can implement certain purchasing models that cater to the items on the shelves. Tactics like upselling, product bundles, and subscription services are fantastic for growing your food business organically. 
Customize your Shopify store pages your way
The powerful page builder empowers you to create store pages that bring unique experiences and convert customers. No coding needed.
Top 10 Inspirational Food and Beverage Stores on Shopify
Milk Bar is a textbook example of a great Shopify food store.
Milk Bar is owned by Christina Tosi - a multi-talented pastry chef who breathes life into every treat she makes. Understandably, her online store perfectly captures her artistry.
Upon visiting, clients are greeted with dazzling photographs of mouth-watering baked goods, complemented with compelling product descriptions. You can either click on the hard-to-miss "Order Now" button, or scroll down and be met with trust-worthy magazine endorsements and a little community tab. 
Options to shop by category, occasion, price, or flavor are incredibly convenient for first-time buyers. Fancy purchasing (and smelling) these treats in person? Simply hover your mouse over the "Bakeries" to display all locations.
Pro tip: Try GemPages' Call To Action (CTA) button elements to improve your store conversion
Despite being a newcomer, Chamberlain Coffee has found admirable success.

Ever wondered how Gen Z-ers drink coffee? Chamberlain Coffee will give you some ideas. Founded in 2020 by YouTube star Emma Chamberlain, the brand soon took off and has been thriving in the last few years.
Having Shopify as its host, Chamberlain Coffee's website possesses a cozy vibe, with a neutral color tone and lowercase product titles across the store. With no flashy photographs and graphics, the brand opts for an intimate feel, which translates to its charming packaging, in-depth product description, and the company's mission on every page. As a result, the store looks effortlessly hip while still professional.
Chomps' nutritious snacks are proudly displayed on its striking website.
Beef jerky is a universal snack. Among thousands of brands, Chomps might be your next favorite.
With a mission to omit sugar, reduce carbs, and fill up on protein, Chomps' jerky snacks are great choices for people who are watching their diets but still crave this tasty treat. The packaging and store's layout share the same vibe: bold text, solid colors, transparent nutritional values, and lively graphics. Since this is a small-sized snack, Chomps' jerky is sold in packs and by a subscription service. This is a clever business model that boosts sales and secures customer loyalty.
Pro tip: If you find Chomps' footer extremely outstanding with bold and eye-catching colors, follow these tips to make your store do the same: Remove the white space & Link your menu items to the header and footer
Levain Bakery's website perfectly encapsulates their story and mouth-watering treats.
Levain Bakery is a household name for bakers and cookie enthusiasts. With locations in New York and the neighboring states, the bakery has found immense success with its brick-and-mortar business model. The same goes for its eCommerce store. Standing in the top 20 Shopify food stores, the brand shines through its simple color palette, user-friendly design, lively photographs, and personable product descriptions. Even if you had never heard of Levain Bakery, you'd feel compelled to place an order.
GrownAs* Foods delivers a new way to enjoy mac & cheese through their vibrant website.
Mac and cheese is the ultimate comfort food. But the commonly sold box of this carby and cheesy dish is the furthest thing from healthy. GrownAs* Foods aims to improve mac and cheese with its plant-based, zero cholesterol, non-GMO product. Despite the limited number of items, its website will keep you wandering and eventually, adding one (or more) products to your cart.
How do they do that? A no-bull website with distinct CTA buttons, bold texts, stunning product images, bundle options, detailed product descriptions, cooking instructions, multiple payment options, and seamless checkout. GrownAs* Foods might be the next grocery staple in your pantry.
A mini grocery store and farmers' market all captured in one with Sous Chef's website.
This self-acclaimed "UK's most-loved online foodie store" lives up to their words. Sous Chef is not just an ordinary food store. The company offers a wide variety of ingredients, cookware, tableware, cooking kits, and more. Scrolling through its site is like reading a food magazine. Every detail makes sense and adds a ton of personality to the brand.
Having "Cuisines" as a category makes Sous Chef's website look organized and professional. On top of that, the "Inspire Me" and "Recipes" tabs are gold mines for visitors who want to familiarize themselves with the products before buying.
Ready to elevate your Shopify storefront?
Take your storefront to the next level with GemPages page builder. Free plan available. Upgrade as you scale.
HEATONIST is a shining example of a one-product store done right.
If you like watching people sweating bullets while eating wings on YouTube, Hot Ones might sound familiar. Ever wondered where they get those deadly hot sauces? The answer is HEATONIST.
Having only hot sauce in its collection, this company has built a brilliant online store that revolves around this spicy condiment. The sauces are divided by heat levels and Hot Ones' specialties; they also come in special collections, namely Stranger Things as seen above.
By keeping the homepage simple with the latest/most popular collections, the brand's story, and a helpful FAQ section, HEATONIST's website is not crowded or too empty. Visitors are thoroughly informed of what they are getting with detailed product descriptions and reviews. Nothing is redundant on HEATONIST's Shopify store.
Explore an extensive collection of South Asian spices on Diaspora Co.'s website.
Diaspora Co. is a one-stop shop for South Asian spices. Started humbly with only one product, the brand has grown exponentially in the past six years. Now, the company sources 30 spices from 150 farms in India and Sri Lanka, and the mission has gone beyond just selling spices.
Being an ethical company, Diaspora Co. dedicated an abiding section to honor their farmers on their homepage. The vibrant color combination expresses the brand's spirit so well, on top of the high-quality photographs, transparent ingredients, a handy recipe segment, and a "Build Your Own Spice Shelf" option. Everything about Diaspora Co. will make you stay on this site longer than you intended to.
Pro tip: Learning from Diaspora Co. honoring their farmers, you can also create an impressive About Us page on your store to deliver meaningful introductions, stories
Lovebug brings you snacks and treats that your cats will love, all in one lovely eCommerce store.
Looking into a new cat food brand, you may find love at first sight with Lovebug Pet Food.
Although your cat couldn't care less about the website that sells their food, Lovebug knows you do. That's why they have built a ravishing online store that catches every visitor's attention to the fullest.
The brand keeps its navigation bar short and simple, with a lovely hero image and a clear CTA button. By only carrying one product, Lovebug dedicates its whole website to informing its customers of the nutritional values and benefits of its kibble. The "Blog" page is full of informative pieces about your cats. All these features keep customers staying for longer and boost their conversion rates effectively.
Step into a tropical retreat with Craftmix's store.
If you think cocktails are already fun, Craftmix makes it even more exciting. Their products are perfect for when you crave a flavorful glass of cocktail but are not in the mood to go to the bar. 
Craftmix's website is everything but boring. Every corner is filled with fun graphics and icons, all accompanied by fun splashes of colors. The website itself looks like a vibrant cocktail.
As a visitor, it is also incredibly easy to navigate. The top navigation is streamlined into four main categories, with a clear "Shop Now" button right above the fold. Keep scrolling and you will find a "Featured In" section, customer testimonials, a FAQ segment, and other fun stuff.
We don't think there is anything bad to say about this store, it is a shining contender to close our top 10 list.
Over to You
Selling food on Shopify should not be a mountain to climb, as long as you have the right knowledge, resources, and legal procedures figured out. Through the instances of Shopify food stores that are at the top of the ladder above, we hope you will be able to start your own journey. For newcomers who need a helping hand, GemPages is a powerful page builder that can help kickstart your next entrepreneurial endeavor.
Learn more: Let's try GemPage's pre-built templates to improve your store visuals.
Your store needs some bells and whistles?
Explore GemPages' features and see what works best for your store. Free plan available. No strings attached.
FAQ about Shopify Food and Beverage Stores
Can I sell food on Shopify?
Yes. Food is a popular item to sell on Shopify. Be sure to check your local food laws to get the required certifications to start a food business with Shopify.
Is coffee a good product to sell on Shopify?
Coffee is among the most common niches to sell on Shopify. It is a versatile product so you can choose to sell different blends of beans, capsules, instant bags, or bottles and cans.
What are the best food and beverage stores on Shopify?