Back to Blog List
How to Sell Watches on Shopify (with Examples and Expert Tips)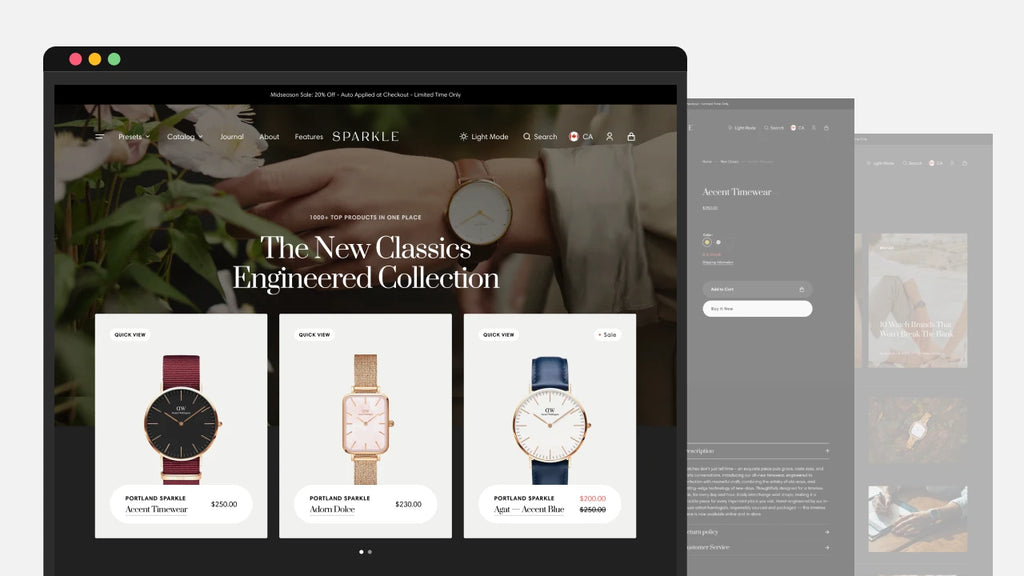 In a world where wristwatches have transformed from timekeepers to fashion statements and even fitness devices, the opportunity to sell watches on Shopify is more enticing than ever. 
But where to start? This article will give you the guide to start selling watches on Shopify, so let's dive right in.
Is Selling Watches a Viable Business on Shopify?
In today's fast-paced world, our smartphones are always by our side, ensuring we never miss a beat. But let's not forget about the classic, stylish accessory that has stood the test of time - the wristwatch. 
Gone are the days when watches were just a way to tell time. They've evolved into a fashion statement that adds that extra flair to our outfits and a tool for monitoring our health. Such versatilities make watches a viable business, both online and offline.
And guess what? When we look at the numbers, the worldwide revenue for watches amounted to US$66.07 billion in 2022, with a predicted annual growth of 4.44% until 2026. With this steady market growth, it's safe to say that selling these timepieces is undeniably a viable business. 
In this blog post, we'll focus on eCommerce, and all the tips and tricks will center around Shopify - a trusted website used by millions, and the perfect platform to jumpstart your watch business. With the constant demands and financial perks (as compared to a physical store), opening up a virtual watch store is a feasible idea.
How to Sell Watches on Shopify: Expert Tips for Success
#1. Understand Your Target Audience
Watches may seem like unisex items that fit every individual, but as versatile as they come, certain groups of people tend to prefer one style over the other. Your job is to narrow the pool down to one or two groups that will most likely purchase the timepieces from your store. 
Consider characteristics such as their age, gender, budget, profession, etc. These factors tell a lot about their shopping habits, and whether your watch products will be in their carts. Some of the most popular methods that business owners use to determine their target customers are conducting interviews, checking out social media, and creating buyer personas.
#2. Select The Niche
Picking a niche is also one of the first steps to take, regardless of what industry you are in. For watches, there are two things to consider: watch types and business models.
There are so many watch types to choose - from vintage, luxury, minimalist, to digital ones. The ideal choice will seamlessly blend market demand, your passion, and your brand's identity and business objectives.
Take Garmin, for instance. Their digital watches cater to adventurous souls, engineered to thrive in the great outdoors. Not only are their timepieces top-notch, but their brand ambassadors are all professional athletes and fearless explorers.
So, find the watch types that speak to your soul and represent your Shopify store with such a style and purpose.
Garmin's watches cater to adventurous souls, engineered to thrive in the great outdoors.
As for business models, there are several common options to sell watches on Shopify, such as dropshipping, print-on-demand. JetPrint, for example, sells watches and jewelry, with the ability to print your own designs on watch faces.
The print-on-demand model offers a unique approach to selling watches on Shopify
To help you select the best niche for your store, here are some tasks you can add to your business plan:
Analyze the watch market and competition

Join online discussions & forums that watch enthusiasts frequent to get insights from both the seller's and buyer's POV.

Conduct surveys if necessary.

Find your unique selling proposition (USP)
Setting a foundation for your business starts with knowing what to offer, and how to do it properly. Some businesses find their footing right from the beginning, while some encounter failures before they can get a hold of their strategies. Only by doing research and studying your competition will you minimize risks and operate smoothly in the long run.
#3. Choose a Memorable Store and Domain Name
There are several ways to go about this in different fields, but for eCommerce stores, searchability is the top priority. Take a look at the qualities below to pick the best name for your watch store:
Easy to remember: Avoid overly complex or lengthy names that customers might have trouble recalling. A name that's easy to spell and pronounce helps with word-of-mouth marketing and online searchability. For domain names, fewer letters also mean less typing. Remember to keep it short and sweet.
Reflect brand identity:  Whether your store carries luxury, minimalist, vintage, or other watch styles, ensure your name reflects that identity. The names don't have to contain those exact words per se, but they should not be too far-fetched from your brand's specialty either.
Unique and Unambiguous: Make sure it will not be mistaken with other brands in the same or different fields. This helps with trademarking, online visibility, and avoiding legal issues.
Consider Keywords: If relevant, consider incorporating watch-related keywords in your store name to improve search engine visibility. Words such as timepieces, time, watch, and watches could be a nice addition to your store and domain names. Make sure that it is not forced and lengthy.
Domain Availability: Check if the domain name (website URL) is available for your chosen store name. Having a consistent brand name across your website and social media channels is essential.
Scalability: Consider whether the name will still make sense if you decide to expand your business beyond watches or across the border later.
Deserving of its praise as a shining contender for the best place to sell watches online, Shopify has two handy tools that simplify this name-choosing process for you. Get a helping hand from the business name generator and domain name generator if you need more options.
#4. Get Started with Your Shopify Watch Store
Sign up and Select a plan
Learning how to make money selling watches on Shopify begins at the smallest step: signing up and picking a plan. Shopify has a seller-focused design in mind, where almost every feature is automated. As opposed to putting down a large sum of money to open a physical store, Shopify offers a free trial and affordable plans for small businesses to be born. 
Start selling on Shopify for $1/month
Try Shopify for free, then enjoy the next 3 months for $1/month on select plans.
Select a Theme
A business website reflects its spirit and professionalism. Depending on the style you want your watch store to possess and your budget, you can freely browse Shopify's theme library and select the best match for your Shopify watch store. 
Pro tip:  Shopify themes offer some basic customization options, but if you really want to make your store unique, you'll need something more. Enter GemPages, the top-ranked Shopify page builder! GemPages is compatible with all the latest Shopify themes, so no matter which one you're using, you can easily install it and start building and customizing your pages with ease. Say goodbye to generic-looking websites and hello to professional and on-brand designs.
Ready to elevate your Shopify storefront?
Take your storefront to the next level with GemPages page builder. Free plan available. Upgrade as you scale.
Build a compelling product page
An example of a professional product image of a watch store.
This is where buyers will look at your products in detail. Just like a customer peering through a vibrant store window, online shoppers will eagerly examine your offerings before diving in for a purchase. And when it comes to high-value items like watches, a powerful first impression is everything.
That's why investing in high-quality pictures and a thorough description is a top priority. Then comes an effective pricing strategy and other details such as installment payments, bundle options, and so on.
Set up payment gateways and shipping
Integrate secure payment methods
Choose Reliable Payment Gateways: Introduce

Shop Pay

and

Shopify Payments

Offer Multiple Payment Options (PayPal, Apple Pay, Mastercard, Klarna, etc.)

Security Measures (for both sellers and buyers)

Prioritize gateways that offer a seamless checkout experience to reduce abandoned cart
Check out GemPages' articles on different payment options on Shopify here: Shopify Payment Options
Set up shipping options and rates
Shopify's users are based all across the globe, so each store's shipping policies are unique. There is no one-size-fits-all guide on the best shipping policy that your store should adopt. Nonetheless, these articles from GemPages will give you a general idea of how to set up a basic shipping system for your Shopify store:
Shopify Shipping 101: Easy Set-Up Guide, Tips and Tricks (2023)
How to Do Free Shiping on Shopify? (+Evergreen Tips)
10+ Best Shopify Shipping Apps for A Seamless Post-Purchase Experience
#5. Marketing Strategies
It goes without saying that marketing is the driving force to boost sales and essentially, keep your store alive. No different than other eCommerce industries, selling watches requires respective marketing plans to achieve success. Keep reading to learn what to do when it's time to brainstorm your marketing strategy.
Form a brand's identity on social media
Advertise via own website, Instagram, Facebook, YouTube, etc.

Tailor to each platform but still keep it cohesive (user's handles could be different from the website's domain, but should translate the same. For instance,

@seikowatchofficial

on Instagram and

seikowatches.com

for the domain name)

Watches are higher priced products, thus, being professional gains customer's trust more. Ensure an active presence across all social media and a constantly updated website.
Run Ads Campaign
Make use of ads on social media, Google, and via emails if the budget allows.
Focus on Content Marketing
Create watch-related

blog posts

, videos, and guides

Establish yourself as an authority in the watch niche
Leverage Email marketing
Build an email list of subscribers

Craft compelling email campaigns and newsletters
Utilize Search Engine Optimization (SEO)
Optimize product listings for search engines

Use keywords and meta title, meta description effectively
Implement collaborations and loyalty programs
Propose collaborations and partnerships with influencers and other companies to increase the brand's visibility.

Shopify Collabs

is a helpful app that gets you started on this task by streamlining the process to a T.

Offer

loyalty programs

to drive sales and boost customer retention
Don't Forget User-generated Content
Establish customer testimonials, reviews, and discussions on your website and social media to develop trust and authenticity with your existing and potential buyers.

Collect information and feedback to improve and grow your brand.
#6. Provide Exceptional Customer Experience
Customer Support and Communication
Set up responsive customer support channels (live chat, contact us form, etc.)

Address inquiries and concerns promptly
Return and Refund Policies
Establish clear and customer-friendly return policies

Manage returns and refunds efficiently
To ensure these marketing strategies work for you, valuable tools such as Google Analytics 4 and social media insights will help you pinpoint the things that are advantageous and redundant tasks to omit. After all, owning a business is an extended process of constant adjusting and advancing.
Top 3 Shopify Watch Store Examples to Learn From
We have talked a lot about what you should do to open your own watch business, and we reckoned a few examples of others who have successfully done it are what you need next to come closer to your goal. The below Shopify watch stores possess different vibes, but they are all great examples to learn from.
MVMT is a young but wildly successful watch business.
MVMT moves beyond a private label watch brand. They started humbly in 2013 and are now one of the leading affordable watch stores on Shopify. The store offers men's and women's watches, as well as other accessories. You are guaranteed to find exactly what you are looking for with their user-friendly layout, CTA buttons, and smart filtering options.
What we love:
Options to shop by color, size, and material

Seasonal campaign on hero banner.

Product badges on preview images (special edition, dive certified, etc.)
Scroll through Breda's aesthetically pleasing website to find the best watch for you.
When it comes to online watch stores, you can tell Breda is not a plain Jane. The website is designed like a high fashion magazine, where the product images speak for themselves without any detailed description. Specializing in men's, women's, and unisex timepieces, this store is a one-stop shop for elegant, unique, but pleasantly affordable items.
What we love:
Detailed product pages with all the information you need about each watch, accompanied by stunning, professional images.

Several payment options available

Minimal and sleek navigation bar
Pro tip: GemPages can be your go-to tool for creating, customizing, and optimizing beautiful product pages, no coding needed! Now, with the AI feature - Image-to-Layout, merchants can easily generate editable layouts from a reference image or URL. 
Build professional product pages with GemPages
Quickly create and customize compelling, conversion-optimized product pages to wow visitors and convert them into buyers.
Eone has a special mission in the watch industry.
Eone makes watches for everyone to tell time either by look or touch. Their timepieces possess a unique design, where the familiar hour and minute hands are no longer the norm. This way, the watches are accessible to blind people, while looking as stylish as ever.
What we love:
On-person photographs for an easier shopping experience

"Featured" and "Awards" sections to showcase their credibility

Bright and simple website layout
Best Shopify Themes for Your Watch Store
We have touched on a little bit about the convenience of Shopify themes, and how you can smoothly incorporate them into your store in minutes. Simply tweak, drag, and mix in elements that let your products shine and convey your store's vision the best. Watches are versatile, and so are the themes. Based on your needs, there will definitely be a style that suits your brand.
Woodstock - For a visually striking watch store
Try out this bold theme with your Shopify store.
Choose between a light and dark mode with Woodstock - the Shopify theme that makes your products the stars of the show. 
Galleria - For a comprehensive and classic watch store
Show what your brand is about with this classic Shopify theme.
The Galleria theme is cleverly divided into sections that showcase your products. Check it out here.
Sparkle - For an elegant watch store
Start your watch-selling journey with this Shopify theme.
The demo store using the Sparkle theme gives users a complete look at how their watch store will turn out. If this chic style is what you want to pursue, have a peek into it here.
Tips and Tricks to Build the Watch Business of Your Dream
We have tried to do thorough research on our part to give you the most comprehensive guide on how to sell watches online throughout this blog post. But tips and tricks to make the process of building your dream business faster are always a nice addition. So let's see what other neat things you can do right below.
Learn from the best, do not copy them

Offer more than just watches

Equip yourself with as much watch knowledge as possible, sans matter which niche you are in. Knowledgeable sellers attract informed customers.

Create marketing campaigns aligned with seasons, holidays, or special occasions to tap into festive buying moods.

Learn methods to increase sales: upselling, cross-selling, bundles, urgency features, installment payments, etc.

This guide

from GemPages has various strategies to boost sales for your Shopify store.

Implement virtual try-on tools on your website to help customers visualize how your watches will look on their wrists.

Create memorable unboxing experiences with thoughtfully designed packaging that adds to the perceived value of your watches.

Host live sessions on social media platforms where you showcase your watches, answer questions and interact with viewers. 

Attend watch industry events, trade shows, auctions, and networking sessions to connect with suppliers, partners, and potential customers.
As usual, these tips and tricks can be applicable to one business but not the other. As each business is unique, our advice to you is to experiment and adapt what seems the most fitting to your brand's identity, target audience, and objectives. Consistency, innovation, and a customer-centric approach are key to building a successful watch business.
Over to You
There you go, folks. When it comes to opening a business, these little time-telling devices are no jokes. While the upfront costs are generally higher than a t-shirt or a quirky sock store, it will surely bring you more profits when the store is up and running. To get to that stage, well begun is half done. We hope you will be able to take in useful tips in this article from all of us at GemPages. The watch industry awaits you!
FAQ about Shopify Watch Stores
Should I sell watches on Shopify?
Yes. When we look at the numbers, the worldwide revenue for watches amounted to US$66.07 billion in 2022, with a predicted annual growth of 4.44% until 2026. With this steady market growth, it's safe to say that selling these timepieces is undeniably a viable business.
Which is the best site to sell a watch?
Watches can be sold across all eCommerce websites. Amazon and eBay are among the most reputable marketplaces, with a constant traffic flow. However, you are bound to face some stiff competitors. On the other hand, Shopify is great for long-term businesses that want a more personalized and unique look. Importantly, you don't have to choose, Shopify integrates seamlessly with Amazon and eBay, combining the benefits of a customized brand identity with the reach of established marketplaces. This way, you can expand your business while still keeping the original identity.
What type of watches should I sell?
Depending on your target customers, there are many types of watches to pick from. If you have the budget for it, looking into the luxury and vintage watch communities could give you an idea of how to start collecting, trading, and selling these valuable timepieces. Fitness trackers and smartwatches are often more appealing to tech-savvy individuals, while affordable private labels could become a hit among younger generations.