Back to Blog List
Shopify vs Squarespace: Which One Is Best for Your Online Store?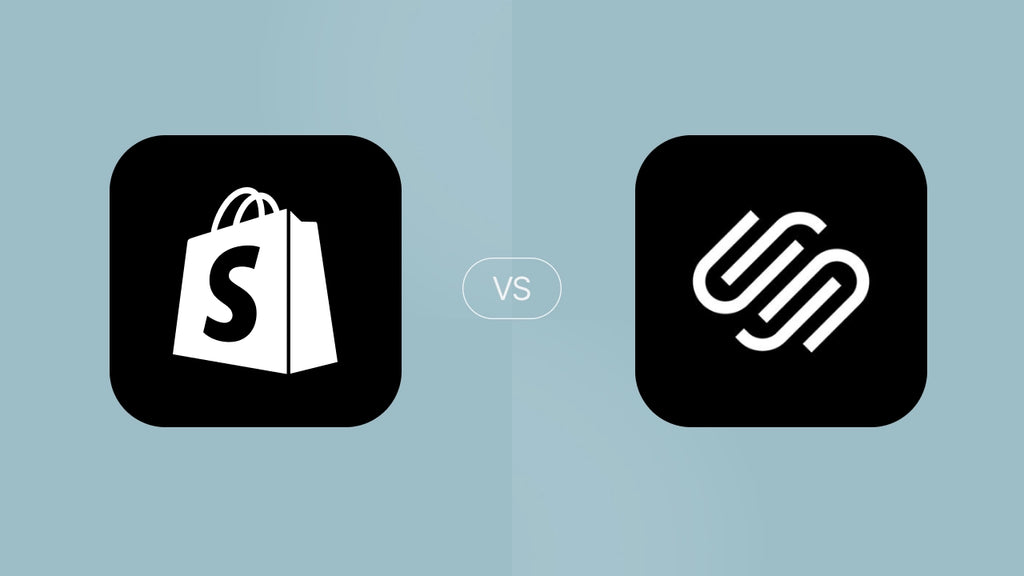 Welcome to another episode of our platform review series, where we evaluate and analyze various eCommerce platforms to help you find the cream of the crop for your business.
In this episode, the battle comes down to Shopify vs Squarespace, two heavy contenders in the eCommerce field. Both platforms are packed with a plethora of features and tools to create and manage an online store, but the question remains: which one is better suited for your specific needs?
This blog post will dig into the depths of Shopify and Squarespace in 7 key aspects to help you determine the right eCommerce platform for your online business. 
Shopify vs Squarespace: An Overview
Despite both offering the ability to establish an online store within a website, Shopify and Squarespace serve different purposes at their core.
Shopify is designed explicitly as an all-in-one solution for online stores. With Shopify, you get access to an extensive range of eCommerce features to build and maintain a fully-functional store, including inventory management, payment gateways, shipping options, order fulfillment and tracking, dropshipping integrations, omnichannel selling, and more.
Shopify is built specifically for eCommerce, allowing users to build, launch, and grow successful online stores.
Meanwhile, Squarespace is primarily geared towards website building, blogging, and portfolio creation, with eCommerce being one of its components. That said, it allows you to create a visually stunning website with basic eCommerce tools, including product listings, inventory management, and payment gateways.
As the leader in website design, Squarespace is the ultimate solution to create visually stunning websites.
Start selling on Shopify for $1/month
Try Shopify for free, then enjoy the next 3 months for $1/month on select plans.
Shopify vs Squarespace: 7 Key Differences
Area 

Shopify

Squarespace

Who wins

Total Live Websites 

4,248,567

2,922,935

Shopify

3-day free trial
Five pricing plans, from US$5 to US$399/month

14-day free trial
Four pricing plans, from US$23 to US$65/month


Depends on each seller's specific needs

User-friendly interface with intuitive setup process

Beginner-friendly interface with a drag-and-drop editor

Tie

Extensive range of built-in eCommerce features and integrations

Limited eCommerce features, but suitable for smaller stores

Shopify

Highly customizable with access to HTML, CSS, and liquid code
140+ free and paid eCommerce-specific themes

Limited customization options compared to Shopify
150+ free templates, only 40 suited for eCommerce


Shopify

8,000+ apps

32 extensions

Shopify

Highly scalable to accommodate fast-growing businesses

Suitable for small to medium-sized businesses

Shopify

24/7 live chat, email and phone support
Help center and community forum

24/7 email support
Live chat support available within a specific time frame
Help center and knowledge forum


Shopify
Pricing
Shopify has three main pricing plans and two additional ones, all including essential eCommerce elements for creating a new online store. 
The Shopify Starter plan:

US$5/month to sell products via social media and messaging apps only;

The Basic Shopify plan:

US$25/month;

The Shopify plan:

US$65/month;

The Advanced Shopify plan:

US$399/month;

The Shopify Plus plan:

Starting at US$2.000/month for high-volume businesses.
It is also worth noting that before settling down on one of its pricing plans, you can enjoy a free trial of 3 days and a 3 months for US$1 deal to try out the platform. 
Shopify has five pricing tiers that cater to different business needs.
Squarespace, on the other hand, offers four pricing options, in addition to a 14-day free trial:
The Personal plan:

US$23/month (eCommerce functionality not included);

The Business plan:

US$33/month + 3% transaction fees;

The Basic Commerce plan:

US$36/month;

The Advanced Commerce plan:

US$65/month.
Notably, the Squarespace Personal plan does NOT support eCommerce functionality, meaning you have to subscribe to one of the other three options if you want to build an online store using Squarespace. The higher you pay, the more eCommerce functionality you get.
Squarespace offers four subscription plans at affordable prices.
Our Verdict: The winner of this round ultimately depends on each seller's needs. Squarespace's pricing plans are more affordable but limited in advanced eCommerce features, making it a good fit for small businesses or those with small budgets. Meanwhile, Shopify's higher pricing comes with a greater suite of eCommerce-based functionalities, offering better value for bigger businesses.
Ease of Use
Since its creation, Shopify has made a name for its simplicity in building and setting up an online store. 
To ease your path right from the start, the platform tailors your Shopify setup experience based on your needs and level of expertise in website building. Shopify's user-friendly interface with visual cues and shortcuts provides a clear structure to guide you through the setup process. Besides, its dashboard is well-organized and easy to navigate, with clear sections for products, orders, customers, analytics, settings and more. The platform also includes a section-based editor, allowing for easy customization of themes and web pages.
Shopify's theme editor
Thanks to these factors, launching, managing and growing a full-fledged online store on Shopify is just a breeze.
However, Squarespace does not fall short in this area.
Created originally as a website builder, Squarespace is designed to be intuitive and visually oriented, offering a streamlined website-building experience. The platform uses a visual editor with drag-and-drop functionality that enables you to easily create and arrange content blocks while instantly seeing the changes reflected in your website's design. 
Squarespace's visual editor
Besides, Squarespace offers a user-friendly content management system that makes it simple and accessible for beginners to add, edit, and organize their website's content.
Our Verdict: This is a draw here as both Shopify and Squarespace are easy to use, offering user-friendly setup and editing options.
eCommerce Functionality
Created specifically to power online stores, Shopify definitely beats Squarespace in this field, providing a more comprehensive and extensive set of eCommerce features to set online businesses up for success.
Here are some key eCommerce aspects that give Shopify an edge over Squarespace:
Inventory management:

Shopify provides a robust product management system, allowing you to easily add and organize products, manage inventory, track stock levels, set up variants, and showcase product images. Meanwhile, Squarespace only includes basic inventory management features to track stock levels and display inventory availability to customers. 

Payment gateways:

Shopify supports over 100 payment gateways like

PayPal

, Square, Stripe,

Apple Pay

, or even cryptocurrency, alongside its own payment solution,

Shopify Payments

. Squarespace, contrarily, supports only 4 payment providers, including Stripe, PayPal, Square, and Apple Pay.
Learn more: 10 Best Shopify Payment Options for Your Business
Shipping options:

While Squarespace only offers basic shipping options like flat-rate, weight-based, carrier-calculated, and free shipping, Shopify provides everything you need to ensure a smooth shipping experience, including customized shipping zones and rates, integrations with popular shipping carriers, shipping label printing, shipping insurance and more.

SEO:

Both platforms have built-in SEO features to optimize your site for search engines, but Shopify has a slight edge over Squarespace thanks to its decent site speed, stability, and a wider selection of

integrated SEO apps.

Marketing features:

Squarespace falls behind Shopify in terms of marketing capabilities and flexibility as it focuses more on the aesthetics of your business. Meanwhile, Shopify prioritizes promoting your online store and driving sales by providing a broader range of built-in marketing tools and integrations, including blogging CMS, sales channels, automatic discounts and gift cards, Shopify Email, and more.
Our Verdict: Shopify wins!
Start selling on Shopify for $1/month
Try Shopify for free, then enjoy the next 3 months for $1/month on select plans.
Customizability
As you might know, Shopify features 141 ready-to-go themes, both free and paid, with endless customization options to showcase your brand's individuality.
Learn more: How to Choose The Right Shopify Theme for Your Store?
Shopify has an extensive library of themes that are pre-designed for eCommerce.
Also, Shopify's large app marketplace offers a variety of apps and extensions to enhance the functionality and customization of your store, such as a powerful page builder like GemPages to build an exceptional online presence more smartly and easily with less code.
Squarespace, on the contrary, provides 155 sleek and modern website templates, all of which are free to use and highly customizable. However, Squarespace's templates cover a broader range of industries with a focus on the creative field, and only 40 of these templates are catered to eCommerce purposes.
Squarespace's templates are all free and beautifully-designed.
In terms of code editing, with Squarespace, you can edit the CSS for your website template to customize the design. But if you need to modify the raw HTML, you have to enable Developer mode and use third-party software like Git. Meanwhile, Shopify grants direct access to the HTML, CSS, and JavaScript code, giving you the ability to make intricate customizations, create custom templates, and implement specific functionality right on the Shopify Admin panel.
Learn more: Shopify Customization: How to Build Custom Shopify Pages That Sell?
Our Verdict: Shopify has a slight edge over Squarespace as it provides more extensive customization options for online stores, especially with its code editing capabilities and robust app ecosystem.
Apps and Extensions
Shopify outperforms Squarespace in this app round as it owns one of the best app marketplaces among all eCommerce solutions.
Loaded with over 8,000 apps on its App Store, Shopify provides a vast selection of tools to optimize and expand your online operations, from page builders, product reviews, SEO and marketing, conversion, loyalty and rewards, shipping and payment, and many more.
Shopify's App Store
For example, GemPages is a renowned third-party page builder for Shopify, offering a wide array of professionally designed templates to help you create customizable and appealing web pages with ease. 
In contrast, Squarespace's range of extensions is much more limited than Shopify's, with only 32 options available. Despite the limited selection, these Squarespace integrations are all designed to help enhance the functionality of your Squarespace website in various aspects, namely sales and marketing, inventory and products, finance, and shipping and fulfillment.
Squarespace's Extensions 
Our Verdict: Shopify takes the win for offering a larger collection of third-party apps and integrations.
Scalability
We highly recommend Shopify if you are looking for a scalable solution to rev your online business.
As a dedicated eCommerce platform, Shopify is designed with scalability in mind. Shopify offers robust infrastructure and hosting capabilities to handle large-scale eCommerce operations and support online stores of all sizes. 
In addition, Shopify has flexible pricing plans to accommodate different business needs. For example, the Shopify Plus plan is stuffed with additional features like wholesale channels, multi-currency, advanced reporting and automation, fully customizable checkout, and dedicated account management to support high-volume enterprises.
Learn more: Shopify vs Shopify Plus: Is the Upgrade Worth the Investment?
Squarespace, on the other hand, also includes eCommerce features and options for scaling your online store. However, its scalability and capabilities for eCommerce are not as extensive as Shopify's, which makes it more challenging to handle significant growth or complex business needs.
That said, Squarespace is suited for smaller to mid-sized businesses or those with simple product catalogs.
Our Verdict: Shopify is the winner of this round for its extensive scalability options compared to Squarespace.
Customer Support
Both platforms offer incredible customer support, but Shopify's 24/7 support via phone, email, and live chat gives it an advantage over Squarespace in terms of accessibility and convenience. Besides the round-the-clock support and a responsive support team, you can find useful guidance through Shopify's comprehensive knowledge base and documentation and active community forum. 
Shopify provides world-class 24/7 support via phone, email and live chat, alongside a comprehensive help center and active community forum.
Squarespace, conversely, only offers customer support through email and live chat, and more importantly, their support is NOT available 24/7 like Shopify's. You can only contact them via live chat on weekdays, from 4:00 AM to 8:00 PM ET. 
However, Squarespace does provide dedicated assistance through its Help Center, webinars, community forum, and social media channels.
Beside email and live chat support, webinars, and community forum, you can get dedicated assistance and guidance on Squarespace's Help Center.
Our Verdict: Shopify beats Squarespace with its convenient 24/7 support.
Start selling on Shopify for $1/month
Try Shopify for free, then enjoy the next 3 months for $1/month on select plans.
Shopify vs Squarespace: Which One Should You Choose?
From our point of view, Shopify stands as the preferred platform for online stores. With its specialized eCommerce features, scalability, customization options, and strong support infrastructure, Shopify is the superior choice for those seeking to establish and grow a prosperous online business.
Although Squarespace is known for its sleek design and user-friendly interface, it may not be the ideal choice for those looking for a comprehensive eCommerce platform.Its eye-pleasing templates, superb design features, intuitive drag-and-drop editor, and content management system make the platform suitable for those looking to build an attractive content-driven website with simple selling on the side.
However, at the end of the day, it is not our decision to make. Just remember there is no one-size-fits-all answer to these kinds of questions.
So, good luck with your decision-making process, and may your online store thrive!
FAQs about Shopify vs Squarespace
Should I use Squarespace or Shopify?
To decide which is better, Squarespace or Shopify, it's essential to consider your business needs and requirements. If you need a robust eCommerce platform with advanced features to build a thriving online store, Shopify is the one to go. Meanwhile, you should use Squarespace if your primary focus is developing a stunning content-rich website with integrated eCommerce capabilities.
Which is the best: Squarespace vs Shopify vs Wix?
Determining the best platform among Squarespace, Shopify, and Wix depends on your specific needs and priorities. Shopify is the best choice if your main priority is dedicated eCommerce functionality and scalability to sell products online. However, if you prioritize ease of use, design flexibility and aesthetics to create visually appealing websites, try Wix or Squarespace. Check out our thorough analysis of
Shopify vs Wix
for more details.
Is Squarespace Shopify integration possible?
Absolutely yes! With Squarespace Shopify integration, you can combine Squarespace's powerful website design capabilities with Shopify's robust eCommerce functionality, thus creating a visually appealing and highly functional online presence for your eCommerce site.