Back to Blog List
How to Get Your First Sale on Shopify in 2023: A Definitive Guide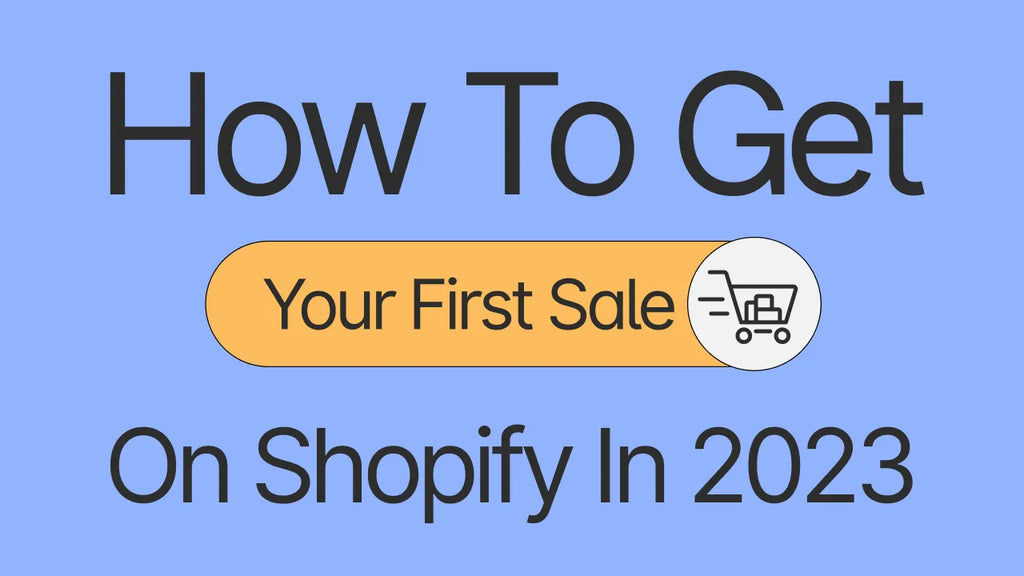 Establishing Shopify stores is just the initial step. Driving first traffic to your new website is challenging, but getting sales from that visitors is even more tough. In fact, many stores get traffic but no sales for a long time. 
The article will point out significant reasons why potential customers are not placing a purchase, thereby providing definitive guides to how to get your first sale on Shopify at the earliest opportunity.
Why Are You Not Making Sales on Shopify?
To discover how to get customers on Shopify, it is crucial to diagnose potential causes of a lack of sales. From the possible factors below, you can evaluate your store's situation and comprehend what prevents you from getting your first sales.
Lack of website traffic:

No traffic means no customers. New-established and unknown stores face difficulties in attracting first visitors.  In addition, websites with unprofessional, commonplace and long domains which does not match with the brand names are highly likely to fail to entice visitors to click through.

Untrustworthiness:

It is among

top 5 reasons

behind the US adults' cart abandonments in 2022. The lack of endorsers or reviews and unsecured payment methods can be the two significant factors stopping visitors from trusting the stores and making purchases.

Unappealing product description:

If the products are described unappealing, visitors will possibly leave in less than five minutes. Visitors are now not attracted to complicated descriptions which excessively emphasize on product features.
Learn more: How to Write Shopify Product Descriptions That Inspire Purchase
Poor website design:

Website design directly impacts customers' journey and their decision whether to buy a product. A poor website design involves several factors such as insufficient number of navigational buttons or excessive information on one page.

Shopping cart abandonment:

Besides the aforementioned untrustworthiness, the reasons for customers to leave their carts are delivery cost and time, required account opening or complicated checkout process.

Lack of coupons and discounts:

For new stores, offering discounts to new customers is an effective weapon to get the first sales. The lack of deals, discounts, or coupons and uncompetitive prices make your new store less attractive compared to the well-known ones.

Poor customer service:

Due to an unsatisfactory service experience,

50% of American customers

have given up on a purchase. The most basic level of customer support is providing adequate communication channels (i.e. phone, social media, email, live chat) for customers to interact with the store whenever they need help. 
Cart abandonment is a possible reason for the problem of traffic but no sale. 
Want to make your first sale on Shopify?
With GemPages page builder, you can create compelling store pages that wow visitors and convert them into buyers.
How to Get Your First Sale on Shopify at The Earliest Opportunity?
Based on aforementioned reasons, there are several tactics helping you get customers on Shopify. For each tactic, the article will provide detailed guidelines and relevant comparisons between different solutions. In accordance with your store's situation and available resources, you can select the most suitable ones to grow your Shopify store as soon as possible. 
1. Leverage Unpaid Traffic Sources
To get traffic to your Shopify store, the first step is leveraging free sources from your social networks and online communities. Your family, friends and colleagues will be the first visitors to your shop. Do not neglect a huge pool of potential customers by sharing your business information on social sites such as Facebook, Twitter, Instagram, TikTok, etcetera. 
Moreover, try giving your family and friends product samples and ask them to write some reviews for your stores. Not only getting customer experience insights for product improvement, but it also helps you build trust among customers by testimonials.
Engage Your Private Networks
Besides private chatting and emailing to each connection, you can create a public post to introduce your Shopify store. Your announcement posts on social media should contain crucial points such as: 
Your brand name

Your Shopify store URL

Brief but engaging information on your store and products 

Call your connections to visit your store and share it to others. 
It is recommended that the posts mention a welcome deal (i.e. 15% off or free delivery for the first order). This discount will not only attract people to visit your store but also entice them to make a purchase. 
In addition, you should include a link to your Shopify store in all personal web accounts, such as your Twitter, Facebook and Instagram bio. It will help you introduce your store to new connections.
Get Involved in Online Forums
In addition to private networks, online forums will greatly expand the spread of your store introduction to larger communities of the same interest. Noticeably, you have to find out your target customers and the online groups that they join in. Moreover, it is important to research carefully about the groups' rules, the target customers' preferences, etcetera. Thus, you can create appropriate posts and avoid spamming in online communities.
2. Invest in Advertisement
Paid advertisement is another tactic to help you reach target customers and increase the conversion rate. Each advertising platform is unique, thereby it should be selected suitably based on your target customers and marketplaces. 
Paid advertisements helps drive traffic to your Shopify store
Before starting your advertisement campaigns, do not forget to fill your primary profile's feed with a number of posts (such as brand introduction, product feature information). Thus it will not be idle when visitors look it over. 
Following are some suggested advertising channels to promote your Shopify stores. 
Facebook Ads
Facebook is among the most popular social sites with a massive of nearly 3 billion users worldwide. These users belong to different groups of age, ethnicity, income, location, interests, etc. 
Thus, to find their ideal consumers, a variety of firms may use Facebook's targeting options, which include gender, age, career, geography, interest, to name but a few. Especially for the interest category, you may create ideal customer profiles that decide who sees your adverts by starting with the Facebook pages that users have liked.
After implementing the advertising campaign, you need to continuously evaluate the performance and outcomes. Facebook has comprehensive analytics revealing the number of people having been reached or clicking on the advertisement, as well as your expenditure for the campaign. 
Google Ads
Many individuals search for the item they wish to purchase on Google first. When users enter pertinent search phrases, your website will appear at the top of the results page thanks to Google Ads.
There are a number different alternatives available through Google advertising, including Text Ads, which are prominently displayed in search results and Shopping Ads, which highlight your product's price and image in a manner that is more geared toward online retailers.
Google Ads highlight your product's price and image at the top of the results page
To run an effective Google Ads, it is necessary to perform keyword research to determine the number of searches for terms that potential customers in your target market might be making. 
Instagram Ads
The platform's attraction extends beyond its mostly young users and visual format. Data from Smart Insights indicates that it also has one of the most active user populations among social networks. If you employ pertinent hashtags, your regular, unpaid posts will be seen by a large audience. 
If your business belongs to the realms of fashion, cuisine or fitness, etc, Instagram is an irreplaceable channel to market your Shopify store. Otherwise, you should also experience this platform if your targeted customers are millennials and you have beautiful, alluring product photographs.
Pinterest Marketing
A frequently ignored outlet is Pinterest. However, it's also the one with the best-defined user base. According to Pinterest, the site's users are primarily female, and HootSuite claims that many of them are affluent.
Pinterest users create boards to compile and save "Pins'' based on predetermined themes, similar to scrapbooking. It is significantly useful if you target female customers with products of fashion, home décor, cuisine, artwork, designs, and other verticals where aesthetics shine.
Pinterest has a variety of options that make marketing on the platform simple, from Promoted Pins to Buyable Pins.
Pinterest Ads mostly target at female customers
Noticeably, for all above channels of advertisement, it is essential to build a landing page assisting your business in informational support, lead generation, and deal closure. 
The easiest way to develop a high-converting landing page is leveraging GemPages Page Builder. By selecting a ready-to-use template and nimbly dragging and dropping various parts, GemPages allows you to quickly construct a magnificent landing page (or any page, for that matter) that converts amazingly effectively. 
You may use the fast method below to create the landing page you had in mind.
Step 1: Open GemPages and click the Create New Page icon. Pick your page type from the drop-down menu. Press the Landing Page button.
Step 2: Search the template collection for the one that best suits your requirements. To see if the template looks well in use, hover over it and select Preview.
After selecting a template, click Edit to begin customizing your landing page.
You may add text and images by dragging and dropping other components into the sections as you need them, such as call-to-action buttons, forms, popups, and more.
Step 3: Press the Save button whenever you are pleased with the outcome.
The page is then archived, albeit not yet made public. Prior to publishing your page by clicking the Publish button, you can view a preview of it by selecting Preview.
Build high-converting landing pages with GemPages
Quickly create and customize compelling, conversion-optimized landing pages to wow visitors and convert them into buyers.
3. Cooperate with Bloggers and Influencers
If you are the only one talking about your brand, it won't be especially helpful. Thanks to Shopify Collabs, you are now easily finding and partnering with influencers to promote your brand on Shopify. Otherwise, you can try other influencer marketplaces such as Grapevine, Famebit or Crowdtap, etcetera. 
In addition to generating traffic, influencers help enhance your brand's trustworthiness via a story or a product review. Technology and fashion are currently among industries which rely heavily on influencers' endorsement for getting sales. Lifestyle firms also have several opportunities to market their products on Shopify by working specifically with Instagram influencers.
Besides influencers, another option is to collaborate with bloggers. You might be able to land a space on a blog or newspaper that your target customers read with a strong pitch built around an enticing story or intriguing product. Here are some suggestions on how you may cooperate:
Publish a guest post. Bloggers share their knowledge on a subject, as well as mention your brand and store URL. 

Request product evaluations. Businesses offer bloggers a free sample of products in return for a review.

Make a news story pitch. In an interview-style piece, your brand-new item or intriguing origin story should be used as the selling point.
Blogger partnership is suggested for brands with appealing backstories, distinctive items that bloggers have not seen before or those with in-depth knowledge in their specialized field.
4. Take Advantage of Seasonal Events
During holidays such as Valentine's Day, Mother's Day, Father's Day, Christmas, etcetera, the desire for specific products rises dramatically and it is truly an opportunity to grow your Shopify store.
Offering package deals on seasonal events helps market your Shopify store
Seasonal events are an ideal time to give your customers something unique. From two to four weeks before the events, you can apply seasonal vibes for your stores. Using GemPages ready-to-use stunning templates is an optimal option to have more time for discount or package design.   
Your store needs a stunning makeover?
Explore GemPages' extensive library of templates and see what works best for you. Free plan available. No strings attached.
Notably, when it comes to a discount, a package deal, a coupon or a limited-time offering, remember to place them on the timer, thus making your customers anxious about missing out.
Besides, you can rouse their feelings by demonstrating the joy your product will provide to their spouse, parent, mother, or oneself. After that, provide them with a compelling offer. By giving your new consumers a remarkable experience, you may win their loyalty and long-term business.
5. Give Your Store a Live Chat Option
Live chat has been preferred by 41% of online customers, surpassing phone, email, and social media support. Significantly, it directly impacts customers' loyalty and their purchase decision. 
Data from Kayako shows that 51% of online shoppers say they are more inclined to make another digital buy from a brand that offers live chat customer care. Implementing live chat also has a positive impact on sales, revenue, and customer loyalty, according to 79% of businesses.
Customers now desire personal and immediate communication. They want to speak to a live person when contacting customer service. They are not satisfied if they have to wait for a slow response. In that situation, live chat is an optimal solution.
Upgrade your customers' experience with live chat options
To effectively support your business in interacting with customers, Shopify live chat should include the following features:
Real-time visitor list allows you to inform customers about special offers and view a list of visitors to your shop in real-time.

Quick replies: Scripted replies help reduce response time and expedite work

Email requests: Consider asking your visitors about their emails to start a chat so you can create a subscriber list.
Although most Shopify live chat apps have these capabilities, it's still a good idea to double-check.
6. Upgrade Product Pages
More than 80% of internet buyers claim their purchasing decisions are impacted by product information and photos. Therefore, you must impress customers by paying attention to these two crucial factors in order to generate Shopify sales.
In terms of product descriptions, they must be interesting to read, benefit-focused, and simple to comprehend. Avoid generic descriptions and focusing too much on product features. Instead, you should see your products from your customer perspectives to show your solutions addressing their pain points. 
In terms of product images, it might seem apparent, but you really must have high-quality, action-oriented photographs of your items. Make sure to provide at least three types of product visuals: typical product photographs, in-depth close-ups, and images of the product in use. 
Another powerful sales tool to think about is videos. They are able to show off your items in use in a manner that static photographs just cannot. Try this strategy to increase your chances of converting visitors into Shopify customers.
Besides, to comprehensively upgrade your product page, do not forget to make sure you have provided information on delivery, returns, refunds as well as enticing add-to-cart call-to-actions and frequently asked questions sections.
An appealing product page provides sufficient descriptions, visuals and call-to-action
Making product pages both appealing and highly effective may be a challenge. However, there is a quick and efficient approach to make sophisticated modifications on your Shopify product pages. With GemPages page builder, you do not need to know a single line of code!
GemPages offers a huge collection of high-converting templates. You can simply add your products, some new content, images, videos, animations, and effects to make it uniquely yours. Do not forget to try 100+ sales-boosting elements (countdown timers, stock counters, etcetera) to entice your customers to make a purchase.
GemPages offer 100+ sales-boosting elements to make your product pages high-converting
Ready to elevate your Shopify product pages?
Take your product pages to the next level with GemPages page builder. Free plan available. Upgrade as you scale.
7. Welcome Customers with Gifts and Discounts
To increase Shopify sales, provide a bonus with the first order. According to Oberlo's research, 38% of consumers decide to make a purchase if discounts are offered. Gifts and special discounts give your visitors one more incentive to make a purchase. They are also a fantastic way to show gratitude for the customers and make a favorable initial impression which will enhance your brand in the long run.
Discounts may entice customers to place an order.
Shopify advises the following forms of discounts:
Free delivery

Free gifts.

Discounts based on a percentage, ranging from 5% to 50%

Discount in currency value, such as "Spend $80, get $20 off"
It is suggested to add a sense of urgency by limiting the duration of these offers. Customers would be more inclined to place an order in this method in order to take advantage of a great price.
8. Produce SEO-friendly Blog Posts
You may enter the vast, exciting world of content marketing by starting a blog about a related product. Blog posts may encourage people to visit your website more frequently and help you build your customer's trust.
Shopify blogs should offer visitors helpful how-tos, recommendations, advice, and demonstrate how they may utilize your product in their everyday lives. The content should be customized for your target audience and their pain points, as well as containing engaging visual factors. 
To get traffic to your Shopify store, it is recommended to optimize your blogs for Google search engines by including pertinent keywords into your blog titles and entries. In addition, call-to-action buttons are crucial to entice readers to learn more about your items and place an order.
Noticeably, it will take a while for you to start making sales on your Shopify store with a blog, and there are hurdles to overcome, but it will unquestionably be a sustainable strategy.
Conclusion
There are several reasons behind your lack of sales of Shopify. Several common ones are no traffic, untrustworthiness, unappealing product description, poor website design, shopping cart abandonment, lack of coupons and discounts, and unsatisfactory customer service, to name but a few. 
Regarding the question on how to get your first sale on Shopify, the following solutions may help:
Unpaid traffic sources, including your private networks and online forums

Paid advertisement campaigns

Bloggers and influencers partnership

Seasonal promotion campaigns

Live chat integration

Product pages upgrade

Gifts and discounts

SEO-friendly blog post
FAQs about How to Get Your First Sale on Shopify
How long before the first sale on Shopify?
A few days to many months, on average, might pass before you make your first sale. Several variables, such as the standard of your products, the effectiveness of your marketing initiatives, and your website design, can have a significant impact on how long it takes you to get Shopify sales.
Is it easy to get sales on Shopify?
The hardest initial step is making your first four to five sales on Shopify. However, if you deliver a satisfying customer experience once you arrive, you'll be able to multiply those sales. In exchange for recommendations, provide rewards to those initial customers.