Back to Blog List
Shopify vs Magento: Which One is the Best Investment for Your Business?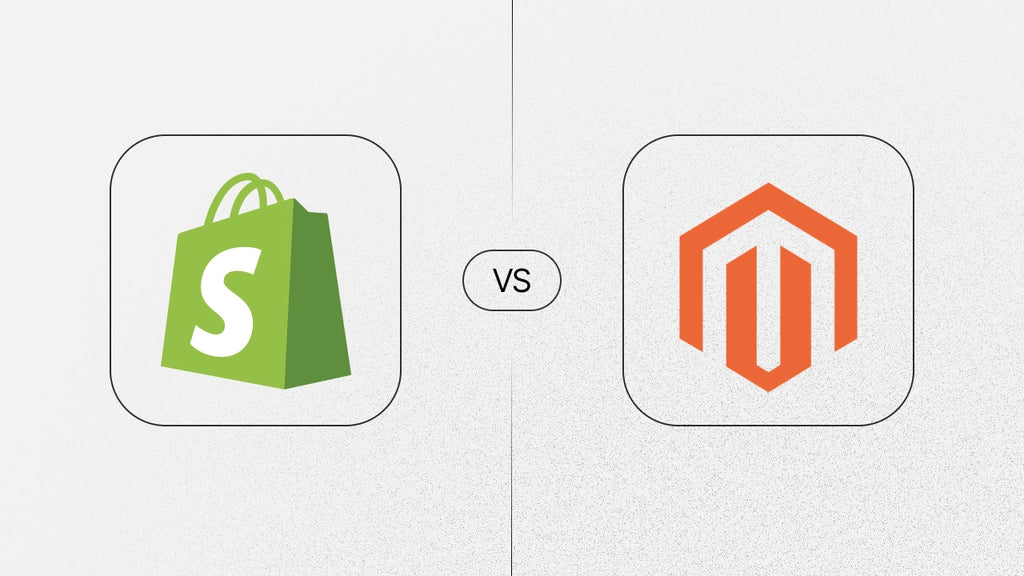 Shopify vs Magento: which is better?
There is no definite answer to this question since both are two leading players in the eCommerce fields, each offering unique features and advantages that cater to different types of businesses with varying needs.
In this article, we will explore 10 key differences between Shopify vs Magento to help you determine which platform is the right fit for your business.
Shopify vs Magento: Overview
Shopify: Simplified Platform for Small to Medium Businesses
Shopify is an eCommerce platform simplifying the process of setting up and managing an online store. With its user-friendly interface and usability, Shopify is a popular choice for small to medium-sized businesses looking for an easy-to-use platform with comprehensive features.
Shopify is a cloud-based eCommerce platform allowing entrepreneurs to build and manage functional and appealing online stores without technical expertise.
Founded in 2006, Shopify has witnessed a recent surge in use and gained popularity as a reliable and robust eCommerce solution. According to Statista, the platform ranked fourth in the list of leading eCommerce software platforms and technologies worldwide in 2023, with a global market share of 10%.
Shopify provides a massive selection of tools and features, including a built-in payment gateway, inventory management, customizable themes, and numerous apps and plugins, enabling you to create, customize, and manage your online store efficiently without much technical knowledge.
Start selling on Shopify for $1/month
Try Shopify for free, then enjoy the next 3 months for $1/month on select plans.
Magento: Customizable and Scalable Platform for Large Enterprises
Magento or Adobe Commerce is a self-hosted, open-source eCommerce platform known for its extensive customization options and scalability. Its open-source nature allows developers to customize and extend the platform's functionality to meet specific business needs, making it ideal for larger businesses or businesses with complex eCommerce requirements.
First released in 2008, Magento has established itself as one of the most powerful and flexible eCommerce solutions for years.
In 2018, Adobe acquired Magento, marking a significant shift in the development of Magento and the whole eCommerce industry. With the acquisition, Magento became a part of Adobe Experience Cloud and welcomed new advanced features and capabilities to its platform.
Magento, now Adobe Commerce, is a self-hosted, open-souced eCommerce platform known for its extensive customizability and flexibility.
Despite falling behind Shopify in market share (1.72%), with the assistance of Adobe, Magento continues to consolidate its position in the list of big eCommerce giants.
Shopify vs Magento: Key Differences
Don't have time for an in-depth comparison? Take a look at our summary table for a quick overview of the 10 key differences of Shopify vs Magento.
Summary table of Shopify vs Magento Comparison

Area 

Shopify

Magento

Fixed pricing based on subscription plans

Flexible pricing depending on specific needs and requirements

User-friendly interface

Easy to set up and use without technical expertise

Requires knowledge in web development, coding and design

Limited level of customizability

Higher level of customizability

132 themes at affordable prices with easy customization options

7 themes at higher costs with unlimited customizability

8,000+ apps at reasonable prices

3,700+ extensions at higher prices

A built-in payment processor and 100+ payment gateways

300+ payment gateways

Built-in SEO and marketing features

More advanced SEO and marketing features

Limited scalability for larger businesses

High scalability for businesses of all sizes

Provides built-in security features at a high level

Requires more effort to maintain security

24/7 support via email, phone, live chat and guidance through documentation, video tutorials, and community forums

Free support through forums and documentation

Paid support options available for enterprise users
Pricing
Cost is an essential consideration as it can significantly impact your profitability. Therefore, do your research carefully to understand the pricing structure of each platform to determine which one fits your budget.
Shopify
Shopify applies subscription-based pricing, meaning that the cost you need to pay is mainly fixed by the subscription plan you select.
After enjoying a 3-day free trial and your next three months for US$1, you are given three main pricing plan options to choose from. On top of the monthly subscription fees, Shopify also charges transaction fees, ranging from 0.5% to 2% per transaction, depending on your selected plan, unless you use Shopify Payments as your payment gateway.
Basic Shopify plan:

US$25/month + 2.9% + 30¢ per transaction.

Shopify plan:

US$65/month + 2.6% + 30¢ per transaction.

Advanced Shopify plan:

US$399/month + 2.4% + 30¢ per transaction.

Shopify Plus (Enterprise):

Starting at US$2.000/month.
Shopify plans cover all hosting, domain, security, and 24/7 support costs. Additional costs only incur if you install paid third-party apps and plugins for extra features, functionality and advanced customization.
Start selling on Shopify for $1/month
Try Shopify for free, then enjoy the next 3 months for $1/month on select plans.
Magento
On the contrary, as an open-source platform, Magento is free to download and use and does not charge a monthly subscription fee. The exact price for Magento varies massively based on your specific needs and requirements.
After the Magento acquisition by Adobe, Magento currently comes with three editions:
Magento Open Source:

free to use, self-hosted version.

Adobe Commerce (formerly Magento Commerce):

starting at US$22,000/year, on-premises version with enterprise-level features.

Adobe Commerce Cloud:

starting at US$40,000/year, a platform-as-a-service (PaaS) with cloud-based Adobe tools.
There are several additional expenses to consider, including web hosting, domain registration, SSL certificates, and other technical requirements to set up your online store.
Customization, development, and maintenance costs can also add up significantly, as you may need to hire developers or agencies with expertise in Magento to build and manage your website. Extra expenses may apply for specific themes, third-party plugins and extensions as well.
Ease of Use
Usability is another key factor in deciding which platform, Shopify or Magento, to use for your eCommerce business, especially if you are non-tech savvy.
Shopify
In this area, Shopify clearly holds a distinct advantage over Magento.
Since its creation, Shopify has made a name for itself as an accessible no-code store builder that any tech gurus can quickly learn to build a functional and appealing online store.
Learn more: Shopify Tutorial: Set Up Your Store from Scratch to Finish (2023)
As a fully-hosted platform, Shopify handles all the headaches of building and managing an online business with its user-friendly interface, easy-to-follow step-by-step setup guide, intuitive drag-and-drop functionality, and various built-in features.
You only need to customize your online store using Shopify's diverse pre-designed templates and themes, or do it the easier way with an intuitive page builder like GemPages for more advanced customizability.
Customize your Shopify store pages your way
The powerful page builder empowers you to create store pages that bring unique experiences and convert customers. No coding needed.
Magento
Magento, on a different note, has a steeper learning curve and requires more technical expertise, making it more challenging for non-tech users to use.
Since it is a self-hosted platform, you need to have some knowledge of web hosting, server maintenance, and coding or have a big budget to hire a tech expert. However, this complexity allows for greater customizability, flexibility, and control over your business.
Customization Options
Customization is crucial to creating a unique online store that matches your brand identity and business requirements. While both Shopify and Magento offer customization options, their level of flexibility and control differs significantly.
Shopify
Shopify allows you to control the appearance and brand presence of your online store with basic customization options, including a huge library of customizable themes and a visual drag-and-drop editor.
For more advanced customizability, Shopify offers custom coding, giving you the ability to modify the HTML and CSS code of the themes. However, this requires you to have certain technical knowledge.
Learn more: Shopify Customization: How to Build Custom Shopify Pages That Sell?
Shopify features a vast range of customizable themes and a visual drag-and-drop editor, allowing you to easily customize the design of your store.
If you want more advanced custom functionality without touching a line of code, a page builder from Shopify's large marketplace will be of great help.
GemPages is a powerful drag-and-drop Shopify page builder, offering you 80+ well-designed templates to build a professional-looking yet high-converting storefront effortlessly. And the best part? It's 100% code-free!
Want to turn your store into a cash cow?
With GemPages page builder, you can create compelling store pages that wow visitors and convert them into buyers.
GemPages provides extra customization options to your Shopify online store with its extensive library of well-designed templates.
Magento
Magento clearly takes the lead in this area with a higher level of customization compared to Shopify. However, this greater flexibility requires a more profound knowledge in web development, coding, and design and a more significant investment in time and resources.
With Magento, you can create custom themes, plugins, and modules and modify the source code to extend the functionality to your specifications, facilitating a truly unique online business that stands out from the competition. Magento's massive collection of innovation extensions also provides numerous functionality options exclusive to the Magento platform.
Furthermore, Adobe's acquisition of Magento has given Magento a boost in terms of innovation, technology and eCommerce capabilities, making it more attractive for businesses looking for a flexible and customizable eCommerce solution.
Magento gives you greater flexibility, and control over your store with advanced customization options.
Design and Themes
The design and aesthetics of your online store is the key to attracting customers and creating a memorable shopping experience. This comes down to the importance of selecting the appropriate theme to create a visually appealing online store.
Shopify
On Shopify, you enjoy a straightforward design experience with over 132 professionally designed themes, both free and paid, that are all mobile-responsive and customizable.
Learn more: Best Single Product Shopify Themes in 2023
Shopify offers over 132 customizable and mobile-responsive themes at affordable prices.
You can freely tweak the theme to align with your brand image, including adding new pages, applying custom images to products, modifying the color palette, resizing and repositioning elements, adding banners, integrating social media feeds, and more, without touching a line of code. 
Also, by installing GemPages page builder on top of your existing themes, you can further customize the look and feel of your store pages with minimal effort and time.
Your store needs some bells and whistles?
Explore GemPages' features and see what works best for your store. Free plan available. No strings attached.
Learn more: Transform Your Shopify Homepage from Ordinary to Extraordinary: A-Z Guide & Top Examples
More importantly, all Shopify themes come at reasonable prices, with 12 free themes and 120 premium ones, ranging from US$180 to US$360.
Magento
In contrast, Magento offers a more limited selection of themes, with only 7 available at the cost of up to US$499. However, these provide unlimited customizability to create a one-of-the-kind and highly-optimized design for your online store.
Magento provides 7 themes with greater customizability and at higher costs compared to Shopify.
With Magento's themes, you can add advanced search functionality, animations, featured product sliders, newsletter options or cross-selling and upselling blocks, or even create a theme from scratch if you have strong technical expertise in web development and design or a big budget to hire help. 
Apps and Extensions
Adding additional apps or extensions to your online store is highly recommended to extend the features and functionality of your business. Both Shopify and Magento offer a vast selection of add-ons that you can easily download and install on your site.
Shopify
On Shopify, these add-ons are called apps. Shopify App Store includes over 8,000 free and paid apps for all the basics that every business needs. The apps come in an epic variety of categories, from product finding and selling, orders and shipping, store design and management, dropshipping, to marketing and conversion.
Shopify App Store includes over 8,000 applications, plugins, and integrations..
Check out our recommended categories and apps for a profitable Shopify store. 
GemPages is a powerful Shopify app to build and grow highly-optimized and stunning online stores.

Most Shopify apps are easy to install and set up; however, some of the more advanced apps may require some technical knowledge to configure. Fortunately, you can get full support from Shopify and its developers anytime.
Magento
Magento, on the other hand, refers to these add-ons as extensions. The Magento marketplace features over 3,700 extensions in different categories, including accounting and finance, content and customizations, customer support, marketing, payment and securities, reporting and analytics, sales, shipping and fulfillment, and site optimization.
Magento Marketplace provides more than 3,700 extensions, modules, themes, and other add-ons.
While Magento's selection of extensions is not as large as Shopify's, it provides a great deal of flexibility to customize your online store. Also, Magento's extensions are generally more expensive than those on Shopify.
Payment Gateways
Payment is an essential part of any online store; therefore, when deciding whether Shopify or Magento, it is vital to consider the payment gateways each platform offers to ensure a secure and smooth payment process for customers.
Shopify
Shopify supports over 100 payment gateways, including PayPal, Amazon Pay, Stripe, Square, etcetera, each with specific fees per transaction.
As a Shopify user, you can also get access to the platform's built-in payment processor, Shopify Payments, which is integrated into the platform and allows you to accept credit card payments without going through a third-party provider. Notably, this feature incurs no transaction fee.
Shopify Payments, the built-in payment gateway of Shopify
Magento
Contrarily, Magento does not have a built-in payment gateway but provides a vast range of payment processors. You need to download and install the extension from the Magento marketplace and pay a transaction fee.
Magento's payment extensions

While this may seem like a disadvantage, it actually gives you more freedom in selecting which payment gateways you use and can potentially lead to lower transaction fees.
SEO and Marketing Features
Once your store is up and running, SEO and marketing features assist in expanding its reach and driving more sales and traffic. While SEO helps enhance your site's visibility on search engines, effective marketing can attract new customers and retain existing ones.
Shopify
On Shopify, many SEO features are built-in and available to use without installing additional apps, allowing you to customize your meta tags, optimize your product pages, and create search engine friendly URLs. You also access a range of marketing tools, including email campaigns, discount codes, abandoned cart recovery, and social media advertising, to convert leads into sales.
Learn more: How to Increase Sales on Shopify: 17+ Proven Strategies
Shopify's SEO and marketing features
Besides, you are free to add additional SEO and marketing features by installing third-party apps on Shopify App Store.
Learn more: 10 Best Shopify Apps for Conversions in 2023
Magento
Magento also boasts of its robust built-in SEO capabilities, with both basic and extended features, such as search engine friendly URLs, customizable meta tags, and advanced SEO settings for product pages. 
Along with SEO, Magento has a great set of marketing tools, including email marketing, product recommendations, and customer segmentation options to help you target specific audiences. For additional features, you need to install extensions from the Magento marketplace.
Magento's SEO and marketing features
Scalability and Performance
Scalability and performance are critical considerations when selecting a platform to host your online business. A scalable platform can handle increases in traffic and sales without compromising its performance, ensuring a smooth and seamless customer experience.
Shopify
Shopify is a fully-hosted platform, meaning that your store's hosting, security, scalability, and performance are all managed by Shopify. Its cloud-based hosting ensures reliable and scalable performance, as it automatically adjusts to accommodate increased traffic, whereas its robust server infrastructure enables fast page load times and high uptime for your online store.
Learn more: Shopify Speed Optimization: 11 Effective Ways (2023)
Shopify also features several pricing plans that cater to businesses of all sizes; you can upgrade to higher plans per your business growth. However, this means Shopify's scalability is limited to its plans and features, making it unsuitable for very large enterprises with high traffic volumes and large product quantity and features.
Magento
On the other hand, Magento is a self-hosted platform, offering you more control over your hosting environment and allowing for greater scalability.
The open-source nature of Magento enables you or your web developers to easily adjust the site as your business scales up. Also, Magento's huge storage capacity makes it possible to handle large product catalogs, high traffic, and complex business requirements without sacrificing performance.
However, managing your hosting environment requires technical expertise and resources, such as dedicated servers and regular maintenance, to ensure optimal performance.
Security
A robust security feature is fundamental to a thriving online business, protecting both the business itself and its customers from potential risks.
Shopify
On Shopify, your online store is provided with built-in SSL encryption, allowing for secure data transmission between the customer's browser and the server.
Additionally, Shopify includes automatic backups, security updates, and PCI compliance, ensuring your store meets the industry standards for handling credit card information. Shopify's team of experts also take care of monitoring and protecting its servers against potential security threats.
Magento
Magento, being a self-hosted platform, does not come with a built-in security mechanism but gives you more control over your security measures. However, this flexibility means you are fully responsible for implementing and managing security measures, such as SSL certificates, regular updates, and backups.
Magento also keeps your website safe and secure with features like two-factor authentication, PCI compliance, and other security enhancements. Still, you are required to have technical expertise to implement and manage these security measures effectively.
Support and Resources
Having reliable and prompt support and resources is vital to build trust and loyalty and increase customer satisfaction and retention, which can lead to positive word-of-mouth advertising.
Shopify
Shopify is known for its comprehensive and dedicated customer support.
With Shopify, you receive 24/7 customer support through email, phone, and live chat for all its pricing plans. Shopify also provides a comprehensive knowledge base, documentation, video tutorials, and community forums that provide resources and guidance for setting up and managing your online store.
Learn more: Shopify Checklist: A Complete Guide to Launching and Scaling Your Online Store
Shopify's support
Additionally, as a Shopify user, you get in touch with a large ecosystem of partners, agencies, and developers to assist you in various aspects of eCommerce, such as design, development, marketing, and SEO.
Magento
Magento's customer support, on the contrary, varies depending on the edition you are using.
For the free Magento Open Source edition, you can access community support through forums, documentation, and user guides.
For the paid Adobe Commerce edition, you are offered 24/7 technical support with dedicated account managers, priority access to updates and patches, and other premium features.
Magento also has a large community of developers and agencies that offer services and support for Magento users.
Magento's support
Shopify vs Magento: Which is the Right Platform for Your Business?
So, Shopify vs Magento: who is the winner?
Ultimately, the answer boils down to your specific business needs and requirements, technical expertise, budget, and future growth plans.
If you are a small to medium business with limited technical knowledge, a small budget and prioritizing ease of use and multiple built-in features, then Shopify may be the right choice.
On the other hand, if you have technical expertise, a larger budget, and require extensive customization options and scalability, then Magento will be a better option.
Generally, both Shopify and Magento are powerful eCommerce platforms with unique features and strengths. With our in-depth Shopify vs Magento comparison, we hope you will find the cream of the crop for your business.
FAQs about Shopify vs Magento
Which is better for eCommerce startups: Shopify or Magento?
Shopify will be the better choice if you are a startup having a limited budget and looking to set up an online store quickly since Shopify is easier to set up and manage without technical knowledge and offers more affordable pricing options compared to Magento.Check out our article:
Shopify vs Magento: Which One is the Best Investment for Your Business?
to find the right platform for your online business.
Which is the best: WooCommerce vs Shopify vs Magento?
Whether WooCommerce, Shopify or Magento is the best eCommerce platform depends on several factors, including your business size and needs, technical expertise, budget, and other requirements.1. WooCommerce is a free, open-source platform built on WordPress that requires hosting and offers high customization options, suitable for businesses already using WordPress and seeking to add e-commerce functionality to their website.2. Shopify is an easy-to-use platform with a fully hosted solution and a wide range of templates and apps, ideal for businesses looking to launch and manage an online store in a quick and convenient way.3. Magento is a robust, open-source platform with high customization options and scalability, perfect for businesses with complex requirements, extensive technical expertise, and larger budgets.
Is Magento to Shopify migration possible?
Yes, it is possible to migrate from Magento to Shopify. The migration process typically involves creating a Shopify account, exporting data from Magento and importing that data into Shopify. For a comprehensive Magento to Shopify migration checklist, please read our article:
How to Migrate from Magento to Shopify in 8 Steps ( Tips)